Pride Garden Flag Details
Decorate your front yard or garden with these high-quality pride garden flags. Choose between the classic rainbow striped flag or the updated progressive pride flag design. These garden flags are easy to set up with the optional hardware. The stand includes a clip and a stopper to keep the flag secure and in place. The bottom part of the hardware stand sticks into soft ground, such as grass or dirt. These pride garden products are designed to handle outdoor weather due to their flame-retardant, knitted flag fabric that will resist the wind, sunlight, and rain. The rainbow designs are recreated using dye-sublimation printing for vivid colors that will not scratch or peel off, even when exposed to changing weather conditions. The rainbow design is printed on both sides of the garden flag so that people from all directions will be able to see the colorful stripes. These LGBTQ garden flags come in the standard 12in x 18in size that's perfect for all homes and gardens. Setup these colorful pride garden flags in your yard during pride month or all year long.
Looking for something bigger? Check out our 3x5 rainbow flag.
Parts List:
Pre-printed garden flag
Optional hardware stand
Flag Details:
Double-sided print
12in x 18in
Material:
Display Polyester: Nearly opaque flame-retardant knitted fabric (6.10oz/yd²)
Weather-Resistant Pride Garden Flags
These well-made pride garden flags are designed to last a long time. Rather than just displaying them in your front yard or garden during Pride Month, these flags can be setup year-round or year after year. This is because we make our LGBTQ garden flags out of durable material that is tested for outdoor use. The polyester material we use for our flags is knitted so that wind and rain will not cause the flag to tear. Not only is this material great for outdoor display, but it's also easy to print on. Our dye-sublimation technique is also designed for extended outdoor use. The full color print will not get ruined, even if the weather is windy and rainy. Make sure your flag lasts as long as you need it by rolling it up and storing in a dark room when not in use. Lesser fabrics and printing techniques rip, scratch, and peel off when exposed to different kinds of weather. Our polyester and dye-sublimated flags are crafted to last longer than cheaper alternatives without costing much more.
Satisfied Customers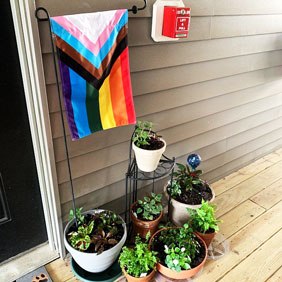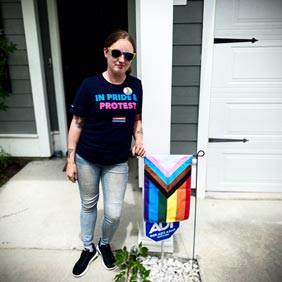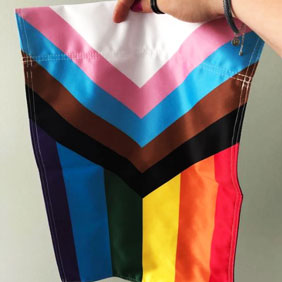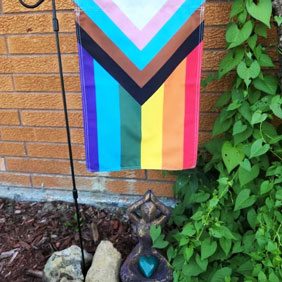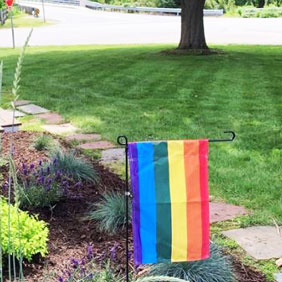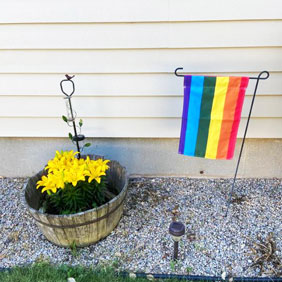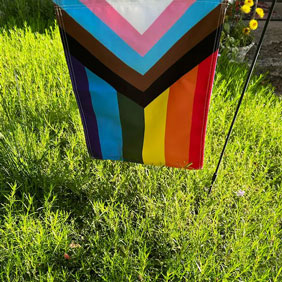 Frequently Asked Questions
What is the turnaround time?
These pride garden flags are ready-made, so they either ship the day you order them if the order is placed before 1 p.m. ET or the next day if placed after. We also have rush production and shipping options you can view when checking out or using our "Delivery Estimator".
Where are these pride yard flags used?
While the term "garden flag" is used in the product, these flags don't have to just be used in gardens. They can be displayed wherever you want to show your pride, whether it be during pride month or all year-round. If you use the stand to install the flag, it can be set up on soft ground. If you just get the flag by itself, it can be used as a decoration both indoors and outdoors. Garden flags are typically secured in the front or backyard of a home or building, but they can be displayed in a variety of places.
What pride lawn flag designs do you have?
Our garden flags come in three pride designs to choose from. There's the classic rainbow pride flag, the more modern progressive pride flag, or a USA design that combines the American flag with pride colors. If you are looking for 3x5 versions of these flags or for more LGBTQ+ designs, view our Pride Flags category page.
What material is the pride garden flag?
Our pride flag for yards is made from display polyester. This material is great for printing, resulting in striking, full colors. The material is knitted so that it holds up in different weather conditions for extended and repeated display. We print on the polyester fabric using a state-of-the-art dye sublimation method, which ingrains the ink into the material so it won't scratch or peel off. Both sides of the flag are printed with the rainbow design so people from all directions can see your pride.
How do I set it up?
Assembling the LGBTQ garden flag and stand is very easy. The optional hardware comes preassembled but sets up without tools. The pole sections connect to form a 36in tall stand. The bottom section of the stand stakes into soft ground, such as grass and dirt. There is a step at the bottom of the stake for pushing down with your foot. Once the stand is firmly secured in the ground, the pole sleeve of the flag slides on the top arm. Prevent your flag from falling off the stand by pushing the stopper at the end of the arm and clipping the bottom of the flag to the stand with our included accessories.
California Residents

Click here for Proposition 65 warning
Q & A
Reviews