Progress Pride Flag Details
Display your LGBTQ+ pride with the new Progress Pride Flag, designed with more stripes to be more inclusive. These pride flags are great for hanging outside or inside your home as décor. The 3x5 size is perfect for wherever you want to set it up and the material accommodates both indoor and outdoor use. Our Progress flag is made from knitted polyester material, which is outdoor-tested to withstand changing elements to be weather-resistant and tear-resistant. The fabric also has a great thru print. We print the rainbow design on one side of the flag and a faded reverse image bleeds through to the other side. We also use a dye-sublimation process, which creates vivid colors that will make the rainbow design pop. Install your flag using our optional hardware for securing the flag to a pole set, a wall mount, or a street pole. Share the new Progress Pride Flag design with your friends and neighbors with this 3x5 version.
Parts List:
Pre-printed flag
Optional flagpole of your choice
Material:
Outdoor Flag Polyester: Tear-resistant lightweight knitted fabric with excellent thru-print (3.25oz/yd²)
Specifications
Model
Part Number
Size
Weight
Includes
Flag Only
DI8094
5ft x 3ft
0.4lbs
Pre-printed flag
Flag & Hand-Held Flagpole
DI0650
6ft
2.1lbs
Pre-printed flag
Tangle-free aluminum flagpole
Removable black handle
Flag & Wall-Mounted Flagpole
DI0653
6ft
2.9lbs
Pre-printed flag
Tangle-free aluminum flagpole
Removable black handle
180° adjustable wall mount
Flag & Pole-Mounted Flagpole
KX0090
6ft
3.2lbs
Pre-printed flag
Tangle-free aluminum flagpole
Removable black handle
180° adjustable wall mount
(2) 40" steel bands
Flag & Ground-Mounted Flagpole
DI0550
20ft
9.5lbs
Pre-printed flag
Aluminum flagpole
PVC tube for ground installation
LGBTQ+ Rainbow Flag Redesign
The famous Gilbert Baker six-stripe rainbow design has been revamped in recent years to be more inclusive with some new popular pride symbols. Daniel Quasar, a graphic designer, reworked the classic rainbow pride flag in 2018 to include an arrow with white, pink, blue, brown, and black stripes, making the flag even more colorful. The white, pink, and blue section of the flag comes from another LGBTQ+ flag, the transgender flag. Additional brown and black stripes refer to another more inclusive pride flag, the Philadelphia Pride Flag. The brown and black colors refer to people of color within the LGBTQ+ community. Quasar described adding the new stripe colors to the side of the flag in the updated design to "shift focus and emphasis to what is important in our current community climate." The use of the Progress Pride Flag has increased recently because of the Black Lives Matter campaign and the fight for trans rights. Some activists even recommending that the Progress flag be the new main symbol of the LGBTQ+ community, such as U.K. journalist Chris Godfrey tweeting out, "With everything happening right now this year feels like a good moment to make this flag the mainstream, default symbol for the LGBTQ community".
Read more about all of the LGBTQ flags in this blog post.
Inclusive Progress Pride Flag Design
The Progress Pride Flag references the traditional Gilbert Baker rainbow flag, along with the Philadelphia Pride Flag and the Transgender Pride Flag. The colors, therefore, have the same meaning as the other flags:
Arrow: Moving forward within the movement
White: Those who are transitioning or those without a defined gender
Light Pink: Traditional color for girls
Light Blue: Traditional color for boys
Brown and Black: Marginalized people of color
Red: Life
Orange: Healing
Yellow: Sunlight
Green: Nature
Blue: Serenity
Purple: Spirit
Sources
Satisfied Customers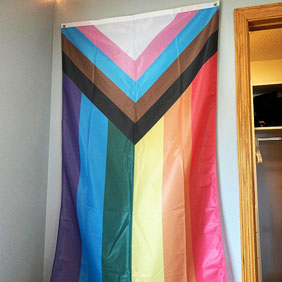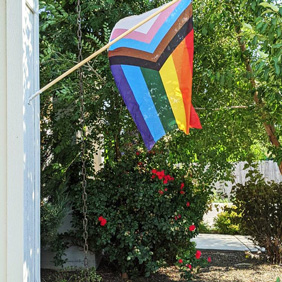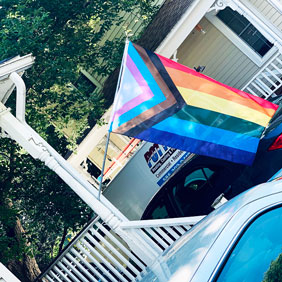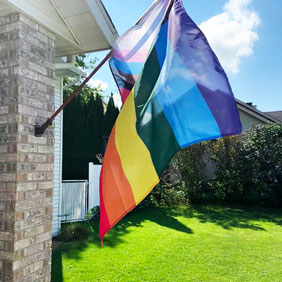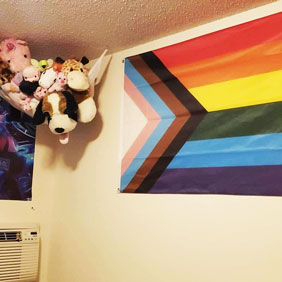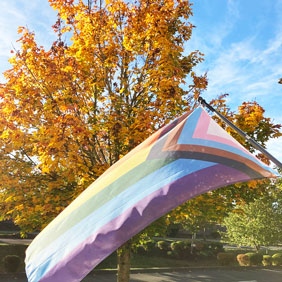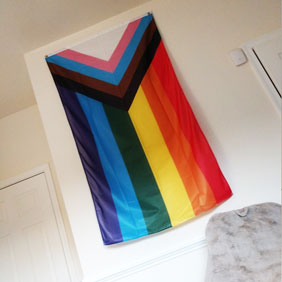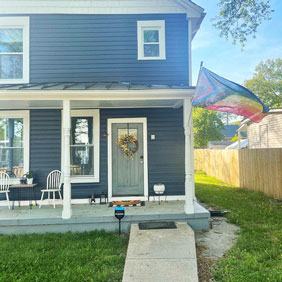 California Residents

Click here for Proposition 65 warning
20ft Flagpole Setup Video
Frequently Purchased With
Q & A