Big Head Cutouts
Choose Your Face Size / Fast 3-Day Turnaround
configurable 0 1
Get started with personalized products in 3 simple steps.

Click the Get Started button to upload a high-resolution photo and place your order.

2. Receive & Approve Your Proof
We'll process your photo within 2 business hours and send a proof for your approval via email.

3. We'll Bring Your Idea to Life
Our standard turnaround time is 3 business days plus shipping with expedited options available.
Big Head Cutouts Details
Get a picture of a head printed on a cutout to take to a graduation ceremony, a basketball game, or for a party. Add a personal headshot photo to our product template and we will digitally print it onto your choice of material for long lasting colors that will stand out in a crowd. These big head posters come in two sizes, one that is a lifelike size and another that is hilarious, fun, and larger than life. Choose from two durable material options, one for indoors and another for outdoors. No matter what event or setting you want to use your big head cardboard cutouts in, we have a product to suit your needs.
Parts List:
Custom printed cutout (approx. 12in x 18in or 24in x 36in)
Additional Notes:
Custom big heads are printed on one side (single-sided)
Head cut out may vary in size due to the quality and proportion of photo provided
Material:
4mm Coroplast®: Weather-resistant & UV-protected lightweight corrugated plastic
White E-Flute Corrugated Cardboard: 1/16" two-sided white corrugated cardboard (compliant with Mullen 200# test)
Big Head Cutouts for Personal Use & Events
These cardboard heads are a great addition to your next event. Get the face of a birthday guest of honor or a married couple printed on a bunch of cutouts so that you can celebrate in a fun, creative way. We print the photo on one side of the material so that you can attach the other side to a venue wall or on a stick to hold the big head cutouts up at sports games. We will die-cut the face cut out signs into the unique shape of your photo. No matter which material you choose, your photo will show up looking great due to our modern digital printing technique. We use full CMYK color printing so that your head cut out can incorporate as many colors as you need without it affecting your price. Getting a friend or family member's face printed on our cardboard head cutouts makes great party decorations, party favors, and funny gifts.
Custom Big Head Cutouts Photo Requirements
To ensure that your big head cutouts or life-size standee prints clearly, please follow the steps below:
Image size should be more than 2MB
Pixel size should be greater than 1800x1800
DPI (dots per inch) should be between 180-300
We prefer JPEG or TIFF files, but also accept PDF, AI, GIF, and PNG files.
Avoid zooming in since it will decrease the resolution and cause the image to be blurry.
Get close to the person so they fill up as much of the picture as possible.
Take the picture in good lighting - if the photo is dim, the image will look fuzzy or dark.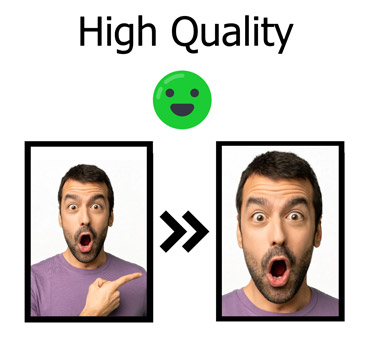 Size - 1,000KB
Resolution - 3,000px x 3,350px
High resolution images like the one shown above will be printed with very little or no pixelation at all.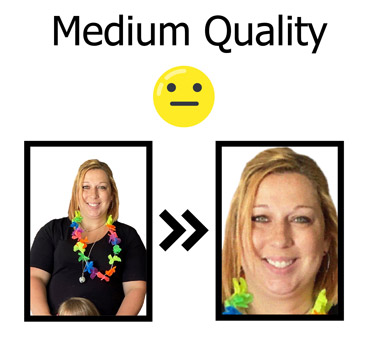 Size - 680KB
Resolution - 480px x 486px
Medium resolution images like the one shown above can be printed but will have visible pixilation in the image when printed.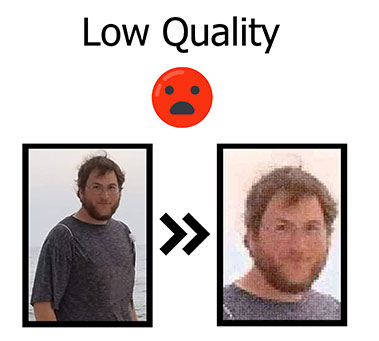 Size - 17KB
Resolution - 365px x 412px
Low resolution images like the one shown above cannot be printed due to the amount of pixelation in the image.
You need to own the rights to the big head photos: If you are the one who took the photo then you are the owner of the photo. You will need to get permission if someone else takes the photo. You can upload professional pictures if the photographer gives you a release form. If the big head pictures are uploaded and you do not have the rights to it, we will not be able to print the photo.
If you have any questions about our cardboard face cutouts, please live chat with us, call us at (877) 822-0201, or email us at info@vispronet.com.
Durable Corrugated Materials
We offer two corrugated materials to choose from. Think about where you will be placing your big head cutouts when you are choosing the material for your order.
Corrugated Cardboard
If you will be using your cardboard face cutouts indoors, such as at a party event center or in a home, we suggest getting the corrugated cardboard option. This big head cutouts material is affordable and reliable due to the long-lasting 1/16in thick cardboard that is more durable than store-bought cardboard. The front of this material is white, creating bold and vibrant colors that really stand out when printing your big head posters.
Corrugated Plastic
If you plan on using your face signs outdoors, such as at sports games and graduation ceremonies, we suggest our premium corrugated plastic. This big head cutouts material is better for outdoor environments due to its weather resistance and UV protection. This is the same strong material we use for our yard signs and yard letters.We highly recommend our corrugated plastic material as this material has greater longevity with better resistance to folding, tearing, and soilage over the basic corrugated cardboard.
Face Cut Outs in 2 Sizes
We offer our big head cutouts in two sizes. Keep in mind that the exact size will vary depending on the shape of the photo. We have one size that is approximately 12in x 18in, which is closer to the size of a human head. This head cut out is more lifelike in size and works best as decorations. Our other, larger size is about 24in x 36in, which is bigger than a human head so that it is easily seen from a crowd. This giant head cutout is the size commonly used for basketball games and graduation ceremonies so that people can see the prints from a distance. Think about whether you want a life size face cut out or a more comically large one when deciding which one to choose.
Big Head Cutouts - Frequently Asked Questions
General
What is the turnaround time?
Turnaround time is 3 business days, plus shipping time. We offer rush production and expedited shipping options if you need your big head cutouts as soon as possible. To preview your delivery date, click the "Estimate Delivery" button located at the top of this page.
How do I design my big head cutout?
Click the "Get Started" button above and upload your image or customized design. We will send you a free design proof of your cutout for your approval. Once approved, we will begin printing your order.
Is there a minimum order number?
No, we have no minimum order number required.
What file types are accepted?
We accept: JPEG, PNG, TIFF, PDF, PSD, AI, EPS, and SVG file types.
For best results image should be:
Larger than 2MB in size
Greater than 1800 x 1800 pixels
Between 180 - 300 DPI.
What do people use big head posters for?
These big head cutouts are seen in a variety of places. Most commonly, head cut out signs are decorations for parties or novelty times at celebrations. At parties, people get photos of the guest of honor printed on face cut outs and use them to decorate the event space to make the gathering more personal. For public celebrations, such as graduations and sports games, audience members will hold custom big heads on a stick to showcase someone graduating school or their favorite player. There is no limit to where to use giant head cutouts.
Can I get a cutout of more than just a face?
Yes, we have a full body cardboard cutouts available if you want to print someone's whole body instead of just the bighead face.
How do you make big head cutouts?
Learning how to make big head cutouts is very easy. All you have to do is upload a photo onto our site and we'll take it from there. Once you are done configuring your product, click on the "Get Started" button and upload your photo file on the form. Please review our photo requirements before submitting a photo so that you can get the best looking cutout.
Printing Specs
How are these printed?
We digitally print our cardboard head cutouts using UV-resistant inks for vibrant, full-color graphics that won't fade, chip, or peel. We use CMYK color printing, which allows you to include as many colors as you would like, for no extra cost.
What are some tips for uploading big head pictures?
To get the best-looking cardboard face cutouts, it is important to make sure that the photo you upload is high quality. The image should be more than 2MB with pixels greater than 1800x1800, between 180 and 300 DPI, and in a JPEG or TIFF file. We recommend using images that are not zoomed in, have the head takes up as much of the picture as possible, and that have good lighting.
Materials and Durability
Can I use this outdoors?
Yes, these can be used outdoors. These big head cutouts are waterproof and UV-resistant, so they won't show any signs of wear or tear, even after long term outdoor use in rainy or sunny weather.
Which material should I choose for my custom head cutouts?
It is important to know where you want to place your big head cutouts. If you are setting them up indoors, we recommend choosing the more affordable cardboard head cutouts. If, on the other hand, you want to display these big heads on a stick outdoors, go with the premium corrugated plastic. If you use the material in its recommended setting, the giant head cutouts should last a long time.
Hardware and Accessories
Do you have a stick for attaching to the big head signs?
No, we do not include sticks for attaching to the face cut out. If you are planning on placing the big heads on a stick, you will need to buy the stick separately.
California Residents

Click here for Proposition 65 warning
Frequently Purchased With
Q & A
Reviews