Trade Show Displays for Successful Exhibit Booths
Choose from a wide variety of portable trade show display options
Upload artwork or design online
Lowest price guarantee
Rush production & shipping available
All hardware only items ship same day if ordered by 1 PM EST
Straight, Curved, Backlit, 3D, & Magnetic
Counters, Podiums, Tables, & Chairs
Fabric Walls, Backdrops, & Stands
Table Booths, Stands, Flags, & Banners
Hanging, Standing, & Suspended Styles
Literature Holders, Racks, & Kiosks
Promotional Chairs & Seating Displays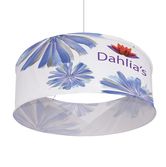 Multiple Shapes & Designs
Lights For Roll Ups, Pop Ups, & Banners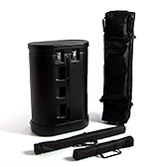 Trolleys, Cases, & Bags
Custom Trade Show Displays & Exhibit Booth Essentials
Looking for a way to transform your trade show exhibit space into a real traffic stopper? We offer a number of portable trade show displays and tabletop display stands to help you attract the attention you're looking for.
When you get the right tradeshow displays, they make a huge difference. Here's two big ways how:
Highlight what sets your business apart from the competition
Make the information you present visually appealing and easy to understand
You want to leave an impression on your attendees, and we want to help. Here are just some of the different types of full-color displays we offer:
Types of Portable Trade Show Displays
Our custom-printed exhibit booth displays are a great way to give your exhibition crew a lightweight booth that's easy to set up and tear down -- something that's crucial when it comes to deploying a successful trade show booth.
These portable booth displays come in a truly large number of sizes and styles, each of which is good for a different use case:
Straight: Not only are these booths great as the centerpiece of your trade show exhibit in their larger form, but we also offer smaller sizes, like 2.5ft x 2.5ft or 5.0ft x 2.5ft, that work great as table top displays.
Curved: A great way to buck the trend -- if everyone at your trade show comes with a straight booth, you'll instantly stand apart if you show up with a curved one. The curved shape can also help create a more "enclosed" trade show exhibit space if paired with walls or straight booths acting as walls.
Backlit: A great way to draw attention to your company, brand, or even to individual products. Each booth is backlit by internal LED lights and features a diffuser panel along the back to prevent hot spots.
Magnet Panel: Each section of the print for these booths is attached by magnets, which means you can print a different design, logo or piece of artwork on each section, then assemble them together to display multiple products or services on one display.
3D Fabric Panel: A great way to deploy a custom trade show booth without all the hassle of something huge. Available in two different sizes: 7.4ft x 7.4ft and 9.8ft x 7.4ft. Attach multiple fabric panels to your display in a multitude of different ways -- add diamonds, squares, rectangles and more.
Silicone Edge Graphic Trade Show Booths (SEG)
SEG display booths are one of the most cutting-edge solutions we offer. The SEG line features two different aluminum frames: one measures 9.8ft x 7.4ft and one measures 7.4ft x 7.4ft. Looking for more than just the single-sided display frame? Our SEGs also come in backlit or 4-sided options, as well.
Each SEG display features your custom artwork printed on a wrinkle-free polyester material that has been finished with silicone edging for hassle-free attachment to the frame.
Tension Fabric Trade Show Displays
If you're looking for a fabric display that's easy to assemble and easy to transport, look no further than our tension fabric displays. Each display is available in one of four styles: Straight Stretch Wall, Curved Stretch Wall, Vertical Curve Stretch Wall, and Wave Stretch Wall. Every frame includes snap-click poles for stress-free assembly -- no more worrying about lost parts.
Once your frame is assembled, you slide the print over the frame and zip it shut. The tension between the zippered print and the frame is both what gives the tension fabric display its name and ensures that it stays together.
We also offer a number of accessories, including:
Trade Show Furniture
Adding furniture to your trade show exhibit displays is a great way to ensure that you stand out. Not only are you giving interested customers a place to sit down and rest, but you're also advertising your brand or product to them while they do.
Our trade show furniture offerings include:
Custom-printed seating displays
Promotional chairs and cushions
Standard foldable tables and chairs and other large pieces of furniture
With the exception of our standard foldable tables and chairs, everything in our trade show furniture line can be custom printed to feature your logo, artwork, graphics or full-imprint design.
Tables & Counters
Alongside the pop up booths and other large-format displays, well-designed tables and counters are one of the most important accessories you can have when it comes to putting together a complete trade show exhibit setup.
Using a table or counter as part of your setup lets you display your business's brand or logo, while, at the same time, holding marketing collateral and allowing you to further engage with people who visit your booth.
With the exception of our inflatable tables, all of the items in our portable counters line feature some form of internal storage so that you can have marketing collateral on hand when you need it most.
Brochure Holders & Literature Racks
If you need another place to store marketing collateral, consider a set of literature racks or brochure holders. They're an excellent way to give yourself more storage space, while, at the same time, highlighting your magazines, brochures, menus and other paperwork to really make them stand out.
If you're looking for ways to draw attention to specific types of marketing collateral, we've got you covered there too. Our Menu Snap Sign is a great way to make your customers aware of your menu and any upcoming specials -- delivered through an eye-catching, convenient piece of signage.
Hanging Banners
A hanging banner above your trade show booth is a great way to direct traffic right to you. Trade show convention centers can be noisy, crowded and full of distractions. With a hanging banner, you cut away one more distraction for your customers. They can look up and immediately know where you are.
These banners work great on customers that are already coming to see you and customers that are still making up their mind on who to visit -- interested customers have a beacon they can follow right to your booth.
The Vispronet Advantage
Here at Vispronet, we're dedicated to helping you build and deploy awesome trade show displays. That's why we offer a number of different benefits that the competition doesn't:
Lowest Possible Prices
We're proud to say that our products are priced the lowest out of all of our competition. When you look at pricing on our site, that pricing includes both the hardware and your custom-printed artwork. We believe that you shouldn't have to break the bank to build successful trade show displays, and our prices show it.
Trade Show Booth Design Services
Is your current trade show exhibit not getting you the quality or quantity of traffic that you're looking for?
Not only is a fifteen-minute slot of professional graphic design checking included in your order, but we offer professional graphic design services for just $60/hr. Let our graphic designers help you put together comprehensive booth designs that will have people lining up to take a look at your products.
Fast Shipping & Production
Part of our dedication to ensuring that you have successful trade show displays is making sure that they get to you on time. All of our event displays can be produced and shipped out at different priority levels for a reasonable upcharge. All hardware-only orders always ship the same day if ordered by 1 PM EST.
What our customers have to say