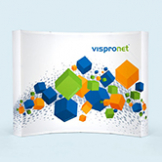 Trade Show Displays
You only have a moment to create a first impression at a trade show. Put your brand's best foot forward with trade show displays and signage from Vispronet® to guarantee a successful, professional presentation. Whether you're exhibiting at a small conference or representing your brand at a large convention, Vispronet® has a display perfect for your needs.
It's your brand and your vision. Let Vispronet® help you turn that vision into reality so you can make the right first impression.
Trade Show Displays from Vispronet®
Vispronet® offers trade show displays that are made to be used over and over again, so each and every one produced is durable. We strive to make each display as easy to assemble as possible without sacrificing quality. It only takes minutes for many of our trade show displays to be set up, so you don't waste time preparing for visitors.
Trade Show Visibility
Visibility is essential to any effective trade show booth. You want to make sure your message is successfully broadcasted and is not lost among competitors. It's imperative to have displays that both showcase your brand and can be seen from a distance. With the impressive reach of our Bowflags, you can guarantee your brand is seen thanks to this line featuring a maximum height of 18.4' and several unique shapes to choose from.
If you want to get up and take a walk around the show, our promotional backpacks allow you to take your brand with you. Choose from our many custom feather flag options, which are sure to attract the eye. The mixture of your brand, marketing messages and products with your trade show presence is extremely important. It's often the smallest details that win over potential customers. You can easily create an inviting space in your booth with seating. Talk to potential clients while sitting on one of our promotional chairs. Positioning seating around your booth will make the conversation more comfortable and cozy, which will engage your guests.
Combining the right displays is easy. A portable booth lets you showcase the best of your brand in a highly visible manner. Anchor this with Roll Up Deluxe retractable banner stands or X-Banner Stands to focus attention on individual services or products. Combine all this with a literature holder to ensure potential customers can take information home with them. Creating the right trade show display doesn't have to be hard. It's all about figuring out the details, big and small, and we are here to help you from start to finish.
A Trade Show Display That's Truly Yours
The perfect booth is only as good as the materials you have available. With a combination of the right motives and interesting designs, you'll be able to attract attention to your brand, product or service.