configurable 0 0
Custom printed solutions in 3 simple steps.

1. Choose from 3 Design Methods
Click the Proceed to Artwork button to choose Design Online, Upload Template, or Free Design Services.

2. Receive & Approve Your Proof
We'll process your artwork within 2 business hours and send a proof for your approval via email.

3. We'll Bring Your Idea to Life
Our standard turnaround time is 3 business days plus shipping with expedited options available.
Inflatable Pillars Details
Showcase inflatable pillars at your next trade show, festival, or sporting event. Our custom pillars are made from flexible and puncture-resistant material and feature your custom graphics printed on durable polyester knit fabric. Graphics are completely customizable, and are displayed on all sides of the pillars, creating an advertising display that can be seen from all directions. Graphics are also removable, allowing you to change out designs for every promotion or event.
Our inflatable pillars are filled with air on site, and require no continuous blower, a convenient feature that allows you to display in areas without a constant supply of electricity. These pillars are lightweight and break down to only fraction of their display size, making them easy to transport and store. Setup and breakdown is simple, and only requires a 2-3 people, with no tools needed.
Looking for more air advertising options? Check out our custom inflatable arches.
Parts List:
Your custom print (detachable)
Clear polyester inflatable core (flexible TPU)
Water base
Carry bag
Material:
Print
300D Polyester: Water-resistant, scratch-proof, flame-retardant fabric (6.00oz/yd²)
Pillar
Flexible & inflatable plastic polyurethane (TPU)
Specifications
| Model | Part Number | Print Size | Display Size | Weight |
| --- | --- | --- | --- | --- |
| 7.2ft | KX0146 | 17.7in x 86.6in | 17.7in x 92.6in | 5lbs |
| 9.2ft | KX0147 | 17.7in x 110.2in | 17.7in x 116.2in | 7lbs |
Design Your Own Inflatable Pillars
We offer three different designs methods so you can choose the best option based on your graphic design experience. Each artwork submission is checked by our pre-press team for any errors or issues before being approved for print.
Design Online: Our design tool allows you to create your custom artwork online, in real time. You can upload logos, artwork, and images directly from your computer, and it comes stocked with clip art, background colors, designs, text options, and more.
Upload Template: This design method is recommended for experienced designers. It involves downloading the artwork template, adding your artwork using your own design software, and reuploading the finished template to our website.
Free Design Service: We can create your artwork and design your inflatable pillars for you – for no charge. Just send our team some images or artwork inspiration and we will work with you until the design is completed.
Product Features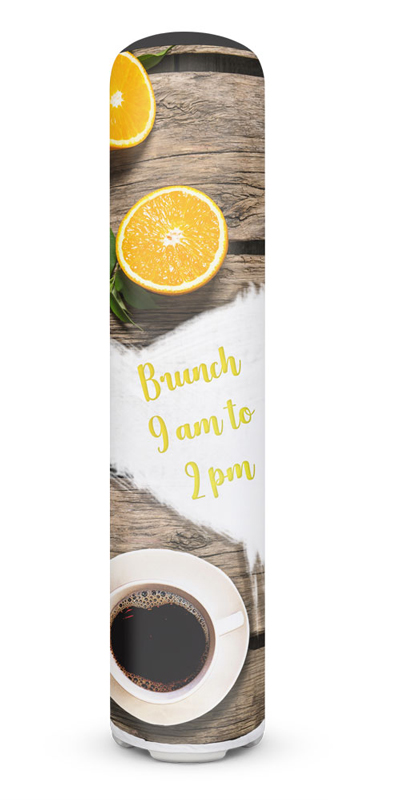 Durable Inflatable Core
The inflatable core is made from high-strength TPU, or thermoplastic polyurethane. This flexible material is highly durable and boasts puncture-resistance, tear-resistance, and can withstand most outdoor weather elements including rain and excessive heat.

Full Color Sublimation Printing
Graphics are printed using dye sublimation on 300D polyester. Dye sublimation is an premium printing technique that infuses the ink directly into the polyester fibers for brilliant, full-color graphics that are scratch and fade-resistant.

Replaceable Fabric Graphics
All graphics are completely removable, allowing you to update designs for each brand promotion or event. Graphic banners are printed on heavy-duty 300D polyester and are easy to install and remove. Graphics are secured to the inflatable pillars via hook and loop fasteners.

Choose Your Size
Find the perfect size for your application! Choose between 7.2" and 9.2" sizes. Both sizes are easy to spot, and each features custom removable graphics. Larger sizes are typically chosen for outdoor events like marathons and sporting events.

Portable Water Base
The inflatable pillars are kept upright with a fillable water base. This base is highly portable and makes travel applications a breeze. The water base will ensure the inflatable pillars are kept grounded and standing upright during windy conditions.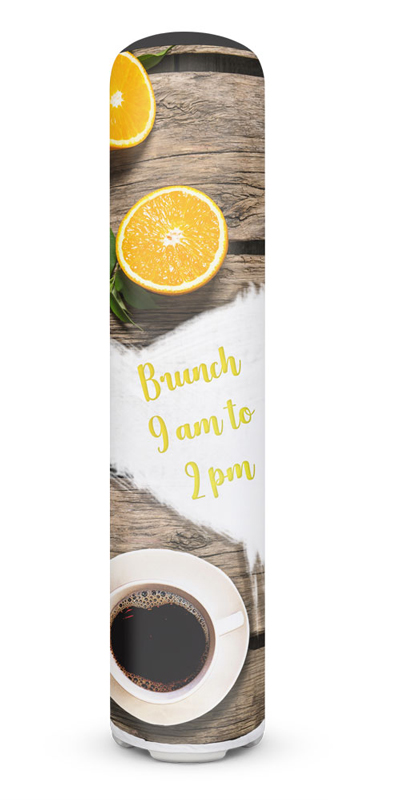 What are Custom Inflatable Pillars
Inflatable pillars are advertising displays that are shaped like pillars or columns. They are commonly showcased at events like trade shows, sporting events, and shopping malls and typically feature company logos, branding, or custom designs. Graphics are installed around the whole circumference of the pillar, making it into a 360 degree promotional display. Hook and loop fasteners are used to keep the fabric banner attached to the inflated column for a secure and reliable installation.
Inflatable pillars are very lightweight and highly portable, making them easy to travel with and perfect for mobile displays. They can be blown up and deflated in minutes and are weighed down with a water-fillable base. Compared to traditional marketing display that have to be assembled with tools and are difficult to break down, inflatable pillars offer an alternative that excels at attracting the attention of passing guests and is simple to use.
Removable Custom Graphics
Our inflatable pillars have the ability to swap out graphics when needed for upcoming brand promotions and events. All custom graphics are printed via dye sublimation on premium polyester knit fabric. Dye sublimation is a premium printing technique that infuses the ink directly into the polyester fibers, creating a vibrant, full-color finish that is resistant to fading and can be machine washed if needed. Much like our inflatable arches, our inflatable pillar graphics are applied using hook and loop fasteners. Hook and loop fasteners offer an easy to use and reliable solution to keep the custom graphics attached to the pillar, even in windy outdoor conditions.
Where Are Inflatable Pillars Displayed?
Many businesses and organizations showcase inflatable columns, or pillars, as part of an advertising display or event presentation. They are excellent at showcasing company logos, branding, and marketing messages through vibrant, eye-catching graphics. While they can be displayed indoors, inflatable pillars can also be displayed for outdoor events as well. See below for the most common applications:
Car dealerships
Sports races and marathons
Product showcases
In-store displays
Directional signage
Public events
Higher education centers
California Residents

Click here for Proposition 65 warning
Q & A
Reviews
There have been no reviews about this product.