Restaurant Flags
Looking for a creative way to attract more attention to your restaurant, bar, or food establishment? Vispronet offers a wide selection of high-visibility restaurant flags that are effective at capturing the attention of customers and passerby. All our flags feature full color dye sublimation printing on a tear-resistant polyester fabric. Add standard pole sets (30 mph wind rating) or premium pole sets (63mph wind rating) and a base to your order to create the perfect advertising display for your business. Base options include: ground stakes, cross stands with weight bags, or both. Increase revenue of your business with one of our massive 13' restaurant feather flags.
All restaurant flag banners receive FREE shipping. Orders placed by 1PM EST ship the same day.
Restaurant Flags That Get Your Business Noticed
Advertise to potential customers and improve the visibility of your business with restaurant flags and banners. We offer an assortment of different flag designs, shapes, sizes, and base options so you can find the perfect match for your business.
High-Quality Fabric
Each of these massive, pre-printed flags is crafted from a knitted, tear-resistant polyester and is printed using dye sublimation. This printing process produces brilliant, full-color graphics that are fade-resistant and are clearly visible on both sides of the flag. While other companies' low-quality feather flags come with an unsightly black nylon strip down the side, our restaurant flags are printed in full-color on every inch of available fabric and are reinforced at the top to avoid any tearing or ripping while on display.
Multiple Base Options
While the Ground Stake is our most popular and economical option for displaying on grass, we also offer base options to keep your flag standing upright and secure on sidewalks and pavement. The Cross Stand with 5 Gallon Weight Bag is the most popular option for displaying restaurant flags on pavement and a combination of Ground Stake and Cross Stand is available if you plan on moving your flag around. In addition to these base options, we offer multiple styles of feather flag bases for a wide range of applications.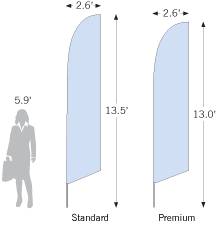 Choose Your Pole Set
We offer two pole set options: Standard and Premium. Both pole set styles are easy to set up and break down and are suitable for extended outdoor display.
Standard: Our Standard pole sets are crafted from aluminum and fiberglass and are recommended for indoor and outdoor display in low wind areas not exceeding 30mph.
Premium: Our Premium pole sets are made from aviation-grade fiberglass and are designed to display in outdoor areas. The Premium pole set is more durable and can resist winds up to 63mph.
Design Your Own Restaurant Feather Flag
If you are interested in designing your own custom restaurant flag, we offer custom feather flags and teardrop flags that are available in multiple sizes, and with an array of accessories and add-ons. Our custom restaurant flags are easy to design and feature your brand or artwork on every inch of available fabric.
---
What Are the Benefits of Displaying Restaurant Flags?
Displaying restaurant feather flags outside your business is a great way to spread the word about your company and increase brand awareness, while using limited space. They are the perfect addition to shops and restaurants that do not have a large sign but have a small space to advertise.
Increase Attention for Your Restaurant

Displaying restaurant flags is a proven inexpensive and effective method to attract customers in the door, catching their eye with bright, full-color flags as they pass. Whether you are displaying on a bustling sidewalk or a hidden side street, displaying feather flags is a highly effective advertising method because they are right in the passerby's line or sight, making them a valuable advertising instrument for any restaurant or shop.

Spark Interest in Your Business

Displaying restaurant feather flags is an excellent way to spark interest with passerby that are unfamiliar with your food establishment and its offerings. Our flags offer a professional and reliable advertising tool to ensure a fresh supply of new patrons while also informing longtime patrons of your offerings.

If your food or drink establishment has glass windows facing toward a sidewalk or street, we also offer custom decals that can showcase your menu, food specials, deals, and more, in vibrant, full color graphics.

Inexpensive & Effective Advertising

With a starting price starting well below $100, restaurant feather flags advertise your business long after the initial investment. Flags placed right outside your business let passing foot and car traffic know what your business offers, if you are open or closed, if you offer curbside takeout, parking, and more. While restaurants are posting online advertisements and digital commercials, feather flags offer effective advertising at a much lower cost per impression.



Frequently Asked Questions
How long will the flags last?
Our flags are designed to last up to two years of continuous use. To maximize the lifespan of the flag and pole set, it is vital to store the flag during bad weather. Strong winds can damage the flag fabric and pole set.
What does same day shipping mean?
If you place your order before 1PM EST, the restaurant flags will ship out of our warehouse that same day. Our quick turnaround time helps customers that are in a pinch and need their flags as soon as possible.
Do your flags have a glossy or matte finish?
Our feather flags are printed with a matte finish. A matte finish is best for displaying outdoors as it makes them easy to read in bright conditions.
Are these printed on one side or both sides?
Our restaurant flags are dye sublimated on one side, with the ink bled through to create a mirror image on the reverse side of the flag. Both sides of the flag are vibrant and easy to read.
What material are these made from? Will they tear or buckle in windy conditions?
Our restaurant feather flags are printed on Outdoor Flag Polyester. This knitted polyester fabric is highly durable and is designed to hold up in moderate winds. This material also has excellent color reproduction, showcasing the graphics in brilliant, eye-catching colors.
Although the flags are reinforced to hold up against moderate winds, we recommend always taking the flag indoors during strong storms with gusts exceeding 65mph as this may damage the fabric and the pole set.
Can I order just the flag without the hardware and vice versa?
Yes, you can order just the flag if that is all you need. Likewise, if you just need a pole set or stake, you can order just those items.
What our customers have to say