Pizza Flag Banners
Small or Large Sizes / Outdoor & Indoor Use / Weather-Resistant
Pizza Feather Flag Kit Details
Bring customers into your restaurant, food truck, or your event stand with one of these colorful pizza flags. By displaying one of these pizza feather flags, you are catching the attention of people walking or driving past your location. This flag kit is 13ft tall and is super noticeable from a distance. The colors are bright and vivid to attract people's attention. The pizza themed message also appears on both sides (with the reverse image on one side) of the flag so that you can advertise to people coming from different directions. This pizza banner can be setup indoors and outside due to its knitted polyester material that is designed to withstand regular outdoor use. Choose a pole set and base to properly display your pizza banner with no tools required. We also offer replacement flags with no hardware.
Parts List:
Pre-printed feather flag
Your choice of pole set with bag
Your choice of base
Material:
Outdoor Flag Polyester: Tear-resistant lightweight knitted fabric with excellent thru-print (3.25oz/yd²)
Bases:
Ground stake
Cross stand & weight bag
Ground stake, cross stand & weight bag
Pole Sets:
Standard: Indoor or low-wind outdoor (max 30mph winds)
Premium: Continuous outdoor use (max 63mph winds)
Specifications
Size/Shape
Dimensions
Above Ground Height
Weight
Pole Diameter
Large Feather Flag
2.6ft x 11.2ft
13.5ft (Standard)
13ft (Premium)
1.4lbs
Inner: 17mm (+/- 0.2mm)
Outer Standard: 19mm (+/- 0.2mm)
Outer Premium: 26mm (+/- 0.2mm)
Small Feather Flag
1.8ft x 6.6ft
8.2ft (Standard)
0.8lbs
Inner: 17mm (+/- 0.2mm)
Outer: 19mm (+/- 0.2mm)
Frequently Asked Questions
When can I expect my pizza flag?
These feather flags are ready to ship the day you order them if they are bought by 1 p.m. ET. Flags that are purchased after 1 p.m. will ship the next business day. See what shipping options are available for you when checking out to ensure that your flag arrives when needed.
What's the difference between the pole sets?
We offer either a standard or premium pole set. The standard option is the more economical of the two and is ideal for indoor and light outdoor use. It holds up in winds up to 30mph. The premium version is the more durable option because it withstands wind speeds up to 63mph, making it perfect for extended or repeated outdoor display. Keep in mind, our small feather flag size only comes with the standard flagpole kit.
How tall will this flag be?
The green, white, and red option comes in the standard large size, which is 2.6ft x 11.2ft. The other design option, however, comes in the large size and a smaller 1.8ft x 6.6ft size to accommodate a wide range of locations. When set up on the pole sets, the large feather flags are 13ft with the premium pole set and 13.5ft with the standard pole set. The small option is 8.2ft tall with the standard pole set.
What material and print do you use?
Our pizza feather flags are made from an outdoor tested, knitted polyester material that's lightweight but also heavy-duty. This is because the fabric is tear-resistant so the wind, rain, and other elements will not ruin the flag. One side of the material is printed with the pizza design and the reverse-image bleeds through to the other side, saving you additional printing fees. We print on the material using a state-of-the-art dye sublimation process, which infuses the ink directly into the fabric. This keeps the print from scratching or peeling off, even when exposed to outdoor weather conditions.
What's the difference between the bases?
We offer either a stake or a cross base. The difference lies in where and how you want to set up your feather flag. If you are securing your flag in soft ground, such as grass or dirt, the stake base easily inserts into the soil. If you plan on placing your flag on hard ground, such as indoor floors or sidewalks, the cross base and weights stabilize the flag. If, however, you want to install your flag on hard and soft ground, we have the option for adding both bases to your order.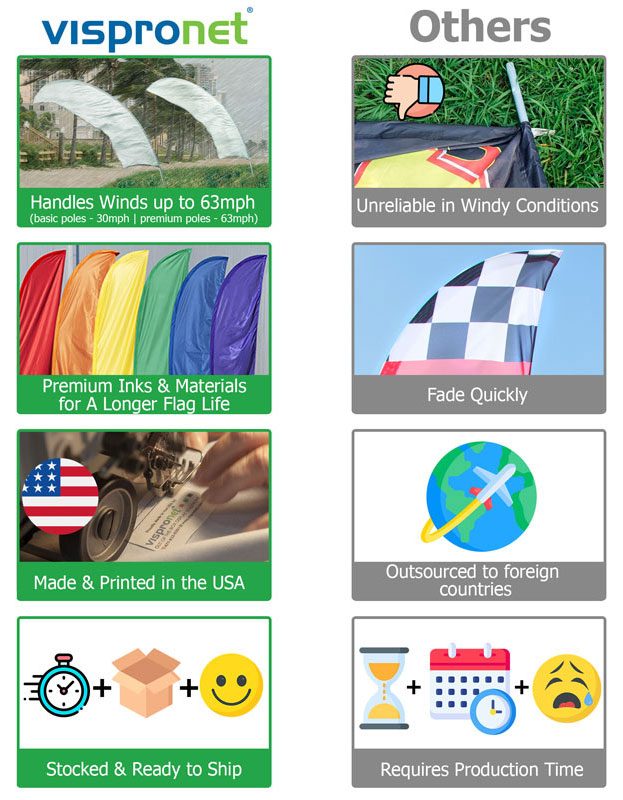 California Residents

Click here for Proposition 65 warning
Frequently Purchased With
Q & A
Reviews