configurable00

Need help? Hire one of our professional graphic designers at no additional cost!

Choose 'Pay Later' at checkout and receive a free proof
before submitting payment.

Design Online or Upload Template
Create custom products using our online design tool or provided template files.
Custom Aprons Details
Order unisex custom aprons with the logo of your food truck or restaurant to promote your brand name. Create a design that is printed all over the apron or upload your logo onto a vibrant background color. Your design will be recreated on the apron in full, CMYK color via dye sublimation, which creates high-quality colors that will not scratch or peel off. Full-color printing allows you to include as many colors as you want in your design without an increase in cost. The durability of the print makes these custom chef aprons perfect for the kitchen. The apron is made from polyester fabric, which is easy to print on and clean. Choose from two adult and child sizes so that you find the perfect fit for you, your employees, or your family. Our aprons have a black strap for the neck and two black straps on the side to tie together. Get a branded or personal design recreated on these kitchen-ready aprons at wholesale prices.
Parts List:
Dye sublimated printed apron
Material:
Specifications
|   | Adult | Child |
| --- | --- | --- |
| Dimensions | 23in x 31in | 19.7in x 25in |
| Weight | 0.28lbs | 0.21lbs |
| Part Number | AP2040 | AP2041 |
| Waist Ties | 28in long | 24in long |
| Size | Dimensions | Weight | Part # |
| --- | --- | --- | --- |
| Adult | 23in x 31in | 0.28lbs | AP2040 |
| Child | 19.7in x 25in | 0.21lbs | AP2041 |
Design Custom Aprons with Logos Online
We offer three methods for creating and uploading your artwork template. When proceeding to the artwork step, you will be asked to select one of these design options, so it's important to know which one suits your preferences:
Design Online: Customize your own apron without leaving our site by going to our design suite. Our design tool includes such personalization options as text boxes, clipart, and colors, while also allowing you to upload your artwork logo, photos, and other files to the template.
Upload Artwork Template: Many people experienced in design feel more comfortable working in a specific program. If this is the case, download our artwork template onto your computer and re-upload the finished template before or after placing your order.
Free Design Services: If you have no experience designing artwork or just need our help, have one of our professional graphic designers create your custom aprons design for free. We will send you an artwork proof to look over before we print your aprons.
Personalized Aprons for Business & Personal Use
For Business
Print your design on our custom cooking aprons for your business or as a gift. Many small businesses, such as local restaurants and food trucks, have custom kitchen aprons for their employees or volunteers to wear as part of their uniforms. Others use them in nail salons, for baking, at barbecues, for chefs, barbers, and even baristas. The versatility and pristine printing technology of these aprons give everyone a professional look while also spreading brand awareness to customers and passersby.
For Personal Use & Gifts
Custom aprons, however, do not just have to be for business use. If you have a family member who enjoys cooking or a child who is learning, getting an apron with a custom design that includes a picture or their name makes a great gift for birthdays and holidays. If your whole family cooks, it is also fun to get matching aprons for barbecues and cook-outs. These aprons are great additions to any home or work kitchen.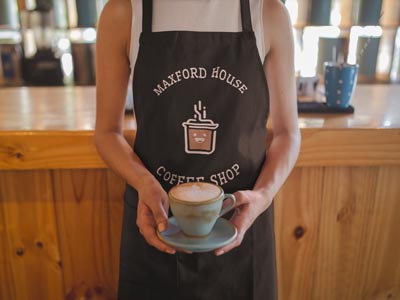 Frequently Asked Questions
How do I add my design to your aprons?
We offer three ways for creating or uploading your artwork to our template. When you click on our "Proceed to Artwork" button, you will be given three methods to customize the apron. If you have no design experience, select the Free Design Services option, and provide what you would like on your apron and any files you want our designers to use.
What material are your custom printed aprons made from?
Our aprons are made from durable polyester. This material is washable, long-lasting, and is easy to print on, resulting in eye-popping colors and detailed designs that will not scratch or wash off.
Do custom aprons make good gifts?
Yes, custom-made aprons are a go-to gift for people of all ages. If you have a kid or an adult friend who has cooking as a hobby or wants to learn to cook in their spare time, personalizing an apron with a design is a thoughtful and inexpensive gift idea. Check out our custom all-over print shirts for more gift ideas.
Where can I use these?
These custom aprons can be used anywhere you cook. They are for kitchen use either at home or working at a restaurant or food truck. If you often come face-to-face with customers, having custom-made aprons is great for promoting brand awareness.
Is there a minimum order quantity?
No, we do not have any minimum order quantities. Whether you need 1 apron or 100, add how many custom cooking aprons you are ordering to the "Quantity" box in the product configurator.
When will I receive my apron?
Because these custom aprons with logos require production time, they will need at least a day to be printed, depending on when the artwork is approved. Standard production time is 4-6 business days with rush options available to meet your deadline. Expedited shipping options are available at checkout. Go to our "Delivery Estimator" at the top of the page to see what shipping and production options are available for you.
California Residents

Click here for Proposition 65 warning
Frequently Purchased With
Q & A