Custom All Over Print Shirts
We offer the very best in all over custom t shirt printing. Choose your preferred style: custom all over print shirts with your design on the front, back, or fully printed on both sides. We also offer an area imprint option for logos, photos and jersey numbers. Our all over print t shirt process has no limits. Any design imaginable can be transferred onto one of our high-quality polyester tee shirts. Adult and youth sizes are available to accommodate functions of all kinds, such as sports teams, company events, and more. Each of our all over print shirts utilize dye sublimation printing to ensure rich, vibrant colors that will last without fading.
FREE SHIPPING on all shirt orders
No minimum order quantity
Your design printed in full color
Easy template set-up
Soft-touch result
Custom All Over Print T Shirts: Behind the Scenes
All Over Custom T Shirt Printing via Dye Sublimation
Dye sublimation is a state-of-the-art printing method that produces custom all over print t shirts in full color – no questions asked. Your all over print shirts design is first printed onto a sheet of paper and then transferred onto the polyester shirt using a high temperature heat press. The ink particles then transform into a gas state and fuse with the tee shirt fibers to create full print t shirts of the highest quality with soft-touch result.
Read more about how we create our custom sublimation shirts in our blog post about dye sublimation.
Design Custom All Over Print Shirts Online
How will you get us your artwork for your all over print t shirts? Choose one of the three design methods below:
Design Online: Our online design tool allows you to upload your logo and artwork files and apply them directly to the full print shirt template. This option also includes a selection of backgrounds, colors, text boxes, and clip art. Our design suite allows you to completely customize your all over print shirt without having to leave our site.
Upload Artwork Template: Download our print-ready templates, apply your custom all over t shirt design to the template, and reupload the file for our pre-press department. We offer a unique, 'universal template' that incorporates the all over shirt sizes into one template. There is no need to create a custom design per size in your order.
Free Design Services: If you are having trouble understanding the design process or figuring out what to include on your all over print tees, let one of our professional graphic designers customize the template for you free of charge. We will send you an artwork proof for your final approval before we print the t shirts.
All Over Print Shirts Expected Results
Custom all over print shirts are sleek & stylish fan favorites, but they do have some minor imperfections. Please remember the following details when placing your order:
Single sided prints will show the white garment on the unprinted side
Imperfections near collar, edges & seams are common for all over print t shirts (see image)
The garment shifts: Designs with front-to-back alignment are not recommended
Use high-quality artwork files: To pass our DPI requirements, your image must be at least 360 dpi. Our templates are designed at a 1:10 scale.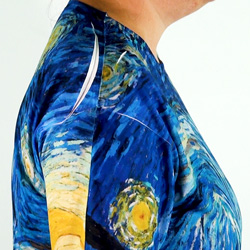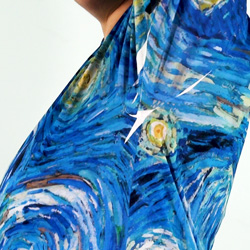 Design Tips for All Over Print Shirts
Use artwork that will not make the creases noticeable – We recommend implementing a patterned print with either a white background or a busy design. This way, if some creases appear on the full print shirt, it will blend in with the artwork more. Using a white background makes part of the shirt the same color as the creases so that they will not stand-out. Using a busy design, such as the "Starry Night" pattern in the pictures, allows the creases to look as if they are part of the artwork. Creases are common for all over print shirts and clothing, so it is important to think about them when creating your artwork.
Use continuous designs that expand across the whole shirt – Custom all over print shirts are like apparel versions of our popular step and repeat banners in that many of them have logo or art patterns that span across the entire product. Make use of all the space to get the best-looking all over shirts design.
See a sample of what your custom full print shirts will look like – Unlike some competitors, we offer our custom tshirts with no minimum order quantity, so you have the option of ordering one shirt as a sample. If you plan on purchasing a bulk order but want to see what your custom sublimation shirts will look like before buying a large amount, just order one to review. All our products have a quantity box in the configurator for selecting one to hundreds of printed shirts.
Do not put important elements of the design near the collar or seams – Make sure to take the collar and seams of the all over print tees into consideration when designing your artwork. If your print includes important wording, such as a company name, do not place it near the collar or seams or else it may appear distorted and hard to read. If your design includes text, place it where it will be easily seen and read.
Consider how the design will look in multiple sizes – If you are ordering many all over print shirts sizes, think about how your artwork will look on small and large shirts. When designing small all over print t shirts, try to make the artwork take up a lot of the shirt space so that it will not look shrunken on larger shirt sizes. If you are designing a larger full print shirt, however, make sure important text does not cover the entire span of the shirt, or else it could get cutoff on the smaller sizes.
Keep branding consistent – If you are creating these All Over Print T-Shirts for organizational events like charity giveaways, fundraisers, or work functions, make sure to align colors and designs with your brand marketing. Coordinating colors and designs is helpful for keeping your brand identity uniform and consistent and for building awareness and trust with customers. Adding your brand to promotional items like custom tote bags, can coolers, and personalized mouse pads is an excellent way to spread awareness for your organization with a consistent brand identity.
Custom All Over Print Shirts - Frequently Asked Questions
General
What is an all over print shirt?
All over print shirts are t-shirts featuring custom designs printed over the front, back, or over the entire garment of clothing. They are printed using dye sublimation and can feature any design or logo with unlimited colors for no extra cost. All over print shirts are fade-resistant and can be printed anywhere on the surface of the garment, making them a superior option compared to screen printed shirts.
When will I receive my order?
Our standard turnaround time is 3 business days plus shipping time. Rush production is offered for an extra fee. We also offer expedited shipping options at checkout if you need your all over print t shirts as soon as possible. To preview your shipping time, click on the "Estimate Delivery" button above, when configuring your product.
Is there a minimum order quantity for the all over print shirts?
One of the benefits of shopping with Vispronet is we offer custom printing with no minimum order quantities! These tee shirts ship free, are affordable, and make great gifts for that special someone, team jerseys, and more. Order as many all over print t shirts as you would like.
Is bulk pricing available for large orders?
Yes, bulk pricing is available for large orders. The more shirts your order the less expensive they are per unit.
How do I make an all over print shirt?
We offer three ways for you to provide artwork for your custom shirt order: Design Online, Upload Template File, or Free Design Services. All orders receive a free pre-production proof via email for your approval.
I'm having trouble placing an order for my full print shirt. Can you help?
Of course! Chat online with us now or call 877-822-0201 and our expert customer service team will help you order your custom all over print shirts. Our professional graphic designers are here to assist with artwork, templates, and more - at no additional cost!
Do you sell any other promotional items that are great for giveaways?
Yes, aside from all over print tshirts, we also sell custom decals, magnets, table flags, custom totes, and personalized mouse pads.
Printing & Care
What's the difference between traditional screen printing and dye sublimated all over print shirts?
Screen printing and dye sublimation are the two most popular all over custom t shirt printing techniques. Screen-printed tee shirts are created by pushing ink with a squeegee through a stencil on a mesh screen in order to bond the inks to the fibers of the shirt. It can either be done manually or by machine and is very limiting when it comes to colors. The design has a textured feel to it when it's finished. This means the graphic can chip away or deteriorate over time.
All over print shirts produced via dye sublimation utilize digital printers to print your design to transfer paper. The transfer paper is then laid overtop the tee shirt and a high-temperature heat press is used to apply the design to the tee shirt fibers. There's no feel to the graphic and your design is permanently bonded to the tee shirt fabric. Custom sublimation shirts will not wash or chip away over time. This allows us to create custom all over printed tee shirts in full color with no limitations.
Will my full print shirt fade in the wash?
No, our shirts will not fade in the washing machine. Because we print them on high-quality polyester using dye sublimation, the graphics are engrained into the fabric fibers for premium fade-resistant colors. Compared to lower quality printing methods like screen printing, dye sublimated all over print shirts feature soft to touch graphics and are safe for multiple machine washings before showing any signs of fading.
Sizing & Materials
What sizes are the all over print shirts?
We offer our shirts in multiple sizes including children's and adult's sizes. Children sizes range from small to large and adult sizes range from small to 3XL.
How do the shirts fit?
All panel tees have a slimmer fit and we recommend ordering a size up from your original size. All our solid white tees are Jerzees® Dri Power Sport brand tee shirts with a relaxed, comfortable fit.
What material are your all over print t shirts made from?
Each of our custom all over print shirts are made from premium polyester fabric, which lasts longer than cheap store-bought shirts. Custom polyester shirts are not only comfortable, but also easy to print on for the best looking results. Our panel tee shirts are made from a special, thinner, and softer polyester material that is specifically manufactured for dye sublimation t shirt printing.
What all over shirts color options are available?
Right now, we only offer our Jerzees® Dri Power Sport shirts in all white and our white tee with the black back and sleeves. However, nothing is stopping you from printing custom t shirts with the color of your choice!
What our customers have to say