Custom All Over Print Shirts
We offer the very best in dye sublimation tee shirts. Choose your preferred style: custom all over print shirts with a printed front or back only, or opt for both sides. We also offer an area imprint option for logos, photos and jersey numbers. Our process has no limits. Any design imaginable can be transferred onto one of our high-quality polyester tee shirts. Adult and youth sizes are available to accommodate functions of all kinds, such as sports teams, company events, and more. All of our personalized tee shirts utilize dye sublimation printing to ensure rich, vibrant colors that will last without fading.
FREE SHIPPING on all shirt orders
No minimum order quantity
Endless color options
Easy template set-up
Soft-touch result
Behind the Scenes Video
About the Sublimation T-Shirt Process
Dye sublimation is a state-of-the-art printing method that produces all over printed tee shirts in full color – no questions asked. Your design is first printed onto a sheet of paper and then transferred onto the polyester shirt using a heat press. The ink particles then transform to a gas state and fuse with the tee shirt fibers to create a high-quality & soft-touch result.
Read more about the process in our blog post about dye sublimation.
Design Online or Upload Artwork Template
How will you get us your artwork? Use our online design tool to upload your logos and artwork files, or download our print-ready templates, create your design on the template, and reupload the file for our pre-press department.
We offer a unique, 'universal template' that incorporates all of our tee shirt sizes into one template. There is no need to create a custom design per size in your order.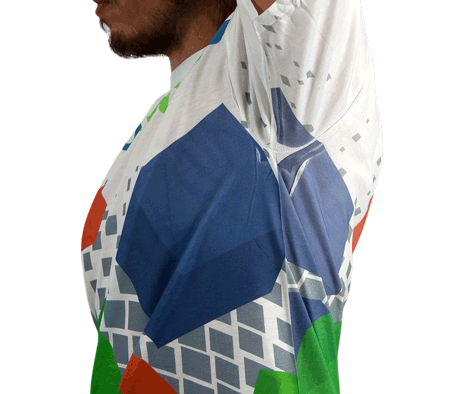 All Over Print Shirt Expected Results
Dye sublimation tee shirts are sleek & stylish fan favorites, but they do have some minor imperfections. Please remember the following details when placing your order:
Single sided prints will show the white garment on the unprinted side
Imperfections near collar, edges & seams are common (see image)
The garment shifts: Designs with front-to-back alignment are not recommended
Use high-quality artwork files: To pass our DPI requirements, your image must be at least 360 dpi. Our templates are designed at a 1:10 scale.