Custom All Over Print Shirts
We offer the very best in all over custom t shirt printing. Choose your preferred style: custom all over print shirts with your design on the front, back, or fully printed on both sides. We also offer an area imprint option for logos, photos and jersey numbers. Our process has no limits. Any design imaginable can be transferred onto one of our high-quality polyester tee shirts. Adult and youth sizes are available to accommodate functions of all kinds, such as sports teams, company events, and more. Each of our all over print shirts utilize dye sublimation printing to ensure rich, vibrant colors that will last without fading.
FREE SHIPPING on all shirt orders
No minimum order quantity
Your design printed in full color
Easy template set-up
Soft-touch result
Custom All Over Print T Shirts: Behind the Scenes
All Over Custom T Shirt Printing via Dye Sublimation
Dye sublimation is a state-of-the-art printing method that produces custom all over print t shirts in full color – no questions asked. Your design is first printed onto a sheet of paper and then transferred onto the polyester shirt using a high temperature heat press. The ink particles then transform into a gas state and fuse with the tee shirt fibers to create full print t shirts of the highest quality with soft-touch result.
Read more about the process in our blog post about dye sublimation.
Design Online or Upload Artwork Template
How will you get us your artwork for your all over print t shirts? Use our online design tool to upload your logos and artwork files, or download our print-ready templates, create your design on the template, and reupload the file for our pre-press department.
We offer a unique, 'universal template' that incorporates all of our tee shirt sizes into one template. There is no need to create a custom design per size in your order.
All Over Print Shirts Expected Results
Custom all over print shirts are sleek & stylish fan favorites, but they do have some minor imperfections. Please remember the following details when placing your order:
Single sided prints will show the white garment on the unprinted side
Imperfections near collar, edges & seams are common (see image)
The garment shifts: Designs with front-to-back alignment are not recommended
Use high-quality artwork files: To pass our DPI requirements, your image must be at least 360 dpi. Our templates are designed at a 1:10 scale.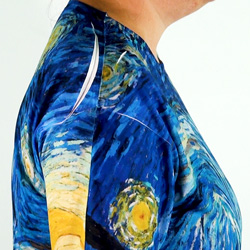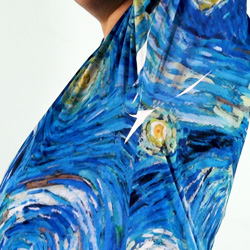 Custom All Over Print Shirts - Frequently Asked Questions
What's the difference between traditional screen printing and dye sublimated all over print shirts?
Screen-printed tee shirts are created by pushing ink with a squeegee through a stencil on a mesh screen in order to bond the inks to the fibers of the shirt. It can either be done manually or by machine and is very limiting when it comes to colors. The design has a textured feel to it when it's finished. This means the graphic can chip away or deteriorate over time.
All over print shirts produced via dye sublimation utilize digital printers to print your design to transfer paper. The transfer paper is then laid overtop the tee shirt and a high-temperature heat press is used to apply the design to the tee shirt fibers. There's no feel to graphic and your design is permanently bonded to the tee shirt fabric. It will not wash or chip away over time. This allows us to create custom all over printed tee shirts in full color with no limitations.
What material are your shirts made from? How do they fit?
Each of our custom all over print shirts are made from premium polyester fabric. All our solid white tees are Jerzees® Dri Power Sport brand tee shirts with a relaxed, comfortable fit. Our panel tee shirts are made from a special, thinner and softer polyester material that is specifically manufactured for dye sublimation printing. All panel tees have a slimmer fit and we recommend ordering a size up from your original size.
Is there a minimum order quantity?
One of the best things about our apparel line is that we offer custom all over t shirt printing with no minimum order quantities! These tee shirts ship free, are affordable, and make great gifts for that special someone, team jerseys, and more. Order one or as many as you'd like. Bulk discounts apply.
What shirt color options are available?
Right now, we only offer our Jerzees® Dri Power Sport tee in all white and our white tee with the black back and sleeves. However, nothing is stopping you from printing an entire tee shirt the color of your choice!
I'm having trouble placing an order. Can you help?
Of course! Chat online with us now or call 877-822-0201 and our expert customer service team will help you order your custom all over print shirts. Our professional graphic designers are here to assist with artwork, templates, and more - at no additional cost!
What our customers have to say