Custom Gaming Mouse Pads
100% Customizable / 3-Day Turnaround
configurable 0 0
Custom printed solutions in 3 simple steps.

1. Choose from 3 Design Methods
Click the Proceed to Artwork button to choose Design Online, Upload Template, or Free Design Services.

2. Receive & Approve Your Proof
We'll process your artwork within 2 business hours and send a proof for your approval via email.

3. We'll Bring Your Idea to Life
Our standard turnaround time is 3 business days plus shipping with expedited options available.
Custom Gaming Mouse Pads Details
Level up with one of our extended XL custom gaming mouse pads designed to cover your full desk! We promise you'll never go back to using tiny, mass-produced, every-day mousepads ever again. These custom large mouse pads are available in two sizes: X-Large 31.5" x 12" and Standard 8.7" x 7.1". These sizes allow you to customize your PC gaming space with your favorite design and protect your desk while working on business tasks. The premium polyester material is as smooth as butter and the non-slip rubber bottom guarantees that the pad will remain stationary during your most intense gaming sessions. Serious gamers deserve a custom-printed peripheral like these to help keep them focused and always motivated.
Parts List:
Full-color custom printed gaming mouse pad
Material:
1/8" thick mouse pad with printable white surface and rubber bottom
Specifications
| Part Number | Print Size | Display Size | Weight |
| --- | --- | --- | --- |
| AP2100 | 8.7in x 7.1in | 8.7in x 7.1in x 0.1in | 0.2 lbs |
| AP2200 | 31.5in x 11.8in | 31.5in x 11.8in x 0.1in | 1.0lb |
Maximum Surface Area
Not only do they keep your desk clean and looking sharp, but our extra-large custom gaming mouse pads allow for increased mouse movement and laser-focused precision. The 31.5" x 12" surface area of our xl gaming desk mats removes the sense of clutter and confinement to unlock your mouse movement to its fullest potential. Our custom extended mouse pads allow for intense focus on the game without worrying about pushing or pulling the mouse off of the pad.
Premium Dye Sublimation Printing
All our custom gaming mouse pads & mats are printed using a unique heat-transfer method called dye-sublimation printing. This printing method delivers photograph-quality results while printing at a 300 DPI standard with high resistance to fading and scratching. We also print your design in full CMYK color, so you don't have to overpay for colorful or detailed prints. The eye-popping graphics of these custom xl mouse pads are sure to impress!
A+ Comfortability
Hard edges, sore wrists, and unpleasant cold desks touching your skin are now a thing of the past. These full desk mouse pads are the perfect solution to give your wrists a rest during your longest hours of using both your mouse and keyboard. Keep comfortable and play longer with these custom gaming mouse pads!
Non-Slip Rubber Bottom
Keeping your peripherals stationary while playing is of the utmost importance to really rack up that frag count! Our custom mousepads for gaming come with a non-slip rubber bottom to guarantee your mouse and keyboard won't slide around while trying to achieve victory and upping your performance in every game you play.
Super-Smooth Surface
All our custom large mouse pads are manufactured from 100% micro-woven polyester material. No matter if you are using a laser or optical gaming mouse, these custom gaming mouse pads deliver smooth and simple mouse movements, professional tracking, and aiming accuracy.
Easy to Clean
In the event you spill a drink or food on your custom desk mat, you can simply throw it into the washing machine on a delicate cycle with cold water (Soaps are detergents are okay. Do not use bleach.). For more information on how to clean your custom mouse pad for gaming, view our blog post. The premium construction and material of these desk mats are built to last for years to come. Stop wasting money on new mousepads every time they're stained!
Design XL Custom Gaming Mouse Pads Online
At Vispronet, we offer 3 different ways for our customers to design and submit artwork for their products so that it meets and exceeds their expectations. An artwork proof will always be sent via email for your approval regardless of which method is chosen. We offer the following methods to design your custom gaming mousepads in just a few minutes:
Design Online: Using our online design tool, you can create your custom desk mat in just a few minutes. Within our design software, you can choose from a wide variety of fonts, backgrounds, clip-arts, shapes, and more to bring your idea to life.
Upload Template: When choosing this method, you are required to download our blank product template to insert your artwork by using your own graphic design software. Once you've successfully added your artwork to the custom extended mouse pads template, re-upload it to our website before or after placing your order.
Free Design Services: If you lack design experience or are having trouble designing your customizable gaming mouse pads, we are here to help! We offer 100% free design services to help our customers with the perfect layout of their graphics and design. Our fully integrated design service connects you with one of our professional graphic designers to help you create the perfect design.
Custom Gaming Mouse Pads Give You A Competitive Edge
Rise above the competition with our custom extended mouse pads. Esports players, streamers, and professional gamers use these peripherals to maintain optimal performance when competing. Our custom gaming mouse pads are perfect for those playing titles such as:
League of Legends
Valorant
Fortnite
Apex Legends
Dota 2
Overwatch
Counter-Strike
And more!
Satisfied Customers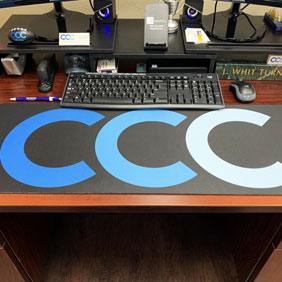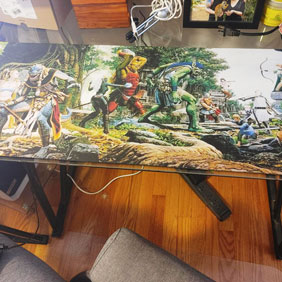 Custom Gaming Mouse Pads - Frequently Asked Questions
What is the turnaround time?
All custom gaming mats require a standard production time of 3 business days plus shipping. Use our 'Delivery Estimator' button at the top of the page to find out when you will receive your custom gaming mouse pad. Expedited production and shipping times are available for additional fees.
What size dimensions are offered for your custom xl mouse pads?
We offer two sizes: X-Large 31.5" x 12" and Standard 8.7" x 7.1". Both size options have a thickness of 1/8". The X-Large size has the optimal measurements for the placement of a keyboard and mouse. We encourage our customers to measure their desks before placing an order.
What resolution should my images be for the best printing result?
A minimum image width of 1920px is recommended due to the extra-wide proportions of our custom gaming mouse pads. For optimal printing, we suggest selecting a 4k wallpaper (4096 by 2160) to minimize the cropping of important elements of your design.
If you don't have your favorite image at the aforementioned dimensions, contact our customer service department to see if our professional graphic designers can upscale your image free of charge.
How do I clean my gaming mouse pad?
All of our custom gaming mats are able to be machine washed with cold water on a delicate cycle. Detergents and soaps are okay to use to wash them. Do not use bleach, as it will destroy the print.
Can you help me with my custom xl mouse pads design?
Of course! Opt-in for our free design services by clicking on the 'Proceed to Artwork' button and choose 'Free Design Services'. Fill out the form, attach any files you have, and we'll lay out your design on the custom gaming mouse pads for you.
What other products can I print my favorite gaming design on?
If you're looking to print the same gamer-related design across different products, we suggest checking out our traditional-sized mouse pads, all over print tees, or even create a life-size custom cardboard cutout!
California Residents

Click here for Proposition 65 warning
Frequently Purchased With
Q & A
Reviews