Banner Frames
Display printed banners in quality sign frames with these banner frames! Rather than adding grommets to your banner and hanging it from the wall or ceiling, give your banner even more personality and a professional appearance by framing it. We have a wide selection of different sized banner frames and stands that can be displayed indoors and outdoors to suit a variety of locations. Find the one that best fits your needs and the type of banner you want.
FREE Design Services | Bulk Discounts | Design Online or Upload Template | 3-Day Turnaround | Rush Options | Free Proof | Pay Later
Indoor & Outdoor Banner Frames
Banner frames are free-standing displays or wall mounts that showcase your banner. They can be displayed on the wall of a building's exterior or on a nearby sidewalk. Banner display frames can be set up inside or outside. Outdoor banner frames are setup in many venues and advertise different products and events. Restaurants use them to showcase their menus and daily specials. Others use them to promote a sale or if their business is hiring. They can even be the backdrops of an event by displaying your message in large outdoor banner frames.
Banner frames are the hardware that holds a banner together. They are designed in many ways, but their main function is to show off the banner design or message in a professional and convenient way. They are often made from metal, such as steel or aluminum or even durable PVC plastic. Banner frames and stands are easy to assemble and make it easy to change out old prints for new ones. Many businesses have banner frames on hand for when they need to display a message many times throughout a year.
Benefits of Vispronet
While most online retailers have your order your banner and your frame on separate product pages, Vispronet lets you purchase both the prints and the hardware on the same product page. By doing this, we guarantee that our banners fit the frames we have in stock.
Here are some other reasons why customers love Vispronet's banner frames:
Fast turnaround time with rush options available at checkout
Economical prices that are some of the best on the market
Full CMYK color printing to create to best looking banners
Ability to order replacement prints and hardware online
Assembly instructions and videos to guide new customers
Different ways to upload artwork, including a design online tool
Durable materials used for display indoors and outdoors
Customer service team ready to help you and answer your questions
A wide range of advertising products to suit all budgets and uses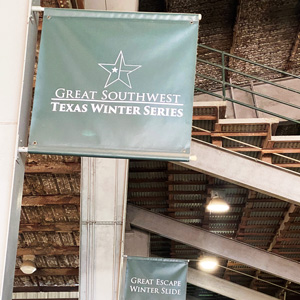 Our Selection of Banner Frames
We know that different businesses have different styles, space, and preferences, so we have many banner frames options to choose from.
A Frame Billboard – Large outdoor banner frames that are great for showcasing wide, expansive banners. Use this to display your company slogan and logo, greet visitors at an event, or let drivers know where parking is.
Wall Mounted Banners – Quality-made banner wall frame made from fiberglass poles. Ideal for showcasing store names and offices located in a building.
Banner Frame Mini – Small banner frames for placing on desk and tabletops. Often used for tradeshow booth tables, in front of product displays, and on lobby desks.
Step and Repeat Banner – Popular outdoor banner frame for placing at event entrances for photos. This outdoor banner frame system can also be displayed as a backdrop for trade show booths.
Adjustable Banner Stands – Uses the same outdoor frame as the step and repeat banner, but the banner displays an entire image rather than a pattern. Great for waiting rooms, retail shop entrances, and for personalizing a trade show display.
Tri-Banner Stands – These banner stands are often seen in malls to advertise the different sales stores are having or upcoming events the venue is hosting. Three different graphics or the same graphic can be used on all sides of this banner display frame.
A Frame Snap Sign – One of the most popular forms of sidewalk displays, also referred to as a sandwich board. These banner frames are often used by local restaurants to advertise their specials to passersby.
Sidewalk Sign with Water Base – Similar to our A Frame Sign, this outdoor banner frame includes a stabilizing water base for securing the frame in windy conditions.
Menu Snap Sign – These menu stands are often placed in front of local restaurants to showcase their menu so that potential customers don't have to go inside and ask. These outdoor banner frames are a great way to get people to try a new place.
Wall Mounted Snap Frames – Banner frames that snaps closed for easy changing of prints. They are lightweight and are often displayed in offices and lobbies to promote a company's logo or policies.
LED Light Box Displays – One of the most eye-catching banner frames we offer is this light box that glows in a way that catches the attention of passersby. They can be used in darker locations or outside at night.
What our customers have to say