Wall Banners Details
Wall Mounted Banners are an option for those who are looking to mount their Pole Banners directly to a wall or other flat surface. These banners are available in several common and custom sizes, differentiated by the hardware included. As with the Street Pole Banners, prints are available in a variety of different layout and material options. Wall Banners feature aviation-grade fiberglass poles and mounting brackets, with eyelet brackets available on Options 6 and 8. Wall Banners are perfect for museums, sport complexes and other attractions who wish to promote exhibits and other events to the masses.
Parts List:
Custom-printed banner
2 heavy-duty pole brackets
2 fiberglass poles
End caps
Material:
18oz Opaque Vinyl: 100% opaque weather-resistant & UV-protected satin vinyl
23oz Opaque Vinyl: 100% opaque heavy-duty weather-resistant & UV-protected satin vinyl
Outdoor Flag Polyester: Tear-resistant lightweight knitted fabric with excellent thru-print (3.25oz/yd²)
300D Polyester: Water-resistant, scratch-proof, flame-retardant fabric (6.00oz/yd²)
Disclaimer:
Our street banner hardware has been wind tested and can withstand wind speeds up to 55-63mph (10bft). Steel ties are intended for use with round (not square) poles. See assembly instructions for more details.
Specifications
Model
Part Number
Sizes Available
Weight
Option 5
KX0236 (1.5ft wide)
KX0237 (2ft wide)
KX0238 (2.5ft wide)
KX0239 (3ft wide)
1.5ft - 3ft wide
3ft - 10ft tall
5lbs
Option 6
KX0240 (1.5ft wide)
KX0241 (2ft wide)
KX0242 (2.5ft wide)
KX0243 (3ft wide)
1.5ft - 3ft wide
3ft - 10ft tall
5lbs
Satisfied Customers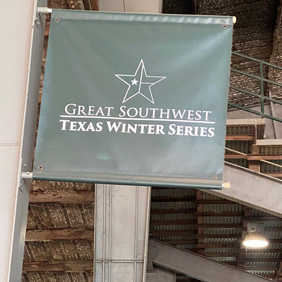 California Residents

Click here for Proposition 65 warning
Q & A