Now Hiring Feather Flags
Orders placed by 1pm ET ship the same day.
Also Available For Only $169.98!
Now Hiring Feather Flag 3-Pack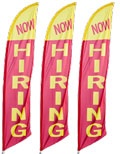 Pre-Printed Feather Flags - $27.99 + Free Shipping

Now Hiring Feather Flags Details
Spread the word that your company is looking for new employees with these now hiring flags. Placing these flags in the lawn outside of a building or on pavement in front of a shop easily spreads the hiring message to people driving or walking by. This now hiring feather flag is guaranteed to last due to its durable hardware, high-quality fabric, and state-of the-art printing process. This flag is made from knitted polyester, which is stronger than traditional nylon and it withstands the weather and the wind without tearing. The flag's message remains readable after multiple uses due to the advanced sublimation printing technique, which infuses the ink into the fabric so that the design will not peel off. Choose between four colors schemes to showcase the "Now Hiring" message. For further convenience, this flag kit comes with setup hardware, such as pole sets and bases so that it can be displayed in different locations.
Parts List:
Pre-printed feather flag
Your choice of pole set with bag
Your choice of base
Material:
Outdoor Flag Polyester: Tear-resistant lightweight knitted fabric with excellent thru-print (3.25oz/yd²)
Bases:
Ground stake
Cross stand & weight bag
Ground stake, cross stand & weight bag
Pole Sets:
Standard: Indoor or low-wind outdoor (max 30mph winds)
Premium: Continuous outdoor use (max 63mph winds)
Specifications
Size/Shape
Dimensions
Above Ground Height
Weight
Pole Diameter
Large Feather Flag
2.6ft x 11.2ft
13.5ft (Standard)
13ft (Premium)
1.4lbs
Inner: 17mm (+/- 0.2mm)
Outer Standard: 19mm (+/- 0.2mm)
Outer Premium: 26mm (+/- 0.2mm)
Large Teardrop Flag
3.6ft x 8.7ft
11ft (Standard)
10.5ft (Premium)
1.4lbs
Inner: 17mm (+/- 0.2mm)
Outer Standard: 19mm (+/- 0.2mm)
Outer Premium: 26mm (+/- 0.2mm)
Small Feather Flag
1.8ft x 6.6ft
8.2ft (Standard)
0.8lbs
Inner: 17mm (+/- 0.2mm)
Outer: 19mm (+/- 0.2mm)
13ft Polyester Now Hiring Flags
These tall flags measure 13ft in height so that they can be seen and read from far away. The now hiring banner flag is designed in a red and yellow color scheme to grab the attention of passerby. Our now hiring feather flags are made from a super-knitted polyester material and are printed via dye-sublimation making them perfect for outdoor use. This generates vivid, sharp colors that will not peel off. These now hiring flags can remain set up outside for extended use without damaging the tear-resistant fabric. By displaying this flag for an extended period, you are alerting more people of its message – that your company is hiring.
The Now Hiring message is also seen by a wide variety of people because the graphic is visible from both sides. The image is only printed on one side of the material, but the ink bleeds to the other side due to the single-reverse print of the polyester. This creates the reverse image on the other side to maximize exposure.
Installation Only Takes a Few Minutes
One of the reasons now hiring flags are so popular is that they are easy to assemble. This kit includes your choice of pole set and base. The base is applied first. If you are using a ground stake, insert it into soft ground. If you are using a cross base, the legs fold out and the base is stabilized by filling the weight bag with water or sand.
The pole set can either be Standard or Premium, depending on where you plan on setting up your hiring banner. We recommend the Standard option for indoor and light outdoor use. The Premium is for long-term applications due to its wind-resistance. The poles come in separate sections that snap together.
Add the now hiring flag by sliding the pole sleeve down the pole and hooking the strand on the end to the hook on the pole. The last step is attaching the bottom of the pole set to the top of the secure base. If you need further assistance, we include an instructional video on our "Videos" tab.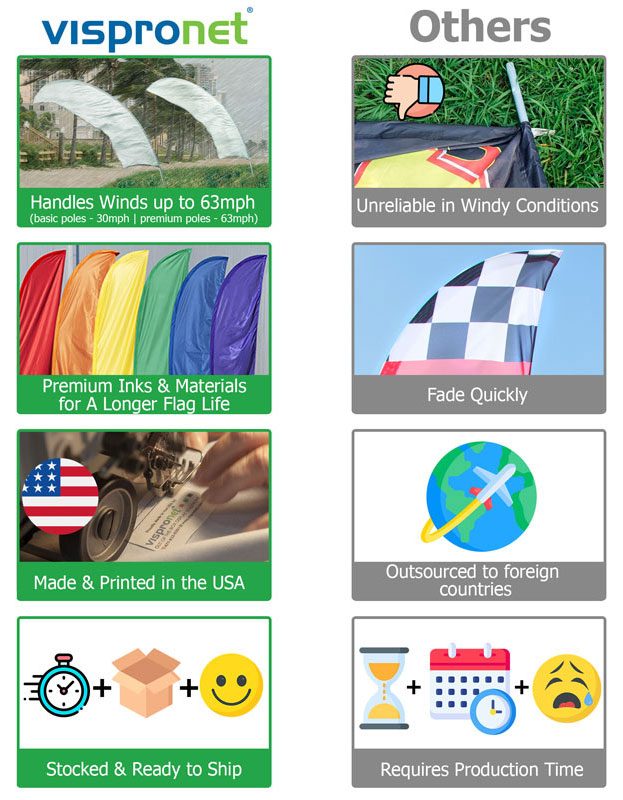 California Residents

Click here for Proposition 65 warning
Frequently Purchased With
Q & A