Now Open Flags
Also Available: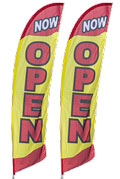 Pre-Printed Feather Flags - $27.99 + Free Shipping

Now Open Flags Details
Advertise that your business is open, whether for the first time or for the day, with these Now Open flags. The yellow and red color scheme is instantly eye-catching and can be seen and read from a distance by people passing by on the sidewalk or in their cars. This flag functional and convenient due to its easy-to-setup pole kit and base options. You can determine which pole and base you should use depending on where you plan on installing the feather flag set. This pre-printed flag is available at a low, affordable price and will ship on the same day as ordered, if it is purchased by 1pm EST. If you prefer a flag that is more specific to grand openings, we have themed Grand Openings flags. If you are looking for a more generic message instead, we also carry stock Open flags for business.
Parts List:
Pre-printed feather flag
Your choice of pole set with bag
Your choice of base
Material:
Outdoor Flag Polyester: Tear-resistant lightweight knitted fabric with excellent thru-print (3.25oz/yd²)
Bases:
Ground stake
Cross stand & weight bag
Ground stake, cross stand & weight bag
Pole Sets:
Standard: Indoor or low-wind outdoor (max 30mph winds)
Premium: Continuous outdoor use (max 63mph winds)
Specifications
Size/Shape
Dimensions
Above Ground Height
Weight
Pole Diameter
Large Feather Flag
2.6ft x 11.2ft
13.5ft (Standard)
13ft (Premium)
1.4lbs
Inner: 17mm (+/- 0.2mm)
Outer Standard: 19mm (+/- 0.2mm)
Outer Premium: 26mm (+/- 0.2mm)
Large Teardrop Flag
3.6ft x 8.7ft
11ft (Standard)
10.5ft (Premium)
1.4lbs
Inner: 17mm (+/- 0.2mm)
Outer Standard: 19mm (+/- 0.2mm)
Outer Premium: 26mm (+/- 0.2mm)
Small Feather Flag
1.8ft x 6.6ft
8.2ft (Standard)
0.8lbs
Inner: 17mm (+/- 0.2mm)
Outer: 19mm (+/- 0.2mm)
Outdoor Tested Now Open Flags
Whether you are planning on setting up this feather flag kit indoors or outdoors, the prints and hardware are designed to withstand the elements. The flag material is our outdoor polyester, which is a durable fabric that can be displayed outside in different weather conditions without it tearing. The lightweight, knitted polyester also has an excellent thru print. This means that we print the message of the flag on one side and have the reverse image bleed through to the other side. This makes the now open flags more lightweight than double-print flags and it also keeps the cost low.
This Now Open flag allows for different pole sets and bases to choose from. All our pole sets and bases can be used indoors and outdoors, but some of them are more accommodating to outside conditions than others. For instance, our Standard pole set is more ideal for indoor settings and no-to-low wind outdoor weather. This is because the aluminum material, while affordable, cannot stand up to harsher winds. Our Premium pole set, on the other hand, includes more functioning fiberglass poles, which can be displayed in winds up to 63mph without getting ruined. Your choice depends on where you prefer to set up your display and for how long.
Showcase Open Flags to Attract New Business
These now open flags can be used in a variety of industries and events. The "Now Open" message can apply to shops and businesses that are opening for the first time, or for a company that has been around for decades but wants to advertise its hours of operation. Instead of including your open hours on your entrance door or on your website, people driving by in cars can instantly recognize that you are open without having to look it up online. This can generate more interest if people are in a hurry.
This open flag sign is also the perfect addition for events, such as fairs and conferences, so that people attending can see when everything starts for the day. The bright colors and bold font also create a welcoming, friendly greeting to those who are dropping by.
How to Set Up Your Now Open Flags
While the idea of using an open flag with pole can seem tricky, it is incredibly easy and can be done without tools. Everything needed for setup comes with these now open flags. The Standard and Premium pole sets install the same way. They come in different sections that snap together. After snapping the pole sections together, they can attach to the top of your base.
If you are using a ground stake, the hardware pushes into the soft ground area.
If you are using a cross base, the hardware folds out and sets up on a hard ground surface, such as tiled floor or pavement. The cross base is supported by the included water bag, which fills with either water or sand.
Before mounting the poles to the top of the base, insert the feather flag on the pole. This is done by sliding the side pole sleeve of the flag down the pole until the flag is taut. There is also a stretchy piece of fabric on the bottom of the flag that pulls over the hook on the flagpole to keep the fabric taut. When the flag is securely attached, then the pole connects to the bottom base of your choice.
If you would like to see a video guide for setting up your now open flag, we have an instructional video on our "Videos" tab.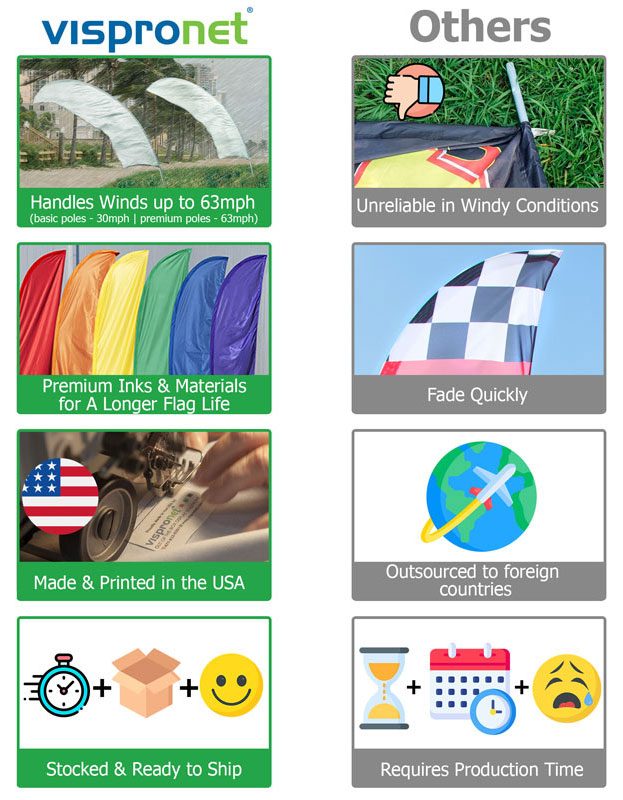 Satisfied Customers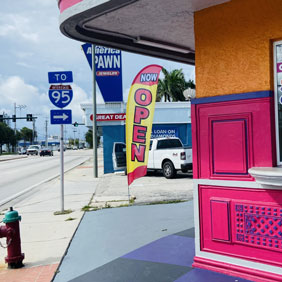 California Residents

Click here for Proposition 65 warning
Frequently Purchased With
Q & A
Now Open Flag Reviews