Golf Flags
Our golf pin flags help your brand create an impact on and off the course. Tournaments are major events with a multitude of advertising opportunities, and we all know the game is touted as the number one business tool in the professional world. Let us help freshen up your course before that big event. Features include:
Premium outdoor knitted polyester material
Tube hardware allows for easy attachment to pins
Dye sublimation print for fade-resistant, vibrant color reproduction
Two sizes available: 8in x 6in and 20in x 14in
Available in custom-print, numbered, or solid color
Printing available in single-reverse and double-sided print
FREE Design Services | Bulk Discounts | No Minimums | Design Online or Upload Template | 3-Day Turnaround | Rush Options | Free Proof | Pay Later
What are the differences between the three options?
Choosing a custom golf flag means that you can print your design on either size of flag — perfect for things like course logos, donor logos or other information that you'd like to share.
Our numbered flags offer you the option to print your pin numbers one of two ways: either as red numbers on a white background or white numbers on a red background.
With our solid color golf pin flags, you can print with any one of 20 stock colors, including red, blue, green, yellow and black.
Uses For Golf Course Flags
Besides just using your flags as ornamentation for the pin hole on course, there are other ways you can use them. For example, they can be sold as souvenirs in the pro shop or gifted to staff, such as members of the course club or grounds crew. In fact, this is exactly what happens at big tournaments, like those hosted by the Professional Golfers' Association.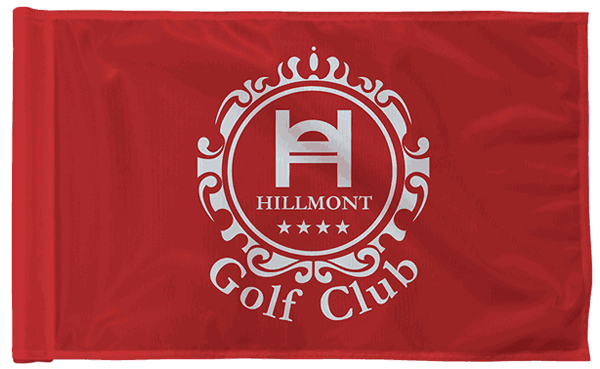 Pre-Installed Rotating Flag Tube
Each custom golf flag comes with a hard plastic rotating tube pre-installed for easy attachment to the pin.

Premium Lightweight Fabric
Each flag is printed on an outdoor flag fabric that is tear-resistant. This lightweight fabric also boasts outstanding color reproduction.

Dye Sublimation Printing
Our golf flags are printed using dye sublimation. This printing method infuses the ink directly into the fabric for a brilliant, photo-quality, fade-resistant finish.

Single & Double-Sided Printing
Select between single-reverse and double-sided golf flag printing. See the pros and cons of each printing style below.
Designing Your Golf Pin Flags
When it comes to setting up pin flags on your golf course, using the right design is hugely important to ensure that your course (or the event that you're hosting on your course) looks as professional as possible.
So how do you make a good design for your golf flag?
Start with a logo. If your course or event has a logo associated with it, consider using that as the design of your flag. After all, logos are designed to be eye–catching, and the association between the logo and the event or location will mean that your customers or clients will think of the company or charity behind the logo when they see it again, even if they see it somewhere else.
Consider the amount of design space you have available. For example, when you choose the 8in x 6in option, that's the total width and height of the flag. Some of this gets taken up by the sewing process — this is definitely something to keep in mind when it comes to putting together a design that fits on the flag you end up choosing.
Make sure your logo or text is clean and easily readable. One of the biggest reasons to sponsor a golf tournament is to advertise your company's products or services, and the best way to ensure that your logo is ignored is to present people with something that's hard to decipher – especially at the small size presented by an 8in by 6in golf flag.
Why Choose Vispronet For Your Golf Flags?
There are a number of things that set a Vispronet–brand golf flag head and shoulders above the competition. Not only are all of our flags made from knitted polyester, but they're designed for all–day outdoor use.
Choose between single–reverse or double–sided printing. Single–reverse printing allows your golf flag's design to show through to the back, while double–sided printing gives you a design that's equally readable no matter which side you're looking at it from.
If you're worried about getting your sponsors' logos to look good on our flags, don't be. Not only do we offer templates for both sizes of pin flags that we have, but our included design tool makes uploading and placing your artwork a breeze.
If you're interested in using a set of our golf course flags for your next event, get started with one of the products, or call 877–822–0201 to speak with a sales representative.
What our customers have to say