Trade Show Hanging Signs
These trade show hanging signs are the perfect way to stand out in the crowd. Get the attention of attendees of a trade show, at an exhibition, or in a retail store from far away. Available in different sizes and shapes, our hanging banner signs are designed to be used in a variety of indoor locations. Get your company logo or message printed in full color across one of these exhibit hanging signs for brand awareness.
FREE Design Services | Bulk Discounts | No Minimums | Design Online or Upload Template | 4-6 Day Turnaround | Rush Options | Free Proof | Pay Later
Trade Show Hanging Signs Get You Noticed in a Crowd
While you often see exhibit hanging signs at trade shows, they can be used wherever you need to promote brand recognition. You'll see suspended banners like these when you enter a store that's holding a seasonal sale or wants to create a welcoming atmosphere. You see these ceiling banner displays in building entrances, such as at expo centers that are holding special events. Even movie theaters can advertise an upcoming film with these trade show hanging signs. If you want to generate interest, you can display one of these hanging banner signs at an entrance.
Trade show ceiling displays are used to showcase a company logo so that attendees know where your booth is located. Often in the trade show environment, it's easy to blend in with the crowd. Using one of these trade show hanging signs utilizes your available vertical space to draw attention to your booth, even from far away.
Trade Show Ceiling Displays in Different Shapes & Sizes
To suit different graphic styles, we offer unique shapes to select from. Each shape is available in more than one size in case you need to follow trade show restrictions or are working with limited space.
3-Sided and 4-Sided Hanging Signs – The smaller version of our exhibit hanging signs for lower ceilings. The 3-sided shape is offered from 10in – 15in wide and 5in – 36in high. The 4-sided shape is available in 12in – 24in widths and 6in – 36in heights. The curved sides allow for the same image or different graphics to be displayed on all sides.
Ceiling Square, Triangle, Sphere, and Circle – The larger versions of our trade show hanging shapes for higher ceilings at exhibition buildings or department stores. The square and triangle shapes are offered in four different sizes up to 12ft and can have the same or different images on each side. The sphere can be sized up to 10ft and has four separate half-moon sides. The circle is unique, because it can display a long, continuous image across its banner. Both the sphere and circle are measured by their diameter. The circle goes up to a 13.5ft diameter.
Trade Show Hanging Signs Include Setup Hardware
To make your purchase quick and simple, not only does your order include the prints, but also the hanging hardware, unless otherwise specified. The smaller hanging signs include the banner with punched mounting holes, polypropylene triangles or squares (depending on how many sides) that attach to the banner, and a mount.
The larger trade show ceiling displays include hook-and-loop fasteners on the banner for securing around the frame or a pole sleeve for placing over the hardware. The aluminum/fiberglass poles need to be assembled upon arrival. Hooks and ropes are also included for hanging the banner from the ceiling. We also include separate products for steel rope kits, if needed.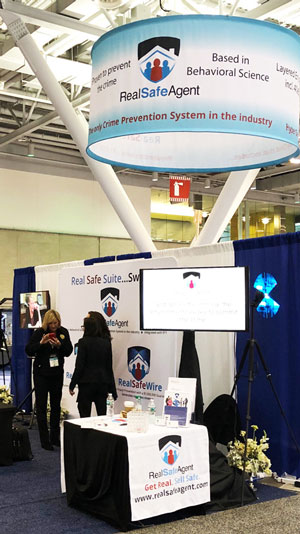 Frequently Asked Questions
What are trade show hanging signs used for?
Our hanging banner signs are used for a range of purposes. They are mainly setup at tradeshow booths so that people attending the exhibition can know where your booth is from far away. They can, however, also be used for store and mall displays, such as advertising sales and upcoming events from the ceiling. These suspended banners can be used anywhere you want to promote your brand.
What material is used for the hanging banner and the hardware?
For the small 3-sided signs, the banner material can either be a 18pt poster board or an opaque PVC. The 4-sided version is only available in the poster board material. The little triangles or squares that go on the shapes for mounting are made from polypropylene.
For the larger trade show hanging signs, the graphics are printed on knitted display polyester. This material is flame-retardant to meet tradeshow standards. The hardware for the square and triangle is made from rust-resistant aluminum while the sphere and circle have fiberglass poles.
What is the difference between the ceiling shapes?
The difference lies in how many sides you plan on having your print displayed on.
For the smaller hanging signs, you can choose between showcasing your design on three sides or four sides.
For the larger shapes, you can choose between the three-sided triangle and four-sided square. We also, however, offer a four-sided sphere, which has smaller half-moon shapes rather than square or rectangle advertising space. The ceiling circle doesn't have any sides. It's one flowing banner that is circled around the hardware. This is used to showcase one continuous image rather than three or four separate graphics.
What printing process do you use for the trade show hanging signs?
For printing our banner displays, we use dye sublimation. This is an up-to-date printing process that blends the graphics into the material for creating a smooth, non-textured design with vivid colors.
We offer full CMYK color printing. This allows you to print in however many colors you want without it affecting the price.
What are the largest and smallest sizes offered?
If you are looking for a small ceiling display for over a grocery store deli or a cash register, we offer the 3-sided and 4-sided hanging signs. The 3-sided version has 10in x 15in as its smallest size and 15in x 30in as its largest size. The 4-sided sign has 12in x 6in – 24in x 36in sizes available.
For the larger shapes, the square and triangle are offered in 6ft x 2ft – 12ft x 4ft sizes. The sphere is measured by its diameter and is available in 4ft x 4ft – 10ft x 10ft options. The circle is offered in the largest diameter with 6ft x 2.5ft – 13.5ft x 3ft options available.
How do I assemble the trade show hanging signs?
To save on shipping, these hanging banner signs are shipped unassembled. Don't worry, though, because each of our ceiling displays includes assembly instructions for helping you put them together.
To view the assembly instructions, go to the "Downloads" tab on the product page. There you will see downloadable links for the product's assembly. We offer both branded and neutral assembly instructions for direct customers and resellers.
Our smaller 3-sided and 4-sided hanging shapes also include setup videos to show you a live demonstration on how to assemble the signs. These can be viewed by going to the "Videos" tab next to the "Downloads" tab on the product pages.
Can I order replacement ceiling display hardware and prints?
We offer the option to order just the prints, just the hardware, or both. If you look on the product page, there is an "Order Type" dropdown. This dropdown includes options for "Prints only" "Prints and Hardware", and "Hardware only". If you would like a replacement suspended banner, just select "Prints only". If you need replacement poles, go to "Hardware only". The products are always defaulted to "Prints and Hardware".
If you need one specific hardware part, not the whole kit, you can contact our customer service team at (877)-822-0201.
How do I submit my artwork?
We offer three options for submitting your artwork:
Design Online Tool – under the "Design/Upload" tab on the product page there is a button for "Design Online". If you click on the button it will direct you to our online design suite, which includes the ability to upload artwork and files and gives you access to different fonts, tools, and clipart.
Submit a Template – under the "Design/Upload" tab there are also product templates. You can download these templates to customize your graphics on your own computer software. When you are ready to upload it, just click the "Upload Template" button below. To view our guidelines, look at the artwork checking forms in the "Downloads" tab.
Contact Graphics – if you aren't sure how to design your artwork, we are here to help. Contact our customer service department and they will let you correspond with our graphics team. You can provide specifications of what you want, and our graphics department will design it for you. Keep in mind, this is available at a small fee.
How do I clean my trade show ceiling displays?
Depending on what hanging banner you have, the cleaning instructions might be different.
For the triangle, square, 3-sided, and 4-sided hanging banners, a damp cloth can be used to remove any dirt. These signs should be air dried and not washed or dried in machines.
What our customers have to say