Retractable Banner Hardware Only Details
Are you looking for new hardware for your retractable banners? Order banner stand hardware without the banners and set up the entire display once delivered. Choose from our three banner stand models, sizes, and accessories so that you get the perfect hardware replacement for your roll up banners. All the hardware options are made from durable, lightweight aluminum so that your banner stand frame can be reused for multiple occasions. A free standard carrying case is included with purchase. Upgrade to a premium padded carrying case for extra security and convenience.
Parts List:
Your choice of retractable banner stand model
Aluminum support pole to display the banner
Your choice of unpadded or upgraded carry bag
Additional Notes:
Each retractable banner can be configured as a single or double-sided display
We do not recommend replacing prints on the Economy model
Our Deluxe model is able to be re-tensioned if the graphic starts to become loose
---
Choose from 3 Retractable Banner Stand Hardware Models
We offer three model tiers of retractable banner stand hardware. These models differentiate by price, material, and functionality. If you are looking for a budget-friendly stand that can endure light use at a few events and tradeshows, choose the Economy version, but if you are looking for something that will last longer through the wear-and-tear of several events, we recommend choosing the Standard or Deluxe options. Read about all three models below.
---
Installing Your Banners into the Hardware
Because this product is the retractable banner hardware only, your custom printed banners need to be installed before you can use the display. Setup can vary from model to model and from single to double-sided prints.
The bottom of the banner attaches to adhesive while a clamping rail connects to the top of the banner.
The single-sided and interchangeable Deluxe stand includes two clamping rails instead of adhesive.
Make sure the banner faces up before retracting the graphics.
The Economy version has a locking pin on the side of the base that needs to be removed to roll the print into the base.
The Standard model has thumb screws located underneath the chrome caps on the side of the base for rolling the print into the base.
The Deluxe version also has chrome caps and thumb screws or a push pin on the side for retracting the banner into the base.
Look at our Assembly Instructions for an in-depth step-by-step guide for adding and changing out prints for your specific model.
---
Assembling the Display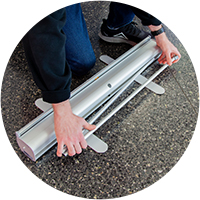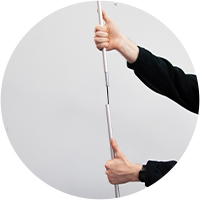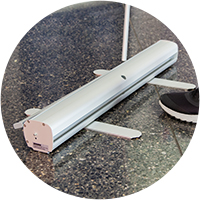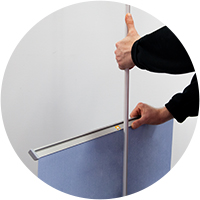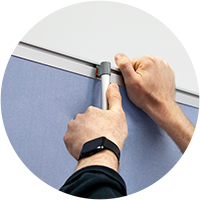 Setting up the hardware for display is very easy and does not require tools. Follow these simple steps to assemble your display.
Each model includes a support pole that reaches from the base of the hardware to the top clamping rail of the pulled out banner.
The clamping rail connects to the top of the pole to keep the print exposed and sturdy.
Setup and teardown only requires a one person and can be easily completed in just a few seconds.
---
Compatible with Vinyl and Polyester Banners
This banner stand hardware was designed for use with our vinyl and polyester banners. The prints are installed into the hardware with clamping rails and adhesive. The banners can also be changed out for new ones, depending on the type of banner stand model you choose.
The Standard and Deluxe options can be setup with more than one print, while the Economy is for only one graphic.
All three models have the option for single-sided and double-sided graphics.
The double-sided option is ideal for locations where both sides of your banner stand will be visible while the single-sided version is great if you are placing your hardware against a wall.
If you're looking to order the hardware with custom banners already installed, please visit our custom retractable banners page.
---
Frequently Asked Questions
When will I receive my retractable banner hardware?
All hardware items receive same-day shipping if ordered by 1 p.m. ET. We offer expedited shipping methods that can be previewed by clicking the 'Estimate Delivery' button at the top of the page. All expedited shipping options are also visible at the cart and can be selected during checkout.
What sizes do you offer?
The available sizes depend on the model you choose. The Economy model has three single-sided and double-sided sizes. The Standard option has four single-sided and double-sided options. The Deluxe version comes in ten single-sided sizes, eight double-sided sizes, and one double-sided size with an interchangeable print. For all models, the 31in x 79in size is the most popular one and is available for all bases.
Will I be able to reuse the replacement hardware?
Yes, these banner stands were designed to be used for more than one occasion. We do recommend, however, reusing the Economy stand for indoor use or light outdoor use. The Economy version wasn't made to last or be reused as often as the Standard and Deluxe bases.
Can I use more than one banner with these stands?
It depends which replacement parts you select. The Economy can only be used with one print, but the Standard and Deluxe editions have the option for changing out prints. If you plan on constantly adding and removing graphics, we recommend going with the Deluxe base for interchangeable double-sided prints. This option is easier to install.
How should I store my banner stand hardware?
For the best results, we recommend storing your banner stand in a dry room where it will not be exposed to heat. This includes a basement, closet, or attic. Keeping the hardware in a safe place prevents it from getting damaged between uses.
Can these retractable banner stands be used outdoors?
All our retractable banner stand hardware options are great for use indoors, but they can be used temporarily outdoors, as well. If you are having a day-long outdoor event, these banner stands will be able to stand up to the natural elements. Please do not use them if the weather is too windy or rainy and don't keep them outdoors for an extended period. We do offer an outdoor retractable banner that is built to withstand high winds and is recommended for routine outdoor display.
California Residents

Click here for Proposition 65 warning
Frequently Purchased With
Q & A
Reviews