Graduation Yard Letters Details
Congratulate a graduating class or a specific student with these graduation yard decorations. Let everyone who passes by your school or home know that you are celebrating someone graduating high school, college, or a younger grade with these stock messages. This design includes a "Congrats Grad" message with star, balloon, and graduation cap emojis. Create more personalized graduation yard signs by adding more letters and numbers to include a name or the year. You can also change the color to something more unique and include other emojis. The 18in and 24in sizes are easy to see from a road, making the message readable for those walking or driving by. The corrugated plastic material allows these congrats grad signs to withstand the elements due to its weather resistance. The UV-printing technique is also durable because the colors will not fade or peel when left outdoors for a long time. Because these signs are high-quality, they can be setup for more than one graduation. Graduation yard stakes are included with this set for placing the individual letters into the ground. Show how proud you are of a whole class or someone special with these graduation yard decorations.
Parts List:
18in or 24in corrugated plastic letters
Wide characters come with H stakes
Narrow characters come with beefy stakes
Material:
4mm Coroplast®: Weather-resistant & UV-protected lightweight corrugated plastic
Additional Notes:
Product is printed on one side (single-sided)
Faux glitter colors do not contain real glitter (mess free!)
Yard Letters for Graduation
Graduation yard letters are the perfect decoration for a graduation ceremony or party. Set them up in front of your house so that all your friends and neighbors hear about the good news or place them on schoolgrounds to celebrate a graduating class. These congrats grad signs are also perfect additions to the décor of ceremonies held outside. It doesn't matter if your student is graduating from elementary school, middle school, high school, or college, the "Congrats Grad" message will be suitable for all ages and all ceremonies. Personalize these letter sets even further by adding the name of the student, the year, or any other letters to the message. You can also choose a symbol that either represents the ceremony or the personality of the students. These yard letters make great surprises and create lasting memories. Store them away and use them for multiple occasions due to their durable material. Let your student know that you're proud of them and wish them well with these graduation yard letters.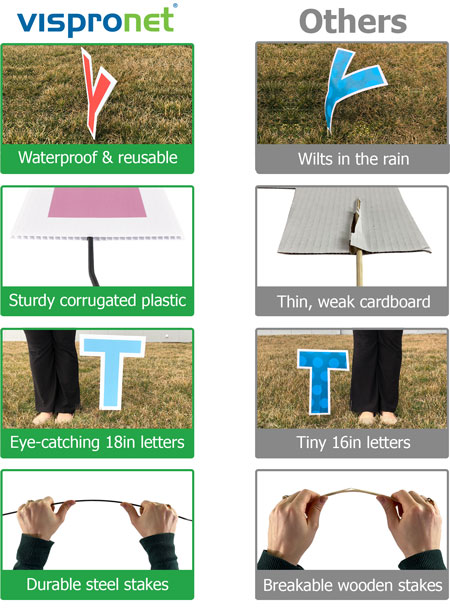 Satisfied Customers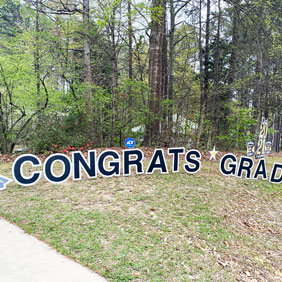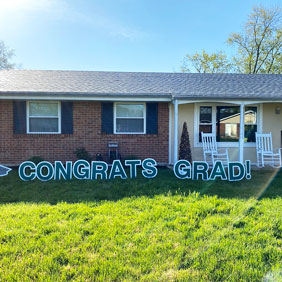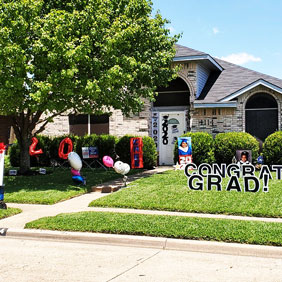 California Residents

Click here for Proposition 65 warning
Frequently Purchased With
Q & A
Reviews