Custom 10x10 Canopy Tent - All Over Print
configurable00

Need help? Hire one of our professional graphic designers at no additional cost!

Choose 'Pay Later' at checkout and receive a free proof
before submitting payment.

Design Online or Upload Template
Create custom products using our online design tool or provided template files.
Custom 10x10 Tent Details:
Our custom 10x10 tents are made from the highest-quality materials and are assembled in just a few minutes. Vispronet custom 10x10 canopies are manufactured from your choice of our standard 300D or premium 600D polyester fabric. Both fabric types are resistant to water, fire, and scratches – making it almost impossible to damage the material. The durable canopy easily attaches to the frame using fabric-receptive hook & loop fasteners. Frame options include our powder coated-steel economy frame with square legs that resists winds up to 20mph, a basic steel frame with hexagonal legs that resists winds up to 25mph, and our deluxe frame with hexagonal that is constructed from lightweight aluminum, features sturdy hexagonal legs, and resists winds up to 30mph. Our product configurator lets you add printed or stock color walls with windows and doors to your custom 10x10 canopy tent – allowing you to customize the perfect pop up tent that fits your needs. Additional accessories such as bags, weights, stakes, are also available for purchase. Shine above the competition at your next event with a custom printed 10x10 canopy from Vispronet!
Parts List:
Full-color all over printed 10x10 custom canopy
Optional sidewalls & hardware
Your choice of 10x10 tent frame
Material Options:
300D Polyester: Water-resistant, scratch-proof, flame-retardant fabric (6.00oz/yd²)
600D Polyester: Premium, ultra durable, water-resistant, scratch-proof, & flame-retardant fabric (9.00oz/yd²)
450D Solid Color Polyester: Water-resistant fabric with polyurethane coating (solid color tent walls only)
Finishing:
10x10 Canopy: Several panels & reinforcement strips hemmed to fit frame
Walls: Differ by wall type. Configure a product for more information
Canopy Dimensions:
Full Wall Dimensions:
Custom Printed: 10ft x 6.5ft
Stock Color: 10ft x 6.8ft
Half Wall Dimensions:
Custom Printed: 10ft x 2.7ft
Stock Color: 10ft x 3ft
Custom 10x10 Tent Frame Options
| Series | Material | Color | Max Clearance | Leg Diameter | Leg Thickness | Display Size (W x H x D) | Weight | Part Number |
| --- | --- | --- | --- | --- | --- | --- | --- | --- |
| Economy | Steel | White | 87in | 1.3in | 0.04in | 10ft x 10.8ft - 11.5ft x 10ft | 45 lbs | DI5055 |
| Basic | Steel | Off-white | 83in | 1.6in | 0.04in | 10ft x 10.2ft - 11ft x 10ft | 60 lbs | DI5050 |
| Deluxe | Aluminum | Silver | 84in | 1.6in | 0.05in | 10ft x 9.8ft - 10.8ft x 10ft | 40 lbs | DI5001 |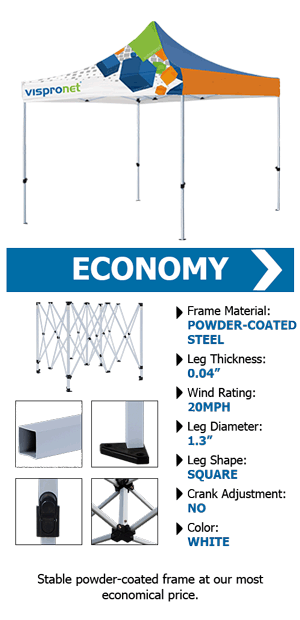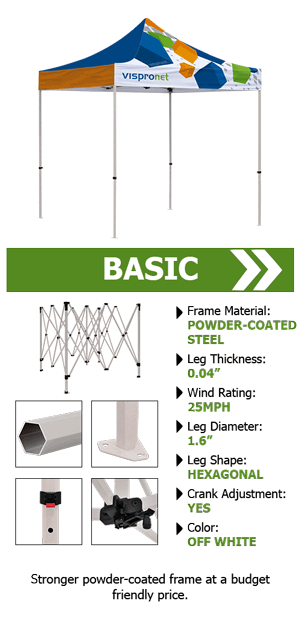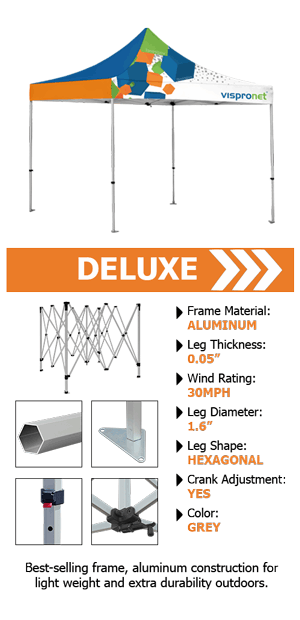 Design Custom 10x10 Tents Online
Create the graphics for your custom printed 10x10 canopy using one of the following ways to design and submit the product template:
Design Online: This option is for those who are both familiar and newcomers to the design process. Our online tool allows you to upload photos and custom artwork files to the template and add text, background colors, and clipart.
Upload Artwork Template: This option is perfect for those with graphic design skills. A lot of experienced designers have a software program that they prefer using. If this is the case, download our custom printed 10x10 pop up tent artwork template and upload it onto your computer. When you are done, upload the finished 10x10 tent template on our site before or after placing your order.
Free Design Services: For those who are not sure of what to include on their canopy or are confused about the design process, let one of our expert graphic designers personalize the template for you free of charge. You will receive an artwork proof to look over before we print the 10 x 10 canopy.
Why Display a Custom 10x10 Canopy?
Exhibiting a branded 10x10 canopy tent at shows and events is an effective and cost-efficient way to spread awareness for your company and to draw attention to the products and services you provide. Compared to plain or solid colored tents, custom printed 10x10 pop up tents offer an excellent way to stand out among the sea of competitors, and are a surefire way improve your company's brand recognition at future events. Custom 10x10 tents offer shelter from poor weather, are highly portable, and are easy to set up – making them ideal for small business owners displaying at indoor and outdoor venues throughout the year. Custom canopy covers are also easy to accessorize with walls, tent flags, and banners that can further help your brand stand apart from the competition. Perhaps most importantly, a custom 10x10 canopy tent from Vispronet is highly affordable and is a smart investment for any small or large business looking to leave to an impression at their next show or event.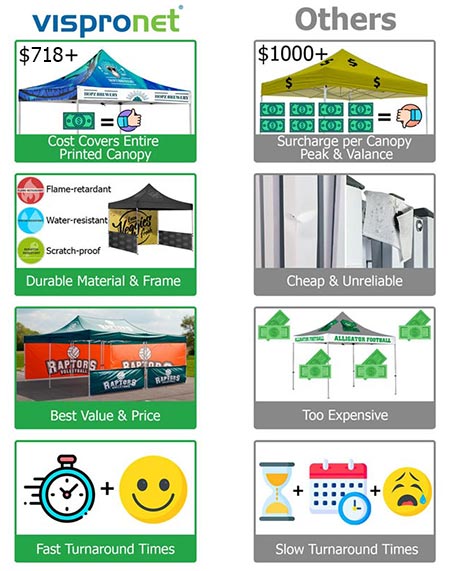 Satisfied Customers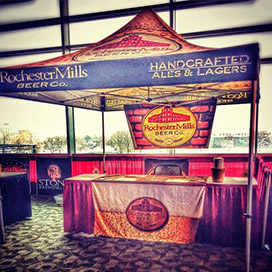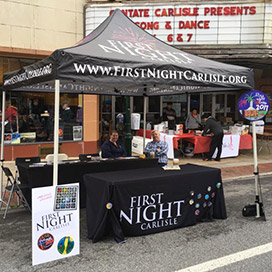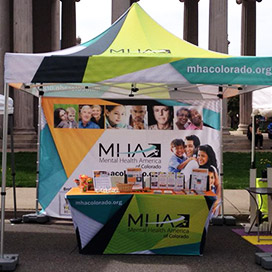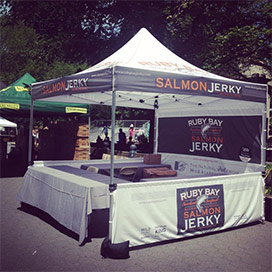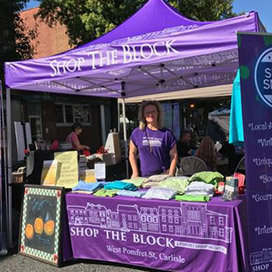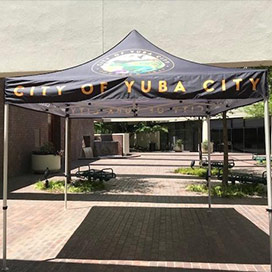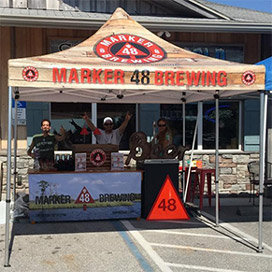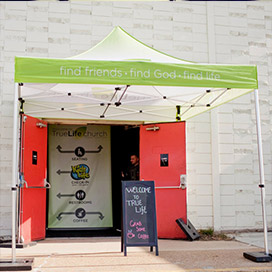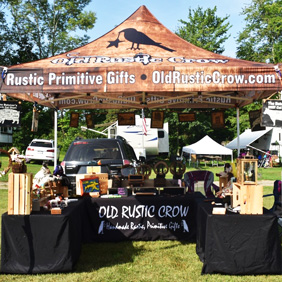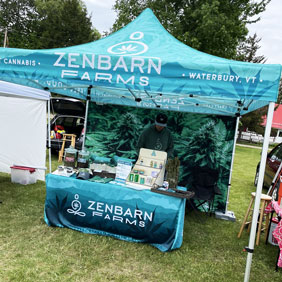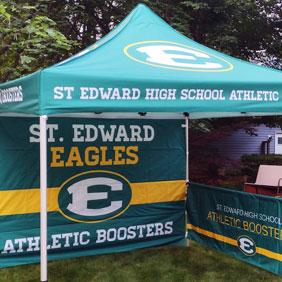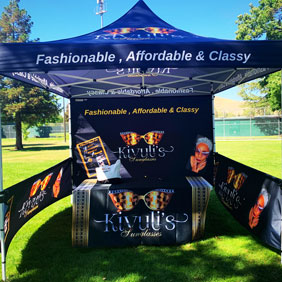 Frequently Asked Questions
What is your turnaround time?
Our standard production time is 4-6 business days with rush production and expedited shipping options available. As leading 10x10 canopy tent manufacturers, we want to make sure you get your tent as soon as possible. Your shipping is calculated based on the location of where we are sending your order. Look at our "Shipping Estimator" at the top of the page, cart, or checkout to see what shipping times are available for your location.
Where can I use your custom 10x10 tents?
Our custom tents can be setup for a variety of events. Popular uses include vendors that assemble custom tents at town fairs and festivals so that they will stand out from the crowd. Custom 10x10 canopy tents are also essential items for businesses that attend trade shows, because the large canopies are easy to spot from a crowd and encourage potential customers to visit the display booth. Our clients print their company's custom logo on to the canopy top to spread brand awareness and generate interest in their products or services.
What part of the custom printed 10x10 canopy is customizable?
The entire canopy of these custom tents is personalized with your graphics for one price. This means that you can print on all canopy peaks and valances for no additional fees whatsoever. Each canopy section of our custom 10x10 pop up tent has the option of using the same design or a different one. There are no limitations for what to print on these canopies. Numerous styles of custom printed walls, stock color walls, and canopy tent accessories are also available for purchase.
Can I place the custom 10x10 tents indoors and outdoors?
Both the canopy and the tent frame have been tested for outdoor use. Most events that utilize custom 10x10 canopy tents take place outdoors, so all our frame and print material is made from equipment that will withstand outdoor elements. It is important, however, to make sure you select the right material to accommodate your location.
What material is the custom printed 10x10 pop up tent canopy?
The custom printed 10x10 canopy is available in two fabrics. There is 300D and 600D Polyester. The 300D material is water-resistant, scratch-proof, and flame-retardant, which makes it perfect for indoor setups. The 600D Polyester is the premium version, which is more durable than the 300D option, but has the same functions, making it ideal for outdoor display and heavy-use. For any stock color walls you include, we use a 450D Solid Color Polyester, which is water-resistant with a strong polyurethane coating.
What is the tent frame made from?
The tent frame material depends on which frame type you choose. Both the Economy and Basic models use steel while the Deluxe is constructed from aluminum. The materials are lightweight and collapsible, but the Deluxe option is the strongest of the three and is better equipped for the outdoors due to its resistance to rusting. The economy frame has square legs, whereas the basic and deluxe frames have a hexagonal leg shape for extra strength. The economy frame resists 20mph winds, the basic frame resists 25mph winds, and the deluxe frame can resist winds up to 30mph.
What type of printing do you use?
Our tent canopies are made from polyester fabric, which means that we use a modern dye-sublimation printing method that results in eye-popping colors. Sublimation infuses the ink into the fabric so that it will not scratch or peel off the polyester. We also use full color CMYK printing that allows you to add as many colors and intricate details as you want to your custom 10x10 tents without it affecting the overall price.
Does the price go down for bulk orders? What is the minimum that I can buy?
We apply discounts to bulk orders. When you add more tents to your order, the price for each tent shows up below the overall price.
What's included with my custom 10x10 tent purchase?
When configuring your tent order, choose from frame only, canopy top only, or frame & canopy. Details for all frame options are outlined above. All canopies are available in standard 300D or ultra-durable 600D polyester material. Lastly, we offer a number of accessories such has canopy safety shields, bags, weights, stakes, and more.
Our accessories allow you to setup your tent without any hassle. It is important to think about where you tent will be placed when choosing your accessories. Weights are for stabilizing the tent frame on hard ground, such as indoor flooring and outdoor pavement, while the stakes secure the tent and canopy in softer ground, like grass and sand. The cases are for transporting the tent from event to event. All our 10x10 custom event tents collapse down to a compact size so that they fit in our high-quality tent bags.
How do I setup the tent frame for my custom 10x10 tent?
All our tent frames expand to a larger size that clicks into place. The telescopic tent legs raise and lower to their proper size. There are push buttons located on the legs for adjusting the height until the legs lock. The Basic and Deluxe models include a crank for a taut canopy. Depending on the frame, the tents reach from an 84in to an 87in clearance. This is all done without tools. View our "Videos" tab to see a step-by-step instructional video on how to assemble the custom printed 10x10 pop up tents.
How do I attach my canopy to the tent frame?
Connecting the custom printed 10x10 canopy to the tent is easy. Before extending your tent frame to its full size, apply the tent canopy on top of the frame and secure it with the fabric-receptive loops. When the custom 10x10 canopy tent extends to its full size, so will the canopy. Before adjusting the tent to its full height, apply any walls you added to your order. If you have a stool or ladder, attach the walls when the tent is set at its full height.
What other 10x10 tents do you carry?
We have several different styles of 10x10 canopy tents available for purchase. We offer a 10x10 logo tent with a simpler design process and lower price, stock color 10x10 tents, an 10x10 inflatable canopy tents.
California Residents

Click here for Proposition 65 warning
Frequently Purchased With
Q & A
Custom 10x10 Canopy Tent Reviews