configurable 0 0
Custom printed solutions in 3 simple steps.

1. Choose from 3 Design Methods
Click the Proceed to Artwork button to choose Design Online, Upload Template, or Free Design Services.

2. Receive & Approve Your Proof
We'll process your artwork within 2 business hours and send a proof for your approval via email.

3. We'll Bring Your Idea to Life
Our standard turnaround time is 3 business days plus shipping with expedited options available.
Inflatable Arches Details
Create a unique starting or finish line for your next race or event with our custom inflatable arches. These displays can also be used as an entrance to trade show booths, parties, or retail displays while featuring your company logo and message. The unique detachable prints are able to accommodate different graphics for changing campaigns and events. The lightweight inflatable archway print is made from polyester fabric. Our printed polyester is water-resistant, scratch-proof, and flame-retardant for indoor and outdoor settings. We also use a dye-sublimation printing technique for striking, eye-catching colors that will not scratch or peel off from the elements. The inflatable arch is made from durable thermoplastic polyurethane, which is both inflatable and flexible to last for repeat use. Choose between angled and square shapes to completely personalize how you want your blow up archway to look. The angled option has a larger size compared to the square version. Add the optional electric air pump to your order to simply setup the entire display. Promote your business brand or your local event by setting up these large, instantly noticeable arches at the entrance.
Like inflatable advertising? Check out our custom inflatable pillars.
Parts List:
Your custom prints (detachable)
Black polyester inflatable core arch (flexible TPU)
Carry bag
Material:
Print
300D Polyester: Water-resistant, scratch-proof, flame-retardant fabric (6.00oz/yd²)
Arch
Flexible & inflatable plastic polyurethane (TPU)
Specifications
| Model | Part Number | External Size | Internal Size | Weight |
| --- | --- | --- | --- | --- |
| Square inflatable arch | KX0149 | 14.8ft x 10.5ft | 11.8ft x 9.2ft | 24.3lbs |
| Angled inflatable arch | KX0148 | 21.3ft x 14.8ft | 17.4ft x 12.8ft | 40.0lbs |
Design Inflatable Arches Online
Completely personalize the graphics for your inflatable arches to promote your logo or event name. Craft your detachable polyester prints with one of the three design methods:
Design Online: Upload your business logo or personal photos to the blow up archway template without leaving our site. Our online design tool allows you to upload files and customize your print using text boxes, colors, clipart, backgrounds, and more.
Upload Template: If you have a software program that you would prefer designing your artwork in, download the template for our arches and upload it onto your computer. When you are finished designing your print, send the template back to us before or after placing your order.
Free Design Services: We understand that some customers have trouble with the whole design process and need some help. Our professional graphic designers are here to assist you and can completely customize your design for free. You will be sent an artwork proof before we print your archway.
Product Features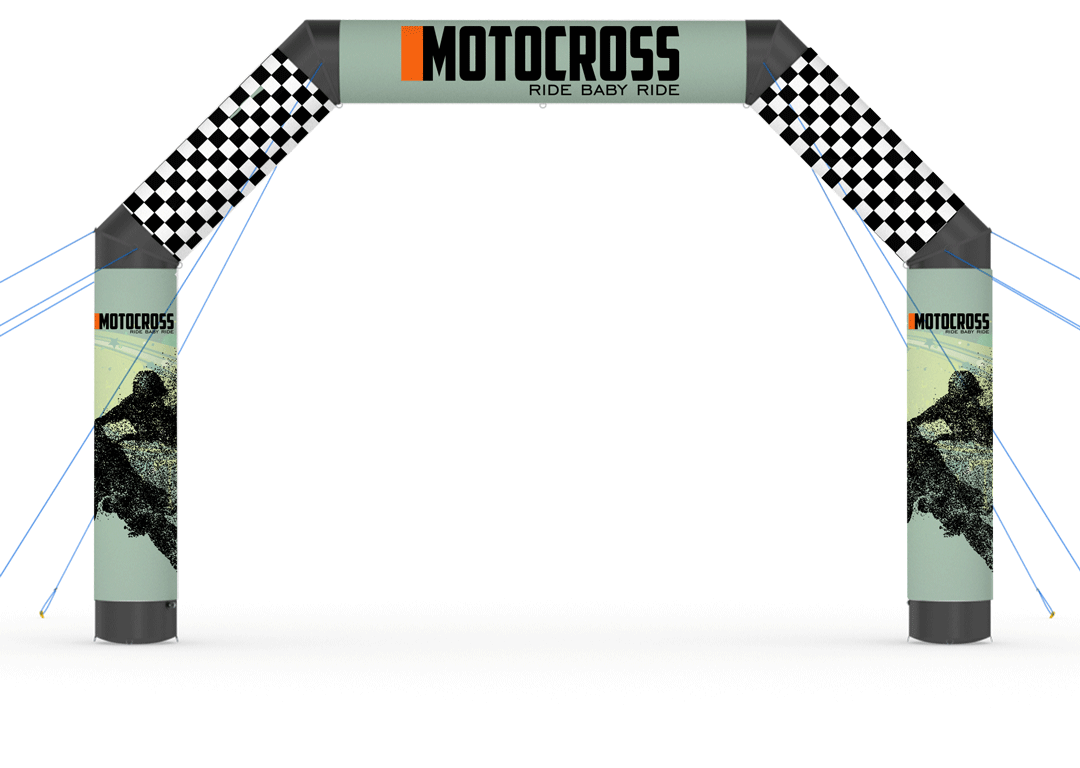 Removable Graphics
All graphics are removable, allowing for maximum display flexibility. Banners are secured to the inflatable arches via hook and loop fasteners.

Full-Color Custom Printing
Graphics are printed using dye sublimation on 300D polyester for eye-catching, full color designs that are scratch and fade resistant. Printed for repeated outdoor display.

Tie Down Straps & Stakes
Tie down straps and stakes are included to keep the inflatable arch standing upright and secured to the ground.

Durable Inflatable Core
The inflatable core is made from heavy-duty TPU, or thermoplastic polyurethane. This rubber-like material is highly flexible, puncture resistant, and designed for outdoor display.
Pick Your Arch Style
Choose between a traditional and a square arch shape. Both shape options features the same heavy-duty inflatable core and custom removable graphics.
Attract Attention with Inflatable Arches
Large, attention-grabbing archways are perfect for the entrance of an event or for the inflatable finish line of a race because they are instantly recognizable from far away. Having archways printed with your brand name and slogan will help potential customers become familiar with your business or your organization. Therefore, inflatable arches are a go-to for all kinds of events. They are often seen outdoors, such as at walkathons or town festivals, but they can also be setup indoors, such as at the entrance of trade show booths or in wedding venues. The noticeable size will attract those who are both near and far and will add a fun, decorative look to the entrance of parties and weddings. No matter where they are placed, these arches are easy to install. An air pump inflates the entire arch to its full size while the print connects with zippers and hook-and-loop fasteners. These arches can reach up to 20ft, but only weigh 40lbs at the most, making them easy to move and store when not in use.
California Residents

Click here for Proposition 65 warning
Q & A
Reviews
There have been no reviews about this product.