Custom Mailer Boxes
No Minimum Order Quantity - Fast Production - Wholesale Prices
Need a Sample?
Would you like to inspect our product before ordering them in bulk? No problem! We offer personalized mailer boxes with no minimum order quantities! Simply change your quantity to one and select your size and material.
Reference the chart below to see pricing for sample boxes, bulk, and wholesale orders. We also allow multiple box designs per order! For customer assistance, contact us via live chat or call 877-822-0201.
configurable00

Need help? Hire one of our professional graphic designers at no additional cost!

Choose 'Pay Later' at checkout and receive a free proof
before submitting payment.

Design Online or Upload Template
Create custom products using our online design tool or provided template files.
Custom Mailer Boxes Details
Parts List:
Custom printed mailer box with self-locking construction
Material Options:
White E-Flute Corrugated Cardboard: 1/16" two-sided white corrugated cardboard (compliant with Mullen 200# test)
Kraft E-Flute Corrugated Cardboard: 1/16" brown corrugated cardboard (compliant with Mullen 200# test)
Additional Notes:
Kraft cardboard causes graphics to appear faded and less vibrant as opposed to white cardboard
Why Custom Mailer Boxes?
Our custom printed mailer boxes are available at the cheapest prices include a lot of great perks, including:
Protective dust flaps
Self-locking
Recyclable material
No minimum order quantity
Wholesale prices & bulk discounts
Ability to order a sample
Pay later option at checkout
Free design proof
Fast turnaround time
Digital CMYK printing
Durable cardboard construction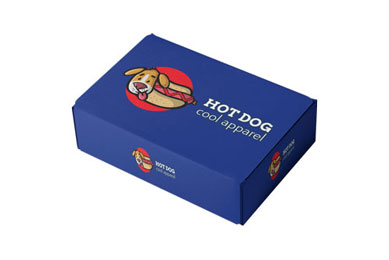 Custom Mailer Boxes at Wholesale Prices
Size (L x W x H)
1 Sample Price
Brown/White
50 Quantity Price
Brown/White
100 Quantity Price
Brown/White
200 Quantity Price
Brown/White
4in x 4in x 2in
$34.27
$40.26
$78
$94.20
$150
$180
$266.40
$307.20
6in x 6in x 2in
$44.14
$55.97
$102.60
$145.80
$194.40
$260.40
$300
$393.60
7in x 5.5in x 1.5in
$34.27
$47.24
$78.80
$112.20
$150
$210
$266.40
$321.60
8in x 5in x 2in
$51.38
$55.97
$121.80
$145.80
$224.40
$260.40
$340.80
$393.60
8in x 8in x 3in
$70.99
$53.44
$214.80
$245.40
$324
$374.40
$578.40
$643.20
9in x 6in x 3in
$70.99
$53.44
$214.80
$245.40
$324
$374.40
$578.40
$643.20
9in x 8in x 2in
$67.72
$53.44
$177.60
$245.40
$314.40
$374.40
$477.60
$643.20
10in x 8in x 4in
$55.97
$49.88
$266.40
$305.40
$404.40
$483.60
$652.80
$792
10in x 9in x 1.5in
$67.72
$69.05
$177.60
$209.40
$314.40
$321.60
$477.60
$566.40
11in x 8in x 2.25in
$57.00
$49.92
$149.40
$224.40
$266.40
$344.40
$405.60
$624
11in x 11in x 3in
$55.97
$49.88
$266.40
$305.40
$404.40
$483.60
$652.80
$792
12in x 9in x 2in
$70.99
$53.44
$214.80
$245.40
$324.40
$374.40
$578.40
$643.20
12in x 9in x 4in
$55.97
$52.80
$266.40
$374.40
$404.40
$642
$652.80
$1166.40
13in x 10in x 5in
$64.18
$66.49
$576.60
$641.40
$972
$1166.40
$1771.20
$2143.20
14in x 10in x 4in
$55.97
$52.80
$266.40
$374.40
$404.40
$642
$652.80
$1166.40
15in x 10in x 4in
$46.14
$52.80
$324
$374.40
$577.20
$642.20
$972
$1166.40
Call 877-822-0201 or live chat with a sales representative to inquire about custom sizes.
What Is a Mailer Box?
Custom mailer boxes are utilized by businesses to ship their products to their consumers. When customers order a sample or goods online, companies ship the items out in well-crafted, customized boxes printed with their logo to give it a personal touch. Many companies use these kinds of boxes for e-commerce orders, subscription boxes, promotional kits, and gift boxes.
Who Uses Custom Mailer Boxes?
The most popular application for these affordable mailer boxes are product subscriptions provided by ecommerce businesses. Our no minimum order quantity and wholesale prices allow us to provide the cheapest custom mailer boxes as a practical investment for both entrepreneurial startups and vested businesses. Popular industries that you often see with custom printed mailer boxes include clothing and retail stores and beauty and make-up lines. With the increase of online shopping, customized mailer boxes are a trend that doesn't seem to be going away. Keep your brand on your customers' minds when they order from your online store by shipping items out in these corrugated mailer boxes.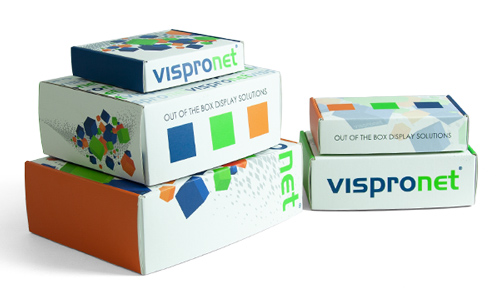 Cheap Custom Mailer Boxes with A+ Durability
Available in white and Kraft options, you can choose which material you would like your custom mailer boxes to be made from. Both options are crafted from thick, two-sided 1/16" cardboard that arrives in perfect condition. While these mailer boxes are available at the cheapest prices, the material is not flimsy. Completed with a matte finish, the corrugated cardboard will make your colors pop. The sleek white cardboard option is ideal for designs that incorporate a lot of colors, such as retail company logos for product orders or art-themed subscription boxes. The classic brown Kraft style is the perfect decision for companies that transport food or for non-profit organizations wanting a natural look. Both styles are fully customizable.
Printed Mailer Boxes That Are Sustainable & Recyclable
Not only are these custom mailer boxes completely sustainable due to the recyclable corrugated cardboard, but they're also very durable. The thick corrugation provides a protective cover for your products inside. Not only will the box material withstand the mailing trip, your customized artwork printed onto the cardboard won't fade due to the elements.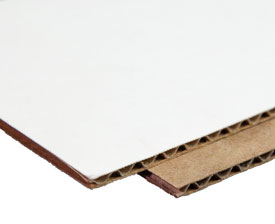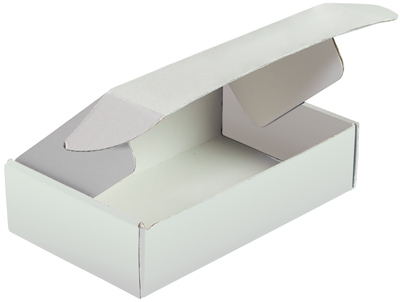 Custom Mailer Boxes with Easy Assembly
These printed mailer boxes are made in the roll end front tuck style. This means that these custom mailer boxes are shipped flat to reduce the shipping cost and must be folded when they arrive. Assembly is incredibly simple. All you need to do is:
Bring the two small side tabs together on each side so that they touch
Fold the side flaps over the two smaller tab and stick the indents into the two bottom holes
Push the two top side flaps into the inside of the box and roll the top over
Tuck the tabs on the end into the inserts on the side of the box
These customized mailer boxes are self-locking, so no other supplies are required.

These personalized mailer boxes may only be used for one journey, but they are designed to hold up after repeated use so that your customers can keep them around for convenience.
Custom Mailer Boxes in Any Size
We offer different set sizes of printed mailer boxes to choose from. All our sizes are available in both the white and Kraft box models. If you're not sure which size to get for your goods, we have different purposes in mind for each mailer size we offer. If you're sending out small fabric or recipe samples, our smallest 4in x 4in x 2in custom mailer boxes would be a good fit. If you're shipping out an order of clothing, such as designer dresses, shirts, or pants, we recommended the larger 15in x 10in x 4in sized box. Here are the size ranges we offer for each dimension:
Length: 4-15 inches
Width: 4-10 inches
Height: 1.5-4 inches
Are you looking for a custom size? Call us at 877-822-0201 or chat with a customer service representative in the chat window at the bottom right. For more information and the exact specifications of our custom mailer boxes, see our chart above to find the measurements you need.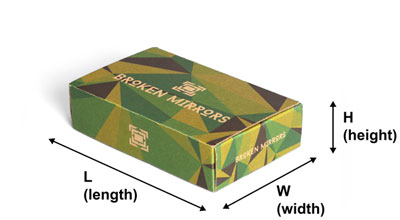 Custom Printed Mailer Boxes in Full Color
If you're a fan of YouTube or other video media outlets, you'll often see channels showcasing unboxing videos. This video trend has become quite popular with the increase of online shopping. If you sell products that customers can't inspect personally before purchase, then often they look what other customers who bought this product thought. Hence the unboxing video, where influencers and content creators purchase something from an online retailer or get a subscription box that they unveil in real time, getting their first reactions. This way potential customers can analyze what a previous purchaser thinks of the product or service.
A great benefit of custom mailer boxes is that they come across well when displayed in a video. Often customers get more excited when there is a well-crafted, colorful mailer style box to open, like it's a gift package. It also offers extra advertising for the viewers if they see the name of your brand or your logo showcased throughout the unboxing video.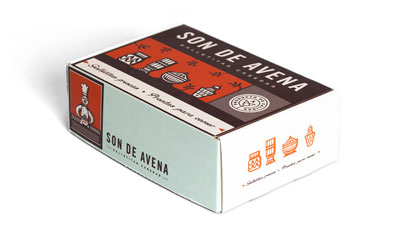 In order to create perfect custom mailer boxes for videos and personal use, we offer full-color printing at no additional charge so that you can utilize as many colors as you need in your logo design. Unlike some other vendors' low quality and cheap mailer boxes, our boxes are printed with state-of-the-art digital CMYK printers offering a crisp, clear color creation that makes images sharply stand-out. You can ensure complete customer satisfaction with a quality-made, colorfully printed mailer box with your logo.
Frequently Asked Questions
How do I design my custom mailer boxes?
We have three ways for you to create your graphics:
Design Online: If you click on the "Design Online" button in the "Design/Upload" tab, it will take you to our design suite. There you can upload your own artwork, access clipart and backgrounds, and more.
Upload Product Template: In the same "Design/Upload" tab you can access one of our design templates that is generated based on what you configured. We offer a re-seller template as well, which doesn't include any branding.
Free Design Services: If you contact customer service and request our custom design services, our team can design your printed mailer boxes based your exact specifications. 15 minutes of free design time is included with your order. If more time is needed, we only charge $60/hr.
How do I decide between printing on Kraft (brown) and white cardboard?
Our custom mailer boxes have two corrugated cardboard options to choose from. They come in the same thickness but are two different materials. Kraft is a brown cardboard that offers a more natural, classic look. If your design includes darker colors or you promote organic, environmental products, Kraft mailer boxes will work best for you. Keep in mind that the color white would come off as brown with the Kraft option.

The other material is the white cardboard box, which is a blank white color that makes brighter colors pop. If you have a design that uses a lot of contrasting colors, then use a white box as your custom mailer. Both options are recyclable and are made from sustainable material and are printed in full CMYK color.
How do I measure my custom mailer box?
For you to see how much interior space your box has, measure after the box is rolled and tucked.
Length – left to right measurements
Width – front to back measurements
Depth – top to bottom measurements
For the overall box dimensions and the kinds of items that can fit in certain sizes, see our specifications chart above.
How long will it take for my custom mailer boxes to be ready?
Standard production time is required for these boxes. They usually take 4-6 business days to be completed. If you need your printed mailers faster than that, rush production options are available for you to select in your cart online.
Do you print on the inside of the box?
For the time being, we only print on one side of the box, the outside view. The inside will be left blank in either Kraft (brown) or white, depending on the cardboard you choose.
Can you help me design my custom printed mailer boxes?
Yes! We offer free design services to help customers design their mailer boxes with logos. One of our professional graphic designers can customize the box template for you and we will send you a free artwork proof to review before we begin printing the boxes.
Do you have custom bags for branding rather than boxes?
Yes, we offer custom printed tote bags, which can be personalized on the front and back to increase your brand awareness.
Are discounted prices offered for large or bulk orders?
Yes. Our custom mailer boxes are available at wholesale prices. The higher quantity you order, the less each box costs. For example, if you only ordered one box, it would cost $34.28, but if you ordered 50 boxes, each one would only cost $1.56. The pricing of these boxes was designed for bulk orders. Although these are advertised as cheap mailer boxes, they are still crafted with care from high-quality materials that are designed to a rough and tumble shipping process.
Satisfied Customers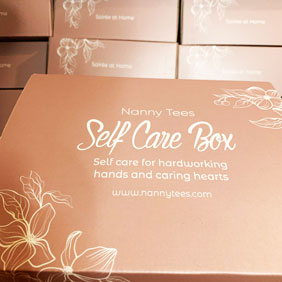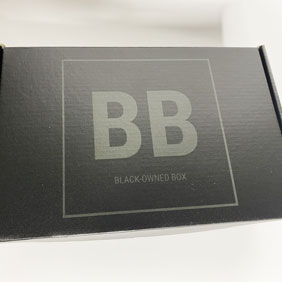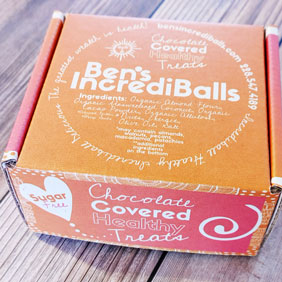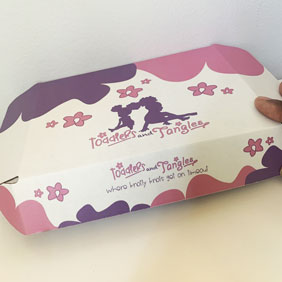 California Residents

Click here for Proposition 65 warning
Frequently Purchased With
Q & A
Custom Mailer Boxes Reviews