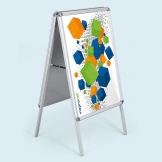 A Frame Sidewalk Signs
Time tested classics in the world of outdoor advertising, these sidewalk displays come in the basic A-Frame shape or as a standing sign with the option for a metal or water filled plastic base. With our innovative locking technology changing out your display prints is a snap, literally! Just snap open the side of your display, pull out the old print, slide in the new print and snap it shut again.
back to top
With affordable print options including both vinyl and photo paper options this reusable display system wont be going away any time soon. As an added bonus, the A Frame Sidewalk Sign has an optional brochure basket on the side, allowing you another way to help spread your message to passersby.