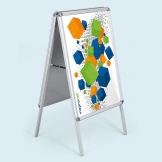 A Frame Sidewalk Signs with Changeable Messages
Time-tested classics in the world of outdoor advertising, our sidewalk signs come in a wide variety of styles to best suit your advertising needs. With our innovative locking technology, changing out your display prints is a snap, literally! Just snap open the side of your display, pull out the old print, slide in the new print and snap it shut again.
Sidewalk Signs to Improve Business Visibility
Commonly referred to as 'sandwich signs' placed outside of restaurants, our A frame sign holders are one of the easiest ways to showcase your business's special offers and promotion. Made out of durable PVC plastic, each display is designed to be portable, enabling you to set it up quickly and effortlessly in order to get the most out of your outdoor advertising space. All A-frame displays ship with two custom images that are printed directly onto 4mm sheets of corrugated plastic to better protect your images from harsh weather or other unsightly forms of damage.
Looking for something simple? Consider using one of our snap sidewalk signs. These special snap displays are constructed from aluminum framing and backed with a steel wall to help better resist outdoor weather conditions. Worried about what the sunlight will do to your prints? Don't be: each of our snap sign ships with a pair of anti-glare protective covers to ensure that your prints stay safe from the sun's rays, letting you set up your advertisements and other promotional messages even in the most glaring heat. Combine this with a literature basket to display brochures, pamphlets, menus or other handouts. The literature basket clips right on to the side of the A frame and is finished in the same way to give a more complete feel to your outdoor display system.
Need something a little more stable? We've got you covered there, too: our A frames are offered with both stand and water bases so that you can ensure your sign board stays standing under even the harshest conditions. Each Sidewalk Sign with Stand features a flexible spring base with two pairs of metal feet for traction. Much like the standard version, this product is constructed from aluminum framing and backed by a steel wall to help it better resist inclement weather, like high wind.
If you're looking for something that doesn't move as much, consider getting one of our sidewalk signs with a base or stand. This product features a grey plastic base that can be used to wheel the product around, making it easier to get the sign board set up exactly where you want it. Choose from an aluminum stand or base that can be filled with water or sand to make them harder to move, further protecting your sandwich sign from the elements. Want an easy way to fill your A frame's base with sand or water? We offer a fill set as well, complete with a collapsible rubber funnel and a 6" rubber tube to make filling a breeze.
Need Something Bigger? Try Our A-Frame Billboard Signs
If you need a large graphic sign for your next promotion, fundraiser or sporting event, consider using one of our signs or billboards. Built from durable, lightweight aluminum, the frame folds out, making assembly quick and easy. Frame sizes range anywhere from 7 feet all the way up to 32 feet so that you can get a an advertising display that best suits your needs. Each of these A frames comes with a one-banner or two-banner option, meaning you can get just as much visibility as you need when it comes to promoting your business. All of the graphics for our billboard signs are printed on your choice of vinyl materials, each of which feature UV protection and resistance to harsh weather conditions. To further enhance outdoor use, the frame kit includes steel ground stakes for use on grass, making this product a perfect choice for use as sign boards at baseball games, football games or other sporting events.
The Benefits of Sign Boards in Advertising
Using an A frame sidewalk sign offers huge benefits for your business when it comes to advertising your products, food, and more. Some simple sign boards placed on the street are a great way to pull in impulse buyers. Making signs that are easily visible to passersby is a cost-effective, practical way to advertise, even for the smallest of businesses. Here at Vispronet®, we specialize in delivering custom signs that are designed to pull in customers from the get-go.
But how do you actually use A frames for advertising?
Attract attention.
Businesses that have sandwich signs placed outside their premises increase sales and profitability. Use your sign boards to tell passersby about what they'll find if they come into your store. Keep the messages on your signs straightforward and to the point – it helps create a good impression.
Use multiple designs.
Each of our A frames comes with a way to swap out the designs you're using on your sign boards – take advantage of that. Whether it's a pair of corrugated plastic sheets or two different pieces of photo paper sandwiched behind protective covers, swapping out the designs is quick and easy. Whether you want to let potential customers know that you are lowering prices or offering a special deal, these promotional displays allow you to change your messages as often as you need.
Advertise inexpensively.
Our sign holders start as low as $100 per unit, and, unlike other forms of advertising, a sidewalk sign continues to advertise for you long after you pay for it. Placed right outside your business's door lets the public know that you're there and helps draw in people who might not have otherwise come in. It makes for a very effective marketing strategy, despite (or perhaps because of) the low per-unit cost. Bring your sign boards with you wherever you go. Need to take your A frames to a trade show or other event? No problem: our sidewalk signs are designed with convenience and portability in mind. Most of these displays need almost no maintenance and fold flat for storage when not in use. They're made from aluminum and durable PVC, they're lightweight, so it's easy to move them around or transport them to other locations – even indoors.
Get Customers In The Door With A Frame Sidewalk Signs From Vispronet®
If you're looking for an inexpensive way to boost your advertising numbers, look no further than a sign board from Vispronet®. Our A-frames and sidewalk signs are designed with affordability in mind, starting as low as $100 for a basic model. Don't let that deter you, though: even our basic snap signs are perfect for bringing news about your company's products, promotions and events to interested customers, especially when paired with the optional brochure basket on the side – another way for you to spread your message to passersby – and one that they can take home with them. With affordable print options (including both vinyl and photo paper), this reusable display system won't be going away any time soon. Get yours from Vispronet® today.