configurable00

Need help? Hire one of our professional graphic designers at no additional cost!

Choose 'Pay Later' at checkout and receive a free proof
before submitting payment.

Design Online or Upload Template
Create custom products using our online design tool or provided template files.
Retractable Banners Details
Retractable banners are a staple for any event and trade show exhibitor. Convenient, quick, and easy set up make these portable banners a powerful tool for successful marketing campaigns. We offer pop up banners in a variety of styles, materials, & sizes that are affordable with any budget. Reusable hardware with replacement banners makes these products a wise investment for any serious exhibitor. FREE carrying bag included with each roll up banner purchase.
Parts List:
Your custom-printed banner
High-quality aluminum base
Support pole to display the banner
Your choice of unpadded or upgraded carry bag
Optional light to illuminate your banner stand
Material:
13oz Indoor Vinyl: Weather-resistant & UV-protected matte vinyl
13oz Indoor Opaque Vinyl: 100% opaque weather-resistant & UV-protected satin vinyl
Display Polyester: Nearly opaque flame-retardant knitted fabric (6.10oz/yd²)
Premium Opaque Polyester: 100% opaque flame-retardant knitted fabric (7.67oz/yd²)
Additional Notes:
Each model can be configured as a single or double-sided display
Replacement prints can be ordered by changing Order Type to 'Prints Only'
We do not recommend replacing prints on the Economy model
Each model except the Standard is able to be re-tensioned if the graphic starts to become loose
---
Choose Your Retractable Banner Style
This trio of roll up banner styles are all from the same family of retractable banners, but each sports a different base and some unique features. No matter which style you choose, all three are effective at displaying your marketing message to a passing audience. Double-sided printing is available for each style, and each graphic is printed on your choice of premium polyester or standard vinyl.
---
Base Options
---
Pop Up Banners Improve Brand Visibility at Trade Shows
Vispronet retractable banners are designed to be simple and stylish, but most of all effective at delivering a message to a passing audience. These versatile marketing banners are perfect for exhibiting at trade shows and conventions, advertising inside businesses and workplaces, and informing at museums, schools, and churches – among many other applications. Our custom retractable signs are also designed to be lightweight, and easy to stand up and break down for maximum portability.
For a small investment, retractable banners allow you to advertise to your target audience and make for an effective attention-grabbing marketing solution. With a quick turnaround time, premium prints, low prices, & high quality materials and hardware, Vispronet is the perfect partner for all your roll up banner needs.
Retractable Banners: Vispronet vs. Other Suppliers
Large variety of options: We offer our pop up banners in various styles including our three classic styles, plus retractable backdrops, double-sided outdoor banners, and multiple tabletop and desk size banners. Select your desired look and choose from sizes ranging from 9in x 13in, all the way up to 82in x 122in.
Double-Sided Printing: Unlike most competitors, most of our retractable banners can print single and double-sided, which is vital for applications where bidirectional visibility is needed. 
Premium-quality material: You choose which material is best for your application. Choices include our 13oz Vinyl, 13oz Opaque Vinyl, Standard Polyester, and our Premium Opaque Polyester. Each fabric has advantages for different applications. 
Durability: All our bases are constructed from high-quality aluminum that is guaranteed to last. 
Interchangeable prints: Most of our retractable banner stand models can easily change graphics if needed.
Price: Our business model allows for us supply trade show exhibitors with high-quality banners for incredibly cheap prices with a 100% satisfaction guarantee.
---
Custom Retractable Outdoor Banner

Available in 31" width

These double-sided retractable banners are designed for limited outdoor use. To help stand up against windy weather conditions, the feet of this stand extend further out compared to our other pull up banner bases.   This is perfect for a range of outdoor applications such as theme parks, church activities, sporting events and concerts. You have a choice of 4 durable materials for the print and an optional display light.

Retractable Backdrop & Mini Tabletop Banners

Available in 18" (Tabletop) or 79" (Backdrop) widths

Make an impact at your next show with a Retractable Backdrop or a Mini Tabletop Banner Stand. Our custom backdrop features bold, vibrant colors on prints ranging from 6ft all the way up to 10ft. Our Mini tabletop retractable banners are perfect for smaller trade show displays with limited space. We offer an array of different sizes and styles, each with their own unique features.
Design Retractable Banners Online
Design Online: Our online design tool makes it easy to create your roll up banner design online without any software or professional help. Our online design engine offers a variety of tools including an option to upload your artwork or images, clip art and shapes, as well as a collection of fonts and background color layouts to help bring your design together. Our design tool includes tips and guides to help you design within the template and within our minimum DPI standards. After you submit your custom design online, our team of professional graphic designers will check all artwork for any errors or mistakes free of charge.
Upload Artwork on Template: Uploading artwork on a template is the most efficient design method for graphics designers and those with professional design software. After navigating to your desired retractable banner product, click the "Proceed to Artwork" button on the product configurator. Simply download the product template and follow the instructions to add your artwork within the specified areas and reupload onto our site. Our team of graphic designers will then check your artwork for errors and make sure it is up to print standards. Then your design is approved, and we notify you via email that your order is ready to be sent to production.
Vispronet Design Services: We also offer an option for a professional designer to create your design for you! This option is popular for those with limited graphic design abilities. All design services are free of charge for your convenience. Our pre-press team is dedicated to providing you with high-quality retractable banners that look great and make a lasting impression at your next trade show.
---
Material Options
---
Setting Up Your Retractable Banners
Setting up your roll up banners is a quick and simple task! Remove the separated pole from the base. Connect the poles together. Slide pole into the hole located on the base. Carefully slide banner out of the base. Connect banner to the top of the pole.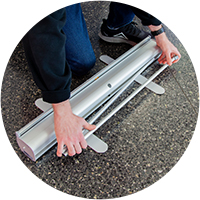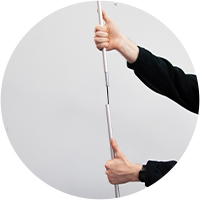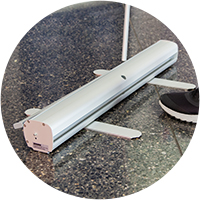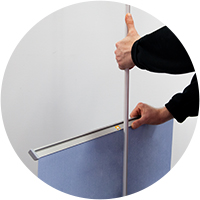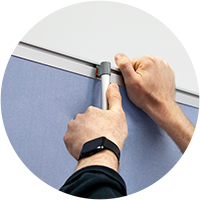 ---
Satisfied Customers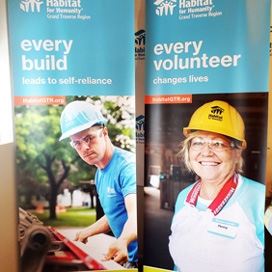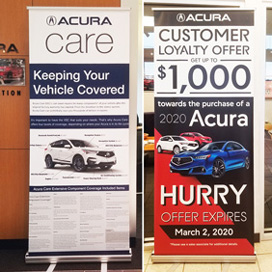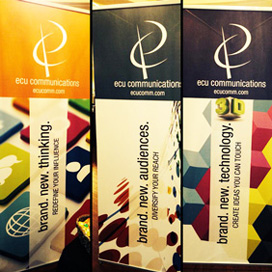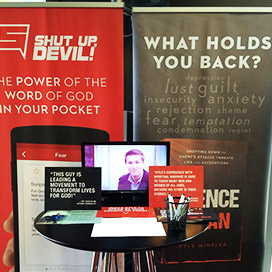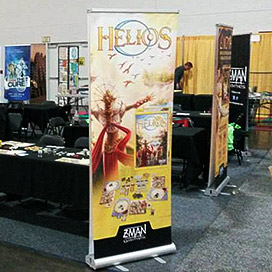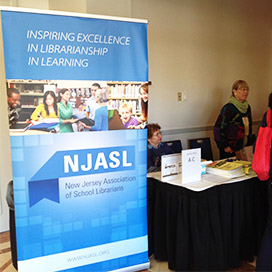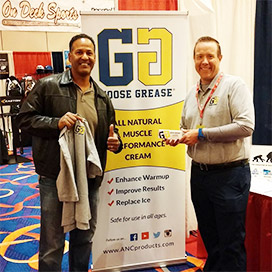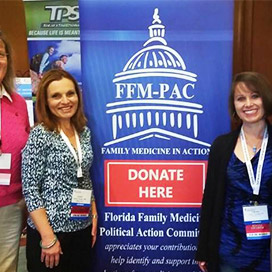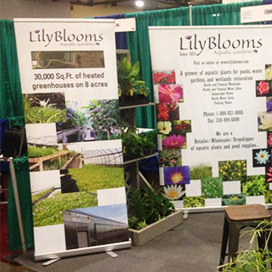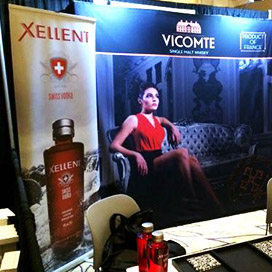 ---
Retractable Banners - Frequently Asked Questions
What is a retractable banner stand?
This banner style is a rolled up sign within a base that unrolls to create a stand up banner display. They are commonly used across multiple industries and are great for marketing and advertising at trade shows, conventions, large events, churches, airports, theatres, museums, schools, workplaces, and many more applications. They are the very convenient for travel because of their light weight and their quick and easy setup process.
What is the difference between the different types of retractable banners?
We offer several types of pull up banners. They differ by size and what kind of base they have. Our standard banner stands come in economy, standard, and deluxe – which is a separation of good, better, and best bases. The economy version has the most affordable but least durable base while the deluxe has the more expensive but longer lasting base.
Other products we offer include a roll up banner stand with a black base, a large banner stand that serves as a backdrop, a stand specifically for outdoor displays, a green screen that includes a stock green banner, and two mini tabletop size banner stands.
What size retractable banners do you offer?
Our different pull up banner stands come in different sizes. For an easy way to see what size is available for what product, view the "Model Size Weight" row in the table below.
Is this style of stand up banner stand reusable?
Yes, of course! Our premium banners are durably built to last for multiple uses. If you are storing, setting up, and taking down your banners with care, these banner stands will last for years to come. Most of our styles also have the option to swap graphics if needed, extending the life of the stand.
Are your pop up banners easy to travel with?
Yes! They are easy to travel with. Due to their lightweight design and their overall compactness, they are easy to transport to a show or event. Additionally, all retractable banners come with a handy carry bag included. Once you arrive at your destination, setup is simple and only takes a few minutes.
What banner materials do your pop up banners come in?
We offer several material options for your banners. Most of our roll up banner products come in 13oz Indoor Vinyl, 13oz Indoor Opaque Vinyl, Display Polyester, or Premium Opaque Polyester. The Indoor Vinyl and the Display Polyester have a matte finish while the Indoor Opaque Vinyl and Premium Opaque Polyester have a sleeker satin finish. The Vinyl options are weather-resistant and UV-protected, and the Polyester materials are flame-retardant and knitted.
There are two products that differ from these selections. The green screen product just comes in 300D Polyester, which is the same kind of material we use for our stain-resistant table covers and tent canopies. The mini retractable banner product, on the other hand, is only in the 13oz Indoor Opaque Vinyl option.
What kind of printing do you use for the graphics?
We use digital printing on the vinyl materials to create durable, vivid graphics that do not scratch or peel off. For the polyester material, we use a dye sublimation technique that integrates the ink into the fabric for striking colors that endure long-term use.
Do you have double-sided options?
All these products are available in double-sided printing except for mini roller banner and the retractable backdrop.
Are "retractable banners" the same as "roll up" "stand up" & "pop up" banners?
Yes. These terms are synonyms and used interchangeably in the industry. All refer to a banner that is rolled up and pulls out of a base to create a banner display.
Am I able to swap the banner in the stand?
Yes, most of our banner styles can be swapped out. We don't recommend swapping graphics on our Economy model, but you are able to replace graphics on the Standard and Deluxe bases. The Deluxe features clamping rails on the top and bottom of the display, so it is the easiest to interchange prints.
Is there an extra charge for Full Color Printing?
No. We print all of our retractable banners in full color. This means no matter how many colors are added there is no extra cost to you.
What file types do you accept?
We accept many different files types for artwork. We prefer artwork to be submitted on a template as a PDF file for Mac and PC. We also will accept Adobe® Photoshop® and Adobe® Illustrator® file types. Supported file types are: .PDF, .AI, .EPS, .PSD, .JPG, and .TIFF.
Does every order come with an included carry bag?
All our roll up banners come with a free economy carry bag, but you have the chance to upgrade to a rigid case if you expect to travel with the banner stand.
Am I able to just purchase hardware/base?
Yes! You can just buy hardware if you would like. Under "Order Type" when configuring your product, click the dropdown and click hardware only.
Am I able to display this outdoors or is it strictly for indoor use?
While most types of retractable banners are designed to be displayed indoors, you can display outdoors during good weather conditions. Do not let the banner stand sit outside overnight or take it out when poor weather conditions are expected. All our vinyl prints are UV-resistant, so the sun won't affect the print unless put through prolonged exposure. Our Outdoor Banner Stand is specially designed for displaying outdoors. It features a 3-piece flexible suspension support pole to keep it from blowing over in windy weather conditions. 
Will my banner fade?
Our banner printing utilizes digital printing with UV inks for all vinyl materials. The end result is a vibrant, full color finish that prevents any scratching or fading for years to come. All polyester fabric prints are printed via dye sublimation and are more susceptible to fading when exposed to sunlight.
Setup and Storage
How do I assemble my pull up banner stand?
One of the biggest benefits of displaying with retractable trade show banners is the quick and easy setup and breakdown. Start by assembling the support pole and inserting it into the upward facing hole in the base. Gently pull the banner from the base and attach it to the top of the pole. For double sided banners, repeat these steps with the second banner. Break down is easy as well. Start by detaching the banner from the support pole, carefully lowering the banner back into its base. Remove the pole and separate. Load poles back into base and close for safe storage.
Do I have to attach the print to the base? What if I want to replace my graphics?
Your graphics already come inside the base of the retractable banner. You do not have to do any setup with this.
If you want to switch out your graphics, it is important to note that not all our pop up banners allow graphic replacements. You can change the prints out of the standard, deluxe, outdoor, tabletop, and backdrop models.
To see how to replace the graphics, click on one of the products and go to the "Videos" tab. There you will see a step-by-step guide for how to attach new prints.
Is there a correct way to pull out the banner and collapse it?
It is important to slowly and carefully pull the banner out of the stand when setting up your stand as well when reloading the banner into the stand. Pulling or ripping the banner out in an aggressive manner can possibly cause damage to the banner or cause the banner to be crooked when reloading it into the base. This can cause damage to the sides of your banner. It is important to make sure the banner reloads into the base evenly.
How should I store my roll up banner?
We recommend storing your retractable banners in dry area at room temperature. This will help avoid any damage when you are not using it. We also recommend not storing anything on top of the banner stand base, and to not violently shake, drop, or throw around the base.
What if there is a small stain on our banner? Can we wipe it away?
Yes! Small stains on either material option can be wiped away with cloth soaked in warm water. We recommend not using any harsh soaps or chemicals on the print as they may cause damage to the finish. If using the polyester, you can detach and machine wash in cold water using a mild detergent. See above for more complete cleaning instructions.
How should I care for my pop up banner stand?
In order to improve the longevity of your retractable banners, follow these guidelines:
Pull up banner stand should not come into contact with wires, poles, or walls.
Any damage that occurs should be immediately repaired to ensure that the banner maintains its durability.
Wash your banner as needed. If the banner becomes too dirty, it may not be possible to clean it.
Are the prints interchangeable with my retractable banner?
If you're interested in purchasing new graphic prints but want to keep the same hardware – that's okay! The Standard and Deluxe models feature interchangeable prints – the Economy model does not support new graphics. Purchase replacement prints listed as "Prints Only" in our product configurator. If you are unsure how to replace your prints, please refer to our set-up video.
What material choices are available?
There are several different material choices available for our pop up banner stands:
| Name | Material | Weight | Benefits |
| --- | --- | --- | --- |
| Premium Opaque Polyester | Heavyweight-knitted polyester | 7.67 oz/yd² | Best for complex images, 100% opaque, flame-retardant |
| Standard Polyester | Knitted fabric | 6.06 oz/yd² | Economy display fabric, moderate opacity |
| Opaque Vinyl | 100% opaque vinyl | 13.00 oz/yd² | 100% opaque, super smooth, satin finish, weather-resistant, UV protected |
| Indoor Vinyl | Economy vinyl | 13.00 oz/yd² | Matte finish, weather-resistant, UV protected |
---
---
Retractable Banners Comparison
Economy

Most economical model that is recommended for short-term use.
Single-Sided:
24in
2.0ft x 5.8ft-6.6ft
10.0lbs
31in
2.6ft x 5.2ft-6.6ft
12.8lbs
39in
3.3ft x 5.2ft-6.6ft
14.7lbs
47in
3.9ft x 5.2ft-6.6ft
18.1lbs
59in
4.9ft x 5.2ft-6.6ft
21.5lbs
Double-Sided
31in
(2) 2.6ft x 5.2ft-6.6ft
14.3lbs
39in
(2) 3.3ft x 5.2ft-6.6ft
18.3lbs
47in
(2) 3.9ft x 5.2ft-6.6ft
21.9lbs
59in
(2) 4.9ft x 5.2ft-6.6ft
25.8lbs
DS Interchangeable
Top: Clamping Rail
Base: Adhesive
Indoor / temporary outdoors
Standard

High-quality base features the ability to link individual units together to create a double-sided display.
Single-Sided
24in
2.0ft x 6.7ft
3.7lbs
31in
2.6ft x 6.7ft
4.5lbs
39in
3.3ft x 6.7ft
5.0lbs
47in
3.9ft x 6.7ft
6.0lbs
Double-Sided
24in
(2) 2.0ft x 6.7ft
7.5lbs
31in
(2) 2.6ft x 6.7ft
9.1lbs
39in
(2) 3.3ft x 6.7ft
10.1lbs
47in
(2) 3.9ft x 6.7ft
12.1lbs
Top: Clamping Rail
Base: Adhesive
Indoor / temporary outdoors
Deluxe

Premium hardware stand features silver finish with chrome end caps for a professional look.
Single-Sided
24in
2.0ft x 6.6ft
5.0lbs
31in
2.6ft x 6.6ft
5.7lbs
39in
3.3ft x 6.6ft
5.8lbs
Double-Sided
31in
(2) 2.6ft x 6.6ft
10.5lbs
39in
(2) 3.3ft x 6.6ft
12.5lbs
59in
(2) 4.9ft x 6.6ft
19.0lbs
Single & Interchangeable
Top: Clamping Rail
Base: Clamping Rail
Double-Sided
Top: Clamping Rail
Base: Adhesive
Indoor / temporary outdoors
Outdoor

Outdoor model that comes with ground stakes and a flexible stability pole to allow for low wind gusts.
Double-Sided
31in
(2) 2.7ft x 6.7ft
20.0lbs
Top: Clamping Rail
Base: Adhesive
Mini

Mini retractable banner stand that comes with a vinyl print and is available in two sizes.
Single-Sided
Small
8.3in x 11.7in
0.9lbs
Large
11.7in x 16.5in
0.9lbs
Top: Adhesive
Base: Adhesive
Tabletop

Tabletop retractable banner that comes in 18" width and can reach 3' or extra-tall 4' banner heights.
Single-Sided
Small
1.5ft x 3.0ft
3.0lbs
Large
1.5ft x 4.0ft
3.1lbs
Double-Sided
Small
(2) 1.5ft x 3.0ft
6.6lbs
Large
(2) 1.5ft x 4.0ft
6.8lbs
Top: Clamping Rail
Base: Adhesive
Backdrop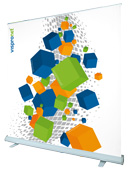 Our largest pop up banner that stands 6½' wide without compromising stability.
Single-Sided
79in
6.6ft x 6.4ft/8.2ft/9.8ft
24.5lbs
Top: Clamping Rail
Base: Adhesive
Indoor / temporary outdoors
California Residents

Click here for Proposition 65 warning
Frequently Purchased With
Q & A