Custom Retractable Banners
Retractable banners are a staple for any event and trade show exhibitor. Convenient, quick and easy set up make these banner stands a powerful tool for successful marketing campaigns. We offer roll up banners in a variety of styles, materials, & sizes that are affordable with any budget. Using the same hardware with replacement banners makes these products a wise investment for the serious exhibitor. FREE carrying bag included with each purchase.
Lowest Prices | Design Online or Upload Template | 4-6 Day Turnaround | Rush Options | Free Proof | Pay Later
Retractable Banners Improve Your Visibility At Trade Shows
Our retractable banners are designed to be simple, but stylish. They're perfect for exhibiting at trade shows, advertising inside businesses, and even as signage for outdoor fairs. No matter which roll up banner stand you choose, quick set-up is guaranteed: just pull the banner from the spring-loaded stand and attach it to the to the support pole. Teardown is just as quick: just remove the support pole and allow the roll up banner to reel into the base. You will receive ready-to-go hardware with your print(s) already installed.
Easy 4 Step Set-Up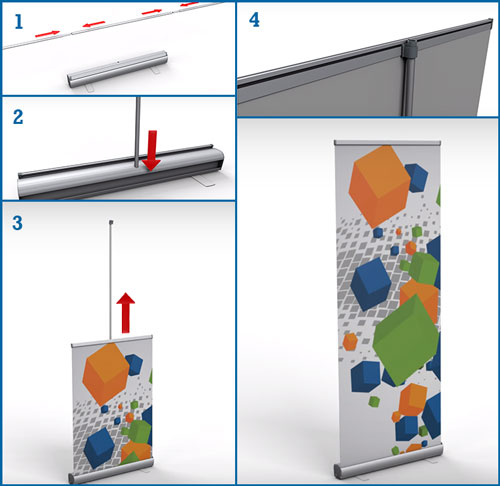 What sets Vispronet® Pop Up Banners Apart From the Competition?
Premium-quality material: Made from your choice of heavyweight knitted polyester fabric or vibrant vinyl.
Durability: Constructed from high-quality aluminum that is guaranteed to last.
Large variety of options: Our roll up banner stands are available in various styles and a host of different sizes. Select your desired look and choose from sizes ranging from 24in x 82in, all the way up to 82in x 122in.
Interchangeable prints: Need new graphics, but want to use the same hardware? No problem!
Our production team is dedicated to providing you with a quality product that looks great and makes an impression. Our roll up banner stands allow you to advertise to your target audience and make for an attention-grabbing marketing solution, especially when paired with one of our pop up booths. With a quick turnaround time, the best materials and high-quality hardware, Vispronet® is the perfect partner for your trade show supplies.
What's The Difference Between A Retractable and Roll Up Banner Stand?
Within the trade show industry, retractable banner stands have many different names. The terminology may vary from vendor to vendor, but the product is generally the same. Stand up, pull up, roll up, and pop up banner stands are all interchangeable names for this product. No matter the name, all of these products feature your retractable print stored inside the base of the pop up banner stand.
Good
Better
Best

Roll Up Standard

Available in 24", 31", 39" & 59"

Most Economical

Recommended for Short term use

Interchangeable Graphics

2 Fold Out Base Feet

Choice of Fabric & Vinyl

Dual-Sided Print Option,

Includes Carry Bag

Roll Up Basic

Available in 18", 24", 31", 39", & 47"

Better Stability & Durability

Recommended for Continuous Use use

Interchangeable Graphics

Sleek Fold Out Base Foot

Choice of Fabric or Viny

Dual-Sided Print Option

Includes Carry Bag

Roll Up Deluxe

Available in 24", 31", 39", 47", & 59"

Premium Professional Design

Recommended for Continuous Use

Easiest to Change Graphics

Sleek Premium Base

Choice of Fabric & Vinyl

Choice of Fabric or Vinyl

Dual-Sided Print Option

Includes Premium Carry Bag
Where Can You Use Our Pull Up Banners?
Our roll ups are fully portable, so you can use them at any indoor location that you want. As one of our most popular products, Vispronet® roll up banners have been showcased at a number of different locations, including:
Trade shows and events
Movie theaters
Car showrooms
Retail sales locations
Hotel foyers
Take a look at our portfolio page to see how our retractable banner stands have made an impact with businesses across the country.
Frequently Asked Questions
How should I care for my stand up banner stand?
In order to make sure that your product lasts as long as possible, follow these guidelines:
Pull up banner stand should not come into contact with wires, poles, or walls.
Any damage that occurs should be immediately repaired to ensure that the pop up banner maintains its durability.
Wash your pop up banner as is needed. If the banner becomes too dirty, it may not be possible to clean it.
How do I clean my retractable pop up banners?
Our pull up banner stands are printed on either heavyweight polyester or vinyl material. To clean polyester banners, remove the banner from the stand and wash it in your household washing machine on the cold water setting (105°F or 40°C) using mild, color-safe detergent without bleach. Remove the print from the machine immediately after the cycle is completed and allow the print to air dry. Reinstall the print into the base once it is completely dry. To clean vinyl banners, remove dirt and debris with a damp cloth while the banner is still installed and let it air dry. You do not have to uninstall vinyl banners from the base to clean them. Do not put vinyl pop up banners in a washing machine.
Are the prints interchangeable with my retractable pop up banner?
If you're interested in purchasing new graphic prints, but want to keep the same hardware – that's okay! All of our retractable banner stands feature interchangeable prints. Purchase replacement prints listed as "Prints Only" in our product configurator. If you are unsure how to replace your prints, please refer to our set-up video.
What material choices are available?
There are several different material choices available for our retractable banner stands:
| Name | Material | Weight | Benefits |
| --- | --- | --- | --- |
| Premium Opaque Polyester | Heavyweight-knitted polyester | 7.67 oz/yd² | Wrinkle-resistant, flame-retardant |
| Standard Polyester | Knitted polyester | 6.06 oz/yd² | Deluxe display fabric, moderate opacity |
| Opaque Vinyl | Non-see-thru Vinyl | 13.00 oz/yd² | 100% opaque, anti-curl, super smooth, satin finish, weather-resistant, UV protected |
| Indoor Vinyl | Vinyl Material | 13.00 oz/yd² | Anti-curl, matte finish, weather-resistant, UV protected |
Roll Up Banner Stand Comparison
Click here to download this table as a PDF.
 
Basic
Standard
Deluxe
Outdoor
Mini
Tabletop Basic
Retractable Backdrop
 
Features
High quality bases that can link together to create custom arrangements.
Standard banner stand comparable to most others on the market at an economical price.
Premium hardware stand with chrome end caps is the easiest model to replace graphics.
Outdoor model that comes with ground stakes and a flexible stability pole to allow for low wind gusts.
Tabletop retractable banner stand that comes with a vinyl print and is available in two sizes.
Mini version of our Basic model that is 18" wide and can be easily converted to a double-sided display.
Our largest retractable backdrop that stands 6½' without compromising stability.
Model
Size
Weight
Single-Sided

24in
2.0ft x 6.7ft
3.7lbs

31in
2.6ft x 6.7ft
4.5lbs

39in
3.3ft x 6.7ft
5.0lbs

47in
3.9ft x 6.7ft
6.0lbs

Double-Sided

24in
(2) 2.0ft x 6.7ft
7.5lbs

31in
(2) 2.6ft x 6.7ft
9.1lbs

39in
(2) 3.3ft x 6.7ft
10.1lbs

47in
(2) 3.9ft x 6.7ft
12.1lbs
Single-Sided

24in
2.0ft x 6.6ft
5.0lbs

31in
2.6ft x 6.6ft
5.7lbs

39in
3.3ft x 6.6ft
5.8lbs

Double-Sided

31in
(2) 2.6ft x 6.6ft
10.5lbs

39in
(2) 3.3ft x 6.6ft
12.5lbs

59in
(2) 4.9ft x 6.6ft
19.0lbs
Single-Sided

24in
2.0ft x 5.8ft-6.6ft
10.0lbs

31in
2.6ft x 5.2ft-6.6ft
12.8lbs

39in
3.3ft x 5.2ft-6.6ft
14.7lbs

47in
3.9ft x 5.2ft-6.6ft
18.1lbs

59in
4.9ft x 5.2ft-6.6ft
21.5lbs

Double-Sided

31in
(2) 2.6ft x 5.2ft-6.6ft
14.3lbs

39in
(2) 3.3ft x 5.2ft-6.6ft
18.3lbs

47in
(2) 3.9ft x 5.2ft-6.6ft
21.9lbs

59in
(2) 4.9ft x 5.2ft-6.6ft
25.8lbs

DS Interchangeable

31in
(2) 2.6ft x 5.2ft-6.6ft
14lbs
Double-Sided

31in
(2) 2.7ft x 6.7ft
20.0lbs
Single-Sided

Small
8.3in x 11.7in
0.9lbs

Large
11.7in x 16.5in
0.9lbs
Single-Sided

Small
1.5ft x 3.0ft
3.0lbs

Large
1.5ft x 4.0ft
3.1lbs

Double-Sided

Small
(2) 1.5ft x 3.0ft
6.6lbs

Large
(2) 1.5ft x 4.0ft
6.8lbs
Single-Sided

79in
6.6ft x 6.4ft/8.2ft/9.8ft
24.5lbs
Print Attachment
Top: Clamping Rail
Base: Adhesive
Top: Clamping Rail
Base: Adhesive
Single & Interchangeable

Top: Clamping Rail
Base: Clamping Rail

Double-Sided

Top: Clamping Rail
Base: Adhesive
Top: Clamping Rail
Base: Adhesive
Top: Adhesive
Base: Adhesive
Top: Clamping Rail
Base: Adhesive
Top: Clamping Rail
Base: Adhesive
Bag Included
Yes
Yes
Yes
Yes
No
Yes
Yes
Change Graphic
Yes
No
Yes
Yes
No
Yes
Yes
Tension Adjuster
No
Yes
Yes
No
No
No
Yes
Indoor/Outdoor
Indoor/temporary outdoors
Indoor/temporary outdoors
Indoor/temporary outdoors
Outdoor use
Indoor use
Indoor use
Indoor/temporary outdoors