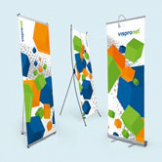 Banner Stands
Vispronet® offers a wide range of advertising displays that will perfectly showcase your product or brand at any event. From vertical banners and stands to telescopic banner stands and 3D hanging displays, Vispronet® lets you create custom event signage and wayfinding systems on any budget for any occasion. Our banner stands are commonly utilized at trade shows, events, VIP areas, clubs, businesses and more.
back to top
Trade Show Banners from Vispronet®
Advertising banner displays are the perfect solution to having a successful trade show and company presentation. Upgrade your advertising for any event – large or small – by strategically positioning these banner display systems at your exhibitor booth or in the foyers of a building.
On a tight budget? Try customizing our most cost-effective vertical display, the X-Banner Stand. Looking for something stellar? Our retractable Roll Up banners transform any display into something more. They're transport-safe and compact while traveling, and then transform into large, vibrant tradeshow banners within seconds upon set up. The Vispronet® Banner Stand line also features custom-printed backdrops and pop up portable booths with a multitude of add-on options. Flat, curved and/or backlit backdrops are just some of the options available for trade show exhibitors. All of these feature frames with interchangeable prints, making them flexible, reusable advertising tools.
Vispronet® Banner Displays Are Mobile & Flexible
Our promotional stand displays help you present your company, new products and promotions in the most effective manner. Pop out banners are used as decorative advertising around the perimeter of sporting events, halls, arenas and stadiums. Like most Vispronet® products, these banner stands are light-weight and can be quickly assembled and dismantled within seconds. Easily store them away in the included carrying bag. Car dealerships or travel agencies prefer the use of our Roll Up banners or the L- and X-Banner Stands as mobile advertising displays. No matter what custom banner stand you choose, Vispronet® guarantees the highest-quality advertising solutions.
Create Your Own Advertising Displays
Here at Vispronet®, we offer an online design tool for our customers to create their very own trade show banner stands with minimal design experience. In just a few simple steps, you can design truly unique banner displays with your custom logo or artwork. Let your creativity run wild and revive your advertising with your own advertising campaigns. All graphic elements in our VisproDesign® tool are high-resolution to ensure the best quality prints.
The Banner Stand Product Line
For every advertising campaign, you must choose the right display systems to showcase your brand and products. With Vispronet®, you have the choice between rollup, L, X and stretch banner stands, creative pop up portable booths, backdrop & telescopic banner stands, backpack banners, multi-sided 3D displays, table top displays and several trade show banner stand accessories.
Vertical Banner Stands for Indoor and Outdoor Use
When considering the parts and equipment used in the production of Vispronet® banner display systems, we recommend indoor use for the Roll Up Banners (non-deluxe), X and L Banner Stands, Pop Up Booths, and 3D Displays.
Trade show display stands with heavy duty bases/frames such as the Dual Sided Roll Up Exterior are suitable for outdoor use. Pop out banners and backpack banners are other popular outdoor advertising solutions. Please see individual product pages to determine if a product can be used outdoors.
Do You Offer Dual-Sided Trade Show Display Stands?
If you're designing your roll up or making event signage as a visitor wayfinding system, you can choose products that can be printed on both sides. Front and back printing is available for all banner stands except for the X-Banner display.