configurable 0 0
Custom printed solutions in 3 simple steps.

1. Choose from 3 Design Methods
Click the Proceed to Artwork button to choose Design Online, Upload Template, or Free Design Services.

2. Receive & Approve Your Proof
We'll process your artwork within 2 business hours and send a proof for your approval via email.

3. We'll Bring Your Idea to Life
Our standard turnaround time is 3 business days plus shipping with expedited options available.
Custom Car Magnets Details
Car magnet printing is an excellent option for those looking for a temporary solution that can be applied and removed as often as needed. Our premium magnet sheeting is tested to stand up to the wear and tear of everyday driving and can stand up to any weather conditions. Our car magnets are printed in full color, and are completely customizable. We offer stock sizes as well as custom sizes depending on the application. Whether they are for personal, community, or business fleet automobiles, they will be sure to attract attention to your marketing message. If you are looking for additional ways to advertise from your automobile, we also offer custom rear window decals. These magnets for cars are printed in full-color and are great for advertising your brand on the go.
Parts List:
Material:
.030" Magnet: Car magnets, use indoors/outdoors
.045" Magnet: Truck/van magnets, use indoors or outdoors for heavy-duty applications
Custom Car Magnets Get Everyone's Attention on the Road
Our custom car magnets are widely used for both professional and personal use. They make great gifts and are commonly used as giveaway items at trade shows. They're digitally printed with UV-resistant inks to showcase your custom message, design, or business during long road trips or your daily commute. No matter the cause, our auto magnets are sure to capture the attention of passing vehicles, whether it be showing off a quirky message or generating leads for your business.
For Professional Use
Are you looking to turn heads when promoting your business, organization, or campaign? A simple way to do that is by displaying business car magnets on the side of your vehicle. Using your car to advertise a product or service is an effective marketing strategy because it catches the attention of people when you're driving through towns, country roads, and highways. People use car and truck magnets to promote a new business, a local candidate for office, a charity, or a special event. Easily add your business name and contact info to transform your vehicle into a mobile advertisement.
For Personal Use
If you have a message that you want to share with your neighbors and people nearby, getting a custom car magnet printed with your design is a great way to do that. Popular uses include supporting your favorite sports team, your child or pet, famous quotes, jokes, and more. The entire magnet is customizable to accommodate any design imaginable. Because these magnets are also made from durable, outdoor-tested materials, they will be able to withstand weather and road elements for extended use.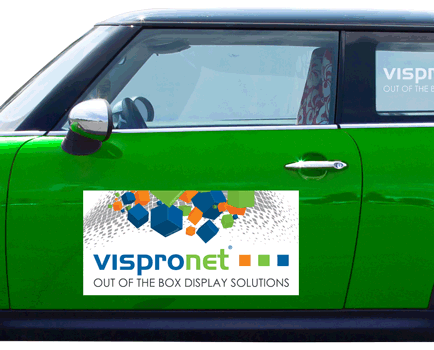 Design Custom Car Magnets Online
How do you upload your design for these magnets onto our site for printing? We have three methods of customizing our template:
Design Online: Craft your magnet design on our artwork template in our special design suite. In our design tool, you can upload logo files, add text boxes and clipart, and choose what colors you want included on your magnet.
Upload Template: If you prefer working in a design program, download our artwork template link and personalize the magnet on your software. When you are done creating your artwork, upload the finished file on our site before or after placing your order.
Free Design Services: Do you need help figuring out what to include in our magnet or with the whole design process, Choose this option and one of our professional graphic designers will customize the template free of charge. You will receive a proof before we print your magnets.
How To Apply Custom Car Magnets
Placing your magnets on your car is incredibly easy and only takes a little time. Installing your vehicle magnet properly keeps the magnet from coming off or getting damaged. Before adding your magnet on your car, make sure the surface is clean. Use a sponge or a rag to get rid of any dirt, spots, and debris from the section of your car where you will be adding the magnet. If you are using water, make sure the car is dry before securing the magnet. Once when your car is clean, simply place the magnet in the desired spot. The material will naturally stick to the car surface, allowing you to drive in slow moving or congested traffic without it falling off.
Maintenance & Care
One way you can ensure your car magnet lasts a long time is by making sure it is properly cleaned and taken care of. How do you properly clean your magnet? For starters, is important to keep the surface of the car where the magnet will be placed clean and free of debris. If you ignore cleaning your car, dirt and dust can build up and cause your magnet to fall off. For the best results, clean your car surface on a weekly basis. If you are using a car wash, make sure you remove the magnet from the surface first. When you are cleaning your car, you should also clean your magnet with a cloth so that any roadside debris is removed from the print. If you are not using your vehicle magnet, make sure you store it properly so that it doesn't bend or get exposed to direct sunlight. This will keep your magnet in great condition for repeated use.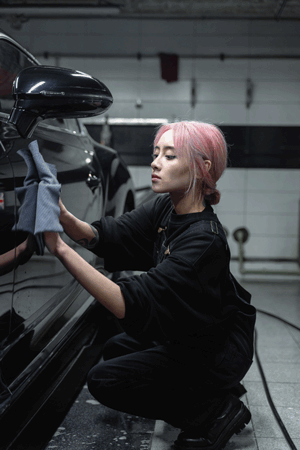 Frequently Asked Questions
What is the turnaround time for your custom car magnets?
Our custom vehicle magnets require our standard production time of 3 business days for printing. If you need your magnet by a certain date, we offer rush production and shipping rates. Go to our "Delivery Estimator" to see what shipping times we offer for your location.
How thick is the material?
Choose from two thicknesses for your magnet. Our 0.30" thickness is best suited for indoor or light outdoor use, so make sure your car won't be driving on highways or in high traffic areas if you want your magnet to last a long time. Our thicker 0.45" material is equipped for heavier duty display for both indoor and outdoor applications. Think about where you will be driving and how long you will be displaying your magnet when selecting your thickness.
Will this magnet stick to any kind of vehicle?
Not all cars are designed for magnets. It's important to check the surface of your car before ordering custom magnets. Some cars are not magnetic, such as if they are made from aluminum or plastic rather than metal. The magnets will also not stick to all parts of the vehicle. For instance, most car bumpers are made from a plastic material and will not hold magnets. If you are looking for car displays for non-magnetic surfaces, check out our car window decals or rear window decals instead.
Is this car magnet okay to always use outdoors?
Yes, our magnet material and printing technique are equipped for outdoor elements. We use a high-quality UV-printing method for bright colors that will not scratch or fade off. It is important, however, to choose the thicker magnet material if you plan on using the magnet outdoors for a long time in constantly changing weather. The thinner magnet material is better suited for light outdoor display or indoor use.
Where is the best place on my car to put my magnet?
It is very important to make sure that the surface of your car is magnetic before securing a vehicle magnet. If it is, one of the most common places for car magnets is on the side door of a car, typically the driver or front passenger's door. This spot is the easiest to see by people who are walking on the sidewalk or roadside and is noticeable to other drivers.
How do I clean the magnet?
If your magnet becomes dirty, use a cloth or rag to remove any dirt or debris from the surface. This should be done on a routine basis so that your magnet and car doesn't build up a lot of dirt, making it more likely to fall off the car surface.
California Residents

Click here for Proposition 65 warning
Frequently Purchased With
Q & A
Reviews