Custom Golf Flags
Professionally Made / 2 Sizes Available / Fast 3-Day Turnaround
configurable 0 0
Custom printed solutions in 3 simple steps.

1. Choose from 3 Design Methods
Click the Proceed to Artwork button to choose Design Online, Upload Template, or Free Design Services.

2. Receive & Approve Your Proof
We'll process your artwork within 2 business hours and send a proof for your approval via email.

3. We'll Bring Your Idea to Life
Our standard turnaround time is 3 business days plus shipping with expedited options available.
Custom Golf Flags Details
Parts List:
8" x 6" putting green flag or 20" x 14" traditional golf pin flag
Single-reverse or double-sided golf hole flag layout
Hollow plastic tube hardware for attachment to flagsticks
Material Options:
Outdoor Flag Polyester: Tear-resistant lightweight knitted fabric with excellent thru-print (3.25oz/yd²)
Golf Flag Specifications
Model
Part Number
Flag Size
W x H
Pole Size
W x H x D
Weight
Putting Green Flags
AC0341
8in x 6in
0.75in x 6in x 1.5in
0.05lbs
Traditional Flags
AC0340
20in x 14in
0.75in x 14in x 1.5in
0.09lbs
Custom Golf Flags from Vispronet
Our custom golf flags have a lot of great benefits, such as printing your design on high-quality materials using a state-of-the-art dye sublimation printing technique. Here is why our custom golf and putting green flags are a cut above the rest, like the ones seen at famous courses.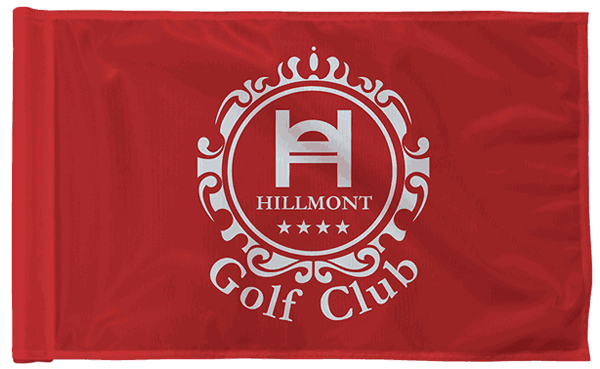 Pre-Installed Rotating Flag Tube
Each custom golf flag comes with a hard plastic rotating tube pre-installed for easy attachment to the pin.

Premium Lightweight Fabric
Each golf flag for sale is printed on an outdoor flag fabric that is tear-resistant. This lightweight fabric also boasts outstanding color reproduction.

Dye Sublimation Printing
Each golf hole flag is printed using dye sublimation. This printing method infuses the ink directly into the fabric for a brilliant, photo-quality, fade-resistant finish.

Single & Double-Sided Printing
Select between single-reverse and double-sided golf flag printing. See the pros and cons of each printing style below.
Get Personalized Golf Hole Flags For Your Course
Custom golf flags are great promotional items. They let you showcase the services of local organizations – businesses, charities and even local golf clubs. When you're decorating your course, you want to make a statement: what better way to do so than by using something that puts the message you want to convey front and center for the whole world to see? Here are some of the ways that advertising with a golf flag could be useful for your business, organization, or charity – especially on a golf course:
Reinforcing your branding. Having personalized golf hole flags with your course's name and logo at each tee box and station is a great way to reinforce your course's branding – telling people exactly which course is responsible for the excellent golfing experience they just had.
Advertising to the crowd. Most golf tournaments and events have sizable sponsor lists. Why not give these sponsors some valuable advertising space with custom putting green flags?
Creating a relationship. Custom golf sponsor flags make great gifts to the companies that sponsor your events – something they can hang in their office and look back on. More than that, custom golf course flags featuring the course name and logo are a great gift for the golfer in your life – especially one who plays the same course multiple times.
Design Custom Golf Flags Online
Create a personal design for your custom putting green flags by customizing the product template in one of the following ways:
Design Online: Using our online design tool, you can upload business logos, company images, clipart, and text to the template. This method is quick and easy to use whether you have design experience or not.
Upload Artwork Template: Personalize the golf flag in your own software by downloading the template onto your computer. Make sure to follow our artwork guidelines provided on the template file and reupload the finished template before or after placing your order.
Free Design Services: Do you need help when it comes to designing your golf hole flag? Let us know and we will have one of our professional designers customize your template free of charge. You will receive a free artwork proof to look over before we print your flags.
Custom Putting Green Flags for Mini Golf
Not only is a set of custom golf pin flag great for big courses, but they're also great for smaller courses too. For a golfer, a putting green is one of the best places in the world – second only to the driving range.
They give golfers a place to relax and practice the game. If you know someone that has a backyard or office putting green, getting them a set of custom pin flags is a great gift. Mini golf flags are also a great way to let them customize their green so it looks the way they want.
Premium Quality Printing
We print our custom golf flags on outdoor flag polyester using dye sublimation. This top-of-the-line printing technique infuses the ink directly into the polyester fibers creating vibrant, image-quality graphics that are easy to see from both sides of the flag. Our polyester flag material showcases excellent color reproduction and boasts fade-resistance and weather-resistance so you can display the flags during any season or weather condition. Most importantly, the entire surface of our golf course flags is customizable; create your design using any color, pattern, or logo for no extra cost.
How to Assemble Custom Golf Flags
Follow these simple steps to setup your putting green flags without the need for tools. Make sure that you have a golf tube (included with your order) and flagstick hardware to install your golf hole flag.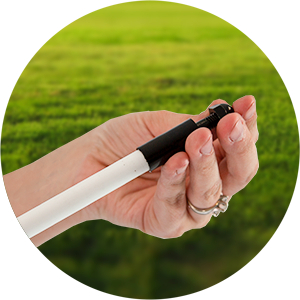 1. Remove the cap of the flagstick by unscrewing the top.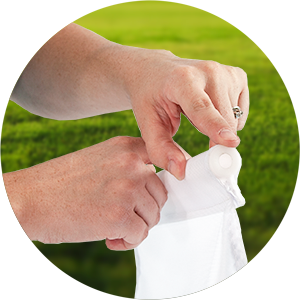 2. Take your custom golf flag and slide the flag tube in the pole pocket of the flag.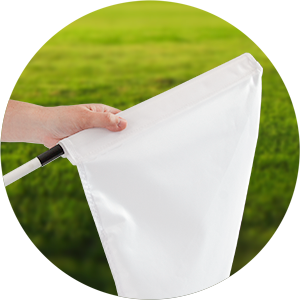 3. Slide the golf flag tube down the screw of the flagstick. Make sure the top of the screw is visible.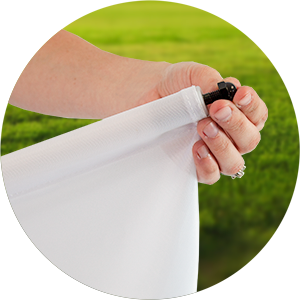 4. Screw the cap of the flagstick back on and secure the flagstick in the ground.
Satisfied Customers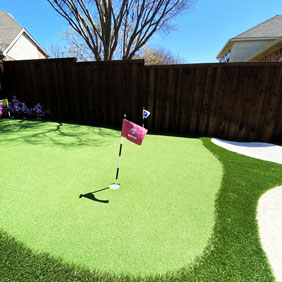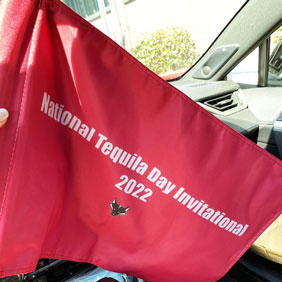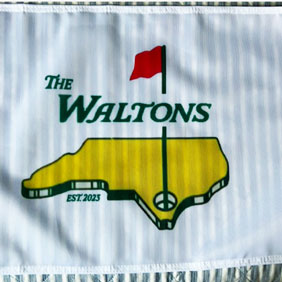 Frequently Asked Questions
What is the turnaround time?
Standard production time is 3 business days. Standard delivery time is 3-5 days. Please use our delivery estimator to view different turnaround time options for your order. Enter your shipping address and choose from standard or expedited production and delivery options for your custom golf flags.
Where can custom golf flags be set up?
Golf flags are traditionally for course display. One of the most common uses for custom putting green flags is to mark where the holes of the course are by pairing them with flagpoles. They do not have to be just for professional course displays, however, as they can also bring brand awareness to advertising displays and trade show booths.
Are these custom golf pin flags for outdoor and indoor use?
Yes. Our custom golf flags are made from outdoor tested polyester material, which is durable enough to withstand outdoor weather conditions, but can also be set up indoors. They are most commonly used outdoors as flags for putting greens.
Can you print both sides of the mini golf flags?
Our custom putting green flags are available in single-reverse and double-sided printing. Single reverse has the image visible from both sides, but the design is printed on one side of the flag and the reverse bleeds through to the other. This is a more cost-effective printing method that is common for traditional state and country flags.
Double sided printing has two separate prints sewn together with an inner liner so that the image is the same on both sides and is not see-through. This method costs more, but offers a cleaner, opaquer look.
How do I assemble custom golf flags on a flagpole?
Your order includes plastic golf tubes with your print for assembling the golf hole flags on poles. The hollow tube inserts through the side pole sleeve of the flag. For both the putting green flags and the traditionally sized golf flags, the flagpole goes through the opening of the tube and a cap is screwed on top to complete the installation process. Flagpoles must be purchased separately.
What other golf flags do you offer?
Aside from custom golf pin flags, we also carry stock color flags for a simpler, even more affordable product and stock flags that are numbered for mini and professional golf courses. Click here to view our entire line of golf flags for sale.
California Residents

Click here for Proposition 65 warning
Frequently Purchased With
Q & A
Reviews