Fresh Produce Sign Banners
Fresh Produce Sign Banner Details
Generate more interest in your fruits and vegetables with this fresh produce sign. By placing these produce signs near your fruit stand, you are attracting potential customers from different directions. The design is visible on both sides of the banner and this no-wind style flag allows the entire message to be seen at all times. These fresh produce flags stand at 13ft tall and are easily noticeable from far away. The large "Fresh Produce" message is complimented by fruit and vegetable images. This flag can also be paired with our farmer's markets flag to draw more attention to your stand. Whether you are selling your produce inside or outside, you can use this feather flag kit to increase your sales.
Parts List:
Pre-printed feather flag
Your choice of pole set with bag
Your choice of base
Material:
Outdoor Flag Polyester: Tear-resistant lightweight knitted fabric with excellent thru-print (3.25oz/yd²)
Bases:
Ground stake
Cross stand & weight bag
Ground stake, cross stand & weight bag
Pole Sets:
Standard: Indoor or low-wind outdoor (max 30mph winds)
Premium: Continuous outdoor use (max 63mph winds)
Specifications
Size/Shape
Dimensions
Above Ground Height
Weight
Pole Diameter
Large Feather Flag
2.6ft x 11.2ft
13.5ft (Standard)
13ft (Premium)
1.4lbs
Inner: 17mm (+/- 0.2mm)
Outer Standard: 19mm (+/- 0.2mm)
Outer Premium: 26mm (+/- 0.2mm)
Fresh Produce Signs Made from Outdoor Polyester Fabric
We use the best flag material so that you can get the most out of your fresh produce flag. The banner is made from knitted polyester, which is tear resistant. The message can be read from both sides, but it is not double-sided. Instead, the image is printed on one side and the reverse image bleeds through to the other side. This printing method allows the fresh produce flags to be lighter so that they can flutter in the wind and are more affordable than double-sided flags.
Our hardware is also designed to be long lasting and versatile. We offer two pole sets for our fresh produce sign. The Standard pole set is the more affordable option due to its aluminum material. This selection is recommended for indoor and light outdoor use. We suggest keeping these produce signs outside in winds up to 30mph. The Premium pole set is more expensive than the Standard but is the more durable of the two. This set can be used outdoors in 63mph winds, which makes it ideal for long term use.
Use This Fresh Produce Sign Indoors or Outdoors
Choosing your base option dictates where you want to assemble your fresh produce sign. If you are placing it either indoors or on hard ground, such as pavement or asphalt, then use the cross base and weight bag selection. The weight bag fills with either water or sand to stabilize the cross base.
If you are using it on a grassy or dirt area, then we recommend the ground stake. If you would like to use it in a variety of places, we also have the option for ordering both.
Sets Up in a Few Minutes
There is plenty of time to assemble your fresh produce sign. When setting up a base, the cross base has feet that fold out for stability. Add the weight bag on top of the base to further stabilize the flag. When using a ground stake, the spike end of the base inserts into the ground.
Both the Standard and Premium options assemble the same way. The poles come in separate sections that easily connect without the need for tools. The flag banner has a pole sleeve finishing on the side that slides through the pole set. There is a tab on the pole that the bottom loop of the flag hooks to.
If you need some help installing your fresh produce flags kit, go to our "Videos" tab above. Here you will find instructional videos to help you assemble your produce signs.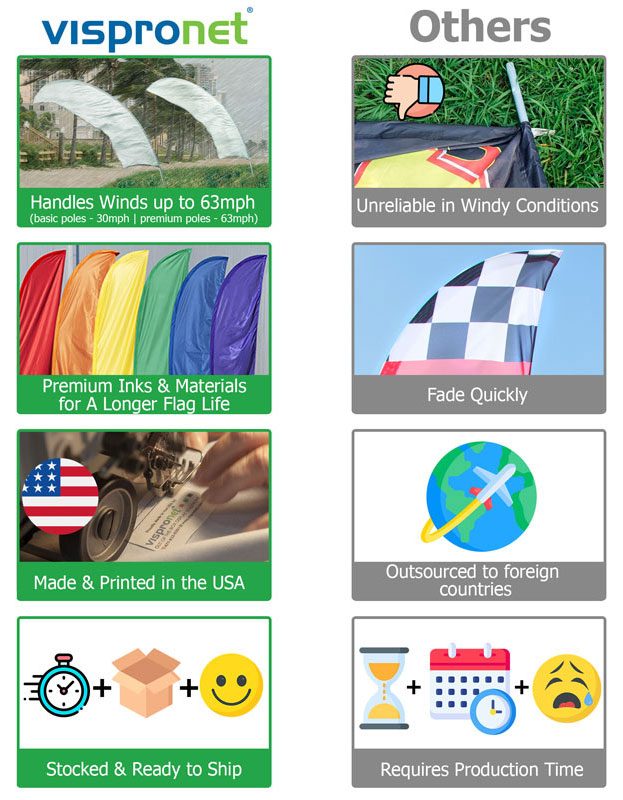 California Residents

Click here for Proposition 65 warning
Frequently Purchased With
Q & A
Reviews