Pumpkins Feather Flag Details
Inform passing traffic that your business has pumpkins for sale with these Pumpkin feather flags. These 13ft swooper banner flags are excellent at attracting the attention of passerby and are easy to spot from the roadway or sidewalk. Our pumpkin for sale signs are crafted from outdoor flag polyester. This lightweight polyester is tear-resistant and designed for long-term outdoor exposure. It also has excellent color reproduction, showcasing eye-catching graphics in brilliant, unlimited color printing. Each flag is printed using state-of-the-art dye sublimation. This advanced printing technique infuses the ink directly into the polyester fibers, producing full-color, fade-resistant graphics. All orders include a nylon carrying bag for the pole pieces only. Add a premium padded carry bag to your order for more durability, convenient travel, and storage of the poles and flag banner.
Looking for more fall themed flags? Check out our Halloween Feather Flag.
Parts List:
Pre-printed feather flag
Your choice of pole set with bag
Your choice of base
Material:
Outdoor Flag Polyester: Tear-resistant lightweight knitted fabric with excellent thru-print (3.25oz/yd²)
Bases:
Ground stake
Cross stand & weight bag
Ground stake, cross stand & weight bag
Pole Sets:
Standard: Indoor or low-wind outdoor (max 30mph winds)
Premium: Continuous outdoor use (max 63mph winds)
Specifications
Size/Shape
Dimensions
Above Ground Height
Weight
Pole Diameter
Large Feather Flag
2.6ft x 11.2ft
13.5ft (Standard)
13ft (Premium)
1.4lbs
Inner: 17mm (+/- 0.2mm)
Outer Standard: 19mm (+/- 0.2mm)
Outer Premium: 26mm (+/- 0.2mm)
Hardware Options
Pole Sets
We offer two pole set options: Standard and Premium. The standard pole set is made from aluminum and fiberglass and is safe for display in winds up to 30mph. Our premium pole set is made from aviation-grade fiberglass and is safe for display in winds up to 63mph. Both pole sets are crafted for durability and are designed for long term outdoor display. Because the premium pole set is made from aviation grade fiberglass, it is more lightweight and can withstand higher wind speeds.
Bases
Choose from multiple base options for your pumpkin feather flag. For applications where the display surface is grass or soft soil, the ground stake is the best option. The cross-stand is best for displaying on hard surfaces like pavement, roads, and sidewalks. We also offer a combination of both base options if you would like to display on both soft and hard surfaces.
Quick Setup and Installation
Feather flags are an excellent advertising method because they are effective at attracting the attention of passing traffic and because they are so easy and convenient to set up. The setup process can be completed by one person and only requires a hammer if you are using the ground stake base. Setup involves installing the base, assembling the pole set, adding the flag to the pole set, and attaching the pole set to the base. Once installed, your pumpkin feather flag is safe for outdoor display in all-season weather conditions. We do recommend taking your flags indoors during severe thunderstorms. If you would like more detailed setup instructions, check out our instructional video that takes your through each step of the setup and installation process.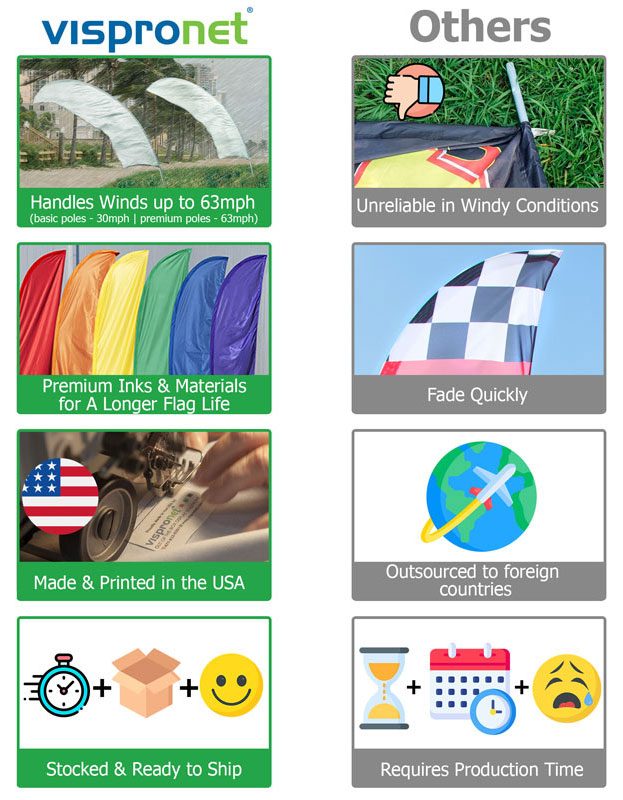 California Residents

Click here for Proposition 65 warning
Frequently Purchased With
Q & A
Reviews