Flowers Feather Flag Details
Alert passing traffic you have fresh flowers for sale with this eye-catching feather flag. These advertising banners stand 13ft tall, and are easy to read from all directions, making them perfect for sidewalk or roadside display. Each flowers feather flag is crafted from durable polyester and is printed using dye sublimation, a premium printing technique that produces brilliant, full-color graphics that are scratch and fade-resistant. Our flag polyester is tear-resistant, and has excellent color reproduction, attracting the attention of passing traffic with bright, vibrant colors. We offer multiple base options so you can choose the best setup for your flag. Ground stakes are best for lawn or garden display and cross bases are ideal for cement, parking lot, or sidewalk display. A weight bag is optional with the cross base for extra support.
Parts List:
Pre-printed feather flag
Your choice of pole set with bag
Your choice of base
Material:
Outdoor Flag Polyester: Tear-resistant lightweight knitted fabric with excellent thru-print (3.25oz/yd²)
Bases:
Ground stake
Cross stand & weight bag
Ground stake, cross stand & weight bag
Pole Sets:
Standard: Indoor or low-wind outdoor (max 30mph winds)
Premium: Continuous outdoor use (max 63mph winds)
Specifications
Size/Shape
Dimensions
Above Ground Height
Weight
Pole Diameter
Large Feather Flag
2.6ft x 11.2ft
13.5ft (Standard)
13ft (Premium)
1.4lbs
Inner: 17mm (+/- 0.2mm)
Outer Standard: 19mm (+/- 0.2mm)
Outer Premium: 26mm (+/- 0.2mm)
Choosing A Pole Set
Choose from two different pole set styles: Standard or Premium. Both pole sets can be displayed indoors or outdoors. The Standard is made from aluminum and fiberglass and can withstand sustained winds up to 30mph. The premium is made from aviation-grade fiberglass and can withstand sustained winds up to 60mph.
Read to Ship Feather Flags
This pre-printed feather flag is stocked and ready to ship. Order before 1PM EST for same day shipping. In addition to our Flowers feather flags, we offer produce signs, which are excellent at drawing attention to pop up produce stands and shops.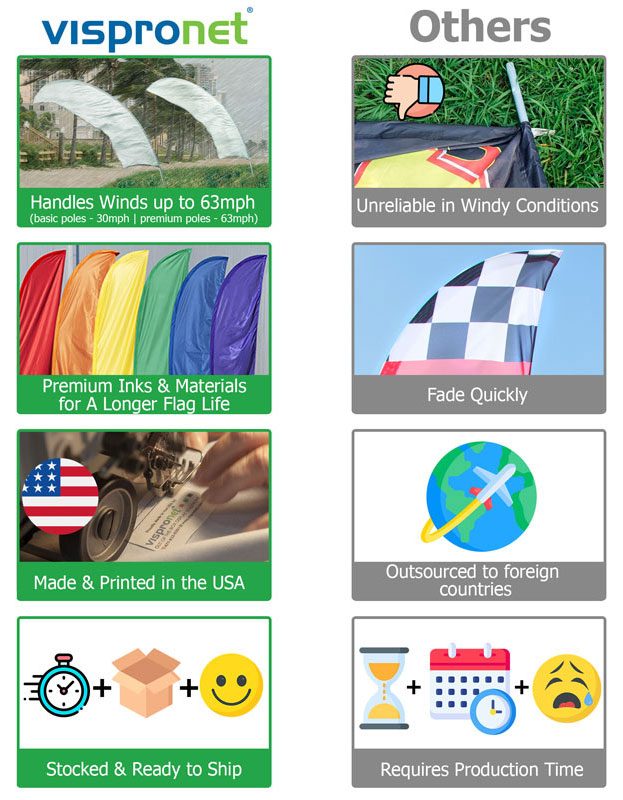 California Residents

Click here for Proposition 65 warning
Frequently Purchased With
Q & A