Blank Feather Flag Details
Catch the attention of people passing by your business by displaying these blank feather flags in a lawn or on a sidewalk. These blank banners come in a wide range of colors, shapes, and sizes to suit different preferences. The blank flag banners are made from tear-resistant, super-knitted polyester. This blank flag material will not rip or peel in the wind or rain because it was made specifically for outdoor use. Add banner flag poles to your order to easily set up the blank yard flags. We have standard and premium pole sets. The economic standard set is made from aluminum and fiberglass and has a wind rating of 30mph while the flexible premium pole set is made from aviation-grade fiberglass and has a wind rating of 63mph. Place your plain color flags in the ground or on harder surfaces with the base options. The ground stake is for securing the blank banners into soil while the cross base and weight bag option stabilizes the set on pavement or asphalt. Generate interest in your business by placing these noticeable blank feather flags where all can see them.
Note: Our blank feather flags are perfect candidates for dye sublimation printing and vinyl application. Blank flags that are solid white can be dye sublimated to show all true colors of a design. Colored feather flags will show the color of the material through a printed design. Black prints can be applied to any stock color feather flag.
Parts List:
Pre-printed feather flag
Your choice of pole set with bag
Your choice of base
Material:
Outdoor Flag Polyester: Tear-resistant lightweight knitted fabric with excellent thru-print (3.25oz/yd²)
Bases:
Ground stake
Cross stand & weight bag
Ground stake, cross stand & weight bag
Pole Sets:
Standard: Indoor or low-wind outdoor (max 30mph winds)
Premium: Continuous outdoor use (max 63mph winds)
Specifications
Size/Shape
Dimensions
Above Ground Height
Weight
Pole Diameter
Large Feather Flag
2.6ft x 11.2ft
13.5ft (Standard)
13ft (Premium)
1.4lbs
Inner: 17mm (+/- 0.2mm)
Outer Standard: 19mm (+/- 0.2mm)
Outer Premium: 26mm (+/- 0.2mm)
Large Teardrop Flag
3.6ft x 8.7ft
11ft (Standard)
10.5ft (Premium)
1.4lbs
Inner: 17mm (+/- 0.2mm)
Outer Standard: 19mm (+/- 0.2mm)
Outer Premium: 26mm (+/- 0.2mm)
Small Feather Flag
1.8ft x 6.6ft
8.2ft (Standard)
0.8lbs
Inner: 17mm (+/- 0.2mm)
Outer: 19mm (+/- 0.2mm)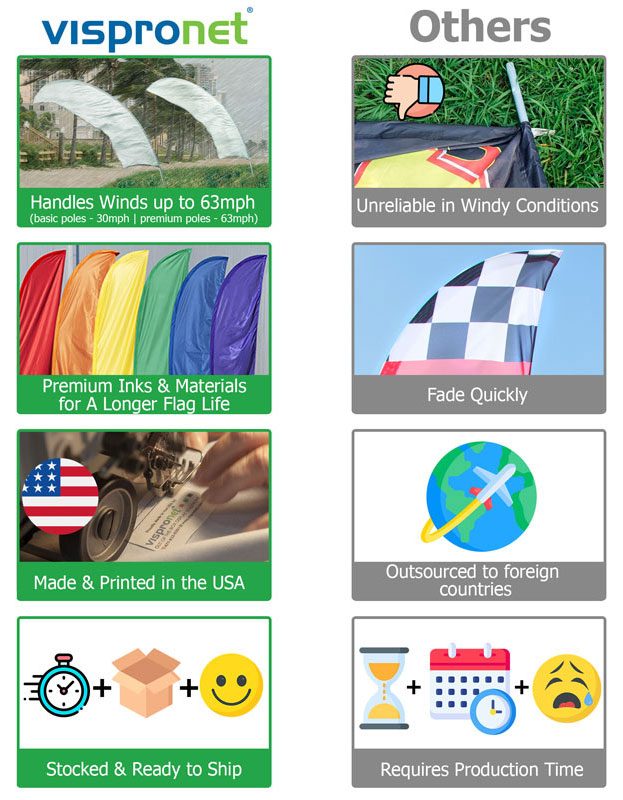 California Residents

Click here for Proposition 65 warning
Frequently Purchased With
Q & A
Reviews