Farmers Market Banner Flag
Small and Large Sizes / Outdoor & Indoor Use / Weather-Resistant
Farmers Market Banner Flag Details
Get drivers and passersby to stop at your farmers market with this feather flag set. Standing at 13ft tall, this farmers market banner is easily seen and read from a distance. The design's vivid colors pop and are sure to catch the eyes of those nearby. This feather flag kit is appealing, functionable, and durable. The banner is made from knitted polyester, which is strong enough to withstand harsh winds and weather conditions. It is printed in a single-reverse fashion which means the graphic is printed on one side and the mirror image bleeds through to the other side to be visible from front and back.
We offer different pole set and base options to accommodate different environments. Standard pole sets are crafted from aluminum and are meant for indoors and low-wind outdoor areas with winds up to 30mph. Premium pole sets are made from aviation-grade fiberglass and aluminum and are guaranteed to resist winds up to 63mph. Ground stakes and cross stands are available base options depending on where the farmers banner will be displayed.
Assembling this banner kit only takes a few minutes. View our instructional setup video on our "Videos" tab for a walk-through on how to install this set.
Check out our fresh produce feather flags.
Parts List:
Pre-printed feather flag
Your choice of pole set with bag
Your choice of base
Material:
Outdoor Flag Polyester: Tear-resistant lightweight knitted fabric with excellent thru-print (3.25oz/yd²)
Bases:
Ground stake
Cross stand & weight bag
Ground stake, cross stand & weight bag
Pole Sets:
Standard: Indoor or low-wind outdoor (max 30mph winds)
Premium: Continuous outdoor use (max 63mph winds)
Specifications
Size/Shape
Dimensions
Above Ground Height
Weight
Pole Diameter
Large Feather Flag
2.6ft x 11.2ft
13.5ft (Standard)
13ft (Premium)
1.4lbs
Inner: 17mm (+/- 0.2mm)
Outer Standard: 19mm (+/- 0.2mm)
Outer Premium: 26mm (+/- 0.2mm)
Small Feather Flag
1.8ft x 6.6ft
8.2ft (Standard)
0.8lbs
Inner: 17mm (+/- 0.2mm)
Outer: 19mm (+/- 0.2mm)
Satisfied Customers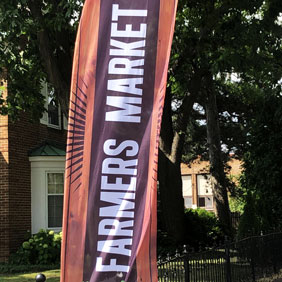 Frequently Asked Questions
What is the standard turnaround time?
These flags are stock made, so they are ready to ship out when you order them. They either ship the day you order them if purchased by 1 p.m. ET, or the next day if bought later. View what shipping options are available for you when checking out or using our "Delivery Estimator" tool. Our standard shipping option is free.
Should I get the standard or premium pole set?
Think about where you will be using your feather flag when choosing which flagpole to get. The standard version is the more economical of the two and is best for indoor and light outdoor use. Do not use the standard pole kit in winds more than 30mph. The premium holds up better in diverse outdoor weather and can withstand winds up to 6mph. Additionally, the premium option is not available for the small feather flag size.
How tall is this feather flag?
Our farmers market banner comes in a small and large size. The small option is 6.6ft tall and reaches 8.2ft tall when setup with the pole kit. Our large size, on the other hand, is an even taller 11.2ft and stands at either 13.5ft with the standard pole or 13ft with the premium flagpole.
What material and printing technique are used?
All our stock feather flags are made from a durable, outdoor-tested polyester material designed for extended and repeated use. This polyester fabric is lightweight and knitted to hold up in various weather, such as rain and wind. The tear-resistance of the material prevents it from ripping for a longer flag life. The print is just as enduring. We use a state-of-the-art dye sublimation process where the ink is infused directly into the fabric so it will not scratch or peel off. This results in striking, long-lasting colors.
What's the difference between the stake and the cross base?
We have either a stake or cross base option for setting up your feather flag. Choose the stake if you plan on securing your flag in soft ground, such as grass or dirt, or the cross base if you are setting up your banner on hard ground, such as indoor flooring or sidewalks. A water weight comes with the cross base for stabilizing the entire display. If you plan on using your feather flag in a variety of locations, we also have the option of ordering both bases.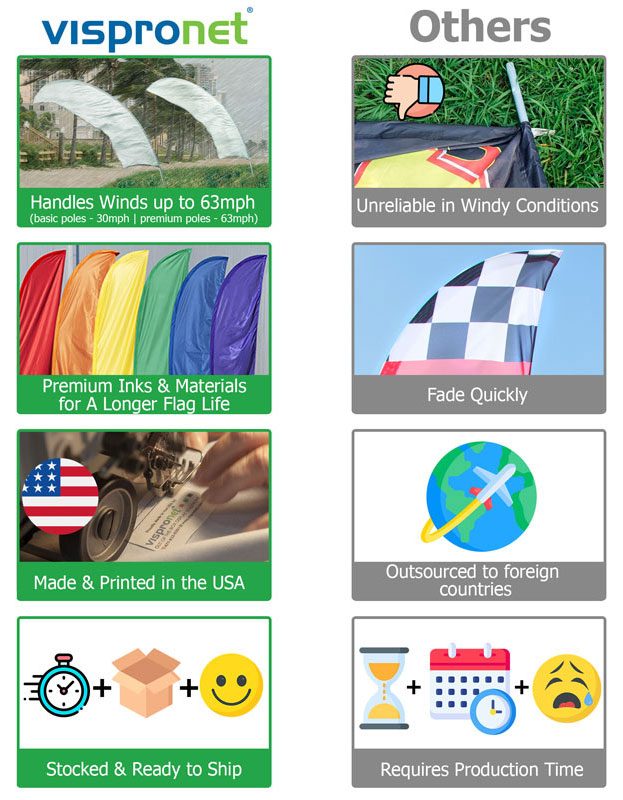 California Residents

Click here for Proposition 65 warning
Frequently Purchased With
Q & A
Reviews