Beer Flags
Weather-Resistant / Same-Day Shipping
Beer Flags Details
Market your beer garden, bar, or pub by displaying these beer flags outside your establishment. Available in a design reminiscent of beer and offered in a tall 13ft size, these beer banner flags are easy to see and read from far away. These feather flags are made from tear-resistant, super-knitted polyester material, which prevents them from ripping in different weather conditions. Add on a pole set and a base to your order to assemble these beer flags. Our economic standard pole set has a wind rating of 30mph and an aluminum and fiberglass construction. Our flexible premium pole set has a higher wind rating of 63mph and is made from stronger aviation-grade fiberglass. Our base options for our beer banners and flags include a ground stake and a cross base and weight bag. The ground stake inserts into soil or sand while the cross base and weight bag stabilizes the feather flag on harder pavement. Promote your beverages with these long-lasting, convenient beer flags for sale.
Parts List:
Pre-printed feather flag
Your choice of pole set with bag
Your choice of base
Material:
Outdoor Flag Polyester: Tear-resistant lightweight knitted fabric with excellent thru-print (3.25oz/yd²)
Bases:
Ground stake
Cross stand & weight bag
Ground stake, cross stand & weight bag
Pole Sets:
Standard: Indoor or low-wind outdoor (max 30mph winds)
Premium: Continuous outdoor use (max 63mph winds)
Specifications
Size/Shape
Dimensions
Above Ground Height
Weight
Pole Diameter
Large Feather Flag
2.6ft x 11.2ft
13.5ft (Standard)
13ft (Premium)
1.4lbs
Inner: 17mm (+/- 0.2mm)
Outer Standard: 19mm (+/- 0.2mm)
Outer Premium: 26mm (+/- 0.2mm)
Frequently Asked Questions
What is the turnaround time for these flags?
These beer flags are stock made, so they are ready to ship the day you order them if they are purchased before 1 p.m. ET. If they are ordered after 1 p.m. ET, they ship the next day. View what shipping options are available for you when checking out or using our "Delivery Estimator" tool.
What is the difference between the standard and premium pole set?
The standard pole set is the economic option while the premium flagpole is the more durable of the two. If you plan on setting up your flag indoors or for light outdoor use, the standard pole set will do the job. If, however, you want to use your flag for extended or repeated outdoor display, go with the premium option. This is because the standard poles hold up in winds up to 30mph, while the premium set withstands winds up to 63mph. Think about where you will be displaying your flag and for how long when selecting a pole set.
How tall is the feather flag?
The beer banner is a large 2.ft x 11.2ft. This size is easily seen by passersby walking or driving by your store. When assembled with the pole set, the entire flag stands at either 13.5ft with the standard pole or 13ft with the premium pole.
What material are these beer flags? What kind of printing is used?
Our flags are made from a long-lasting, outdoor-tested flag polyester, which is a lightweight, knitted material designed to hold up in all kinds of weather. The flag is tear-resistant to prevent the fabric from getting ruined. The print is also durable. We use a modern dye sublimation printing process, which infuses the ink into the material so it will not peel off. We print the beer design on one side of the banner and the reverse image bleeds through to the other side, saving you on printing costs.
What's the difference between a stake and a cross base?
When choosing between a stake or a cross base, think about where you will be setting up your flag. The stake option is for stabilizing the display in soft ground, such as grass, dirt, or sand. The cross base is for securing the flag on hard ground, such as on indoor floors, asphalt, or sidewalks. If you plan on using your flag in a variety of settings, we have the option for ordering both a ground stake and a cross base with your flag.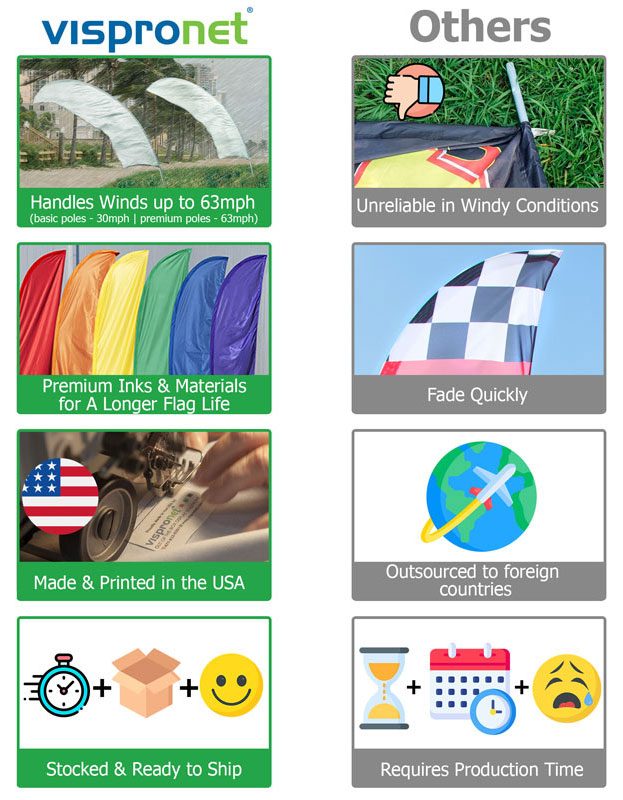 California Residents

Click here for Proposition 65 warning
Frequently Purchased With
Q & A
Reviews