January 24, 2020
How to Get Wrinkles Out of Vinyl Backdrops: 4 Easy Steps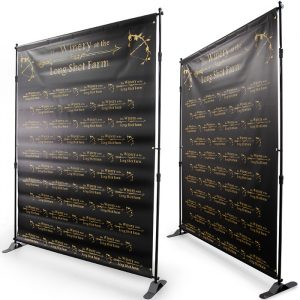 Did you just purchase a vinyl backdrop or tablecloth and discovered that it was wrinkled when you removed it from its packaging? Or, have you kept a vinyl banner in storage for a while and discovered it's very wrinkled when you took it out for use again? Maybe someone stored it incorrectly and now your backdrop has unsightly fold lines. These are very common occurrence as vinyl wrinkles easily and is prone to creasing, but it's just as easy to remove those wrinkles prior to using your vinyl item.
How to Get Wrinkles Out of Vinyl Backdrops
First, despite being apt to wrinkles, vinyl is a very dependable product for display purposes. The material is great for using outdoors as a banner or display stand due to its resistance to weather and its durability. It also is easy to print on and produces very striking colors that easily catch the attention of those nearby. Vinyl isn't an expensive material and it's designed to be used for a long time without tearing. Many people use vinyl for outside tablecloths and in their household upholstery (substituting leather) due to its reliability. Vinyl is a popular material for trade show backdrops, advertising, and home décor and is very easy to care for if you know how.
If you do have wrinkles on your vinyl, there is an incredibly simple solution for taking care of this:
Step 1
Remove your vinyl backdrop or banner from its packaging or from where it's stored. Lay it flat outside in the sun. If you have a vinyl make, you can make the process go faster by adding weights to where the corner grommets are.
Note: If the vinyl goes with a banner stand, such as a retractable banners or a step and repeat backdrop, you can set it up in the display frame outside.
Step 2
Wet a soft cleaning cloth and wipe it across the vinyl to rid the material of dust and dirt.
Step 3
Dry the vinyl with another soft cloth. Doing this will not only clean the material, but it will help smooth out the wrinkles.
Step 4
Keep the banner out in the sun until the wrinkles are removed from the heat. There is no exact time frame of how long it could take as it differs depending on how wrinkled the material is, but our sales team recommends leaving it out for a day or so. Make sure to set aside enough time before the print needs to be used to do this.
That's all that's required to remove the wrinkles from your vinyl material!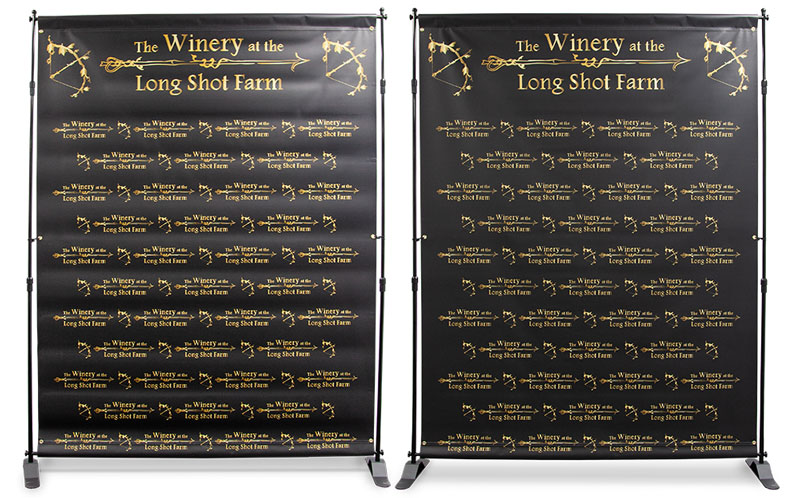 Can You Iron Vinyl or Use a Hair Dryer?
Several sources say that you can use a hair dryer or an iron on your vinyl material to remove any wrinkles and fold lines. We do not recommend this as the primary option for removing wrinkles. The reason for this is that vinyl is very sensitive to heat, especially when it's close to the material, and it will cause damage if these methods are done improperly. Vinyl burns easily and is less likely to be ruined in the sunlight than it is under a hair dryer or an iron.
How to Get Wrinkles Out of Vinyl Using an Iron or Hair Dryer
If you are in a situation where you must use either a hair dryer or an iron (like if you need to use the vinyl in a short period of time and it's raining outside), there are some cautionary steps you can take to make sure your vinyl is protected. See the steps outlined below on how to iron vinyl fabric.
Step 1
The first thing to note is that you need to make sure neither the hair dryer nor the iron comes into direct contact with the vinyl material. Make sure to keep the heat some distance from the banner or tablecloth.
Step 2
If you are using a hair dryer, it should be on a low heat temperature (no hotter than the medium setting). If you are using an iron, you can put it on a low setting and place a wet cloth over the vinyl so that the hot iron isn't directly touching the material.
Step 3
The iron and hair dryer should be heating the non-printed side of the vinyl to protect the printed graphic side of the tablecloth or display banner. Again, we recommend placing the banner outside in the sun as a main option and using a hair dryer or iron as secondary solutions where caution needs to be taken.
Note: If there doesn't seem to be any progress with the wrinkles being removed when placed outside or under the hair dryer/iron for a while, then it could mean that your vinyl product needs to be replaced with a new one. This can happen with older vinyl items that have been used for years as there does come a time where banners and tablecloths should be replaced.
Prevent Wrinkles in Vinyl with Proper Storage
How can you store your banner to make sure that it won't be wrinkled again?
To protect your banner from getting ruined by winkles and fold lines while in storage, there are a few precautions that need to be taken. While placing the banner in the sunlight is good for removing wrinkles, it shouldn't be stored in an area with direct sunlight over a long period. It should also be kept from other heating devices, such as a furnace that has heat radiate from it. The most recommended places for storing a banner are in an attic or a garage where it's dark and cool.
When you store your vinyl, don't fold it! By folding your vinyl banner or tablecloth, you are setting creases into the material that will wrinkle over time. The way to properly keep your vinyl from getting ruined is rolling it up. This is always how it should be kept, even if you are transporting it to a venue. After the banner is rolled, it should be kept in a container, such as its original packaging, so that it doesn't get dirty. Make sure that when it's rolled in a container the vinyl isn't flattened in a way where creases might occur.
Do you need a new vinyl banner or an tradeshow banner with vinyl prints? At Vispronet, we have lots of options to suit your tradeshow or outdoor advertising needs. We have banners, advertising displays, and more available at great prices! Shop today!
Sources
How to Get Wrinkles Out of Vinyl Banners
https://www.halfpricebanners.com/blog/remove-wrinkles-from-banners?
How To Remove Creases and Folds From Your Banner?
https://www.clubink.ca/blog/banners/how-to-remove-creases-and-folds-from-your-banner/
How to Remove Creases in Vinyl Upholstery
https://www.hunker.com/13412511/how-to-remove-creases-in-vinyl-upholstery