Rectangle Flags
Rectangle Flag Banners by Vispronet
Completely customizable templates
Select your own size, printing style, and bases
Modern dye sublimation printing process
All materials & hardware tested for durability
No minimum order quantities
Fast turnaround time with rush options
Free design services
In-house printing
configurable 0 0
Custom printed solutions in 3 simple steps.

1. Choose from 3 Design Methods
Click the Proceed to Artwork button to choose Design Online, Upload Template, or Free Design Services.

2. Receive & Approve Your Proof
We'll process your artwork within 2 business hours and send a proof for your approval via email.

3. We'll Bring Your Idea to Life
Our standard turnaround time is 3 business days plus shipping with expedited options available.
Rectangle Flags Details
These eye-catching rectangle flags are part of our feather flag line. They are displayed on flexible flagpoles like our custom feather flags, but they are in a rectangular shape rather than a swoop. These larger rectangle banners offer more room for a customized message than other feather flags, leaving room for wider graphics and more text. The top banner arm allows the full design to be displayed, even when there's no wind. These kinds of custom flags are often seen at event booths, business tradeshows, and outside stores during sales.
Parts List:
Your custom-printed flag
Pole set
Ground stake or cross stand with weight bag
Optional upgraded carry bag
Material:
Outdoor Flag Polyester: Tear-resistant lightweight knitted fabric with excellent thru-print (3.25oz/yd²)
Mesh Polyester: Mesh-like structured knitted fabric with excellent thru-print (3.25oz/yd²)
Pole Set:
Aviation-grade fiberglass construction
Single-reverse flags withstand 63mph winds
Double-sided flags withstand 46mph winds
Recommended for outdoor use
Disclaimer:
Do not use near overhead wires or allow flag to blow against structures. Allow a 4ft-12ft radius from base for flag clearance depending on size. See assembly sheet for complete instructions.
Rectangle Flag Banner Dimensions
Banner arms available in 1.2ft, 1.9ft, & 2.8ft wide.
Size
Part Number
Flag Size
Height Above Ground
Weight
Bottom Pole Diameter
XSmall
KX1100
Arm width x 5.5ft
6.8ft
1.1lbs
Inner: 17mm (+/- 0.2mm)
Outer: 24mm (+/- 0.2mm)
Small
KX1101
Arm width x 7.7ft
9.4ft
1.3lbs
Inner: 17mm (+/- 0.2mm)
Outer: 24mm (+/- 0.2mm)
Medium
KX1102
Arm width x 11.3ft
12.7ft
1.8lbs
Inner: 17mm (+/- 0.2mm)
Outer: 25.5mm (+/- 0.2mm)
Large
KX1103
Arm width x 12.6ft
14.1ft
1.9lbs
Inner: 17mm (+/- 0.2mm)
Outer: 25.5mm (+/- 0.2mm)
Custom Rectangle Flag Banner Sizes
We include different set sizes for the flag and its extending banner arm. The size of the banner arm will determine the overall width of your rectangle flag banner. Available arm sizes are: 1.2ft, 1.9ft, and 2.8ft. The height of these banners include extra small, small, medium, and large which range from 7ft to 14ft to accomodate indoor and outdoor use.
See the table above for specific details on the flag and banner arm sizing.
Single-Reverse & Double-Sided Printing
Our rectangle flag banners are offered in single-reverse and double-sided printing formats. Single-reverse means that the image is printed on one side and it bleeds to the other side of the flag for a mirror-image layout. Double-sided is when two single-sided flags are sewn together with a liner in the middle so that you can print a different design on each side. Single-reverse is the more lightweight and economical version of the two.
For designs that include text, we would recommend a double-sided layout. For designs that are company logos or simple patterned designs, a single-reverse flag would be the best option.
Base Options
Not only do we include the option to add on a premium carrying case to your order, but we offer different rectangle flag bases to select from. All base options are easy to assemble with the flag.
The ground stake option is used in the grass or soil. It's hammered into the ground and the feather flag pole mounts to the top of the stake. This is for outdoor applications.
The cross base and weight bag can be used for both indoor and outdoor displays, ideally on the sidewalk. The cross base is connected to the flag pole while the weight bag is placed over the stand to add stability in windier weather.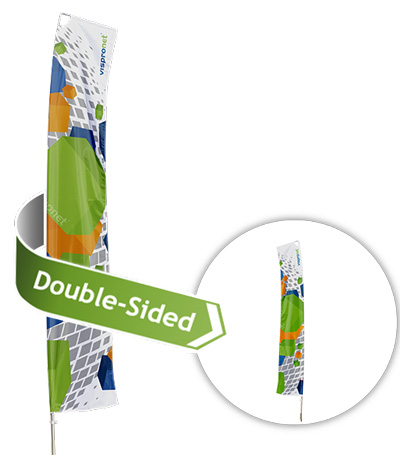 Frequently Asked Questions
What materials are the rectangle flags and pole sets made from?
We test all our materials to make sure they are durable and can be used outdoors. Our rectangle banners are made from our outdoor flag polyester, which is strong knitted fabric that's tear-resistant for long-term use. The flag pole sets are made from high-quality fiberglass that will withstand the wind. Our pole sets can stand up to 63mph winds when used with single-reverse flags and 46mph winds with double-sided flags.
How do I choose between outdoor and mesh polyester?
Before selecting which of our polyester materials you want, consider where you will be placing your flag and what kind of print layout you need. If your flag will be exposed to standard outdoor conditions, the outdoor flag polyester is a great option. This fabric is also easy to print on and is perfect for showing off single-reverse and double-sided feather flag designs. If, on the other hand, you need your flag material to hold up in very windy or sandy locations, the mesh polyester is the best choice. This knitted material allows the wind and sand particles to pass through the material, which keeps the polyester and print from deteriorating.
Will the wind ruin my flag or blow it away?
Our rectangle flag material has been tested for the outdoors. If it stays within the recommended mph winds, then there is no worry about the flag getting torn.
The pole sleeve finish on the flag keeps the rectangle banner secure on the pole set. Along with the bottom tab that attached to the pole and the curved banner arm shape, your flag should remain stable on the pole set if used in the recommended weather conditions.
What are the smallest and largest rectangle flag heights?
The height options are dependent on the flag size you pick. All the height options are offered with all the banner arm sizes. The extra small flag will be 7ft above the ground, which is the smallest height. The small will be 9ft above the ground and the medium will be 13ft. The tallest size is the large size flag, which is 14ft above the ground.
Can I order a replacement pole set or rectangle banner?
We offer you the chance to purchase replacement graphics and hardware online.
In order to get a replacement pole set, all that you have to do is go to our feather flag pole kits page and go to the rectangular flag pole set product. There, you can configure your pole size and pole set (our rectangle flags use the premium pole set).
If you wish to get a replacement rectangle banner, then you can do so from this product page. In the dropdown where it says "Pole Set", just select "No Pole Set" and you will only get the prints.
Is your custom rectangle flag material flame-retardant?
No, our flag material is not flame-retardant. We do not recommend displaying our custom rectangle banners near open flames or sparks, or else you can ruin the polyester material.
Can I use another printing company's rectangle flag template to design on?
We don't recommend sending us another company's templates. Other companies use different sizing and template layouts. To find our templates, just go to the "Design/Upload" tab on this product page. There you can download our product template for your use.
How do I design my rectangle flag?
We have three different ways for you to design your rectangle banner:
Use Our Design Tool Online – If you go to our "Design/Upload" tab on this product page there is a button that says, "Design Online". There you will be taken to our design suite where you can upload images and use our selection of colors and clipart to design your flag.
Design on Our Templates – On our "Design/Upload" tab we also include our artwork templates. If you download one of our templates, you can design it using your own computer software and upload it with the "Upload Template" button when you're done. To view our specifications, go to the "Downloads" tab and look at the "Artwork Specifications" documents.
Free Design Services – We offer free design services where our professional graphic designers will design your rectangle flag for you with your logo and content assets – free of charge.
What are these rectangle flags used for?
The main purpose of these custom rectangle flags is to advertise or promote events. You will often see these kinds of flags displayed by entrances of festivals, sporting events, and school functions. They can also alert passersby to sales in stores or special offers from businesses outside of buildings. There are no restrictions on what you can use these feather flags for. The sky's the limit!
How do I assemble my rectangle flag?
If you are having trouble setting up your rectangle flag, we offer videos on how to set up our products. Our rectangle flags use our premium pole set. To find a step-by-step video on assembling our premium pole set, click here.
How do I care for my rectangle banner material?
Our rectangle flags are machine washable, but there are some rules that need to be followed. Wash these flags on a delicate cycle with cold water, without using bleach. Do not place them in the dryer. They need to be air dried. Do not iron your flag or you will ruin the material. If you follow these guidelines, your flag will remain in great condition.
California Residents

Click here for Proposition 65 warning
Frequently Purchased With
Q & A
Rectangle Flags Reviews