Wall Banners
Double Sided / Weather-Resistant / Fast 3-Day Turnaround
Why Choose Vispronet?
Design Online or Upload Template
FREE Design Services
Risk-Free Ordering with Pay Later
Free Proof with Every Order
Replacement Hardware & Prints
Custom Sizes Available
Also Available:
configurable 0 0
Custom printed solutions in 3 simple steps.

1. Choose from 3 Design Methods
Click the Proceed to Artwork button to choose Design Online, Upload Template, or Free Design Services.

2. Receive & Approve Your Proof
We'll process your artwork within 2 business hours and send a proof for your approval via email.

3. We'll Bring Your Idea to Life
Our standard turnaround time is 3 business days plus shipping with expedited options available.
Wall Banners Details
Wall mounted banners are an option for those who are looking to mount their pole banners directly to a wall or other flat surface. These banners are available in several common and custom sizes, differentiated by the hardware included. As with the street pole banners, prints are available in a variety of different layout and material options. Wall banners feature aviation-grade fiberglass poles and mounting brackets, with eyelet brackets available on option 6. Wall banners are perfect for museums, sport complexes, and other attractions who wish to promote exhibits and other events to the masses.
Parts List:
Custom-printed banner
2 heavy-duty pole brackets
2 fiberglass poles
End caps
Material:
18oz Opaque Vinyl: 100% opaque weather-resistant & UV-protected satin vinyl
23oz Opaque Vinyl: 100% opaque heavy-duty weather-resistant & UV-protected satin vinyl
Outdoor Flag Polyester: Tear-resistant lightweight knitted fabric with excellent thru-print (3.25oz/yd²)
300D Polyester: Water-resistant, scratch-proof, flame-retardant fabric (6.00oz/yd²)
Disclaimer:
Our street banner hardware has been wind tested and can withstand wind speeds up to 55-63mph (10bft). Steel ties are intended for use with round (not square) poles. See assembly instructions for more details.
Specifications
Model
Part Number
Sizes Available
Weight
Option 5
KX0236 (1.5ft wide)
KX0237 (2ft wide)
KX0238 (2.5ft wide)
KX0239 (3ft wide)
1.5ft - 3ft wide
3ft - 10ft tall
5lbs
Option 6
KX0240 (1.5ft wide)
KX0241 (2ft wide)
KX0242 (2.5ft wide)
KX0243 (3ft wide)
1.5ft - 3ft wide
3ft - 10ft tall
5lbs
Where Can Custom Wall Banners Be Used?
Wall banners utilize mounting hardware to attach to walls inside and outside businesses, college campuses, auditoriums, stadiums, libraries, and more. Different material options are available to suit indoor or outdoor use, such as vinyl and polyester fabric. Typically, you see these types of wall flags in town squares or on popular streets to advertise local events.
One of the reasons these custom wall flags are great options for outdoor advertising is because they are more visible as they are clearly seen from car windows and by people passing by. When used indoors, they are eye-catching as part of the décor of your store or lobby. They are easily seen and read from a distance, making them great markers for entrances and exits.
Design Custom Wall Banners Online
We have three different options for designing your wall banner:
Design Online: If you prefer styling your wall mounted advertising flags template online, we have a design suite. If you click on the "Proceed to Artwork" button on our configurator, there is a "Design Online" button. This will take you to our suite where the template appears according to how you configured it. Here you can upload your photos, use text boxes and fonts, add clipart and backgrounds, and more!
Upload Artwork Template: Would you prefer creating your custom wall flag design on your own computer software? We have an option for that too. When you click on our "Proceed to Artwork" button, there is an option for downloading our artwork template. When you download the template, it will be sized and shaped according to what you configured. You can use your own computer program to create the graphic and then reupload your finished template before or after checkout.
Free Design Services: If you have no design experience we are here to help. Our graphics department is willing to design your wall banner at no cost. Our design team will then create the graphic for you and give you a chance to proof the final image before we print it.
Set Up
A drill and screws need to be used to secure the top and bottom brackets to the wall.
The top pole sleeve of the banner slides onto the fiberglass pole.
Place the zip tie through the banner's top grommet and the bracket's pin ring and then close it.
If you have Option 5, secure the banner to the top bracket before drilling the bottom bracket into the wall. The bottom of the custom wall banner secures to the bracket's pole the same way as the top.
If you have Option 6, an eyelet bracket is included. Attach bottom of the custom wall flag to the bottom bracket with a zip tie.
If you need step-by-step assistance, we include an assembly guide on the "Videos" tab.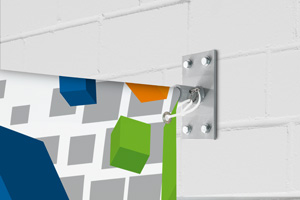 Wall Banner Print Options
The material for the wall banners includes outdoor flag polyester and 300D polyester. The outdoor option is designed for outside wall mounted advertising flags because the material is knitted and tear-resistant so that it can stand up against different weather conditions. The fabric is also a little see-through. The graphic is printed on one side and bleeds through to the other side. This kind of material is often used for state and country flags. The 300D polyester is also durable due to its water-resistant, scratch-proof, and flame-retardant functions. This material, however, is more like a canvas and does not have a thru-print like the other polyester option. Prints are more vibrant and colorful on this fabric compared to the flag polyester. We also have two vinyl options with satin finishes. One is 18oz and the other is 23oz. Both materials are strong enough for outdoor use due to their weather-resistance, but the 23oz is heavier duty than the 18oz version.
Both polyesters use full color dye sublimation printing. This is a very modern printing technique that creates sharp, eye-popping colors. Dye sublimation printing has the ink infused into the custom wall flag fabric, rather than printed on top of the fabric. By infusing the ink into the material, the image appears as if it is part of the fabric and lasts longer than other printing methods. The vinyl materials use a UV printing technique, which creates striking colors that will not fade or peel off in different weather conditions. This type of printing is done on all vinyl materials, making it a great option for outdoor display. The full color function also allows you to add any number of colors and details to your custom wall banner graphic without getting charged more.
Frequently Asked Questions
What is the turnaround time?
Our standard turnaround time is 3 business days. We offer rush production and expedited shipping options at checkout. To preview your estimated delivery date, click the "Estimate Delivery" button located at the top of the page.
How do I design my wall mounted banners?
We offer three easy ways to design your banners: Design Online, Upload Artwork, and Free Design Service. Each design method is risk free and includes a free design proof.
What is the difference between single-reverse and double-sided printing options?
Single-reverse printing has the graphic printed on one side of the material and the image bleeds through to the other side, leaving the design in reverse. This is a great selection for logo designs and images that do not have words. The double-print option has the design printed on two pieces of fabric, which are sewn together with an inner liner. This is an ideal choice for graphics that have wording, as the original image layout is visible from both sides.
What is the difference between the custom wall banner set options?
Both Option 5 and Option 6 wall banners have a top pole bracket with a pole sleeve on the top of the custom wall banner. The difference is how the bottom is setup. The bottom of the flag for Option 5 is mounted using a fiberglass pole bracket. Option 6 has no pole at the bottom, but only an eyelet that is secured to the wall using a zip tie. Option 6 is available in rectangular and triangle layouts.
Can I order just the hardware?
We include the option for getting just the custom wall banner hardware, just the wall mounted advertising flags print, or both together. If you go to the product options on our configurator, we include an "Order Type" dropdown. There is the selection for "Prints and Hardware", "Prints Only", and "Hardware Only". If you are just getting the hardware, you do not need to send us a print design for the custom wall flag.
Do you have banners for lampposts or street poles?
Yes, we offer both pole banners and across the street banners that can be used on street poles. These products are available in the same material options as our wall banners.
Satisfied Customers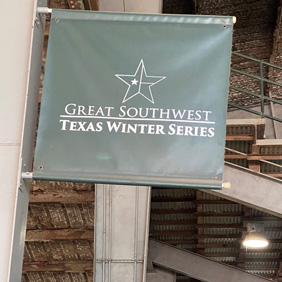 California Residents

Click here for Proposition 65 warning
Frequently Purchased With
Q & A
Wall Banners Reviews