September 4, 2018
Top Trade Shows of 2019, Part 1
Industry experts advise that you should start planning your trade show appearance six months in advance, but if you don't know which show to attend, that can be a difficult task. If you're looking for some inspiration on which trade show to join, look no further than our list of the top trade shows of 2019. Read below to discover the best trade shows to visit in the United States for the first quarter of 2019.
Need help figuring out how to plan for one of the events on our list? Get our 25-step trade show planning checklist, which walks you through the whole trade show planning process, from 6 months beforehand to the day of the show.
Our List Of Top Trade Shows
Affiliate Summit
When: Jan. 6 – Jan. 8, 2019
Where: Paris Las Vegas Hotel, Las Vegas, NV
Affiliate Summit is the premier global event for the performance marketing industry. From January 6 to January 8, 6000+ digital marketers from 80 countries will gather at the Paris Las Vegas hotel to network and gain a better understanding of the industry. Among those attending will be a who's who of companies and skilled individuals including bloggers, advertisers, tech firms, marketing agencies and the top global brands.
Features of the event include:
An agenda crafted by some of the biggest stakeholders in the American affiliate marketing industry, including presentations on the latest industry trends and challenges.
An exhibit hall packed with affiliates, merchants, vendors, digital agencies and other traffic sources – including companies like Lyft, McAfee, Apple and Avast. A full list of last year's attendees is available on the summit's website.
Online tools and networking events to help attendees meet with each other in order to foster an open exchange of ideas
Consumer Electronics Show
When: Jan. 8 – Jan. 11
Where: Various hotels, Las Vegas, NV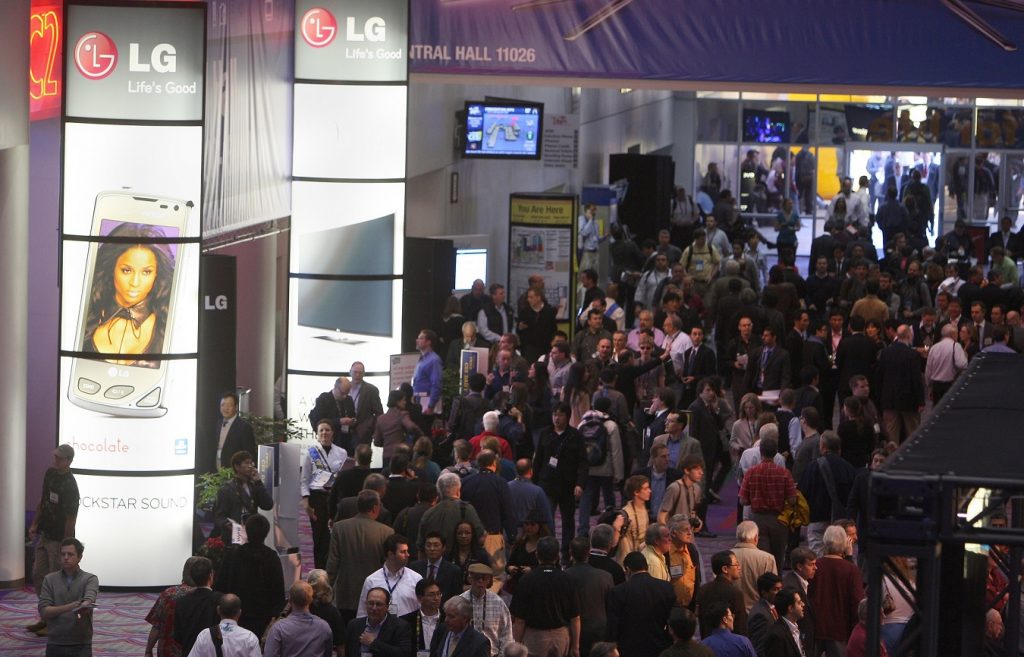 Billed as the "The Global Stage For Innovation," the Consumer Electronics Show (CES) is one of the top trade shows in tech – a gathering of powerhouses in the consumer electronics industry. More than 4,400 companies exhibited over the three days of last year's event: total attendance for CES 2018 was 182,000 people. Featured exhibitors at last year's event included companies like Mitsubishi Electric and Google's hardware division, but there are many more than that: the total event space for CES spans 2.5 million square feet over 11 different Las Vegas hotels.
Topics for CES 2019 include:
Self-driving cars
Smart cities and homes
Drones and robotics
AI
You can head to the official CES website to register for email updates.
PPAI Expo
When: Jan. 13 – Jan. 17, 2019
Where: Mandalay Bay Convention Center, Las Vegas, NV
The Promotional Productions Association International (PPAI) Expo is the top show on our list of trade shows for those in the promotional products industry. With a yearly attendance of at least 8000+, PPAI draws together suppliers, consultants and industry professionals from across the globe.
Here are some of the benefits of attending the PPAI Expo:
Access to DECORATE, PPAI's sub-show for screen-printing, embroidery and digital technology.
A front-and-center view of the Product Pavilions, where the most sought-after products are showcased – new products, green products, products made in the USA, and even products put out to market yet to be released by first-time exhibitors.
Attending PPAI grants you other, intangible benefits. Not only does it give you an opportunity to increase your number of supplier contacts, but seeing what new items suppliers have for sale (as well as what your competition is selling or giving away) means you have a reason to rethink and refresh your product lines.
Registration for the PPAI Expo opens in September: you can sign up to their email list to receive a notification when registration opens.
SHOT Show
When: Jan. 22 – Jan. 26, 2019
Where: Las Vegas Convention Center, Las Vegas, NV
Featured in our top trade shows list for 2018, SHOT show returns as part of our 2019 list. The Shooting, Hunting, Outdoor Trade (SHOT) show is the most comprehensive trade show for professionals in the law enforcement and shooting sports industries – everyone from vendors like Winchester and Remington to media personalities like Ian McCollum of Forgotten Weapons, TFB TV and InRange TV.
SHOT Show isn't just about the vendors, though: above all, it's about education. Education at SHOT Show includes the Law Enforcement Education Program, SHOT Show University, an executive management seminar and seminars put on by the vendors for the education of the attendees.
American International Toy Fair
When: Feb. 17 – Feb. 20, 2019
Where: New York City, New York, USA
Another one of the top trade shows from our 2018 list, the American International Toy Fair is a trade-only event for toy manufacturers across the US and internationally. Each year, more than 1000 exhibitors descend on New York City to showcase their products to interested vendors. More than 150,000 products will be demonstrated over the four days of the show.
Brands that will be exhibiting at this year's fair include Bandai, Crayola, Dark Horse Comics and more. Looking for a specific brand? The American International Toy Fair website has a list of the exhibitors for 2019, which is also available as a PDF.
Products exhibited at this year's toy fair include your standard items like action figures, arts & crafts, books, music, games and puzzles – but there's more than just that. The big three this year are:
Launch Pad, an area exclusively for first-time exhibitors
Modern Design, where form meets function for those companies looking to use high-end design practices and materials
PopStop, a place for toys influenced by pop culture and nostalgia
You can register for email updates on the American International Toy Fair's website.
EXHIBITORLive
When: Feb. 24 – Mar. 1, 2019
Where: Mandalay Bay Convention Center, Las Vega, NV
EXHIBITORLive is a bit of an anomaly when it comes to trade shows. Most "trade shows" are either  traditional trade shows with booths and the classic setup, or actually just industry conferences masquerading as trade shows.
One of the most noteworthy things about EXHBITORLive  is that it manages to be both an industry conference and one of the top trade shows for the event marketing space.
With a conference running February 24th to the 28th and an exhibit hall running February 25th to the 27th, EXHBITORLive is the best of both worlds for professionals in the trade show and corporate event marketing spaces.
6,000+ people attend EXHIBITORLive, so you'll definitely be among people that share interest in your niche. In addition to the attendees, there's even more: EXHIBITORLive's faculty. They're 151 of the world's best who are there to share their experience and ideas to help you build successful event marketing programs.
Registration for EXHIBITORLive opens in October, but you can sign up for email updates through the EXHIBITORLive site.
International Home + Housewares Show
When: Mar. 2 – Mar. 5, 2019
Where: McCormick Place Exposition Center, Chicago, IL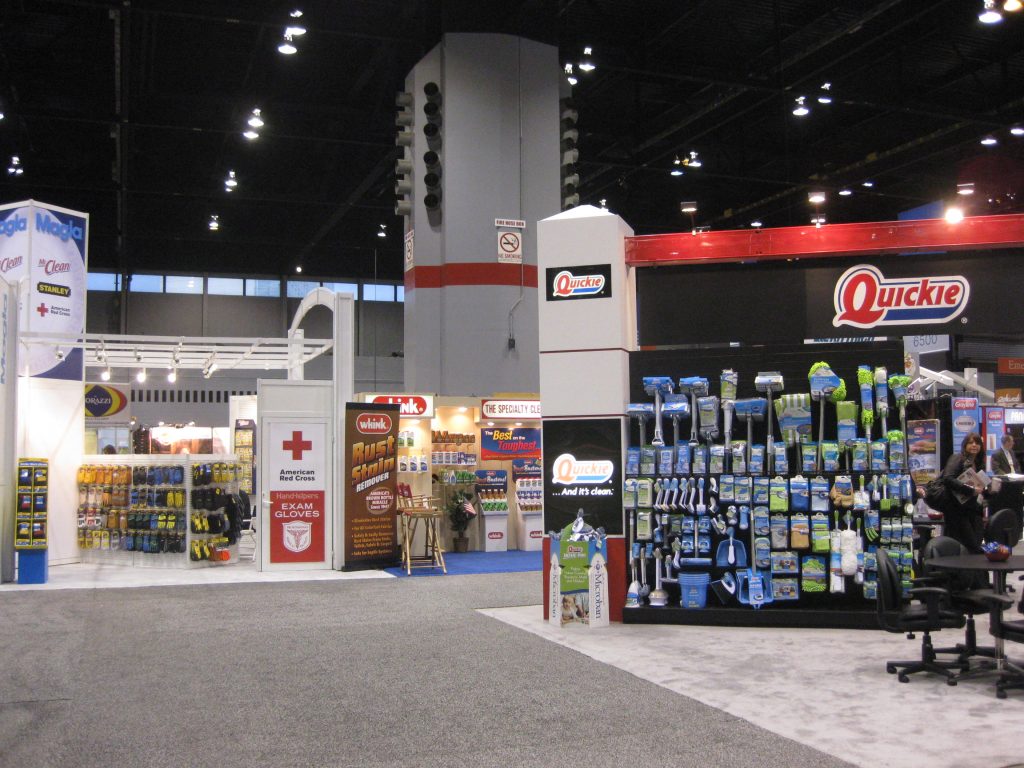 One of the top shows from  our 2018 list, the IHA Show is where houses and housewares go to show off.
This year's displays include showcases from Pantone ColorWatch to exhibit color trends and the forecasts for next year. IHA Smart Home is showcasing how the future of housewares is swiftly moving toward the smart home concept. Technologies showcased include smart devices and ways to bring connectivity to each part of the house.
Also included is Inventors' Corner, which takes 60 clever inventors and lets them showcase their fresh ideas. The Student Design Competition gives vendors and attendees a chance to see the future of design through the eyes of student inventors.
In addition to the wealth of displays, the International Home + Housewares show also features events going on for the whole duration of the show. Everything from keynote speakers, to product demonstrations by celebrity chefs, to hourly presentations on everything from design to business issues is available.
Interested in going? You can register for an attendee badge on the show's website.
 Don't see your trade show on our list? Want to tell us how excited you are to go to one of the shows? Let us know on Twitter, Facebook, or in the comments