October 8, 2021
170 Trade Show Booth Ideas & Designs: The Ultimate List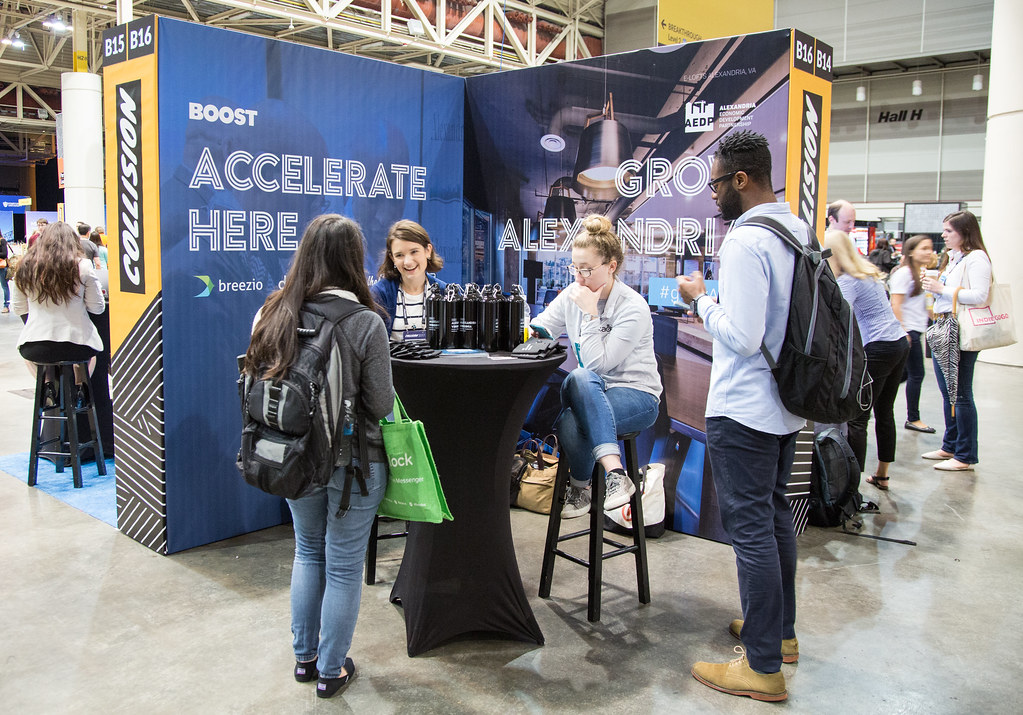 Trade shows are a great way to spread brand awareness and gain new customers, but at every trade show a business must compete with a sea of other companies, all trying to achieve the same outcome.
How do you make sure your booth stands out among others?
How can you grab the attention of people nearby while still promoting your brand?
There are many ways you can get customers' attention and make your presence memorable without having to overdo it.
Here are tips for making sure your trade show booth is seen and visited by customers.
We've broken them down into 13 informative categories to help you at your next event.
Trade Show Booth Ideas for Small Budgets
View this post on Instagram
1. Customize Your Own Tablecloth
If you are setting up tables in your booth, a good idea is to personalize a branded custom tablecloth. This not only promotes your brand, but also makes your table more presentable and eye-catching. There are several custom table cover styles available. Some companies print the entire tablecloth in a design that covers the whole fabric, others just include their logo against a simple color background. There are also several tablecloth styles, such as a form-fitting stretch cover or a more traditional cover with a standard drape.
2. Add Your Logo to Retractable Banner Stands
Another popular display that you see at many trade show booths are retractable banners. These are long printed banners that roll out from a base for assembly and roll back in for storage, making them compact and convenient for travel. Several banner stands allow you to replace your printed banner with a new one while others are permanent. These roll up banners come in a wide range of styles and sizes to suit tabletop, floor, and backdrop displays.
3. Photo Booth for Social Media
One of the cheapest yet easiest ways to get customer attention and bring them to your booth is to give them a space to take photos for social media. Create a photo center using photo booths, backdrops, or cardboard cutouts that the attendees can use in their photos. Come up with something fun that relates to your brand that customers can take photos with, such as a cutout of a mascot. You can have a professional photographer take the photos of customers or have them take selfies in your photo station.
View this post on Instagram
4. Personalize Affordable Portable Booths
Lightweight portable booths are incredibly easy to travel with and carry to trade shows. Pop up booths come in many sizes and shapes to accommodate all kinds of space. Pop up booths are made from collapsible frames that attach to a printed backdrop. Most portable booths are setup without the need for tools, making assembly and teardown simple. Most companies also sell backlit pop up displays, which makes your graphics stand out from the competition. You can find standard straight booths or curved booths to advertise from different angles.
5. Spell Out a Message with Large Letters
Instead of getting custom printed banners and signs, another way to showcase your brand is by using large letters that spell out your company name or slogan. Tape or tact yard letters to a wall, nail some wooden lettering, or use decal stickers to create a custom message. Yard letters are light enough for easy travel, tall enough to stand out, and are simple to take down when you are finished using them. If you have outdoor space, they can also be staked into the ground.
6. Light Your Booth Up with LED Lighting
Pop up booths and other custom banner stands often include an option for backlighting. Investing in trade show lighting is an inexpensive way to catch the eye of people walking past your booth. You can even backlight custom posters by having the lights included inside the frame or get your own individual LED lights to place inside your booth to light up your displays. LED lights are ideal for trade show settings because they are bright with easy-to-replace bulbs that last a long time.
7. Create a Backdrop Banner
Large custom backdrops tie your entire booth together and create eye-catching graphics that can be seen and read from far away. Backdrop banners are connected to a large, portable banner stand that is customized with any graphics you wish. You can display your logo, showcase a new product, or promote your company's slogan on large banners that will grab everyone's attention. These big backdrop banners don't only have to be used in spacious booths, small 10×10 booths can fit them as well.
8. Miniature or Tabletop Booth Displays
A go-to for booths that have a lot of table space or don't have a lot of space at all, is miniature displays. Table top displays dress up a table and increase brand awareness to those who stop by and visit your booth. If you are looking for something extra to decorate your booth, miniature displays are an inexpensive option. Tabletop displays can be portable pop up booths in smaller sizes, compact backdrop banners, little cardboard cutouts, mini flags and banners, and shorter retractable banners.
9. Promote Your Brand on Tables and Chairs
If you have a section of the exhibition booth where your employees or customers sit, use that space for advertising by getting custom graphics printed on a table or chairs. Tables and chairs come in many, many styles that will fit with your booth motif while still being inexpensive. Customize the seats and back of your chairs with your company logo and find a table that accommodates the color of your graphics, for a smart, promotional look.
View this post on Instagram
10. Get Tents with Custom Printing or Stock Color Canopies
One of the main features of trade show booths indoors and outdoors are custom tent. It's often assumed that custom tents are expensive, but they don't have to be. There are more affordable tents, such as getting a tent with area printing rather than having the entire canopy printed. Area printing allows you to add your logo to specified areas of the canopy for a custom look that doesn't cost as much. If you don't need branding, you can also get stock color tent canopies at a fraction of the price of custom canopies.
11. Giveaway Small, Inexpensive Promotional Materials
Give something out to those who visit your booth without having to pay too much for them. These items allow you to stay on the mind of the customer, even after they leave your booth. There are many custom products you can hand out to people that are small and inexpensive. Customize brochures and pamphlets with more information about your company or organization, give away branded stickers, custom magnets, and keychains. You can also find custom t-shirts, mouse pads, and can coolers at small, bulk prices for promotional use.
View this post on Instagram
12. Use Lighting Effects
Outside of using backlit displays, you can also have lighting effects in your booth. Lighting effects are an interesting way to get noticed among a crowd, but they also are not expensive. Many booths might include different colored lights on the walls and ceiling but think outside of the box with your lighting to stand out even more. Find light up seats, tables, and other unique displays in your booth. Using different colored lights allows you to also coordinate with your brand colors.
13. Recycle Display Ideas from Previous Shows
If you have a small budget to work with, something easy to do is use unique trade show display ideas that you previously used at trade shows. Utilize logo graphics from past shows, get new custom graphics but use the same stands, stick with an idea that made you stand out before and do it again. Recycling old banners and stands is one of the cheapest ways to decorate your trade show booth, but make sure your designs are not outdated with years, references to specific trade shows, etc.
14. Always Look at What Sales Promo Display Companies Offer
Chances are, if you are shopping for custom displays on a website, they are currently having or will be having a sale. It is important to always check any coupon pages the website has and review any emails that are sent to you from the company so that you can take advantage of their current sales. If you are a new customer, you might even find a coupon code for your first order or liquidation sales on inventory they are getting rid of.
---
Trade Show Booth Design Ideas
1. Think of Unique Decorations Specific to Your Brand
Do you have a brand that you can tie in with decorations? If you sell food, find food shaped adornments. If you sell clothing include mannequins. If you have a landscaping service, include fake grass in your booth. Chances are, you can find some sort of decoration idea that ties specifically into your brand. Try looking at home décor sites to see what kind of decorations they have that you can use. Here is a list of some recommended websites.
2. Increase Brand Awareness by Showcasing Your Logo
When you are creating custom printed displays and literature, make sure your logo is spotlighted. Have your logo front and center on a large backdrop or printed tent, make it the cover of a brochure you hand out, or have it printed on any promotional material you give away. Promoting your logo is the go-to for trade show décor, but it's also important if you want to make an impression on potential customers. They are more likely to remember your company if they are familiar with your logo.
3. Use Big Wording and Designs That Can Be Read from Far Away
If you are attending a large trade show, you will need to get the attention of people standing both close by and far away from your booth. An easy way to make sure that people from a distance see your trade show booth is to use big text and logos on your displays. People who are standing far away will be more interested in visiting your booth if they know who you are and what products and services you offer by reading your displays from across the room. Feather flags are the perfect solutions to grab the attention of event-attendees. Because of their tall structure and vibrant colors, customized feather flags are excellent at showcasing your logo or custom branding to passerby who are standing far away and close by, further enticing them into your booth.
4. Make Sure It's Clear What Your Company Sells or Does
When you are customizing your trade show displays and decorating your booth, it's vital that people can tell what products or services you offer without having to ask. Showcase products where people can easily see them, include what you do in your brand slogan, and use decorative touches related to your brand wherever you can. Potential customers shouldn't have to ask you or your employees what it is you do to get your message across to them.
5. Find Interestingly Shaped Displays
An easy way to stand out among the competition is to find a type of display that is shaped differently from the standard ones used. Instead of getting shapes in the classic square or rectangle, find ones that are circular, triangular, or a shape that can't be defined. The more unique your displays are, the more likely they will catch the eye of people walking by your booth. See what shapes the display site you are using offers before making a final decision.
6. Personalize Artwork Designs You'll Be Able to Reuse
If you are planning on reusing your printed banners and signs in the future, it's important to get graphics that you will be able to reuse year after year. Do not be too specific in your custom designs. For example, have several banners saved that don't mention a new product, because it might not be new the next time you need the banner. Also, don't include the year or name of the trade show if you need to use your graphics at many events.
7. Have a Private Section for Meetings
If customers are coming to meet with you and your team for one-on-one meetings, an important thing to do is to make sure that they have privacy when talking to you. Make sure there is a separate part of your booth where you and your customers can meet and talk without being interrupted by others. They shouldn't have to hear what's going on in the next booth or overhear other meetings taking place when they are talking to you.
8. Use Colors to Your Advantage
When you are coming up with custom graphics to be printed on your marketing displays, think of what colors you want to include. If your brand is associated with certain colors, such as those used in your logo, try to incorporate those colors in your graphics. You also might catch the eye of more people using brighter, more noticeable colors. Learn what different colors mean and how you can use them to advertise to your audience.
9. Setup Decorations Along with Your Advertising Displays
When attending a trade show event, it is important to be professional and to showcase any information and products your company has to offer, but it's also important when decorating your booth to also be appealing and welcoming. Try to use decorative touches, as well as promotional displays in your booth so that your décor is both informative and friendly. People are more likely to stop by a booth that is attractive, as well as insightful.
10. Get the Attention of People Across the Room
A simple way to make sure that people from far away know where your booth is and to catch the eyes of people across the room is by advertising from the ceiling. Use hanging displays above your booth to promote your brand and get noticed. Hanging displays can be classic banners connected to create a large shape or a custom piece of artwork associated with your brand. Chances are other companies will be using overhead displays too, so make sure your artwork stands out.
11. Keep Your Custom Designs Consistent
Will you be using multiple displays and prints in your booth? If so, it is important to coordinate all the designs together. Try to keep your designs consistent so that the booth décor has a flow to it rather than looking like a hodgepodge of different designs. The graphics do not all have to be the same, but they shouldn't be too contradictory. Utilize the same colors, logos, slogans, etc. so that your booth remains professional, as well as intriguing.
12. Add Your Contact and Website Information
Your customers will need to know where they can find more information about your company, services, and products. When creating custom graphics or trade show literature, make sure you include details for customers to get into contact with you. Have your business's phone number, website address, email, and other important details in a place where customers can easily find them. This will make it easier to connect with customers after the event for follow-ups.
13. Always Know the Size of Your Booth in Advance
Before you think about how you will be decorating your booth; it is important to know how big (or small) your space is. Figure out if you will be working in a small or large setting and plan your marketing materials according to that. This will prevent you from having displays too large for a small booth and vice versa. If you are reusing old displays, try to request a booth the same size as you had before or a size close to it.
14. Find Promotional Products That Don't Require Long Setup Times
Don't spend a large chunk of time before the show starts setting up. You probably have a lot to do before the show starts and setting up is only part of it. When looking for what display stands to purchase, find ones that don't need a long time to set up. They also should require little to no tools so that you won't have to pack a bunch of assembly hardware. This will save you time before the show so that you're ready in all areas. A curve pillowcase backdrop banner is the perfect display solution for on-the-go and trade show exhibition. This fabric backdrop can be set up and broken down by one person, and is crafted from aluminum so it is light enough to transport in a duffle bag.
15. Make Sure Your Team Has Places to Sit
An important decorative piece to include in your booth is chairs for your team members to use in their off time. Your employees will be meeting with people all day and should have time to sit so that they don't look tired or bored waiting for people to show up. If your team is sitting, however, make sure that they are still aware of who is entering and exiting the booth so that they can greet potential customers.
View this post on Instagram
---
DIY Vendor Display Ideas
1. Create Your Own Banner Design
Personalize your own custom banners to include in your trade show booth and have a printing company produce it. Customizing a banner is easy, even for those who are unfamiliar with professional design. Most printing companies have online tools that you can use to create a unique banner and you can also order the banner in your preferred material and size. If you are more familiar with how to use design programs, most sites also let you customize their templates from your computer and upload the template back on the site for them to print.
2. Arrange Flowers on Walls or Ceiling
If flowers suit your brand or décor style, they are a perfect addition to tradeshow booths. There are a lot of places to buy artificial flowers and they are easily setup on the walls or ceiling of your booth for an eye-catching look that will draw people in. Fake flowers are a go-to decoration because they are lightweight and easy to tie or tape to display frames, product shelves, and flat surfaces. They are also incredibly affordable, even if you buy a large bulk order of them.
3. Hang Fabrics from the Ceiling
Instead of using flowers, you can also hang fabrics or curtains from the ceiling or on the walls. This is helpful when creating a secluded section of your booth, so that your customers and employees have more privacy during one-on-ones or during team meetings. You can also use see-through fabrics around your trade show booth to draw people's eye to you while not being completely hidden from everyone else. If you are showcasing some products, make sure they are still on full display.
4. Set Up Different Seating Arrangements
When offering a space to sit for employees and customers, include a unique seating arrangement that will catch people's eyes. Many printing companies offer seating elements, such as durable foam cubes, that you can arrange in different patterns. You can also customize the print with your logo or any other design. Chances are customers will be looking for a place to sit, and you can stand-out by having an attention-grabbing seating arrangement that's different from all the others.
5. Create Your Own Walls and Shelves
When showcasing your products, try to set them up in a way that other booths aren't doing. A great way to do this is by creating your own shelves in shape and size different from the standard rectangle. You can also create large slot walls for displaying your products against the side of your booth. Think of designing a custom shelf that ties in with your brand and display your products in a new, clever way to generate interest in them.
6. Interactive Question Walls
A great way of combining customer participation and booth décor is by having a question wall. Decorate one of your booth walls with a giant question and have customers add their answer to the wall. For example, write a question dealing with your niche on the wall and have customers answer on sticky notes that they will stick onto the wall. Think of a creative way you can ask and display this question that will get people excited to answer.
---
Vendor Booth Ideas
1. Add Your Logo to All Custom and Promotional Materials
Add your logo to whatever you can so that customers walk away remembering it, and thus remembering your brand. If you are customizing some promotional materials for giveaways, such as mousepads or drinkware, include your logo on those, as well. When creating company literature, such as brochures, catalogs, and pamphlets, make sure your logo is where people will easily see it. One of the main goals of attending a trade show event is to increase your brand recognition.
2. Stand Out with Different Flooring
A simple way you can design your booth so that you stand out from the other businesses around you is by having a different kind of flooring from the rest. For example, use carpet that will give your trade show booth design an edge over other ones using the regular flooring of the expo. It's an incredibly easy and affordable way to draw attention to your booth while also doing something unique with your décor. If you can, even use a custom carpet or mat.
3. Look for Durable Materials You Can Reuse
When you are shopping for custom displays, keep an eye out on what materials are used. If you want your prints and hardware to last through several trade shows and in storage, make sure the materials are durable. Look for polyester fabrics, corrugated plastic rather than cardboard, aluminum frames, and high-quality printing techniques, such as dye-sublimation and UV-printing. These materials will last longer than cheaper options like nylon or screen printing, which can rip or get ruined after being in storage.
4. Don't Go Overboard When Decorating
It might seem like you need a lot of displays and décor in your booth, but it's important when designing your space not to go overboard. Don't make your booth too busy with all kinds of banner stands and decorations. It can come across as too messy and your message and products might get lost in the process. Instead, make sure there is still space for your employees and customers to stand and look around. You want to stand out, but not for the wrong reasons.
View this post on Instagram
5. Encourage Social Media Interaction
When handing out promotional materials or getting custom graphics printed, make sure to include your social media accounts so that customers can follow you on Facebook, Twitter, Instagram, and any other site you participate on. Rather than just saying, "Follow us", also include your profile name for each site. When they follow you, they will be up to date on any promotions or news you have. This will help you get their sales in the future and keep them updated on any other trade shows you will be attending.
6. Make Sure You Have a Healthy Environment
Prevent those attending your booth from getting sick with the common cold or during flu season using sanitizing products. If your trade show is occurring during allergy season, it's best to be a step ahead, especially during meet-and-greets. Customers will feel more inclined to come to your booth if they feel safe, and you can keep them healthy while still promoting your logo with hand sanitizers, face coverings, and safety shields that connect to tents.
View this post on Instagram
7. Notify Your Customers If You Are Attending a Show
Before the event occurs, a key thing to do is send out an email blast to your customers notifying them that you will be attending the trade show and for them to schedule meetings. Make it sound exciting, let them know if you will be revealing a new product line, giving away something special, or are offering exclusive deals for those who come. Encourage your customers to visit your booth so that those who weren't planning on attending might change their minds.
8. Get Your Best Clients to Come
Along with sending out mass emails, a way to get your best clients to come to a trade show is by contacting them personally. Send them a more personal email or call them to see if they will be coming and arrange a meeting with them. Do this especially with customers who live near where the event will be taking place or all for key clients for virtual events. Try to get the best turnout you can to increase your ROI.
9. Promote the Trade Show on Social Media
Another way to spread the news about the trade show to your client base is by promoting the event on social media, such as Facebook, Twitter, and any other platform you joined. Announce to your customers that you will be at this trade show and let them know where the event will be, what your booth number is, and include incentives that will make them want to attend. If the trade show has a hashtag or a social media page, tag them so the customers have more information.
View this post on Instagram
10. Try to Get the Interest of Potential AND Established Customers
When you are at the event, it's important to try to generate sales and interest among your already established customers, but you shouldn't forget that you are also there to get new customers. Don't assume that everyone there already knows about your business. If new faces are coming to your booth, make sure to greet them and give them any information they might need about your company. Make them feel welcome, even though they aren't certified customers yet.

11. Incorporate Videos and Slideshows Into Your Presentation
Along with branded booth displays and promotional literature, inform your customers about your company with videos or a slideshow presentation. You might be too busy to have long conversations with everyone who visits. Customers shouldn't have to go up and ask what your company is to learn anything, the information should be where they can see it. Having product videos and slideshows for them to view is an effective way to teach potential customers about your business and what you can offer them.
12. Greet Everyone That Visits Your Booth
A sure way to make sure that people remember you and want to do business with you is to be friendly to everyone. When people visit your booth and look around, greet them whether you know they are customers or not. You don't have to have a full conversation everyone who stops by, just acknowledging their presence is enough. Make sure your team is aware when people come into their booth so that there's always someone to welcome new attendees.
View this post on Instagram
13. Meet with Your Staff Before the Show
Before the trade show begins, have a meeting with the staff that will be there. Make sure you are all on the same page about what products you will be spotlighting, any new features of the company to mention, and what should be said to all new and old customers who visit the booth. Also be aware of what customers have meetings with clients and when so that you can coordinate a schedule for everyone to follow.
14. Set Everything Up Early
Give yourself more time to get everything ready by setting up your booth early. Get everyone to work on the booth the night before the event instead of early in the morning. The earlier you set up, the more time you give yourself to fix any problems that occur with your displays, décor, and team members. When the show starts, you should not spend any time that can be devoted to customers and promotion still setting everything up.
15. Follow Up with People You Met
After the tradeshow is over, as a courtesy, catch up with the people you saw via email or phone calls. You can send out personal emails to all your clients or, if you have a lot of people to reach, you can send out mass email blasts. In your calls and emails, thank everyone for attending, let them know if you plan on going to other trade shows, and follow up with any questions or concerns you had from them.
---
Virtual Trade Show Booth Ideas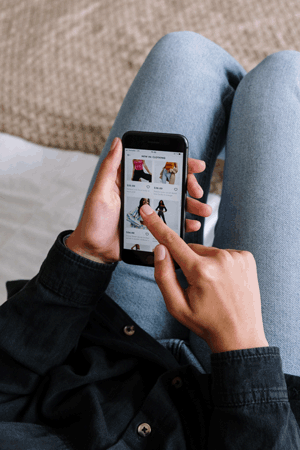 1. Showcase a Digital Catalogue
When attending a virtual tradeshow, your product lines should be available online for customers to view. Present your products in an appealing way to generate interest, because customers won't have the benefit of seeing them in person. If you deal in services rather than products, then have information brochures available online for attendees to look over. Working online can be an advantage because you can include your entire catalogue on the site rather than a limited selection like at an in-person trade show event.
2. Embed Links Into All Your Content
Wherever you can, include links in your online catalogue or virtual trade show booth that lead to your business website, product videos, social media accounts, or any other beneficial pages that you want to share to increase your ROI. Don't make the customer manually go to the website when they could easily be transported there from your virtual booth. Make sure you embed your links in places where they are necessary and make sense rather than randomly placing them in your content. Learn how to insert links here.
3. Mail Out Giveaways and Prizes
Just because people aren't visiting you in person doesn't mean that you still can't do giveaways and handout promotional prizes. If you still want to do a raffle for your booth visitors, you can mail out their prizes to their address rather than personally handing them out to your winners. When someone wins a prize, contact them through email or a chat to get their home or work address to send their giveaway to their doorstep. Virtual tradeshows can still have all the fun and prizes of an offline event.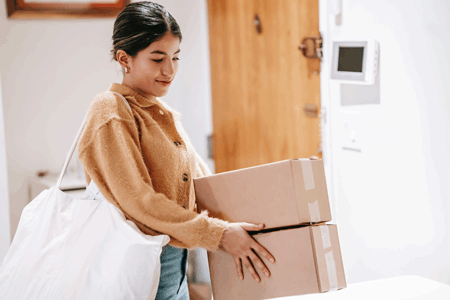 4. Have Interactive Networking and Q&A Events
Meet with your customers and let them ask you questions about your products or services through virtual meetings or question and answer sessions. Setup some pre-recorded or live demonstrations or discussions about your business for customers to participate in via Zoom or Teams. If you are doing a networking event in live time, allow your customers to interact with questions rather than just sitting and listening to you talk. Try to get as much engagement as possible to maintain everyone's interest.
5. Set Up Group Chats with Customer Service
When creating a virtual catalog or trade show booth, it's likely that your visitors will have questions about what you're advertising. Make sure there is always someone present online to chat with your customers and answer any concerns they have. You can get members of your sales team to respond to the inquiries in a chat so that the customer still feels like you are attending to their needs. Your customer service team should know how to address any comments and concerns your visitors have.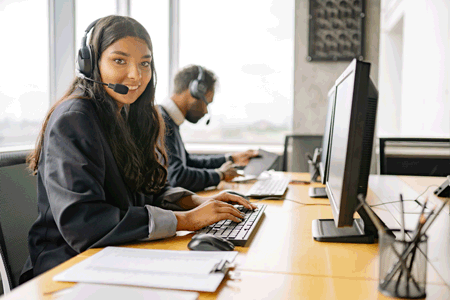 6. Keep Your Virtual Platform Available All Year
Do you have an online catalog that you're particularly proud of? Do you want to show it off to other customers besides those who attend the virtual trade show? Instead of just having your virtual trade show booth available during the event, keep your platform active all year round so that you can still direct customers to it. Because the booth is virtual, it doesn't have to be taken down when the show ends like with in-person events, so use this to your advantage.
7. Record and Stream Videos for Audiences
When you are creating your virtual platform, you will not be there in person to talk to people as they come to your booth. How can you showcase information about your company without printed booth displays or team members present to greet them? Record your own company or product videos to play for people as they visit your page. Notify customers about what your business is, what you sell, what services you offer, and any other vital information they might need to know.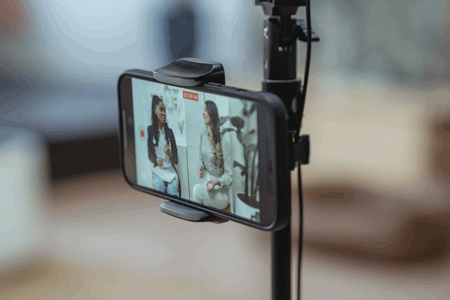 8. Connect with People on Social Media
After the virtual event has ended, it is still important to contact people you met with for any follow-ups. A good way to do this is to connect with customers who visited your platform on social media. You can create posts for all your followers thanking people as a group for attending your show, or you can reach out personally to those who came on social media or through an email. Take this time to answer any questions they have and let them know if you are planning on attending another virtual or in-person event.
---
Trade Show Booth Ideas and Gimmicks to Attract Visitors
1. Make a Great First Impression
One of the key factors to getting customers to visit your booth is to get their attention and keep it. How can you do this? By making a great first impression. You can create a good impression having interesting, printed displays inside your booth that draws the customers' eye in or you can have your team members greet customers and make them feel welcome right away. The first impression you make will be incredibly important to how the attendees remember your booth.
2. Generate Interest in the First Few Seconds
When a customer enters your booth, you want to immediately get them interested in what your business has to offer. Try to do this within the first few seconds. Personally go up to them and ask them a question, showcase a unique display stand at the entrance for them to look over, or have a video playing in the background that they can watch. The main thing to remember is that you want to engage people right away so that they are more likely to stay and learn more.
3. Give Customers a Place to Sit and Relax
A simple way to get customers to visit your booth is to offer them a place to sit down. Chances are that people attending this trade show are tired and have been on their feet all day long. They will probably be looking for a place where they can rest. Offer a public seating section in your booth so that people will want to come and sit, even if they weren't interested in your business at first. This will give them time to view your booth and learn about your business.
4. Hand Out Food to Visitors
One of the best ways to get the attention of people all around is to offer them free food. Even if your company doesn't specialize in food products, you can still have a snack table or food samples for them to try as they come to your booth. Think of a way that you can tie what you're serving into what you're selling. Even if you can't, giving out food should be something that makes people want to visit your booth.
5. Give Out Product Samples
If you specialize in products other than food, you can handout samples of the product to those who walk by or enter your booth. Make sure that they are small items that can easily be carried around. For instance, something like a t-shirt if you sell clothing or a pen if you sell office supplies. If you can, get your product samples printed with your logo or website address. This might get some people who are just passing by your booth interested in your company later.
6. What Can You Giveaway That Others Aren't?
Is there a unique product that you can use as a giveaway that others aren't? Companies give away things like magnets, brochures, t-shirts, etc. Is there something else that you can handout that will make your giveaway the standout of their swag bag? Is there a product related to your business that you can use as a giveaway rather than the standard promotional products? Using promotional giveaways that are different from everyone else will make you more memorable to customers.
7. Advertise from the Ceiling
Try to get the attention of people far away from your booth, as well as nearby. Rather than having all your displays be on the ground, try adding some overhead. This will give you more room to move around in your booth, while grabbing the attention of people across the expo center. See if you can find hanging displays that are different. Find unique shapes, on-brand decorations and chandeliers, or interesting lighting and lamps that will draw people in from across the room.
8. Incorporate Music or a Live Band
Do something a little different and make your trade show booth the "fun" booth. Hire a band to play for customers or play music from YouTube or Spotify that people can listen to. If you are doing this, make sure that the music isn't too loud as you will still need to communicate with clients. If there is a time of the day where your team isn't busy, have the band play then. People are more likely to stop by your booth if there is something fun going on outside of the usual meet and greets.
9. Create Special Effects with Projections
Something that you can do that will easily make you protrude from the competition is projection mapping. What is projection mapping? It's when you project videos onto a display or surface rather than having it printed. This creates an interesting illusion. Projection mapping is done in places like Disney World and historical sites and is often seen in product advertising. Play one of your company videos on the walls, ceiling, or other flat surfaces to create a buzz at your next event.
10. Have a Sense of Humor
When you are at a trade show, don't make your whole booth just business, business, business. Have fun with your booth displays, have a sense of humor when talking to customers, have your team wear something other than suits and ties. While it is important to create a professional environment, you don't want to be so professional that your booth becomes boring and uninviting. Try to find a balance between fun and business so that you get maximum engagement from attendees.
11. What Are Other Companies Doing?
Did you see something another company did at your last tradeshow that got a positive response from customers? Did you see photos on social media, such as Pinterest, that sparked your interest? Don't be afraid to get some ideas from the competition or other industries. If it worked for them, it would probably work for you too. Look at what others are doing with their banner stands, giveaways, and games and keep it in mind for ideas for your next trade show.
12. Set Up Larger Than Life Displays
If you have a lot of booth space, something that you can do to grab the attention of people passing by is to get a large version of an everyday object or your products. Some companies make themselves stand out at crowded shows by going big. For instance, if you have a phone company, set up gigantic, interactive phones for people to look at. If you work with toys, make a larger, more noticeable version of those toys, and use them as decorations.
13. Utilize a Special Type of Design
When you are designing your booth, think about an intriguing design style to go with all your displays and decorations. For instance, if your company is high-end, something like an art deco setting will create the polished environment you need. You can also take a tip from stage plays and use scenography designs where you take advantage of lighting and structure to create a memorable atmosphere, which is an ideal tool for small budgets. Is there a type of design method that works will with your niche?
14. Have a Company Video Playing in the Background
Rather than putting displays on any empty walls that might be in your booth, use blank spaces as an opportunity to project product videos. You can also have a giant TV to play your business and product videos for customers at the entrance. Keep them playing behind you all day long at a low volume. Come up with a playlist so that your videos play on a loop. Customers who are walking by will stop and take notice if a video is playing.
15. Think of a Theme to Implement
Engage customers by decorating your booth in an entire theme. Think about what themes you can use that coordinate with your business. For instance, if you sold exercise equipment, your theme could be a gym and create your own advertising version of a home or public gym. If you worked in food, your theme could be "grocery store" or "restaurant". You can also incorporate your theme into the products you giveaway to drive the message home and make your booth more memorable for customers.
---
Trade Show Booth Ideas: 10×10
1. Setup Your Booth in a Unique Shape
If you're working in the usual 10×10 square, make yourself stand out from the crowd of other square-shaped conference booths by decorating your booth in a circle, triangle, or other small shape. This is a good idea, especially, if your logo is a certain shape other than a square because then you can be on-brand. Find banner stands and other displays that will complement this shape or are available in different shapes from the standard rectangle. This will give your booth an edge above the others.
2. Make Sure Your Brand Is Front and Center
When you are setting up displays in your small booth, make sure that your logo is present and easy to identify. Since you are working with a limited space, you don't want to have your logo lost in the process of trying to stand out. Create custom displays, such as backdrops or printed table covers, that are printed with your logo front and center to increase brand awareness, so customers immediately know what company you represent and what you sell.
3. Use Large Sized Text in Your Prints
Customize your display stands so that any text is large and readable. When working with a small space, you don't want to go overboard with wordy text displays, and you still want to be noticed from far away. Using large text will make customers near and far able to read your message and know what your brand is. They shouldn't have to come right up to your booth to find out what your business name is and what your services are.
4. Include Games or Activities for Customers to Join
If you want customers to visit your booth rather than a larger, more spacious booth, get them to participate in an activity that will draw their attention to you. Many trade show booth games, such as spinning wheels and raffles, don't take up a lot of space, making them perfect for 10×10 booths. Find an interesting game that ties into your brand and give customers a chance to win prizes and discounts to make up for your lack of space.
5. Tie Your Booth Together with a Large Printed Display
Instead of having a bunch of small display stands scattered around your 10×10 booth, find one large backdrop banner to be the focal point of your entire setup. This will keep your booth from looking cluttered and unprofessional and will draw the customer's eye to one display that showcases a new product you're spotlighting or your company logo. Some large displays for trade shows are custom photo backdrops, retractable banners, step and repeat banners, and adjustable banner stands.
6. Advertise from Your Floors
If you don't have a lot of space on walls or the ceiling, use the ground. While you will be displaying banner stands on the floor, you can also use any extra floor space for additional advertising by setting up floor decals. Promote a product, showcase your business logo, tell a customer where to stand when entering, promote social distancing, or come up with a catchy phrase to have printed on custom decals that simply stick to the floors.
7. Promote Your Products on Shelves
If you are using small shelves to display your products, think of an attractive way of setting them up. Don't just put your products on the shelf like they were ordinary, everyday products. You still want to showcase them in a way that calls attention. Set the products up on miniature stands, create a DIY project to make the shelves far from ordinary, get shelves in unique shapes, etc. Shelving is affordable and easy to find, so if you are dealing in products, shelves are a go-to item for your trade show booth.
8. Use Different Kinds of Display Fabrics to Stand Out
If you are using decorative fabrics around your booth, table, or walls, try to find a kind of fabric that stands out from a crowd. One way to do this is to find a fabric texture that sets your décor apart from polyester and nylon. Textured fabric is often used for sewing and crafting, but you can use it to your advantage at your next trade show by using it for your booth's décor. Check out this list of textured fabrics to get your creative juices flowing.
9. Make Sure You Still Have Privacy
Will you be having one-on-one meetings with your team or customers who visit your booth? It is important that, even with your limited space, you still have some privacy for communicating with customers. When you are discussing products and services with your clients, you shouldn't be overheard by everyone in the booth or people in a nearby booth. Create a section intended for meetings and keep it secluded from the rest of your booth. Have an individual table or use curtains so that you can talk in private.
10. Add More Information in Promotional Literature
When you are advertising a product or service, you don't have a lot of space for printed displays to showcase all the information you have. How do you make sure the customers find out more about the product and its features? Include where the customer can learn more about the product by promoting a website, handing out brochures, adding a QR code, including contact information, etc. This will keep your printed designs from being too busy and wordy.
11. Make Sure Your Exhibit Is Bright and Noticeable
One of the simplest things you can do to make your 10×10 booth eye-catching is using proper lighting. If you just stick with the lights at the trade show expo, you can blend in with everyone else. Instead, find some lights that you can use overhead, setup some small, decorative lamps, or get backlit displays so that your booth stands out among others. This will make your logo and marketing materials more noticeable, even from far away.
12. See What Displays Printing Companies Offer in Smaller Sizes
When shopping for trade show displays, you will see companies selling large, 12ft, 15ft, or 20ft products. Display companies, however, will also likely have their products available in smaller sizes to accommodate 10×10 trade show booths. Many companies offer 10×10 sized products, or even smaller, such as 5×5 and 8×8. When you are browsing through products on a banner stand site, make sure to view all the sizes they have for smaller options that you can use in your booth.
View this post on Instagram
13. Take Advantage of Tabletop and Shelf Space
If you have plenty of tabletop and shelf top space, don't neglect it. Use this space to include more advertising products and decorations. Look for miniature flags, banners, cutouts, adornments, and any other small promotional products. You can also find tabletop sized pop up booths, backdrop banners, and display boards, which are designed just like the larger versions you see in other trade show booths, but in compact, more manageable sizes. These small-sized displays are also great for travel and storage.
14. Don't Hide Behind Your Booth, Make Your Presence Felt
When people approach your booth, don't be invisible. Don't be constantly looking down at your phone, not noticing who walks by. Be present and prepared for anything attendees have to say. You need to make up for your lack of space by being friendly and approachable. Answer any questions your visitors have, greet them once when they enter or pass by, and, above all, be kind. Big, welcoming personalities can often make up for limited spaces.
15. Don't Overcrowd Your Booth with People and Displays
When you are customizing a 10×10 booth, you only have so much space to work with, but it's also important not to overcrowd your booth with tons of displays, decorations, and tables. The cleaner your booth and designs are, the more professional and presentable you will look. Stick to one large display that ties everything together, and a table or two for employees to sit down or have meetings. Use smaller displays instead of several large ones that can be too much.
---
Creative Trade Show Booth Ideas
1. Dress Up Your Booth with Unique Art Pieces
Instead of using the usual decorations like plants and drapes, think of setting up artwork that will make your booth different from all the others. Some more unique centerpieces can be branded with your logo, but you can also use sculptures and accents that relate to your brand. If your business has something to do with sports, get a large art piece of a football or baseball and make it the center of your booth instead of a table or shelf.
2. Make Indoors Look Like the Outdoors
Does your brand have something to do with the outdoors, such as gardening or farming? Why not bring the outdoors inside your trade show booth? Set up your entire booth to look like a garden or farm by getting fake grass, large, fake plants, tractors, and animals to create an outdoor experience. Decorate your booth to look like a park, a street, or any other outdoor location that is on-brand. Doing so will make you stick out from other conference booths, especially if you are indoors.
3. Create an Environment Representative of Your Brand
Tie in all your decorum with your brand so that people who aren't even familiar with your company and what you sell will know your industry by looking at your booth. For instance, if you work in IT or online marketing, you can decorate your entire booth as a giant computer. If you work with clothes, make the booth your own personal shop. The possibilities are endless. The important thing is to have fun with your branded environment.
4. Have Separate Space for One-on-Ones
Decorate your booth however you want but try to keep a space closed off for one-on-one meetings with customers and company meetings before and after the show. This is important to do for privacy reasons. Think of unique and creative ways that you can manifest a meeting room in the space that you have. Set up an exclusive table in a corner, put in miniature booth within your large booth, or use foldable panels to separate the section and make it more hidden.
5. Decorate the Entrance with Your Logo
Engage with customers before they even enter your booth by placing marketing materials at your entrance. Use feather flags or inflatable advertising, such as arches and pillars in front of your entrance to entice customers to come inside. Inflatable advertising is simple for event use because they are easy to travel with and setup before a show begins. Customize your entrance exhibits with your logo and a custom message that will generate interest for people passing by your booth.
6. Get the Biggest Display Sizes
If you have a lot of space that you need to work with, find large sized displays. Rather than using a bunch of smaller displays, get only a few displays in their biggest size to avoid clutter. You can find event tents in sizes up to 20ft x 20ft and custom banners in long and wide landscapes to span across your entire booth. When you are shopping for banner stands, look at what sizes are available and get your custom design printed on a larger size so that it's more noticeable.
7. Set Up Event Tents, Even When Indoors
One of the big go-tos for trade show booth advertising is the event tent. Custom tents are often associated for outdoor use, such as at farmers markets and country fairs, but they are for all kinds of exhibits, including indoor events. Large exhibit rooms are accommodating for large, printed tents, so you can find ones from 5ft x 5ft to 20ft x 20ft. The tent canopies offer a lot of space for branding so that you can advertise from different angles.
8. Turn Your Graphics Into Illusions
When you are decorating your trade show booth, create a one-of-a-kind design by customizing your own optical illusion that will catch people off-guard. If you are thinking of a fascinating way to draw attention to your booth, especially if you sell something unique, try making an optional illusion as the centerpiece of your exhibit by creating your own artwork or personalizing your display graphics. Create optical illusions working with lines and shapes. Find out how to craft your own illusions with this video:
9. Advertise from Multiple Angles Instead of Just One
Draw people from all directions to your marketing booth by promoting your brand from multiple angles. How do you do this? Find banner stands that are in angles other than the standard straight. Look for curved shapes, panel displays, and 3D stands. Search for displays that include multiple custom panels available in different shapes and sizes. Many printing companies will let you customize changing graphics on separate panels to create an interesting visual that will showcase your products and their features.
10. Find a New Kind of Display That Others Won't Have
The next time you are shopping for printed displays, browse the company's website to see if you can find something truly one-of-a-kind. Many printing businesses also sell unusual displays that aren't as commonly seen as retractable banners and portable booths. If you are looking for a gimmick that will truly make you stand out, take a risk, and get something entirely different from the competition. For instance, look at these striking and eye-catching jellyfish pavilions.
11. Separate Your Booth Into Sections
Instead of just separating your booth into another section for meetings, create little sections throughout the entire booth. Do you have different product lines that you want to showcase, split them off into their own section and decorate each one to suit the collection. You can do this by using a different decorating style for each section, hanging drapes to divide each space, giving each product line its own corner, or making each section its own separate room if you have a large booth.
12. Use Displays with Interchangeable Prints
If you go to a lot of trade shows in your business and constantly must customize new prints, save money by finding displays where you can change out the prints without having to replace the stand. Find banner stands where the prints and hardware are separate, that way when you are finished using one banner, all you need to do is remove the old print and replace it with a new one. Keep this in mind when you are buying retractable banners because some versions are not interchangeable.
13. Incorporate What Is Currently Trending
Is there a current trend in your industry that you can utilize for your trade show displays? Is there something viral that you can incorporate into your tradeshow booth design or games? Do you have a celebrity endorsement that you can advertise to people who visit? If so, include these trends into your booth to get more attention from customers. Craft your booth activities around it, such as coming up with games based on viral challenges, to get maximum customer attention and engagement.
14. Use Interactive Displays as Well as Printed Ones
When you are planning what will be included in your trade show booth, try to incorporate both printed advertisements and something interactive. While printed marketing materials are important for spreading your brand and informing customers about products and services, interactive displays play a key factor in customer engagement and ROI. Customers are more likely to visit your booth if you have something that requires their participation, such as a game for them to play or product demos for them to test.
15. Think About What Will Generate Interest on Social Media
Everyone who visits your booth will have a phone with them for taking pictures throughout the day. How can you make sure that they take pictures of your booth for social media? Think about what people generally post on Facebook, Twitter, or Instagram within your industry. Look at posts from other trade shows to see what gets a lot of likes and user engagement. You want to make a big enough impression that your booth will be seen by people who can't attend the show but have social media.
---
Fun Trade Show Booth Ideas
1. Give Out Branded Promotional Materials
When customers leave your booth, give them something to remember your brand other than just a business card. Hand out special promotional items personalized with your logo, mascot, slogan, or a witty saying. Common giveaways for trade shows include magnets and stickers, mouse pads, tote bags, custom coolers, and t-shirts. These are products that visitors can use daily. If they choose to use them every day, they will be constantly reminded of your logo and services. You can also find more unique yet useful products to give out that deal with your brand, such as custom aprons.
2. Customize Something Personal for Customers
Instead of giving away mass promotional products to customers, give them something a little more special to show that you appreciate their time and business. If you know some important clients are coming, customize something with their name in advance so that you can give it to them when they arrive. You can also get information from people at the show and mail out personalized items to them afterwards. This gesture will keep your brand on the mind of your attendees.
View this post on Instagram
3. Live Demonstrations or Models
Get customers excited about the products and services you offer by having live demonstrations or fashion shows. If you are dealing with electronic devices, have someone live test the product or have small testers available all throughout your booth for customers to try. If you are selling clothes and want to showcase a new line, have your team model the clothing for visitors. This will create a buzz about your new products and will also be a cool idea for keeping your audience entertained at a tradeshow.
4. Hire Entertainers and Artists to Perform
If you know or can hire someone who is musical, a professional artist, or someone else creative, get them to come to your booth and provide some much-needed entertainment for your visitors. Get someone to draw caricatures, perform a skit with your team, hire a magician, or anything else that will draw crowds to your booth. Make sure that whatever you get relates to your brand so that you're still focusing on the business end of the event.
5. Make Your Brand Fun with Video Games and Virtual Reality
Instead of just being all business, try incorporating games with your company. Set up a section in your booth where people can play a video game, especially if your business is in the gaming industry, or have a virtual reality section where customers can compete in their down time during the event. You can even turn it into a competition for prizes. Think of what electronics you can bring and how you can tie them in with your industry.
6. Interactive Board Games for Individuals and Teams
If your industry isn't very compatible with electronic games, another type of game you can use that's more versatile is the classic board game. Rather than using something like Monopoly or Battleship, create your own board game to take based on your business or industry. Have customers play the game by themselves or make a tournament of it and get people to play against each other in teams. Check out this guide for how to craft your own board game.
7. Have Giveaways and Raffles for Booth Visitors
Another easy way to get audience participation is by having all the visitors who enter your booth put their names into a raffle for a grand prize. When your customers drop by your booth, have them sign their name and contact information on a piece of paper and place them all in a giant container. When the tradeshow has almost ended, draw one name or several from the bin to see who gets to take home the prize(s). Think of fun, creative ways you can gather everyone's names and how to announce the winners.
View this post on Instagram
8. Create a Learning Environment
Is there something connected with your brand that you can teach people? Is there a special place your product comes from? Does your industry have a lot of intriguing statistics and facts? Is there a study that you can reference? When people visit your booth, give them an opportunity to learn about or how to do something. Display custom printed graphics with interesting facts about your business, or something that relates back to your brand. For instance, if you create dog food products, teach attendees about the different kinds of dog breeds and their histories.
9. Have a Social Media Related Contest with Prizes
Try to associate social media with your contests in order to get plenty of on-line engagement. Have customers participate in hashtag-related contests where they use hashtags you created in their posts. You can also do photo contests where you get attendees to take photos in your booth for a grand prize. Using social media for your contest will spread the word to other people at the trade show, especially if the event has a hashtag, and get more people to come to your booth.
View this post on Instagram
10. Let People Test Your Product Out
Instead of just having live demonstrations by one of your team members, encourage customers to test the product out for themselves. For instance, if you sell perfume and cosmetics, don't just tell people how great they are, let them see it for themselves by offering free testers in your booth. Customers will be more inclined to buy your products if they get to use them rather than just being told about them. Include several sections around your booth with product testers.
View this post on Instagram
11. Make One of Your Team Members the Emcee
Do you have one member of your team who is particularly charismatic? If so, why not put them front and center as the emcee of your booth? Have them stand at the entrance to greet people as they come in or out, get them to host any competitions you are having, any thing else you might need. When visitors come to your booth, it's better to have one person greet them and talk to them rather than a small group of people, which can be overwhelming.
12. Announce Your New Product Line
Are you debuting a new product line at this trade show? If so, don't just display the products in your booth with the other, older lines where they'll blend in. Make the standout and show they are special by announcing them. Give them their very own stand that's front and center or set up a time where you will reveal each product individually to get customers excited. Give your new collections the grand entrance that they deserve to make your clients remember them better.
13. Set Up a Social Media Hashtag or Challenge
Another way you can incorporate social media is to create your own hashtag associated with the event or a challenge. If you are using Twitter, come up with a clever hashtag that will get a lot of engagement. The hashtag can relate to your business or the trade show. If you are working with a younger crowd, chances are most of them use TikTok where there are plenty of challenges. Come up with your own challenge that you can relate to the event or your brand. Research some past TikTok challenges for an idea.
14. Host an After Party
After the show is over, don't let that be the end of your marketing. Have your customers visit you again by throwing an after party either in a venue or, if you're allowed to, in your trade show booth. Tell people about the party when they visit your booth or announce it on social media or on banners to get a higher turnout. Serve food and drinks and turn your business gathering into a social one, as well. Take this time to follow-up with customers and display other advertising stands.
15. Provide Beverages to Booth Visitors
People at trade shows usually are there all day and they are likely hungry, but most of all, they're thirsty after walking around for hours. Setup a table in your booth that has free beverages for attendees to take. Insert your logo and brand name wherever you can, such as on the drinkware, the tablecloth, or can coolers if you are using cans or bottles. This will get more people to come into your booth and will create some brand recognition.
---
Trade Show Raffle Prize Ideas
1. Your Own New Products
If you want your customers to get excited about your new products, give them a chance to win them by raffling off part of your new collection. Do one item from the new line or the entire thing, depending how many there are. This is a perfect way to advertise your new line to people attending the trade show and will generate buzz. This is also an easy giveaway to do because it comes from your own inventory, so you don't have to shop for possible prizes.
2. Gift Cards
Another simple thing to use as a raffle prize is a gift card. Get a certain amount of money on a gift card for such places as Amazon, Walmart, Target, or certain stores in your niche. Try to think of a store or restaurant that your client base will enjoy so that they will be interested in entering to win the prize. You can also get Visa gift cards where you just add a certain amount of money, and the winner can spend it wherever they please.
3. Electronics
Something that most people will always be interested in winning is electronics. This can be anything from phones to gaming systems to Blu-ray players and anything else that is technological. If you have a particular type of electronic that's popular among your industry or is very useful, it would be a good idea to auction one off as one of your prizes. If you sell electronics, that's even better. Anything that has to do with technology is a prize that many people will want to participate to win.
4. Cash Prizes
Similar to the gift card prizes, there is the option of doing cash prizes. Offer a substantial amount of money to customers who enter to win your raffle. Cash is an easy thing to give away because you don't have to think of a specific place where customers might want to go. They get to use the money however they want. You can also offer different prize levels for varying amounts of money so that you can have multiple winners.
5. Swag Bags
Instead of selling one giant item to people, why not a bunch of little ones? Award shows have them, so why not come up with your own version? Create your own swag bag, which contains whatever smaller items you think your customers will want. Include some promotional items in the bag, such as mouse pads and magnets, as well as anything else that might tie into your brand. You can even include some of your cheaper products or ones that are part of older collections. Be creative in what you include in your swag bag.
View this post on Instagram
6. T-Shirts and Other Branded Apparel
If you work in the clothing industry, including some clothing from your company as a giveaway seems like a no-brainer. Other companies, however, can take advantage of branded apparel as raffle prizes. Give away varying sizes of all over print shirts, logo t-shirts, hats, face masks, and anything else you think is necessary. T-shirts can also be one of the items you include in your swag bag, but make sure you use a size that would fit most people rather than something like an extra small.

7. Stuffed Animals and Toys
Some industries target a younger demographic, but whether you do or not, you'd be surprised how adults can still gush over free stuffed animals and toys. Many printing companies offer customizable toys and stuffed animals that you can have your logo printed on. Get your logo printed on the shirt a teddy bear wears, get it on a fidget spinner, or sporting goods, such as balls, frisbees, and bats. Even if the adults don't want the toys, chances are they know kids who do.
---
Interactive Trade Show Booth Ideas
1. Create a Collage
Get everyone who comes into your booth to contribute to a collage that you create during the show. Come up with something on-brand that you can make a collage of and get as many participants as you can. Ask a question that everyone answers, get them to each draw something, get their feedback and turn it into a piece of art, or anything else that comes to mind. This is a good way to get customer participation and get their fast feedback on your business or products.
2. Mini Golf and Basketball
Something that always draws a crowd in is having a miniature version of a sport for people to play. If your booth has a lot of space, get a mini golf set for them to putt or set up basketball hoops and rubber balls like the ones seen at carnivals. Let customers play for the fun of it or turn it into a competition with prizes. You can also get your logo printed on the golf balls and basketballs for some brand awareness.
3. Setup Branded Vending Machines
Instead of placing tables of food and beverages in your booth for people to use, you can do something different with branded vending machines. Get a custom design printed on a vending machine filled with snacks or beverages that people can get during the day. You can get even more creative and have a vending machine that gives out more than just food, such as your promotional giveaways that you hand out to customers or prizes. This is especially a good idea if you work in the food industry.
4. Have Everyone Work on a Puzzle
Another activity that attendees can contribute to throughout the day is getting a puzzle done. Give people their own individual puzzle to work on, or setup a giant one with tons of pieces for people to put together as a team as the day goes on. Create a puzzle of your logo, an on-brand photo, or a new product that you're featuring. Get creative with what puzzle your customers will solve so that you can tie your business into the fun. Find out how you can make your own puzzle.
5. Add Photo Stand-In Cutouts or Selfie Frames
Create a section of your booth that can be used for photos. Have customers take photos that you can use as a part of a collage or for your social media. Setup photo stand ins where customers can stick their head into a hole on a cardboard cutout for a memorable picture. You can also use selfie frames, which are made for the purpose of social media posts and will be more attention-grabbing on social media feeds than the standard selfie. Get photo stand ins and selfie frames custom printed with something from your brand, such as a mascot, logo, or slogan.
View this post on Instagram
6. Sing Along with Karaoke Machines
Turn your booth into a concert by having visitors sing their favorite songs on karaoke. Setup karaoke machines in your booth and get customers to perform rather than hiring a band or playing music on speakers. While it might not always sound as pleasing as a professional band, it's more fun and requires more participation. If you work in an industry that deals with music or party supplies, using karaoke machines is a great idea to get customer involvement while being true to your brand.
7. Incorporate Interactive Flooring and Walls
Use technology to your advantage by creating some interactive floors and walls for people visiting your booth to play on. Instead of just using the boring floors and walls of the trade show expo, come up with something that interacts when customers step or touch it. You can also include sounds and lighting into the mix to make it even more interactive and memorable. Think of the giant floor pianos or Dance Dance Revolution and come up with your own version that you can relate to your company.
View this post on Instagram
8. Use Printed Backdrops as a Bean Bag Toss
A simple activity to take with you to trade shows is a bean bag toss. Have your visitors win prizes by throwing bean bags through holes cut into a custom printed backdrop. Have custom graphics promoting a new product, your logo, or your business name printed and set them up like you would a regular backdrop. The difference is these banner stands will be cut with holes for throwing the bean bags. Rather than getting a standard backdrop banner, have one that you can incorporate into a game.
9. Ask for Customer Feedback
An important thing to do to determine whether your trade show experience was a success or not is to ask for customer feedback. Get their opinions on your booth, new product line, logo, and anything else you need. What's a creative way that you can ask them instead of just talking to them? You can get people to write their observations on sticky notes that you use in a collage, you can get them to fill out a survey on an app, or you can have an interactive game that asks for their feedback.
10. Scavenger Hunt of the Show
Turn your booth or the whole show into an activity by creating your own scavenger hunt. Think of common things you find at trade shows or in a booth and include them in a list of items you want your customers to find. You can also hide the items yourself in your own booth if you have a lot of space. People who complete the list first will win prizes and coupon deals. Here are some ideas for making your own scavenger hunt.
11. Spinning Wheel of Prizes and Deals
One of the go-to trade show games is a spinning wheel full of prizes and coupons. This is a terrific trade show game because it comes in a variety of heights, including tabletop versions, to accommodate booths of all sizes. Create your own prizes and deals attendees can spin to win and get everyone who visits your booth to participate. This is a good idea if you have a lot of prizes to give out or if you want to do something interactive with customers rather than just handing them promotional products.
12. Offer Product Discounts to Those Who Attend the Show
One way to get your clients to attend your show is to offer them special discounts if they come. Give out a coupon code to people who attend the show that won't be visible on your website for other customers. Give them a special product for free. Give them a percentage off their next order. Let your customers know that you will be providing special deals if they visit your booth through email, social media, or calls to get them interesting in coming.
13. Use Nostalgia to Your Benefit
Something you can do to get emotion and excitement from people attending the show is to add nostalgia to your tradeshow booth. Make customers feel like they're kids again by having games that remind them of their childhood. Setup ball pits that they can play in, use chalkboards, branded toys to play with, have hopscotch or rope jumping, etc. You don't just have to evoke nostalgia with your games, you can also setup your booth in a retro style to remind people of past decades, such as a 1980s or 1990s theme.
14. Create an App for the Event
Come up with your own app that customers can use at the trade show. If you aren't technologically savvy, you can also find an app that already exists and have them play that instead. Almost everyone who comes to the show will have a cellphone with them, so, rather than taking up precious booth space with games, get everyone to play your activity on their phone. Making your own app isn't as hard as it sounds. Check out this step by step guide.
15. Sell Products in Your Booth
Instead of getting people to purchase your products online, sell some of your products in your trade show booth. If you sell smaller items that are easier to travel with, such as clothes, books, or food, let people have a chance to buy some of your products right at the trade show. This will help increase your ROI and get people excited about a new collection. Create a separate section in your booth of products that are for sale so that you still have some for display.
---
Simple Tabletop Exhibition Booth Decorating Ideas
1. Add Plants or Other Decorative Touches
A simple thing to do that makes a big difference is adding small plants and other desktop decorations to your tabletop. Small plants are both decorative and professional so that they suit a wide range of businesses, but you can also go for something more fun with an on-brand decoration. Many smaller decorations are made for desktop display and don't cost an arm and a leg like larger pieces. What's something that you can add to your tables that relates to your brand?
2. Setup Tabletop Flags and Banners for More Branding
Increase your brand recognition by setting up more custom printed displays in smaller sizes. Tabletop flags and mini pull up banners allow you to add your logo to the material while still being small enough to fit in cramped spaces, such as tables and shelves. Most printing companies will make smaller versions of flags and banners out of the same material they make their larger displays so that you don't have to constantly replace them with new ones due to cheap material.
3. Customize a Unique, Eye-Catching Table Cover Design
Instead of adding your branding to the table top, why not customize a tablecloth with your logo? Come up with a striking design to have printed on your tablecloth that showcases your brand while also grabbing the attention of people walking past your booth. You can find custom table covers in styles that suit a wide range of tables. Some tablecloths have the entire surface printed in a custom design, while others simply include a logo on a colorful background.
4. Display Portable Booth Visuals
Many portable booths come in large, 12ft sizes, but you can also find a wide range of smaller, more compact sizes designed for tabletops. Pop up booths are easy to setup and lightweight enough for tabletop display. They come with an expandable frame that custom prints attach to. These booths are a go-to for trade show circuits because it's easy to replace old graphics with new prints and the smaller versions are more economical, but just as eye-catching. Get one that covers the entire tabletop or just a section.
5. Include New Product Showcases
Is there a special way that you can advertise your new products using your tabletop rather than floor displays? If you sell smaller products, such as food, think of a creative way to display the product on a table top so that many people will notice them. You can also look for smaller desktop shelving for these products if you don't need as much shelf space for your trade show booth. Advertising your products from your table puts them on eye-level with customers.
6. Setup a Backdrop Banner on Your Table
Instead of pop up displays, customize an entire backdrop that will connect to the tabletop for a striking display. Instead of going with a pop up booth or a panel display, go big with a completely customizable tabletop backdrop banner. If your booth does not have a lot of space, you can create a custom backdrop and tablecloth that go together for maximum printing space. Display companies usually offer backdrop banners in several sizes to suit a wide range of tables.
7. Come Up with an Artistic Centerpiece
Instead of putting a large art piece on the floor, save some space by getting a smaller version for a table. Your team can either create a piece of art as a DIY project, or you can go to a crafting or home décor store and pick something out yourself. Think of decorating the table in artwork that relates back to your industry. Finding a small adornment for a desktop is simple because they are popular products that are rarely overpriced.
8. Give Each Table Its Own Lighting
If you are setting up several smaller tables across your booth, give each one its own private lighting rather than just relying on the lights of the expo center. You can place small lamps on each tabletop or get individual overhead lights like the ones often seen in restaurants. This way, if you are having a meeting with a customer, it will be easy to see any promotional literature you are using. Find lamps and lights in interesting colors and shapes to stand out among a crowd.
9. Get Creative with an Interesting Table Design
Instead of customizing your own cool, out-there table cover designs, find an actual table that stands out. There are many tables designed in a more modern, unique way for home and office décor. Check out some popular decorum stores and sites and see if you can find a table design that relates to your brand but is decorated in a different style from ordinary foldable trade show furniture. Also see if you can find chairs and table top decorations to match.
10. Debut Your New Catalogue or Promotional Literature
Do you have a new catalog or brochures and pamphlets that you are giving out to customers? Why not place them on a tabletop for people to take as they enter and exit your booth? Present your new promotional literature by creatively setting them up on your tables. Find interesting shelves to store them in or just place them flat on the table in an eye-catching way. This way, even people who you don't get to talk to or having meetings with can still take away your marketing literature.
11. Get Easy to Use Foldable Furniture
While decorative furniture is great for trade show booths, it's not the easiest to travel with and setup. If you plan on going to many tradeshows, it's best to think of tables that are designed for travel and fast assembly. Foldable furniture is a popular trade show product because it is lightweight, folds down to a compact size, and is often available in cheaper prizes than other furniture. You can also dress up foldable furniture with table and chair covers instead of just leaving them blank.
12. Use Round Cocktail Tables
Most trade show booths will be using the classic rectangular folding table, so why not break away from the flow and get something round instead? Round cocktail tables are smaller than traditional rectangular tables, but perfect for one-on-one meetings because they typically seat two people. Most tablecloth companies also print custom round table covers that fit on these table styles. Instead of using one big table in your trade show booth, think about using several smaller ones to save space and create a meeting environment.
13. Add a Header Banner Above the Table
If your booth does not have a lot of space and you need to rely on tabletop advertising, try assembling a header banner above your table. These banners are fully customizable so you can get your company name or logo printed for everyone to see. Header banners simply attach to tabletops without any hassle and breakdown to a compact size that's perfect for travel. Get a header banner personalized with a design that matches your tablecloth for an attention-grabbing look.
14. Connect a Feather Flag to the Tabletop
Another product that connects to a tabletop and allows you to stand out in a crowd are table feather flags. These are like the feather flags you see outside of stores or at trade show booth entrances, except they are in a smaller size to suit more compact booths. Most companies that sell these flags make them out of high-quality material so that you can reuse them at many events. Fully personalize these feather flags in a creative design that will turn the heads of people passing by.
15. Customize Folding Panel Displays
Instead of getting a header banner, another popular tabletop stand is folding panels. This gives you more prints to customize if you need to showcase different products and features. Folding panel displays easily collapse down to a compact size for travel and storage and setup in a few minutes, just like pop up booths. Panel displays normally include around 3-8 panels to personalize. Each panel includes a separate graphic that is interchangeable so that you can reuse them at several tradeshows for different campaigns.
---
Handshake Ideas to Do More Business at Trade Shows
View this post on Instagram
1. Get Your Team All on the Same Page
Make sure all your team members know what to sell, what you are spotlighting, and any other key business information. If they are asked questions by customers, they should be able to answer them without having to ask another team member. Meet with everyone before the show starts and go over any talking points you want them to make and introduce them to any new products they need to know about. If everyone is on the same page, the trade show will move more smoothly.
2. Create a Friendly, Welcoming Environment for People
When people enter your booth, it's important to make them feel welcome, whether you recognize them or not. Make sure you get your friendliest employees at the trade show and have them greet people as they enter and be prepared to answer any questions or address any concerns. Customers are more likely to stay in your booth longer if they are comfortable and you can make that happen by making them feel important. Always have someone near the entrance to greet new visitors.
3. Make Sure Your Meetings Are Private and Quiet
When you are having conversions with your team and customers, make sure that you have a quiet environment. Meetings are normally done in closed rooms, but you often do not have the benefit of that at crowded trade shows. It is important that your booth does not make too much noise when people are in meetings, so create a schedule for your team so they know who is in a meeting and when so that they can keep the volume low.
4. Work on Promoting Your New Products
One of the main purposes of going to a trade show is to introduce any new products or changes you made to your company. If you are introducing a new product line, make those products your focus at the event. Your long-time customers likely already know about your other products, so if you want to make a sale, you must introduce them to what's new. Make sure your team knows all the important features of your new products before the show begins.
5. Include Comfortable Seats
Make your employees and clients as comfortable as possible by offering them relaxing seats. The people who visit your booth have been on their feet all day and are more likely to remain in your booth longer if you offer them comfort during meetings. Instead of including your basic, cheap chairs, splurge on nicer seating or add cushions to foldable chairs so that attendees will stay in your booth or meeting for as long as they want. For a professional environment, here are some comfortable office chairs you can use.
6. Attend to Your Customer's Food/Beverage Needs
If your customer's feet are tired, chances are they are also hungry and thirsty after walking around all day. When people come to your booth for a meeting, ask them if they want anything to eat or drink. Their minds shouldn't be on their stomach, it should be on what you are selling them, so keep them as comfortable as possible by addressing their food and drink needs. Set up a table nearby the meeting rooms for customers to take whatever they want, and make sure you utilize signage to direct them to the waste receptacles afterward!
7. Appeal to a Customer's Emotions
When you are meeting with visitors, don't just give them a bare bones pitch. If you want to make an effective marketing pitch in the short time you have, make it more personal. Think about how your product could make their life easier, how it could help with any problems they have, how it can make them happy. The best sales pitches evoke emotion from people to get them interested in what you have to offer. Discuss with your team ways that they can make their sales pitches more personal and emotional.
View this post on Instagram
8. Offer Them Special Deals for Setting Up Meetings
Give your customers an incentive for setting up meetings with you. At their meeting, give them a special deal or discount on their next order so that they know their time is appreciated. You can also set up a coupon code for people who sign up for trade show meetings through your email blasts or on your website. Generate interest in customers when signing up for meetings by offering them more than just a look at your next new product line.
9. Get Your Staff to Dress Fun, Yet Professional
It's important to have a professional setting at your trade show booth, but that doesn't necessarily mean that your employees must dress in office attire, such as suits and ties. Give your employees a uniform that's more fun and comfortable to wear all day. Customize t-shirts with your brand and logo on it for the employees to wear and give customers their own t-shirts when they enter your trade show booth. It's crucial that your tradeshow booth and your employees have a fun look, as well as a professional one.
10. Make Sure Your Staff Knows Their Stuff
If you want to make sure that your staff knows everything about your upcoming products, give them a guide on a sheet or an email about all the product features that they can reference throughout the show. Highlight any special features you want them to mention too, so that all your employees are on the same page. Your team will look under prepared and sloppy if they are not able to answer any questions customers have concerning a new product line.
11. Hand Out Business Cards for Follow-Ups
You will be meeting with clients you have known for a long time, but you will also be introduced to new customers during a trade show. Ensure that all your visitors will be able to contact your business or a member of your team. Have each employee take several business cards with them to hand out to customers for follow-ups. The card should include contact information, as well as your company and logo. If you are creating new cards, learn what should be included.
12. Provide More Information in Promotional Literature
Another vital tool to have for follow-ups is marketing literature, such as brochures, catalogues, and pamphlets with details about your business. Include any information that you won't have time to discuss during the trade show in the literature for customers to reference later. You should also make sure your company's contact information and website are included somewhere in your promotional literature so that customers know where they can learn more. Set your brochures and pamphlets up where people will see them and take them, such as on a table or on a literature rack.
13. Don't Make Your Pitch Too Long or Wordy
When you are talking to booth visitors, whether in a meeting or on the floor, don't make your pitch overlong or wordy. Try to keep your talking points clear and concise so that you don't take up too much of the customer's time. It's very likely that they have other conference booths to see and meetings to attend. If there is a point that you don't have time to make, refer them to your website or contact them personally after the show.
14. Send Out a Thank You Email After the Show
After the exhibition is over, you should always create and send out an email to your clients thanking them for attending the show and addressing any points that you covered. Let them know how much you appreciated their time and effort to visit you and remind them about your new products and any other talking points you discussed. You can send out an email blast to all who attended or make it more personal and type up individual emails.
15. Look at Your ROI After Each Trade Show
When you are finished attending a trade show, how do you know if it was a success or not? Take at look at your return on investment (or ROI) and see if your attendance resulted in a lot of sales and interest for your business. This should also be the time where your team thinks about what strategies worked and didn't work. Take notes on what worked and try to implement them during your next trade show experience and how you can improve in areas that didn't work.
View this post on Instagram
---
Closing Thoughts
Knowing how to design your booth, how to get the interest of customers, and how to make a pitch will help you have a successful trade show. Take time to think about what points you can utilize the next time your business attends a show and how you can promote your company in a fun, personable way. Trade shows may be a professional business environment, but that doesn't mean that you and your employees can't create a delightful, relaxing booth that attendees will love to visit. So get out there and try to be a memorable presence at your next event.