July 5, 2018
What are the costs of exhibiting at a trade show?
One of the biggest questions we get from trade show hopefuls is "what are the costs of exhibiting at a trade show?"
The answer to that question is pretty straightforward. At the same time, though, it can vary from person to person and company to company.
There are four main costs associated with going to a trade show:
The cost of the trade show booth itself.
The cost of show services, such as materials handling/drayage, electricity and Wi-Fi.
Personnel costs and related expenses such as lodging and travel.
Trade show collateral such as freebies and giveaways.
All of these are things that you can easily identify and budget for, but how do you do that? What kind of budget are you looking at when it comes to exhibition expenses?
Here's the bottom line:
A rough estimate of your trade show budget should be three times the amount of money you plan on spending on your exhibit.
So, for example, let's say you're planning get a 10 x 10 booth space at your next event. You'd be looking at a cost of $13,800 for just the booth space. Multiply that by three and you're looking at event budget of $41,400.
How did we get to this number? Rates vary (for example, SATELLITE 2018 sells their booth space for $57.50 per foot), but the industry standard is $138 per foot of floor space you rent at an event. A 10 x 10 booth space has an area of 100 feet: 100 x 138 x 3 = $41,400.
Budget Breakdown – Allocating Trade Show Costs
Come up with the number you need to spend to exhibit at a trade show. Once you have that, it's time to figure out how that budget's going to be split. EXHIBITOR Magazine has a really nice infographic that breaks the budget down into simple percentages with explanations. Here's some of what they recommend:
Booth Space: 35%. This tracks with what we recommended above — $13,800 is 30% of $41,400 and the extra 5% gives you some spillover room if your booth floor space is more expensive than you thought.
Travel & Lodging: 14%. Travel and lodging expenses have increased seven-fold over the last 30 years – from a minuscule 2% in 1988 to 14% in 2018. Part of this is because of the slow rise of oil and gas costs throughout the years, especially due to the recession. However, travel expenses are expected to fall, even if lodging costs don't: the price of oil has tumbled about 50% from 2013 to 2017.
Show Services: 13%. "Show services" is the catchall term for things like Wi-Fi, electricity, plumbing, rigging and even vacuuming on the show floor itself. The Exhibition and Events Industry (EEI) maintains a labor rate survey for event labor costs in the 40 largest cities in North America. You can see the 2017 version of the survey here.
Exhibit Design & Construction: 11%. Exhibit design and production costs have shrunk dramatically over the past 20 years – a decline that is wholly because of the rise of quality, low-cost trade show displays. If you have a smaller budget, it is easy to attain a low cost trade show booth.
Shipping: 10%. Shipping costs have varied pretty highly over the last 20 years – going from 9 percent in 1998 to 13 percent in 2003 before finally settling down to 10 percent as of 2018.
Graphic Design, Production and Promotion: 10%. Even though digital artwork is much easier to create than physical artwork is, it still costs time and money. Designing your promotions, booth literature, custom pop up tent, and other items takes 3-4 weeks of time from the people on your team. This is just for design, revision and final approval: this doesn't even include the actual printing time, which can take another month.
Other Trade Show Expenses: 7%. With 93% of our budget taken care of, this leaves seven percent for the vague category of "other expenses," which includes everything from lead-gathering to unexpected maintenance and cleaning and even Wi-Fi overage costs.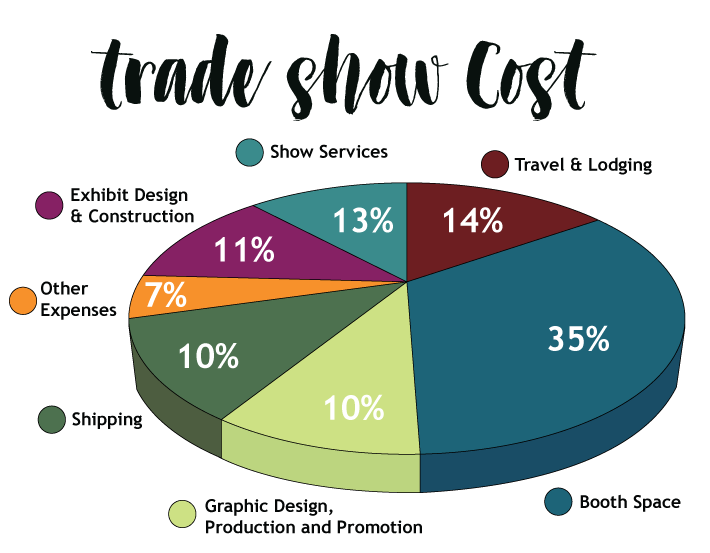 Time and Effort – The Other Costs of Exhibiting at a Trade Show
After itemizing your costs, you need to sit down and look at those costs that aren't as easily identified. This way, you can minimize the impact they have on your overall trade show experience.
You need to be aware of two big cost sinks: planning and setup. Out of those two, planning is probably the bigger sink. After all, we estimate a week for the planning and design of your promotional materials alone.
Fact: Planning a trade shows budget is a difficult task.
Nailing the planning of your trade show is such a balancing act that we've even developed a 25-step trade show checklist to ensure that everything goes smoothly, from 6 months before the show to the day of.
Compared to the headaches that planning for a show can cause, setting up and tearing down is a no-sweat endeavor. Watch out for different labor costs in different cities, though. An electrical job that costs $XXX in Seattle might cost $YYY in NYC. This can lead to an unplanned increase in trade show expenses.
You can alleviate this by keeping an eye on the EEI survey above.
Use a trade show consultant to make sure you don't lose money on setup costs. Most trade show consultants have working relationships with the major exhibit halls across the US. This makes managing the setup and tear down of your trade show display that much easier.
What Does Your Budget Breakdown Look Like?
Now that we've outlined the most common costs of trade shows, we want to hear from you.
What does your budget breakdown look like? How much do you spend in the seven major areas of your trade show budget?
How do you work to minimize the other costs of exhibiting at a trade show, like planning time?
Leave us a comment below or via Facebook, LinkedIn or Twitter.