January 18, 2018
10 Actionable Tips for Setting Up a Trade Show Booth
You've probably heard of the five-second rule.
It states that you can drop food on the ground and, if you pick it up within 5 seconds, you can eat it.
Well, today I am going to talk about the three-second rule.
Instead of grabbing food, the three-second rule deals with grabbing customer attention – specifically that you have to grab a customer's attention within the first three seconds, otherwise you'll lose them forever.
We've all been to trade shows and seen the rows of booths with boring table throws and lackluster backdrops.
In an environment like this, how is a vendor supposed to stand out?
The answer is this:
Learn how to set up a booth for a trade show that blows your audience's socks off. It'll take time, money and a little creative juice, but be so worth it in the end.
Why? Here's some of what you'll get out of it:
Increased customer interaction: If you create a booth that generates a lot of buzz, people will flock to it to see what all that buzz is about.
Increased social media presence: If people find your booth interesting and innovative (like Corning's booth at the Consumer Electronics Show in 2012, shown below) they'll bring it up themselves on social media by sharing it on places like Twitter (usually using event-specific hashtags, to boot).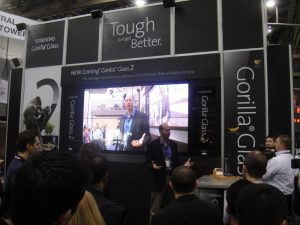 So here's how to set up a trade show booth to maximize customer interaction in those first crucial seconds.
Table of Contents
How To Set Up A Trade Show Booth That Knocks Your Customers' Socks Off
10.     Make your booth stand out.
No matter what show you're going to, whether it's the Consumer Electronics Show, E3, or even just the local home goods show, the best way to get customers to notice your booth is to have a booth that stands out from the crowd. While it's certainly harder to do with a pre-made booth as compared to a custom trade show booth you get for the event, it's certainly not impossible, as Camp of Champions USA showcases with their booth below.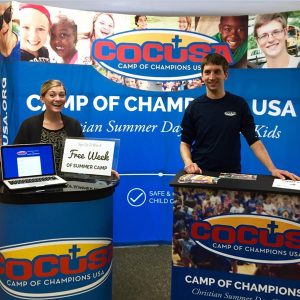 In Camp of Champions' case, they did two big things: they set out freebies for interested parties (the brochures and flyers on the right) and they set up a contest, with the winner getting a free week of summer camp. Contests are huge – if people think they're going to win something, they're more likely to stop by.
You don't have to have freebies or a contest – just something that makes visitors want to stop and look at your booth.
What to Use in a Trade Show Booth
9.     Create buzz with good promotional items.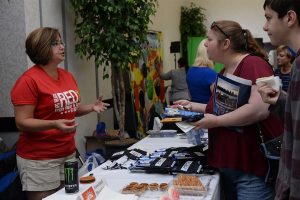 The promotional items ("swag") that you choose to hand out at your booth will impact the way customers view your trade show presence. Giving away a free pen to everyone that walks by doesn't really cut it anymore. Get items that you know will be as unique or high-quality as the product you're actually offering. Consider things like speakers, wireless radios, power banks, or even personalized items like name plates or custom flags – all items your customers will use.
8.     Host games, surveys or quizzes.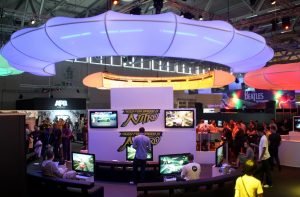 If all your competition has is brochures, and you show up with a fun game in your booth that's industry-relevant, who do you think customers are going to flock to? Just make sure that your games are fun and attract positive attention to your booth – which means leaving the raffle cage and bingo cards at home.
Surveys and quizzes work great, too – use them to test customers' industry knowledge and reward them for answers they get right, or just poll them on things they think should be happening in the industry. People like to know that their voices are heard, and you'll gain definite customer loyalty by showing that you're listening. For more info on how contests can help your booth win out over others, check out SurveyAnywhere's article on the subject.
7.     Demonstrate your product.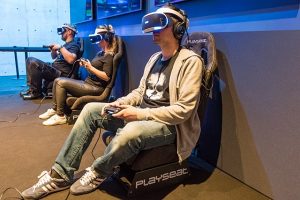 If you're spending money to come to a trade show, hopefully you've got a product or a service that's both valuable and unique. The people that pass by your booth on their way through the show are there to find something or someone interesting enough that they award their business to that company. Why shouldn't it be you?
The best way to get customers interested in a product is to demonstrate its value. Think of it like a mini-infomercial or sales pitch – what value do you offer the audience that your competitor doesn't? If you can make it hands-on, that's even better: the more involved your audience is, the better they'll remember your booth.
If you have a product that show attendees can physically touch, like a tablet or machine, that works best for interaction. However, if you offer an intangible product or service, such as a web program or tax service, it is best practice to showcase as much product information as you can using display items such as retractable banners or tension fabric displays.
6.     Meet the other exhibitors.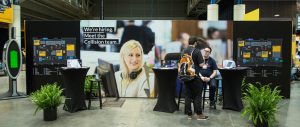 After you set up your booth, walk around and meet some of the other exhibitors at the show. Learn what goods and services they offer. Not only will you be able to refer customers to them and they to you, but you'll develop good business relationships that may last far longer than the individual leads each of you generate.
5.     Connect with Customers at Your Trade Show Booth.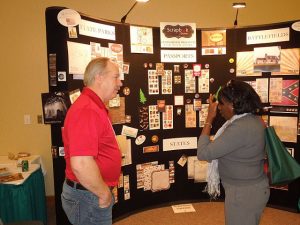 This is probably the most important part of making a booth that maximizes customer interaction. If you have a booth that your customers can stop at, make sure that there's someone they can stop and talk to. Listen to what your customers are telling you. Answer their questions. You might discover some industry insights.
Above all, though, just strike up a conversation and ask the customer about their needs. So many customers just grab the freebie and bolt because they think they'll have to listen to a long, drawn-out sales pitch, and you don't want to be that guy.
If your customer has bags and bags of information and freebies already, offer to send them an information packet or brochure at a later date – this ensures that your information has a chance to stand out and not get lost in the post-show crush.
4.     Compile an email list.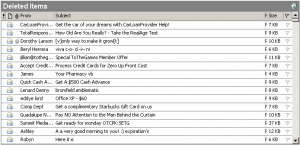 If your show has a registration booth, see if you can get a list of the attendees. If not, set up a sheet at your booth for people to leave their name and email. This will let you email not only interested parties but also people who didn't have time to take in all of your booth but still wanted to find out about you. One of the best ways to do this is to give away something small in exchange for their business card (pens work well here).
2.     Keep an eye on adjacent markets.
When you go to a trade show, there are dozens of different vendors and thousands of attendees — all of whom are targeting or being targeted by different sections of the market. Identify what sections of the market might be interested in your product — it'll give you a way to reach many more customers than you might have before if you were just targeting people that might have been firmly interested in your product, rather than tangentially.
While you're keeping an eye on potential customers and clients in your adjacent markets, make sure to look out for vendors, too. You don't need to be nabbing contacts from direct competition, but it's an excellent idea to trade contact information with each other. This way, you can swap leads that might be better served by each of your products.
1.     Bring in your best clients.
It's far and away easier to persuade a previous buyer to buy again than it is to get a new buyer to buy for the first time. So if you have the budget for it, spring for tickets for your best clients. Not only will you have almost-guaranteed sales, but the attention to your booth may bring in new buyers who are on the fence.
What tips and tricks do you have for making your trade show booth remarkable? Let us know on Facebook, Twitter, or in the comments below.