Can Coolers
Custom Can Coolers
Available in Any Color - All Over Print Designs - Easily Add Logos, Text, & Images
configurable 0 0
Custom printed solutions in 3 simple steps.

1. Choose from 3 Design Methods
Click the Proceed to Artwork button to choose Design Online, Upload Template, or Free Design Services.

2. Receive & Approve Your Proof
We'll process your artwork within 2 business hours and send a proof for your approval via email.

3. We'll Bring Your Idea to Life
Our standard turnaround time is 3 business days plus shipping with expedited options available.
Custom Can Coolers Details
Spread awareness for your brand and keep your beverages cold with custom can coolers from Vispronet. Can huggers are popular promotional items and are a great way to advertise your business, team, or brand. Our coolers are 100% customizable, allowing you full design control over the colors, fonts, and personalized artwork. Graphics cover the entire exterior, making your design highly visible from all sides and allowing for maximum brand exposure. Each coolie is crafted with an inner layer made from 3mm neoprene and is finished with an exterior polyester layer. We print the polyester layer using dye sublimation, a premium printing technique that produces high-color graphics that are scratch and fade-resistant.
Can huggers are essential at outdoor business gatherings, backyard BBQs and beach trips to keep drinks cold and protected and hands dry. Order custom coolies just for yourself, or personalize them for business promotions, family reunions, or any special event you want to celebrate. Save big with our can cooler wholesale prices.
Parts List:
Full-color custom printed can cooler
Material:
Inside
Outside
Specifications
| Part Number | Print Size | Display Size | Weight |
| --- | --- | --- | --- |
| AP0500 | 4.0in x 5.0in | 4.0in x 5.0in x 0.1in | 0.5lb |
What Are Can Coolers?
Custom can coolers are padded insulator sleeves that are designed to keep drinks cold when the outside temperature is hot. They are made to fit 12oz cans and bottles and are crafted with an inner layer of neoprene material and an outer layer of polyester fabric. Can huggers are often handed out as part of a brand promotion or advertisement and typically feature logos or company artwork. On hot sunny days, condensation forms on the outside of canned and bottled beverages, quickly turning the beer or soda warm. Can coolers act as a barrier to keep the drink cold, preventing condensation and wicking away moisture from the exterior of the can or bottle. By preventing the condensation and wicking away excess moisture, the can hugger keeps the drink cold and dry for an extended period of time.
Our custom coolies are crafted to last, made from lightweight and highly flexible neoprene and fade-resistant polyester. Because our coolers are flexible and lightweight, they are simple to fold and collapse, making them highly portable and easy to hand out at events like company parties, festivals, fundraisers, religious gatherings, and more.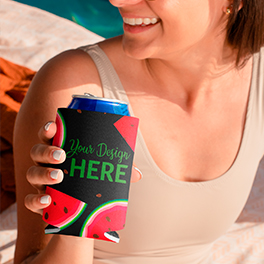 Custom Can Cooler Materials
We craft our custom can huggers with an inner lining of Neoprene, a highly flexible rubber material that provides excellent insulation against cold and hot temperatures. Neoprene has great insulating properties and is also highly durable, so the can cooler can be used over and over again for years before showing any signs of wear and tear. Neoprene is also waterproof and is excellent at wicking away moisture from cans and bottles, keeping your beer cold and your hands dry and comfortable.
The exterior or each product is made from 100% polyester. This lightweight polyester material is tear-resistant and offers excellent color reproduction, allowing for bright, full-color graphics that are fade and bleed-resistant.
Design Custom Coolies Online
Choose one of the three methods listed below to design your custom printed can coolers. Each option suits different preferences and levels of design expertise. All artwork submissions are checked by our pre-press team for any errors or issues before being approved for print.
Design Online: Use our online suite to design your artwork online, in real time. You can upload artwork, logos, and images right from your computer and it includes additional features like clip art, font options, background colors, and more.
Upload Template: This design method is recommended for experienced designers. It involves downloading the artwork template, adding your custom artwork using design software, and reuploading the completed template to our website.
Free Design Service: We can create your artwork and design it for you – free of charge. Send our team some ideas or artwork inspiration and we will work with you until your design is completed.
Can Coolers for Any Occasion
For Business
No matter the occasion, can coolers are a great accessory for a wide variety of indoor and outdoor events. If you are hosting a business function, such as a corporate gathering, conference, or trade show, these products are the perfect branded giveaway item. Can coolers are also excellent at spreading awareness for local businesses and organizations like charities, fundraisers, and nonprofits. As opposed some more disposable promotional items, can huggers are less likely to be thrown out and are typically used for years after initial acquisition, giving your brand a long-term marketing tool.
For Personal Use and Gifts
Custom can coolers are an excellent way to celebrate large gatherings and commemorate important events like a weddings, baby showers, and graduations. Not only do they excel at keeping drinks cold, but they also make drinks easier to carry and lower the risk of a spill. By designing your own personalized can huggers, you are creating something unique and useful for friends and loved ones that can be reused over and over again. Write a special message or create a memorable design, adding sentimental value to the recipient and the event.
Frequently Asked Questions
What material are the custom can coolers made from?
The inner layer is crafted from premium 3mm neoprene, a rubber-like material that has excellent insulating properties and is also very flexible. The outer layer is made from 100% polyester. 
I do not have artwork. What should I do?
Click the "Proceed to Artwork" button and opt in for our free design services. Our professional team of graphic designers will help conceptualize and create the perfect can cooler for you and your event. Just send our team of graphic designers some ideas or artwork inspirations and we will correspond with you until your design is completed.
How are the graphics printed?
We print our custom coolies using dye sublimation. This premium printing technique infuses the ink directly into the polyester fibers, making for a vibrant, full-color finish that is fade and scratch-resistant.
Is there a minimum order quantity?
No, there is no minimum order quantity. Order as many or as few as you would like for no extra charge. However, the more beer can coolers you order, the more discounted the price is per item.
What sizes do you offer?
We offer the standard size 4" x 5", which can hold 12oz cans and bottles.
Do you offer any additional promotion products?
Yes, we offer additional promotional items including our personalized totes, all over print t-shirts, and custom mouse pads.
Are these reusable?
Yes! Our can coolers are completely reusable and are designed to last through every day use. Your custom printed logo or design is fully wash and scratch-proof.
California Residents

Click here for Proposition 65 warning
Frequently Purchased With
Q & A
Reviews