10x10 Logo Tent (Optional Walls)
Also Available:
10x10 Logo Tents from Vispronet®
Professional Canopies for Your Business
FREE Design Services
Risk Free Ordering - Pay Later at Checkout
Free Proof with Every Order
Endless Add-On's & Wall Combinations
Flame, Water, & Scratch-Resistant Polyester
configurable00

Need help? Hire one of our professional graphic designers at no additional cost!

Choose 'Pay Later' at checkout and receive a free proof
before submitting payment.

Design Online or Upload Template
Create custom products using our online design tool or provided template files.
10x10 Logo Tent Details:
Are you looking for a tent display to showcase your business or organization logo? Our 10x10 logo tents spread brand awareness, making them perfect for multiple events. While these tents are large and noticeable, they are easily set up and made from durable materials to withstand the weather, water, fire, and scratches. The tent canopy is made from premium polyester fabric that is easy to print on and attach to the frame. We use a modern dye-sublimation printing technique that lasts as long as the durable material. The tent frames are lightweight, adjustable, and hold up in winds up to 30mph depending on which frame you choose. If you want to brand more than just the canopy, our product configurator allows you to add 10x10 tent walls with windows and/or doors to further promote your logo. These tents also have the option for adding on accessories, such as weights and stakes, to your order for installation. These event tents printed with company logos are made from the best materials and built to last.
Note: If you're looking to print outside of the white rectangles, please see our 10x10 All Over Print Tent for only $599.
Parts List:
Full-color area printed canopy with optional side walls & your choice of tent frame
Choose from 15 background colors to accent your custom design
This product allows you to print in specified canopy areas only
Material Options:
300D Polyester: Water-resistant, scratch-proof, flame-retardant fabric (6.00oz/yd²)
600D Polyester: Premium, ultra durable, water-resistant, scratch-proof, & flame-retardant fabric (9.00oz/yd²)
450D Solid Color Polyester: Water-resistant fabric with polyurethane coating (solid color tent walls only)
Finishing:
Canopy: Several panels & reinforcement strips hemmed to fit frame
Walls: Differ by wall type. Configure a product for more information
Canopy Dimensions:
Full Wall Dimensions:
Custom Printed: 10ft x 6.5ft
Stock Color: 10ft x 6.8ft
Half Wall Dimensions:
Custom Printed: 10ft x 2.7ft
Stock Color: 10ft x 3ft
Imprint Areas:
Up to 4 canopy imprint areas: 44.0in x 24.0in
Up to 4 valance imprint areas: 60.0in x 8.0in
Imprint Areas
Frame Options
| Series | Material | Color | Max Clearance | Leg Diameter | Leg Thickness | Display Size (W x H x D) | Weight | Part Number |
| --- | --- | --- | --- | --- | --- | --- | --- | --- |
| Economy | Steel | White | 87in | 1.3in | 0.04in | 10ft x 10.8ft - 11.5ft x 10ft | 45 lbs | DI5055 |
| Basic | Steel | Off-white | 83in | 1.6in | 0.04in | 10ft x 10.2ft - 11ft x 10ft | 60 lbs | DI5050 |
| Deluxe | Aluminum | Silver | 84in | 1.6in | 0.05in | 10ft x 9.8ft - 10.8ft x 10ft | 40 lbs | DI5001 |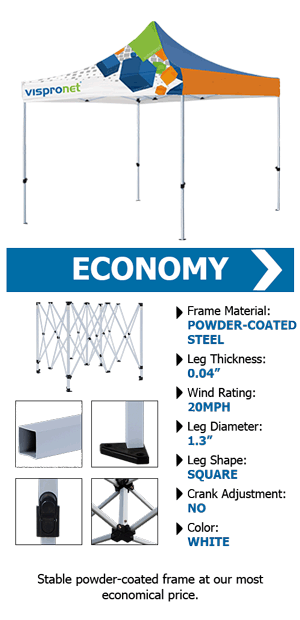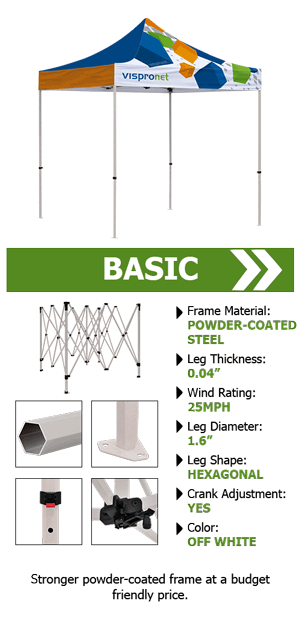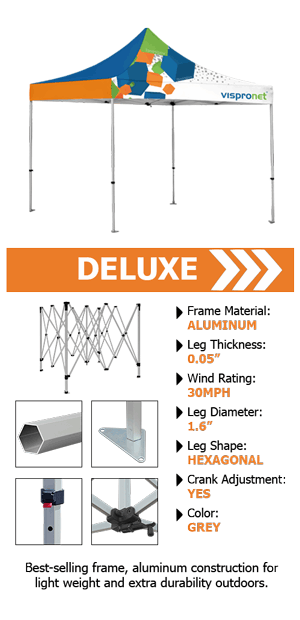 Design 10x10 Logo Tents Online
Add your logo to our event tent templates using one of the following design methods. We accommodate all design preferences and levels of expertise:
Design Online: Our online design tool is simple to use and caters to all of our customers regardless of their graphic design experience. You can upload your logo or any other files onto the template and further customize your canopy using such tools as text boxes, colors, and clipart.
Upload Artwork Template: If you prefer working in your own design program, we have a downloadable template link that you can upload onto your computer. When you are done customizing the logo canopy, upload the file back onto our site for us to print.
Free Design Services: For those who are confused by the whole design process or do not know what to include on their template , we offer free design services. Upload your logo files and include any specifications you want, and our professional graphic designers will create your artwork free of charge.
Why Set Up 10x10 Tent with Your Company's Logo
Using a logo tent at an event promotes your business brand and products/services to potential customers. Custom tents are a great display to tie your trade show or festival booth together. The spacious tent shelters your employees/volunteers and products in the shade while also marketing your brand on the custom canopy and valances. Because these tents and canopies are so large, potential customers will be able to see your brand from near and far, increasing your brand awareness. Our tents are both portable and versatile, making them ideal for traveling to and from multiple events, whether they be business conferences, industry trade shows, local fairs and festivals, and sports games. The frames expand to their full size and collapse back down to a compact size, making setup less time-consuming. 10x10 promotional tents are a smart investment for businesses and organizations looking to spread their brand name and logo at various events.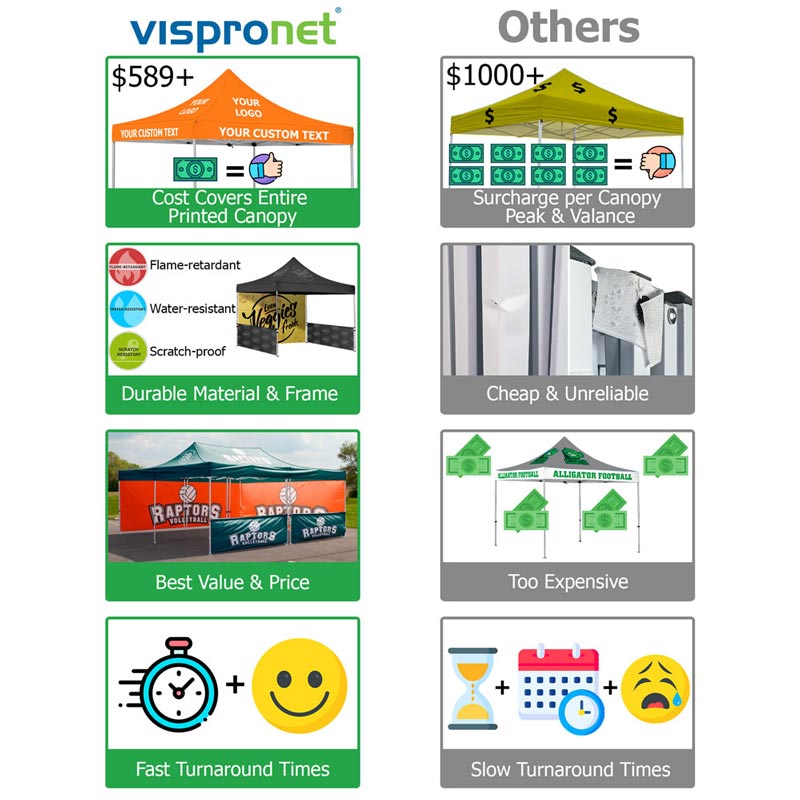 Satisfied Customers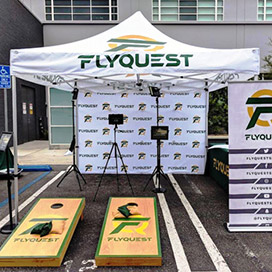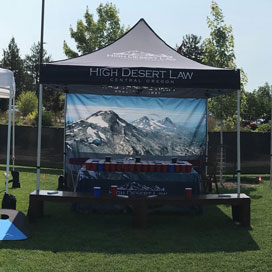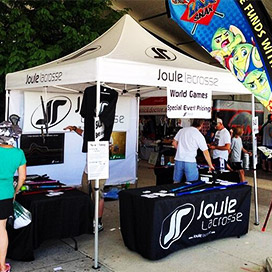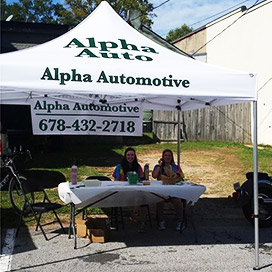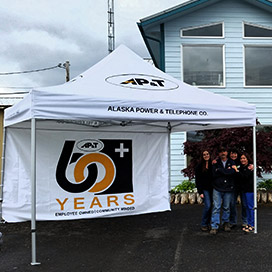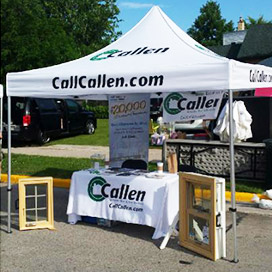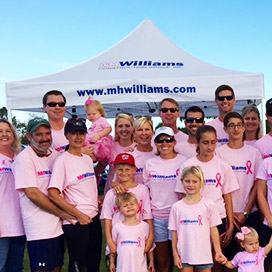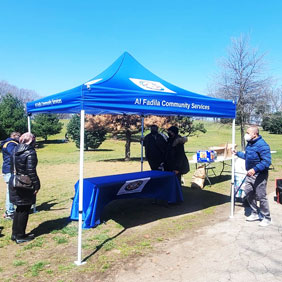 Frequently Asked Questions
Where can I display 10x10 logo tents?
Our logo tents are for any event where you want to promote your brand. Custom tents are commonly seen at such events as local festivals and business trade shows, but they can be used wherever there is a large crowd that you need to stand out from. By placing your company logo on the canopy and valances of the tent, you will be advertising your brand name and slogan to the wide range of attendees.
What part of the canopy is customizable?
For our 10x10 event tent with company logo, certain sections of the peaks and valances are customizable. This is outlined in the product template. Each peak and valance have a specified area highlighted in the template where you can include your logo, name, or slogan. The rest of the canopy is printed in a background color of your choice.
Are these tents for indoors or outdoors?
Our 10x10 event tent with logo is for both indoor and outdoor display. The frame and canopy are made from materials that can withstand both indoor and outdoor elements. It is important, however, to keep in mind that the tents need to be set up differently depending on their location. If you are setting the tent up on flat indoor or outdoor ground, such as a floor or asphalt, the tent needs to be stabilized with weights. If you are displaying the tent on a grassy, sandy, or dirt area, use stakes to secure the tent to the ground.
What material is the logo canopy?
The logo canopy comes in 300D or 600D polyester material. This fabric is water-resistant, scratch-proof, and flame-retardant for indoor and outdoor use. The 600D option is more durable than the 300D version, making it more suitable for heavy-use. The walls are available in the same material or 450D stock color polyester, which is a water-resistant fabric with a polyurethane coating.
What material is used for the tent frame?
We offer either an Economy, Basic, or Deluxe frame with your order. The Economy and Basic versions are made from steel in different shades of white. The Economy has square legs while the Basic has more stabilizing hexagonal legs. The Deluxe frame is the premium option and is made from strong aluminum with hexagonal legs for extra support. This is available in a silver finish.
What kind of printing is used for recreating the artwork?
We use a modern dye-sublimation printing process on the custom 10x10 canopy tent with company logo. This printing technique is more durable than other methods because the ink is infused into the polyester material, which prevents it from scratching and peeling off. This means that the event tent logo will last as long as the durable canopy. Dye sublimation also produces striking, stand-out colors that are sure to grab the attention of everyone. For more information on dye sublimation printing, check out this blog post.
Do you have any minimum order quantities? Are there bulk discounts?
We do not have any minimum order quantities. Order one or several tents for your event. Discounts are applied to bulk orders, so the more tents you buy, the more money you save.
Are there any accessories included with my order?
Your tent order includes the canopy and frame hardware, but other accessories can be added to your purchase to help you with setup. Add-ons in our configurator include a safety shield, different kinds of carrying cases for the frame, weights for display on hard ground, and stakes for setting the tent up on soft ground. We also have the option of just buying the canopy or the frame if you are replacing the print or hardware.
How is the 10x10 logo tent assembled?
It is amazingly easy to install the event tent. All our frames are expandable and adjustable. The frame extends to its full size and clicks into place. The telescopic legs can be adjusted to different heights with the push levers. Some frame models include a crank for making the canopy tauter. When you are done using your tent, the frame collapses back down to a small size. No tools are needed. View the "Videos" tab for step-by-step instructions.
How do I connect the canopy to the tent frame?
There are hook-and-loop fasteners on the canopy for connecting the fabric to the frame. Before you adjust the tent legs to their full height, place the canopy over the top of the frame and connect the fasteners.
Do you have any other 10 x 10 tents available?
Yes, aside from our logo print tent, we also carry a fully customizable canopy tent and a stock color tent. Other 10 x 10 tent frames we offer include compact and pavilion shaped options. We also carry inflatable tents in the 10x10 size. Browse all of our 10x10 tents to find the perfect shelter for your next event!
California Residents

Click here for Proposition 65 warning
Frequently Purchased With
Q & A