All Over Print Stretch Table Cover
configurable00

Need help? Hire one of our professional graphic designers at no additional cost!

Choose 'Pay Later' at checkout and receive a free proof
before submitting payment.

Design Online or Upload Template
Create custom products using our online design tool or provided template files.
Custom Stretch Table Covers Details
Brand table displays at events with these custom stretch table covers. The fully customizable covers clings to the table's shape so that the print is easily seen and read. Personalize these tablecloths with company logos, different colors, unique patterns, and text. No matter how intricate the designs are or how many colors they use, it will not affect the price. We have full CMYK color printing and can recreate the whole color spectrum. The designs will not wash out due to the modern dye sublimation printing technique. This type of printing ingrains the inks into the high-quality polyester fabric rather than placing the image on top of the material. This creates long-lasting, vibrant designs. Exhibitors and vendors can use these table covers repeatedly.
Parts List:
Custom printed table throw with hemmed edges and feet pockets
Material:
Stretch Display Polyester: Stain-resistant and flame-retardant stretch fabric (5.30oz/yd²)
Coverage Options:
3-Sided (arched back)
4-Sided (with zipper)
4-Sided (without zipper)
Banquet (arched front, back, and sides)
Cleaning Instructions:
Wipe away stains with a damp cloth and mild soap immediately after spills. If your product becomes dirty, wash in a household washing machine on delicate setting with cold water and hang to dry.
Specifications
Model
Print Size
*Custom sizes available
Table Size
*Fits table sizes below within +/- 1in
4ft Table
48in x 29in x 24in
48in x 29in x 18.35in
6ft Table
72in x 29in x 30in
72in x 29.5in x 23in
8ft Table
96in x 29in x 30in
96in x 30in x 24.25in
Design Custom Stretch Table Covers Online
We have three options for designing custom artwork:
Design Online – We have an online tool to design custom artwork. Go to our "Design/Upload" tab and click on the blue "Design Online" button. This takes you to the design suite where you can add files, logos, photos, text, clip art, and more.
Upload Artwork Template – If you prefer to design your custom stretch table covers in your own software, we include the option to download a template that you can personalize on a design program. Go to the "Design/Upload" tab and click on the downloadable link. When you finish creating the artwork, upload the file by clicking on the "Upload Template" button before or after placing your order.
Free Design Services – For those who need assistance with their artwork, our design team is here to help! We will create your design using your artwork files and description at no additional cost. You will receive a free proof to approve before printing. Contact us to get in touch with one of our professional graphic designers.
All Over Print Stretch Table Cover Features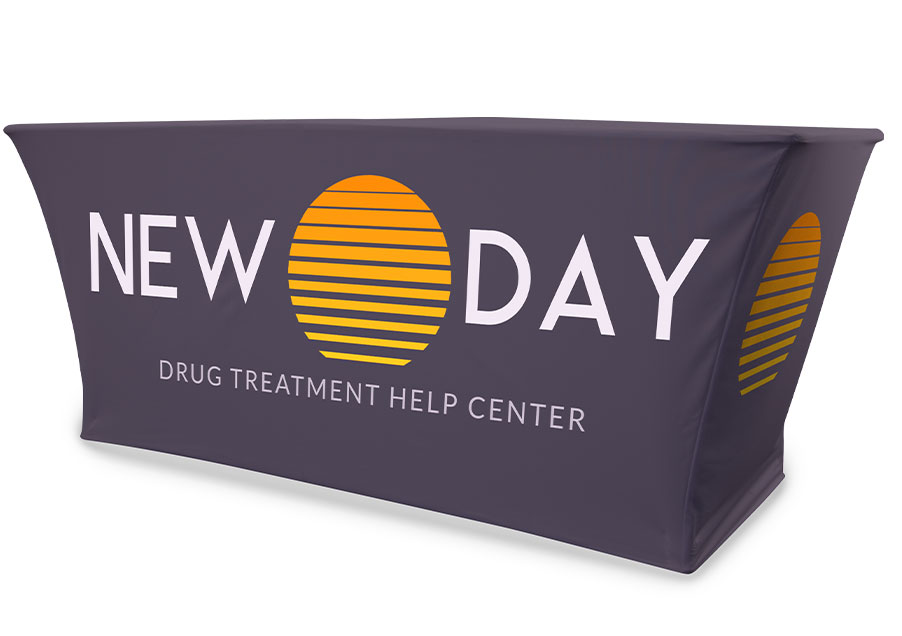 Easy Design Process
Designing your all over print tablecloth is a quick and easy process. Choose from three design methods: Design Online, Upload Artwork, or Vispronet's Free Design Service.

Dye Sublimation Printing
All tablecloth styles are printed using dye sublimation. This premium printing technique produces vibrant, full-color graphics that are fade-resistant.
Premium Stretch Material
These table covers with all-over-print are stretchy, wrinkle-resistant, and flame-retardant, making them safe for all indoor and outdoor applications.

Reusable and Easy to Clean
Our table cloths are easy to wash and reuse. Simply throw the tablecloth in the washing machine and air dry. Our printing style is scuff and fade-resistant.

Choose Your Coverage
Choose between 3-Sided and 4-Sided coverage options. Both coverage styles can be beneficial for different applications.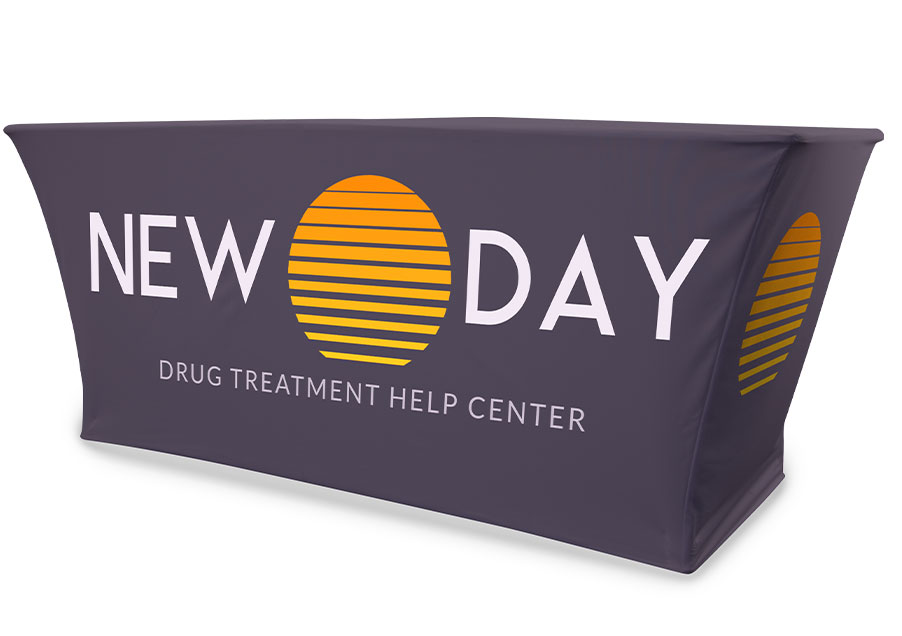 Frequently Asked Questions
What is the difference between a stretch table cover and a standard cover?
Custom stretch table covers form the shape of the table so that the print is fully visible. Standard tablecloths hang down the table like the classic style used for regular table covers.
Do you have a stretch tablecloth for round tables?
Yes, we have round tablecloths in standard, fitted, and stretch styles.
What is the difference between the coverage options?
We offer four coverage options for our custom stretch table covers. The 3-sided coverage leaves an arched opening in the back of the display. This is a great selection if you plan on having people sit behind the table. The banquet style includes a slight arch on the front and back that gives the cover a sophisticated look. The 4-sided version comes either with or without a zipper. The option without the zipper gives a complete look while the zipper version has a complete look that can be opened in the back to store items below the table.
How is this custom stretch table cover applied to the table?
Placing the cover on a table is easy. The stretch tablecloth polyester fabric simply stretches over the table and down the legs. There are four little pockets in the four bottom corners of the cover. Each pocket covers each table foot. Setting this polyester cloth on a table only takes a minute.
California Residents

Click here for Proposition 65 warning
Stretch Table Cover Options
Frequently Purchased With
Q & A