Custom Yard Sign Details
Parts List:
Custom printed sign finished with cut sides and optional punched holes or grommets in corners
Optional sign stakes (details below)
Material:
4mm Corrugated Plastic: Weather-resistant & UV-protected lightweight boards
Sign Stake Specifications
Model
Part Number
Specs
Size
Weight
Use With
Real Estate Sign
AC0150
Powder-coated steel
40in x 24.75in x 0.75in
7.3lbs
24in x 18in signs
Real Estate Sign with Rider
AC0151
Powder-coated steel
40in x 24.75in x 0.75in
8.7lbs
24in x 18in signs
24in x 6in riders
Beefy Stake
AC0180
9 gauge titanium byproduct spring steel
26in x 0.15in x 0.15in
0.2lbs
Works with any size sign (must use 2 per sign)
Place every 12in for best support
10in x 15in H Stake
AC0152
9 gauge zinc-plated steel
10in x 15in x 0.16in
0.2lbs
Works best with 24in x 18in and smaller signs
Place every 18in for best support
10in x 24in H Stake
AC0154
9 gauge zinc-plated steel
10in x 24in x 0.25in
0.3lbs
Works best with 24in x 24in and smaller signs
Place every 24in for best support
10in x 30in H Stake
AC0153
9 gauge zinc-plated steel
10in x 30in x 0.16in
0.4lbs
Works best with 36in x 24in and smaller signs
Place every 36in for best support
Custom Yard Signs for Advertising
Whether you're advertising an upcoming yard sale or are trying to raise brand awareness for a new business, custom yard signs are a popular form of advertising. They are often staked into front yards and building entrances to notify drivers and passersby of business, political, and personal messages. Lawn signs don't just have to be used in yards; they can also be bought without ground stakes and can be framed on bulletin boards or mounted as room or office decorations. We include grommet and hole punch finishing options for hanging the yard sign.
One of the most popular brands to use yard signs is the real estate business. These businesses use custom lawn signs to let potential buyers know which homes are for sale or to advertise their business from the yard of one of their clients. If you are looking for framed real estate signs, we carry those as well.
Yard Sign Printing in Unlimited Colors
Print in only one or unlimited colors with our CMYK color process. We understand that some designs and company logos just require one or two colors and we offer cheaper options for those that do. If you go to the "Color Options" dropdown, we offer up to 3 color discounts on a white background. There is also an option for full color where you can use as many colors as you like. When you choose full color printing, the price remains the same regardless of how many colors are in your design.
Single or Double Sided Printing
We offer printing on the whole corrugated plastic yard sign with single-sided and double print options. If you are planning on displaying your lawn sign in an area where only one side will be visible, you can save money by ordering one sided printing. For the double sided yard signs, the artwork will be showcased on both sides. This is an ideal option for areas with a lot of foot traffic so that people coming from different directions can read your yard sign.
Secure Your Yard Signs in the Ground with Durable Stakes
If you need a custom yard sign and a stake to display it, they can be ordered from this product page. Under the "Hardware" section, we offer the chance to include a beefy stake or an H stake with your order. The H stake size is funneled based on the size you choose for your lawn sign. We have small, medium, and large stake sizes.
Do you already have a way to assemble your yard sign or don't plan on using a stake? We also have the option for just ordering the yard advertising sign without the hardware.
Easy Assembly Without Tools
No tools are needed to stake this yard sign into the ground. The stake is pushed into the ground. If you're using an H stake, you can push the sign in by applying pressure to the middle section for faster results. The corrugated plastic material includes flutes, which the stakes are inserted through. We recommend putting the lawn sign on the stakes after they are already placed in the ground.
We include a step-by-step process of this in our assembly video in the "Videos" tab.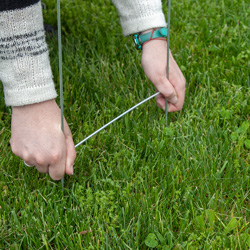 Frequently Asked Questions
What material are the advertising yard signs made from? Can they withstand outdoor conditions?
These custom yard signs are made from 4mm corrugated plastic. This material is designed for outdoor use due to its weather-resistance and UV-protection. The material is very lightweight, however, and shouldn't be left out in very windy conditions.
What's the difference between the stake options?
We have the option for ordering a beefy stake or an H stake with your order. The beefy stake is made from titanium and works will all the yard sign sizes we carry. It should be placed every 12in on the sign to evenly distribute support. The steel H stakes come in three sizes to suit the different sign sizes we offer. Only one needs to be staked to the ground to support the whole sign.
Do you offer printing on both sides of the custom yard signs?
Yes, we offer both single-sided and double print options. The single-sided option will only have the image printed on one side of the lawn sign. The double print will have the image printed on the front and the back for more exposure.
How thick is the material?
The corrugated plastic material is 4mm thick. It is lightweight, but thick enough to withstand the weather and sunlight.
What are the smallest and largest yard sign size options?
We carry set sizes from 12in x 9in up to 48in x 48in. We offer custom sizes in 10-48in widths and heights. These sizes ensure that these signs will fit the stakes.
How do I design my custom yard signs?
Designing from our templates is very easy. We have three different design options to accommodate different tastes.
If you go to the "Design/Upload" tab, there is a "Design Online" button that will take you to our online design tool. If you select this option, then you can upload artwork onto our template online and customize your yard signs with our selection of fonts and clipart.
We also have our templates, located below the "Design Online" section. If you prefer creating your artwork on your own software, you can download our templates. To submit them, click on the "Upload Template" button when you're finished. To see our guidelines, view the artwork files in our "Downloads" tab.
If you aren't tech savvy and need assistance from us, our graphics department can design the print for your yard signs for free. All that you do is contact customer service and they will help you from there.
What shipping options are available?
We offer a standard 4-6 turnaround time for our business yard signs. If you would like to view our shipping options, go to the blue "Delivery Estimator" link in the top right of this page. This will show you when your custom lawn signs can be delivered. We offer rush options for orders that need to be delivered in a shorter amount of time.
Do you have yard signs available in pre-cut stock shapes?
We offer two different die-cut shape options. We have products for both stock shapes and custom shapes. The stock shape product gives you the option to select a different shape than the traditional rectangle, including a house, a flower, and oval, and more. Custom shapes, on the other hand, allow you to design your own shape for us to cut.
California Residents

Click here for Proposition 65 warning
Q & A