configurable00

Need help? Hire one of our professional graphic designers at no additional cost!

Choose 'Pay Later' at checkout and receive a free proof
before submitting payment.

Design Online or Upload Template
Create custom products using our online design tool or provided template files.
Pop Up Portable Booth 7.4ft x 7.4ft Details
Parts List:
Your custom print installed upon delivery
Aluminum pop up frame
Carry bag
Material Options:
Display Polyester: Nearly opaque flame-retardant knitted fabric (6.10oz/yd²)
Premium Opaque Polyester: 100% opaque flame-retardant knitted fabric (7.67oz/yd²)
Additional Notes:
Display fits up to 2 Pop Up Portable Booth Lights
Specifications
Part Number
Print Size
Overall Size
Weight
DI3001
7.4ft x 7.4ft (without sides)
9.4ft x 7.4ft (with sides)
7.4ft x 7.4ft x 1ft
22lbs
Your custom graphic can cover the front only or you can choose one that extends around the sides for a seamless appearance. Whatever you choose, our print material will bring out the brilliant colors in your design and fine detail. Time to add a new display? No problem. The graphic attaches with hook-and-loop tape so changing the display is simple and there is no need to order new hardware to get a brand new graphic on your display. Just choose the prints only option within our product configurator.
Satisfied Customers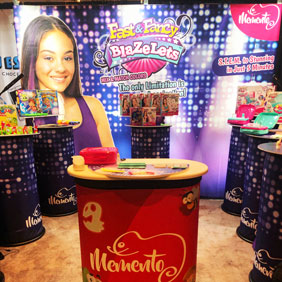 California Residents

Click here for Proposition 65 warning
Frequently Purchased With
Q & A