Happy Halloween Yard Signs Details
Halloween yard signs are the perfect way to surprise family members, friends, and trick-or-treaters with a personalized yard letter message! Our outdoor Halloween signs and décor are made from durable 4mm corrugated plastic and are available in two sizes: 18in and 24in. We digitally print each sign with UV-resistant inks, making them safe for outdoor display. These yard signs can be showcased outdoors for long periods of time without showing any signs of deterioration. Our yard letter sets are 100% customizable, allowing you full control over the letter colors, sizes, styles, and emojis. Yard stakes are included for a quick and no hassle set up process. The durability and reusability of these Halloween yard signs makes them a practical investment that can be used for years to come. Surprise your family members, friends, and neighbors with a personalized Happy Halloween sign set!
Parts List:
18in or 24in corrugated plastic characters
Wide characters come with H stakes
Narrow characters come with beefy stakes
Material:
4mm Coroplast®: Weather-resistant & UV-protected lightweight corrugated plastic
Additional Notes:
Product is printed on one side (single-sided)
Faux glitter colors do not contain real glitter (mess free!)
Reusable Outdoor Halloween Signs
Our Halloween yard signs are crafted from 4mm corrugated plastic. This durable sign material is waterproof and weather-resistant, making it perfect for outdoor applications. Corrugated plastic is designed to stand up to outdoor weather conditions including wind, rain, and snow. Because each sign is UV-printed, they are safe for display in direct sunlight without worrying about any fading issues or color bleed. Corrugated plastic signs are easy to clean if they become dirty or soiled while displaying outdoors. Cleaning is a simple process that involves wiping them down with warm soapy water, drying them, and safely storing them for future use. These Halloween yard signs are also very lightweight, making them easy to carry around or transport to multiple locations.
Personalize Your Happy Halloween Sign Message
Happy Halloween yard letter sets are completely customizable. Our online configurator makes it easy to change the stock "Happy Halloween" letter set into a personalized yard message for your friends and family. We offer three different Halloween theme patterns to choose from and hundreds of other patterns including spiderweb, glitter, and multicolor designs.  You can add any numbers, punctuation, or letters to your message up to 100 characters. Add a name, nickname, or pet name to really make a lawn message special. If you would like to customize the emojis, we offer dozens of other options that can be substituted in for no extra cost. The customization options are endless: Create a scary message for events, trick-or-treaters, or make a special message that can be admired and enjoyed by friends and family. Combine the yard letter set with a custom Halloween Banner for an extra scary surprise. Whichever personalized message options you choose, our yard letter sets will stand out and get your yard noticed!
Halloween Yard Letters: Quick & Easy Setup
We include stakes with every yard sign and emoji. Two different stake styles are provided depending on the size and shape of the individual sign. Both yard stake styles are simple to install into the ground, and setup can be completed by one person with no tools needed. The outdoor Halloween signs are printed on corrugated plastic so there are small flutes located on the bottom of each sign. Setup involves inserting the stakes into the ground or garden and adding the yard signs on top of the stakes by placing the tops of each stake into the flutes on the bottom of each sign. This setup process makes installation quick and easy and perfect for on-the-go applications. Breakdown is even faster, and each sign can be reused year after year.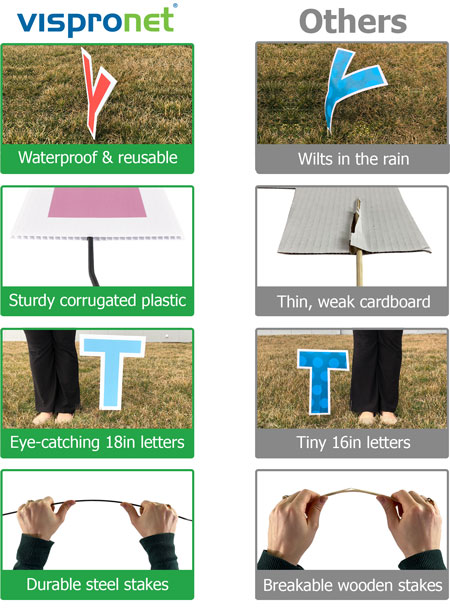 Frequently Asked Questions
How long is the turnaround time?
The turnaround time for our Halloween yard signs is typically 3 – 5 business days plus shipping. Depending on how busy we are, turnaround time may be decreased. We offer rush production options in you need your yard letters produced faster than our standard turnaround time. We also offer expedited shipping options if you need your Happy Halloween signs as soon as possible.
Can I personalize the message to something other than "Happy Halloween"?
Yes, you can absolutely personalize the message. When you are setting up your product above, locate the "MESSAGE" text box. There you can enter in your customized message. After you enter the text, click the "UPDATE MESSAGE" button located immediately below the text box. This will update your price and gives you the option to choose the color of each additional word and punctuation. You can also add or change the emojis you want for your yard message. We offer multiple Halloween décor sign emojis including jack-o-lanterns and floating ghosts.
Which yard stakes will I receive with my Halloween yard signs?
The stake style you receive is based on which letters and emojis you select. Some letters and emojis required the mini H-stakes while others require beefy stakes. Stakes are provided for each Halloween lawn sign and emoji.
Satisfied Customers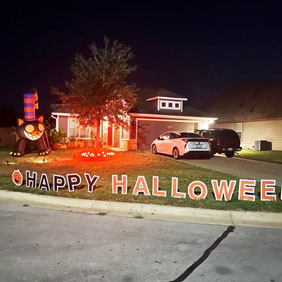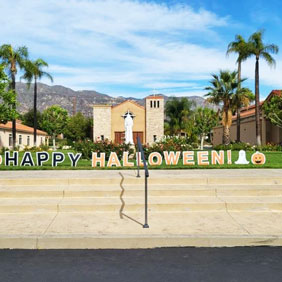 California Residents

Click here for Proposition 65 warning
Happy Birthday Yard Signs Demo
Q & A
Reviews