In This House, We Believe Yard Sign
In This House, We Believe Yard Sign Details
Show your neighbors how important kindness is in your house by displaying these we believe yard signs in your front lawn or nearby your business. This in this house we believe yard sign includes a lot of positive, diverse messages in its double-sided stock design that is easy to read when walking or driving by. This is because the colors are vibrant due to a UV-printing technique we use that creates striking colors that will not fade or peel, making it perfect for outdoor use. Our In This House sign also withstands long term outdoor display due to its corrugated plastic material, which is weather-resistant and UV-protected for different weather conditions. Place this kindness is everything yard sign in a lawn for a few days or a few months and reuse it again. The large 23in x 17in size of these we believe signs also makes them easily noticeable. These in this house we believe yard signs include 2 beefy stakes for securing the sign to the ground. In between the sign layers are small flutes for inserting the tops of the stakes. The bottom section of the stake hardware pushes into the ground until the In This House We Believe sign is taut. Get high-quality We Believe yard signs for your lawn so that you can spread your kindness and positivity to everyone around you.
Parts List:
Pre-printed In This House We Believe Sign
2 Beefy stakes
Material:
4mm Coroplast®: Weather-resistant & UV-protected lightweight corrugated plastic
Additional Notes:
Product is printed on both sides
Specifications
| Part Number | Size | Weight |
| --- | --- | --- |
| DI7260 | 23in x 17in | 2lbs |
History of the In This House We Believe Yard Sign
The in this house we believe yard sign has progressive statements in varying colors, "In This House, We Believe: Black Lives Matter, Women's Rights Are Human Rights, No Human Is Illegal, Science Is Real, Love Is Love, Kindness Is Everything".
The this house believes sign has appeared in many lawns over the past few years, but where did it get its start? The idea for the In This House We Believe sign was created by a librarian in Wisconsin, named Kristin Garvey. In 2016, the day after Donald Trump was elected as President of the United States, Garvey compiled some quotes from activists and those who would be affected by the presidency. She wrote the quotes down on a white poster board and placed it in her yard. When someone walking by took a picture of the sign, it was seen around the internet and gained popularity. Different colors and fonts were added to the we believe sign, and it began being sold and downloaded. Garvey donated the proceeds from the signs to the Wisconsin Alliance for Women's Health. The In This House We Believe yard sign became a symbol of the #resistance movement that occurred during Trump's presidency, with many companies selling the product and many households placing kindness is everything signs in their front yard to show alliance with the movement.
Satisfied Customers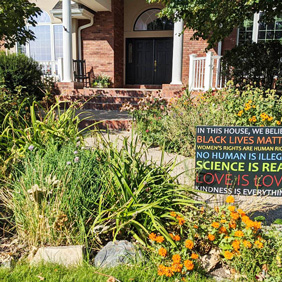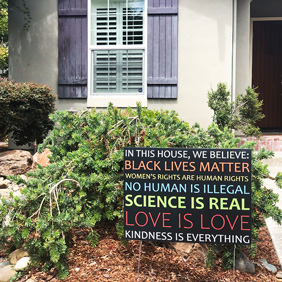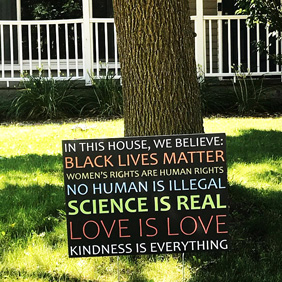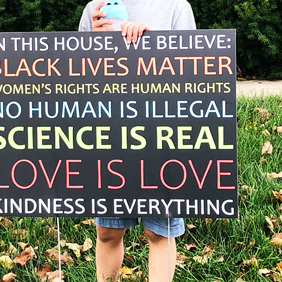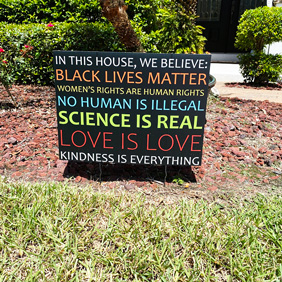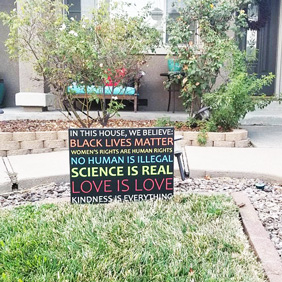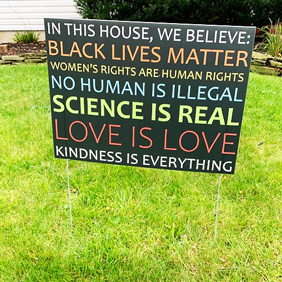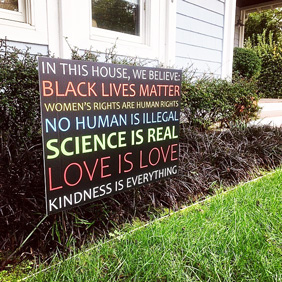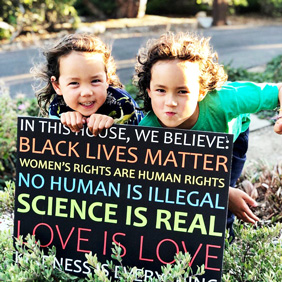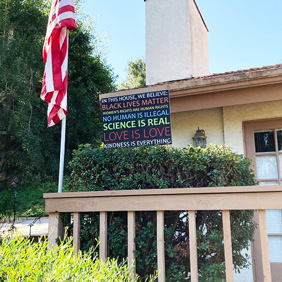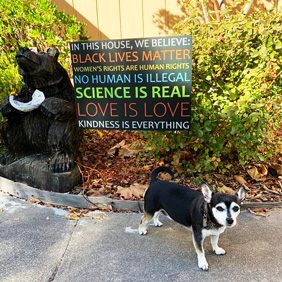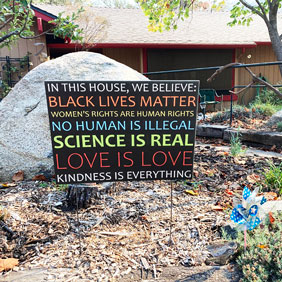 California Residents

Click here for Proposition 65 warning
Frequently Purchased With
Q & A