Will You Marry Me Signs Details
Propose to that special someone with these eye-catching yard letter signs. These glitter yard letters have a special Will You Marry Me message with a ring emoji. They can, however, be fully customized with more letters, different colors, and other emojis for a more personal, meaningful message. Set these marry me signs up wherever you are popping the question by securing them up on soft ground, such as grass and sand. Stake hardware is included with stakes paired with each letter to suit how wide or thin they are. The stakes insert through the flutes of the marry me signage for easy, tool-free assembly. Ask someone to marry you outdoors without worrying about different weather conditions with these weatherproof yard decorations. The material will not get ruined due to the durable corrugated plastic and the print will remain pristine due to our digital UV-printing technique. Surprise the love of your life by proposing to them with these Will You Marry Me Signs.
Parts List:
18in or 24in corrugated plastic characters
Wide characters come with H stakes
Narrow characters come with beefy stakes
Material:
4mm Coroplast®: Weather-resistant & UV-protected lightweight corrugated plastic
Additional Notes:
Marry me sign is printed on one side (single-sided)
Faux glitter colors do not contain real glitter (mess free!)
Installing Your Marry Me Yard Signs
Securing your Will You Marry Me decorations in your yard is easy and takes little time. Each letter comes with stake hardware. If the letter or emoji is wide, an H-stake is used. If the letter is thin, a smaller beefy stake is used. We recommend securing your stakes in the ground before connecting them to the letters. The bottom of the stakes pushes into the ground until taut. The stakes insert in soft ground, such as grass, dirt, or sand. The top section of the stakes slides through the flutes that are between the sign layers. No tools are needed for setting up the Will You Marry Me signs. When you are done using them, simply remove the letters from the stakes and pull the hardware from the ground. These marry me letters can be recycled or stored away in a basement, closet, or garage. We suggest keeping the letters in a place where they will not bend or crease. If the corrugated plastic material becomes creased, it will be permanent.
Versatile Will You Marry Me Signs
Using Will You Marry Me yard signs for proposals is a great idea because they're unique and attention-grabbing without being a huge hassle to setup or transport. Typically, these letters are designed for staking into a front lawn, park grounds, or outdoor venues, but they can be displayed in many ways. These yard signs don't need to just be staked in grass, they work on other soft grounds, such as sand for beach proposals. Because the corrugated plastic material is so lightweight, it's very easy taping or tacking them to a wall indoors or outdoors to suit a variety of proposal locations. You can also customize your message to spell out the name of your loved one or appropriate emojis to make the question more personal. These will you marry me signs are perfect for surprising the person you want to spend the rest of your life with and will create a memorable setting that's ideal for engagement photos and social media announcements.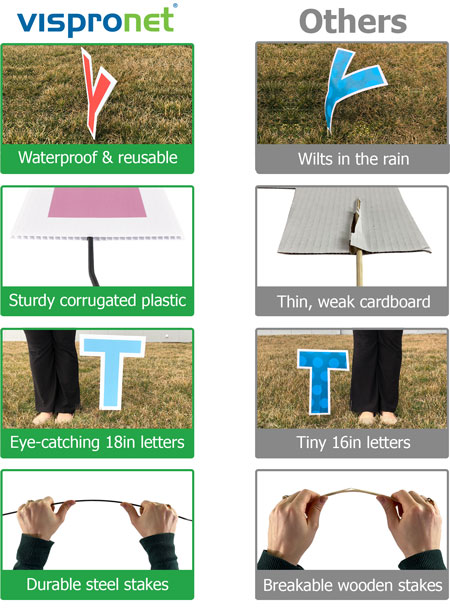 California Residents

Click here for Proposition 65 warning
Happy Birthday Yard Signs Demo
Frequently Purchased With
Q & A
Reviews