Custom Flags and Banners
Create custom flags for your business, home, organization, or event at incredible wholesale prices! We offer a variety of inexpensive flags available in numerous styles and sizes with multiple finishing options. All our flags are printed via dye sublimation to showcase your design or logo in unlimited rich, vibrant colors. They are constructed from a durable, UV-resistant polyester material for extra durability. Start your order today!
Lowest Prices | Design Online or Upload Template | 4-6 Day Turnaround | Rush Options | Free Proof | Pay Later
Why Order Custom Flags from Vispronet?
Our premium flags are perfect for a range of applications including real estate, retail stores, shows, job fairs, sporting and tailgating events, schools and local government buildings, among many others. No matter what application you need a custom flag for, Vispronet is sure to carry every finishing option and accessory you may possibly need.
Print and Material Quality: All our flags and banners are printed on high quality and durable polyester using the dye sublimation printing method. This advanced printing style produces exquisite, bold, high definition prints sure to draw the eyes of any passerby. This printing process also makes for dramatically less fading long term compared to inferior printing methods.
Custom Sizing: In addition to standard sizes we offer ranging from 1.0ft x 0.5ft to 40.0ft x 5.0ft, we also offer custom sizes for our traditional flags. Choose "Enter Your Own Size" from the size dropdown. Custom flags must have a minimum width and a height of 12in each. Our custom feather signs are available in multiple sizes ranging from our 4ft XXS design all the way up to our 17ft XL option. 
Custom Finishing Options: Aside from high quality printing and material, Vispronet also offers more finishing options than our competitors. These finishing options include flag orientation, an array of finishing accessories, and your option for single-reverse or double-sided print.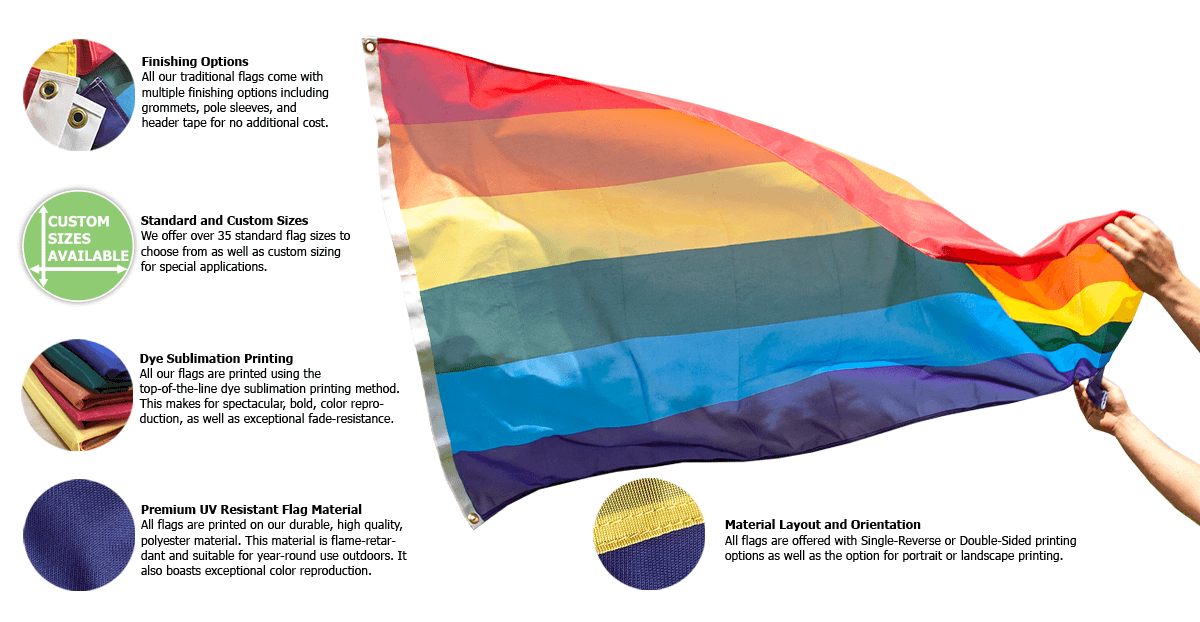 Custom Flag Design Options
When designing a custom flag on Vispronet, there are multiple finishing options to choose from.
Orientation: All our custom flag sizes are available in landscape or portrait orientation for no extra cost to you. 
Finishing accessories: Our flags are available with several different finishing accessories including pole sleeves, grommets, header tape, and wrapped header tape. Each of these finishing options are available free of charge no matter what size or style you choose.
Material layout: You have the choice between a Single Reverse and Double-Sided print options. The Single-Reverse style involves printing on one side and bleeding the ink through be visible from the rear side. This style makes the design appear reversed on the rear side. This is the most popular style of flag printing.The Double-Sided style involves producing two separate prints and sewing them together with a piece of blocker fabric in between to prevent any transparency or bleeding. This style displays deeper colors, especially in high light applications
3 Ways to Design Your Own Flag Online
We offer three different ways for you to design and order custom flags online. These options include:
1. Proprietary Design tool: This tool allows you to upload images and to add whatever artwork or designs you may need. There are a wide variety of stock images, art assets, fonts and color schemes to choose from. Help is always available via chat during your design experience that can answer any questions you may have along the way.
2. Upload Your Artwork Template: You also have the option to upload your artwork via template to be approved by our professional designers. This process involves customers downloading the appropriate template from our site, applying their artwork or design to it using professional design software, and reuploading it to our site. The uploaded templated design is then checked by our designer team and sent back to the customer for final approval.
3. Custom Design Services: If you'd rather not deal with the hassle involved in creating your own custom flag design, let us do it for you! Every one of our orders comes with 15 minutes of free custom design service by an experienced professional designer, so that we can check over your uploaded artwork and ensure that there are no glaring errors or mistakes. For more extensive designing, our professional design team will create your artwork from scratch and check in with you to ensure that it's exactly what you're looking for, for the low price of $60/hr.
Custom Flags - Frequently Asked Questions
What are custom flags?
Custom flags are personalized with your own graphics and logos rather than a ready-made image, such as a state or country flag. You create your very own image to be replicated on the flag, such as your business slogan and logo or your local sports team mascot. Customized flags are made uniquely for customers upon request.
What is the difference between feather flags and flag banners?
Both feather flags and our regular flag banners can be custom made with your own design. The difference between the two is how they're shaped and set-up.
Flag banners can be finished with either grommets or pole sleeves so that they can be used in different locations, mostly on long 20ft flagpoles or in parades. They come in either portrait or landscape layouts in a rectangular shape.
Feather flags, such as our blade kit, come in different shapes, such as having an angled bottom or a teardrop flag shape. All feather flags have a pole sleeve because they are all compatible with poles that come in either standard or premium options. They are typically displayed outside of a store or event and reach up to 15ft high.
What material are these custom flags made of?
Our custom flags are made from our outdoor flag polyester material, a lightweight polyester that is designed to be scratch-resistant and UV-resistant. This material is designed for extended outdoor use in wet or dry conditions.
What's the lifespan of the personalized flag material?
Regarding the lifespan of the print and material, customers can generally expect over 6 months of use, plus or minus some time depending on facts such as air pollution, severity of weather, lightfastness level, and material composition. In order to get the most out of the product, we recommend that customers perform general maintenance, such as washing, trimming, reinforcing and re-hemming every 8-12 weeks (3 months).
Will the wind blow my flag away?
It's important not to display your flag in severe weather that can damage it. If you make sure the custom flag is correctly set-up in winds that aren't too harsh, your custom flag won't be ruined or blow away.
Feather flag poles have their own wind rating depending on if the flag is single reverse or double-sided. For the standard pole set, make sure to keep a single reverse flag outdoors in no more than 30mph winds. The limit for double-sided flags is 17mph. For the premium pole set, a single reverse flag can be outdoors in wind up to 63mph. For double-sided flags, make sure the wind is no more than 46mph.
How are my graphics printed on the flag?
Graphics are printed onto flags using a printing method known as dye sublimation. With dye sublimation printing, the material is heated and then inked or dyed with each color needed to create the finished image, one layer at a time. By using the dye sublimation process, we create full, vibrant colors and the print is resistant to scratching and peeling off.
Read more about dye sublimation here.
What is the smallest and largest custom flag size available?
Our custom rectangular flags are available in custom sizes. A custom landscape flag can have a width of 1-8 feet and a height of 1-20 feet. For portrait, the width can be 1-20 feet and the height can be 1-8 feet. Our blade feather flags are available in extra, extra small to extra large sizes. Their height goes from 4ft to 17ft.
What are the most popular sizes for custom made flags?
The most popular custom flag sizes are available as standard sizes in the size dropdown. The standard custom landscape flag usually comes in 5ft x 3ft when being used for state or open flags. Another very popular size often used for custom made flags is 8ft x 5ft. It is important that the pole size being used with the flag is factored into what the size of the flag should be. The typical rule is that the flag's height should be ¼ of the pole height.
Are your custom flags printed single-sided or double-sided?
Single-reverse style is standard, but for no additional fee, you can opt for double-sided printing.
When we print double-sided, you're not limited to just one image or graphic like you are with a single-reverse printing style. The use of a piece of blocking liner between the two sides of the flag means that you can print anything you want on either side without having to worry about it bleeding through to the other side.
Keep in mind that single reverse is a popular style because it's more enduring for outdoor use and easily flows in the wind. Double-sided flags are heavier than single-reverse flags and won't wave in the wind as much.
How will the weather affect my custom made flag?
The material is UV-resistant and printed using dye sublimation. This means that the rain and sun won't wear down the flag material or the printed image.
Do you offer kits? Is a flagpole included with my purchase?
We do offer flagpoles as an optional accessory for our custom flags. For an additional fee, you can purchase one of the four pole options listed below:
6ft handheld – for use in parades and similar events
6ft wall mount – for use outside homes and businesses
6ft pole-mount with steel bands for mounting on street poles
20ft standard pole for flying your flag outside schools or residences
We offer other, additional flagpoles, including:
Do you offer grommets or pole sleeves?
We offer both grommets and pole sleeves under the "Finishing" tab in the product configurator. Grommets are ideally used for hanging on a wall or using with a large flagpole. Pole sleeves are for use with thinner, more portable poles. All feather flags use pole sleeves rather than grommets.
Are your flags flame-retardant?
Our custom flags are made from a knitted polyester fabric that is not meant to be flame-resistant. We advise that you keep your flag away from fire and sparks, or else it could catch on fire and ruin the design.
How do I take care of my personalized flag?
Our custom made flags can be washed, but it's very important to follow some specific guidelines. They shouldn't be washed with bleach, only soft detergent on a delicate cycle. We recommend not washing your flag with other fabrics for best results. Don't dry your flag, it should be air dried outdoors. If your flag is wrinkled after being washed, the wrinkles will be removed after the flag dries. Don't iron your flag to get rid of the wrinkles, it will ruin the material.
What our customers have to say