configurable00

Need help? Hire one of our professional graphic designers at no additional cost!

Choose 'Pay Later' at checkout and receive a free proof
before submitting payment.

Design Online or Upload Template
Create custom products using our online design tool or provided template files.
Custom Garden Flags Details
Parts List:
Custom print
Optional hardware stand
Flag Details:
Double-sided print
12in x 18in
Material:
Display Polyester: Nearly opaque flame-retardant knitted fabric (6.10oz/yd²)
What Are Custom Garden Flags?
Let your front yard and patio area display your unique style with personalized yard flags. Custom garden flags and banners are the perfect way to add some color and charm to your front door and walkway, patio area, yard area, as well as your flower bed and garden area.
Whether you want to display a personal message, your sports pride, a seasonal greeting, a favorite holiday, or just want to add some extra color to your flower bed, Vispronet's carries all the options and styles you need for your outdoor décor.
Design Custom Garden Flags Online
Personalized garden flags are the perfect way to reflect your personality and style in your front yard and garden. From holidays, to graduations, to special birthday parties, custom made yard flags are sure to share a cheery invitation for all who pass them.
All of our house flags are printed on a premium, flame-retardant polyester using the dye sublimation printing process. The premium polyester material paired with the dye sublimation printing style makes for spectacular, full color, high definition prints. All colors are printed vibrant and rich, and are proven to fade dramatically slower compared to competitors' printing styles.
Looking for some inspiration? Popular designs for custom garden flags include:
Seasons: Fall, winter, spring, and summer
Holidays: Halloween, Thanksgiving, Christmas, Valentine's Day, Easter, 4th of July
Special Occasions: Homecomings, Military holidays, sporting events, Father's and Mother's Day
| | | | |
| --- | --- | --- | --- |
| Upload Photos | Create Unique Garden Flags | Personalize for a Gift | Promote Your Business |
---
Flag Hardware
In order for custom garden flags to stand up to harsh daily weather conditions, a durable, weather resistant base stand is needed. The high-quality flag stand we offer is constructed from powder coated iron, stands 36 inches high, and comes in three sections for easy storage. In addition to the stand, we include a flower shaped stopper and clear flag clip to hold the flag in place on windy days. The stand is easy to set up and tear down and no tools are needed for installation.
Caring for Custom Garden Flags
Cleaning Instructions
Cleaning your flag is an important step for keeping your flag print bright, unstained, and ready for future use. To clean, machine wash on delicate cycle or spray the flag with a mild soap or detergent with cold water to help preserve the vibrancy of the colors. Cleaning shouldn't take long as the polyester material is easy to clean and dries quickly as well.  Let your flag air dry after washing. Do not use a dryer. Additionally, avoid use of bleach and dry cleaning as this will cause permanent damage to your flag.
Storing Your Personalized Garden Flags
Storing your custom garden flags away from outdoor weather elements is a great way to keep your flags well kept and clean for future seasons and holidays. Simply fold or roll your flag and store in a dry, dark place. Avoid storing in sunlight or ambient light as this can potentially cause color fading and accelerate the breakdown of the fabric fibers. Never store your flag while it is still wet or damp. Storing your flag damp can lead to multiple issues including: mold and fungus, bad odors, as well as staining and discoloration.
Tip for Harsh Weather Conditions
We recommend taking your personalized garden flags down during very harsh weather conditions, to help extend the flag life. These harsh weather conditions include: severe thunderstorms with high winds, as well as severe snowstorms.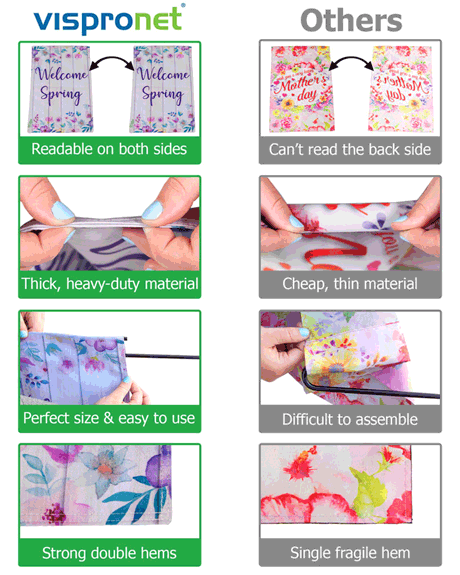 Satisfied Customers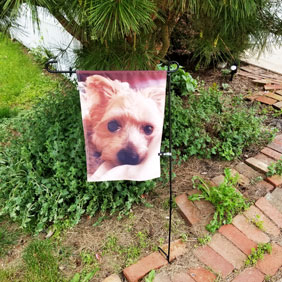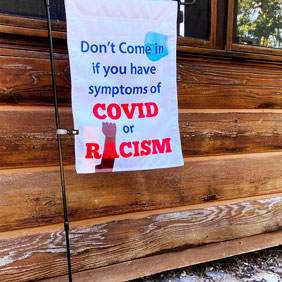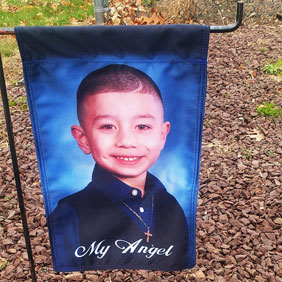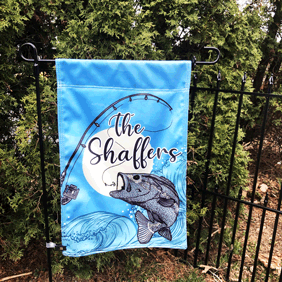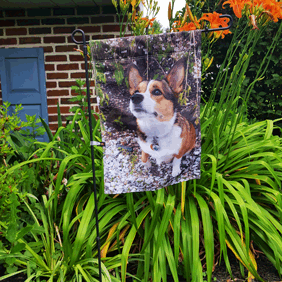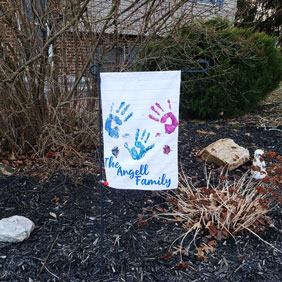 Custom Garden Flags - Frequently Asked Questions:
Does the flag and pole include anything to hold the flag in place?
Yes! We include a flower shaped stopper on the top rail of the stand, as well as a clear plastic clip that fits on the post of the stand. The clip holds the bottom of the flag in place.
Does the flagpole break down?
Yes, the flagpole breaks down into 3 pieces for easy storage and travel.
Will the design be visible on both sides of the custom garden flags?
Yes, the print will be visible on both sides of the flag.
Is the stand available separate from the custom printed garden flags?
Yes, the stand is available separate from the house flag. If you would just like the stand, you can find that here.
Are the custom garden flags and stand durable enough for long term use outdoors?
The flag is printed on premium polyester using dye sublimation printing for extended outdoor décor life. The stand is made from powder coated iron, and will be able to stand up to any weather conditions long term.
Are there any tools needed for setup and breakdown?
No, there are no tools needed to setup or breakdown your personalized yard flags. Assembly is quick and easy.
California Residents

Click here for Proposition 65 warning
Frequently Purchased With
Q & A