Merry Christmas Yard Signs
Merry Christmas Yard Signs Details
Surprise your family, friends, and neighbors with a personalized Merry Christmas yard sign message! Our outdoor Christmas signs and decorations are made from waterproof 4mm corrugated plastic and are offered in two easy-to-read sizes: 18in and 24in. Each sign is digitally printed with UV-resistant inks for vibrant, full-color graphics that won't fade or bleed, even after long-term outdoor exposure. Our Merry Christmas lawn signs are completely customizable, giving you full design control the size, colors, emojis and more! Stakes are included with each sign to ensure a quick and no-hassle installation process. These Christmas yard signs are crafted to last, ensuring years of front lawn display and enjoyment for all who pass by. Surprised your family members and friends with a special Merry Christmas yard letter message!
Parts List:
18in or 24in tall corrugated plastic letters and numbers
Wide characters come with H stakes
Narrow characters come with beefy stakes
Material:
4mm Coroplast®: Weather-resistant & UV-protected lightweight corrugated plastic
Additional Notes:
Product is printed on one side (single-sided)
Faux glitter colors do not contain real glitter (mess free!)
Reusable Outdoor Christmas Yard Signs
Our outdoor Christmas signs are made from 4mm corrugated plastic. This rigid sign material is weather-resistant and waterproof, making it perfect for outside display applications. Corrugated plastic signs are also very lightweight compared to other outdoor holiday signs, making them highly portable and easy to carry around. These signs are designed to withstand most weather conditions and are safe to display in rain or snow. Each sign is digitally printed with UV-resistant inks, giving it a full-color finish that won't fade, crack, or peel. Corrugated plastic Christmas lawn signs are also easy to clean and reuse the next year! If they become soiled or dirty after displaying outdoors, they can be cleaned with warm soapy water and a cleaning rag. Once dried, they are safe to store for the next holiday season.
Personalized Merry Christmas Yard Letters
Our Christmas yard signs are 100% customizable. We offer multiple Christmas themed patterns to choose from, as well as hundreds of other patterns including sports themes, animal prints, glitter colors, and more. Choose your preferred size option as well as your font style. You can also add any numbers, letters, and punctuation as long the message is within 100 characters. Emojis are included with each Christmas yard signs order and can be swapped out for hundreds of other emoji characters for no extra cost. Add a loved one's name, a pet name, or nickname to really make the lawn message unique and memorable.
Design Your Lawn Signs Online
Our online configurator makes it easy to change the stock "Merry Christmas" message into a personalized message for family members, friends, and neighbors. When configuring your Christmas yard signs, you can choose the color pattern for each individual letter of the message, giving you complete design control over the appearance. To customize the Merry Christmas yard letter message, simply enter your names or greetings into the "Message" box and then select "Update Message". Once updated, you will see an updated price, and will be able to personalize each letter, number, and punctuation. For an even more memorable display, design a custom Christmas Banner and showcase a special message of holiday cheer or religious celebration.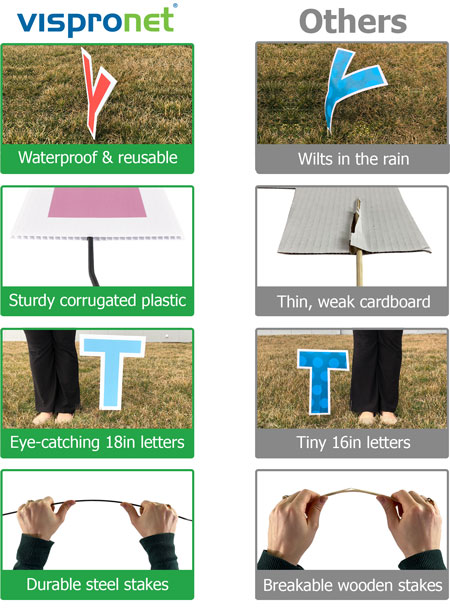 Merry Christmas Yard Signs with Stakes Included
Stakes are included with every Christmas lawn sign. Two stake options are offered depending on which yard letters and emoji characters you select. Wider yard signs typically get mini H-stakes while signs with slimmer profiles receive beefy stakes. Both styles are easy to set up and have the same installation process. Setting up the outdoor Christmas yard signs is a quick and easy task and no tools are required. Installation includes inserting the stakes into the ground and adding the signs on top of the stakes for a secure and reliable display. Removal is just as easy, and each yard sign can be reused every holiday season.
Frequently Asked Questions
What is the turnaround time?
Turnaround time for our Merry Christmas yard letters is typically 3 business days plus shipping. If you need your lawn signs sooner than our standard production time, we offer rush production for an extra fee. If you need your signs as soon as possible, we also offer expedited shipping options.
Can I customize the yard letter message?
Yes! Our Christmas yard cards are completely customizable. If you would like to customize the letters, enter your personalized text into the box marked "Message". Once you've entered your custom message, click the "Update Message" button to adjust the price and character options. Each Merry Christmas yard sign is fully customizable and can be updated with alternative patterns for no extra cost. You are also able to change the emojis included with the set for no extra cost.
California Residents

Click here for Proposition 65 warning
Frequently Purchased With
Q & A
Reviews